Handle It With Style
One of the most exciting aspects of being on Australia's largest and most popular home renovation show, The Block, is that it allows us to introduce the latest additions to the Kinsman Range, including our new handle designs. Like jewellery for your joinery, a well-chosen handle can take your kitchen, laundry or wardrobe design to a whole new level.
Below we take a closer look at these new designs. Which styles would you love to use in your home?
The Barrington Handle Collection.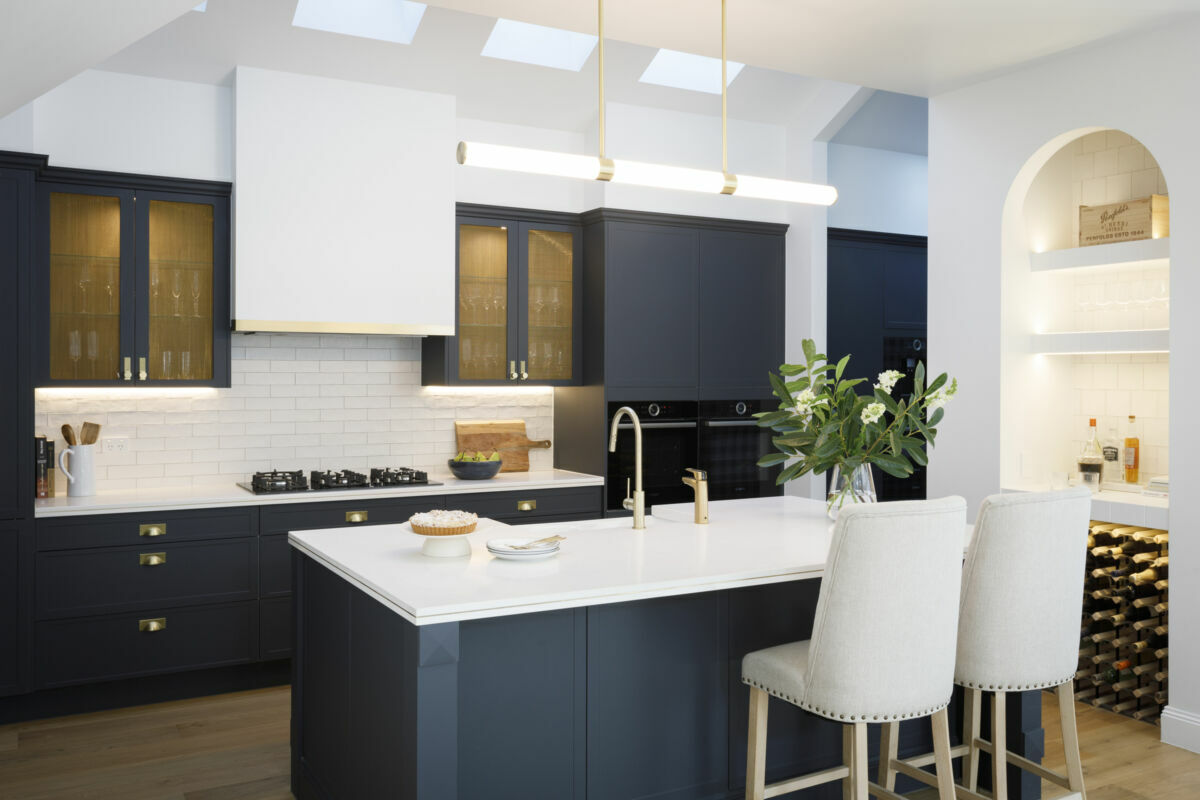 Introducing the Barrington Collection! Showcasing a mix of bold industrial flair with finer details that speaks to the beauty of the Art Deco aesthetic, this collection ensures that your handles will take centre stage in your home. Available in various designs to suit any style and cabinetry, you can mix and match Bar, Knob, and Cup Pull designs. There is also an option to add a backplate to the Bars and Knobs. Select from a series of stunning and stylish colours (including matte brass and black) and flat and ribbed textures.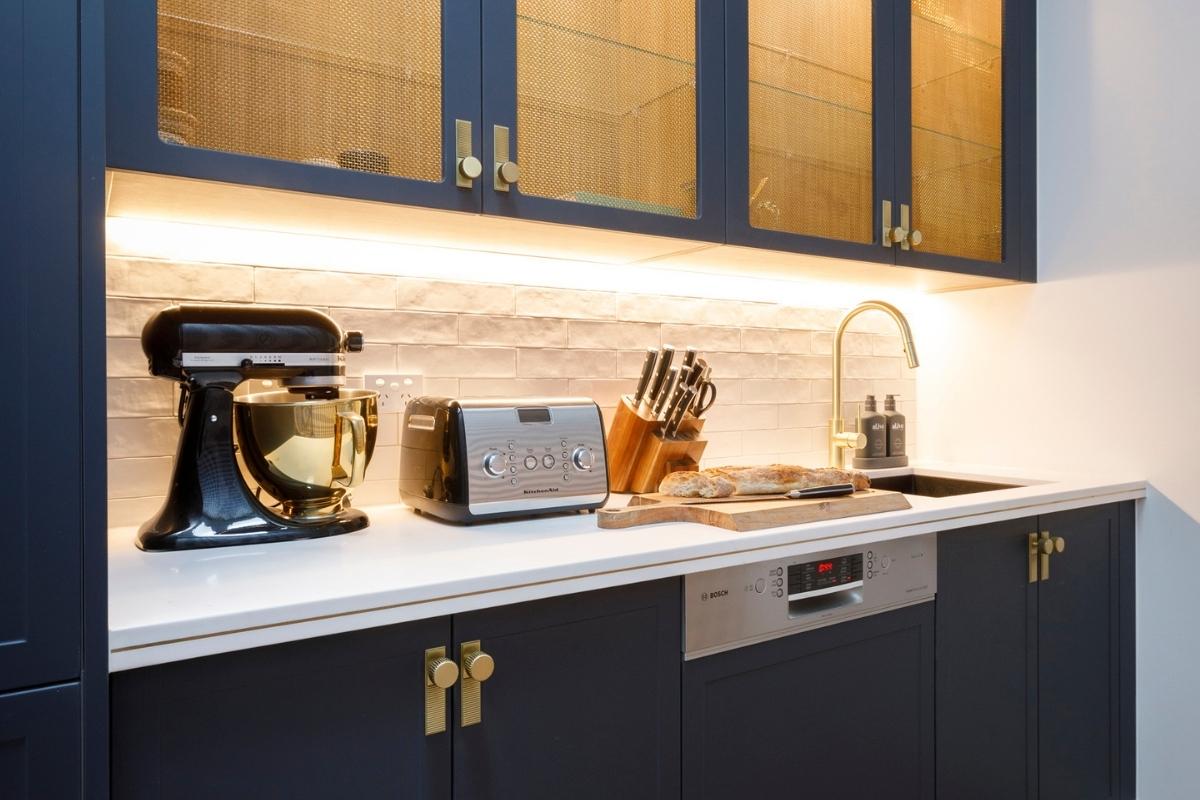 Barrington Knob with Backing Plate in Matt Brass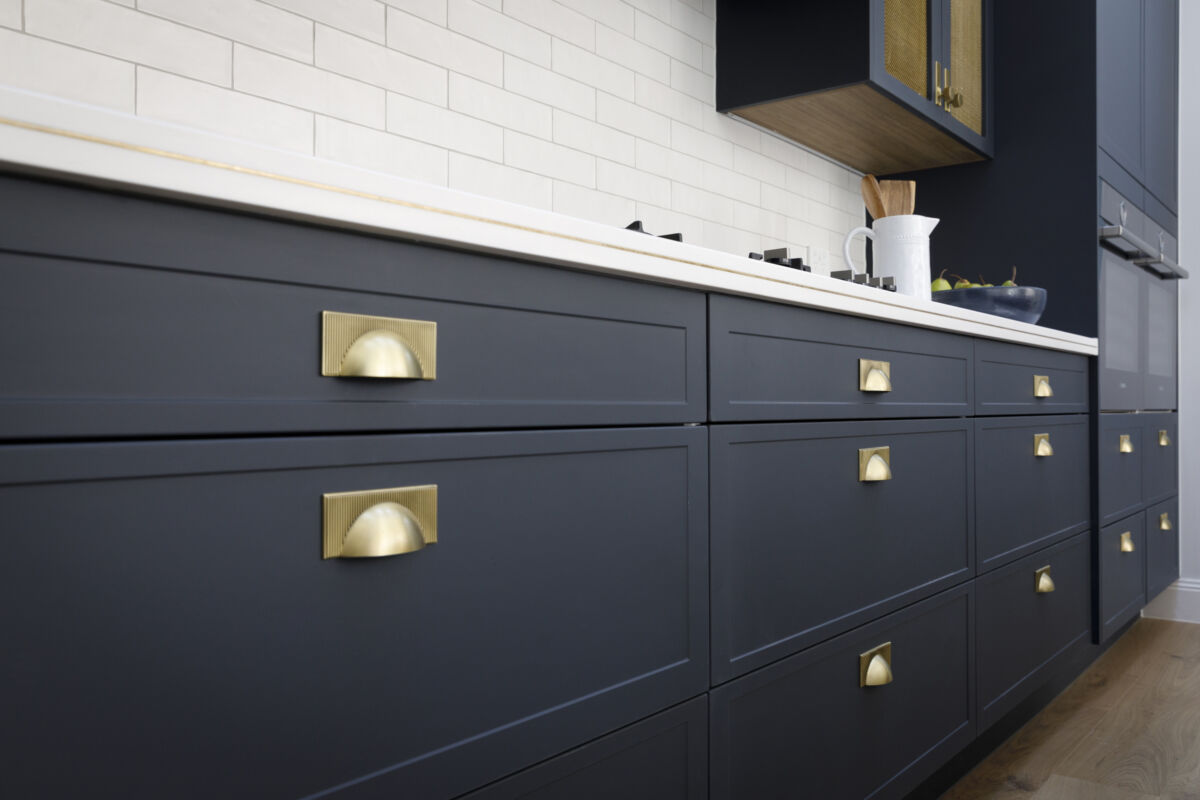 Barrington Cup Pull Handles in Matt Brass
Country couple Kirsty and Jesse chose to showcase both the Barrington Knob with Backing Plate in Matt Brass and Cup Pull handles in Matt Brass for their winning kitchen and laundry. The delicate and intricate detailing of the handles suited their Hamptons meets Country style, while the Matt Brass complemented the Montauk Ink Matt doors with Patina Mesh inserts.
The Barrington Eclipse is a stunning half-moon shaped handle, available in ribbed and plain finishes, and suits a range of design styles from the ultra-modern to a more classic and traditional aesthetic.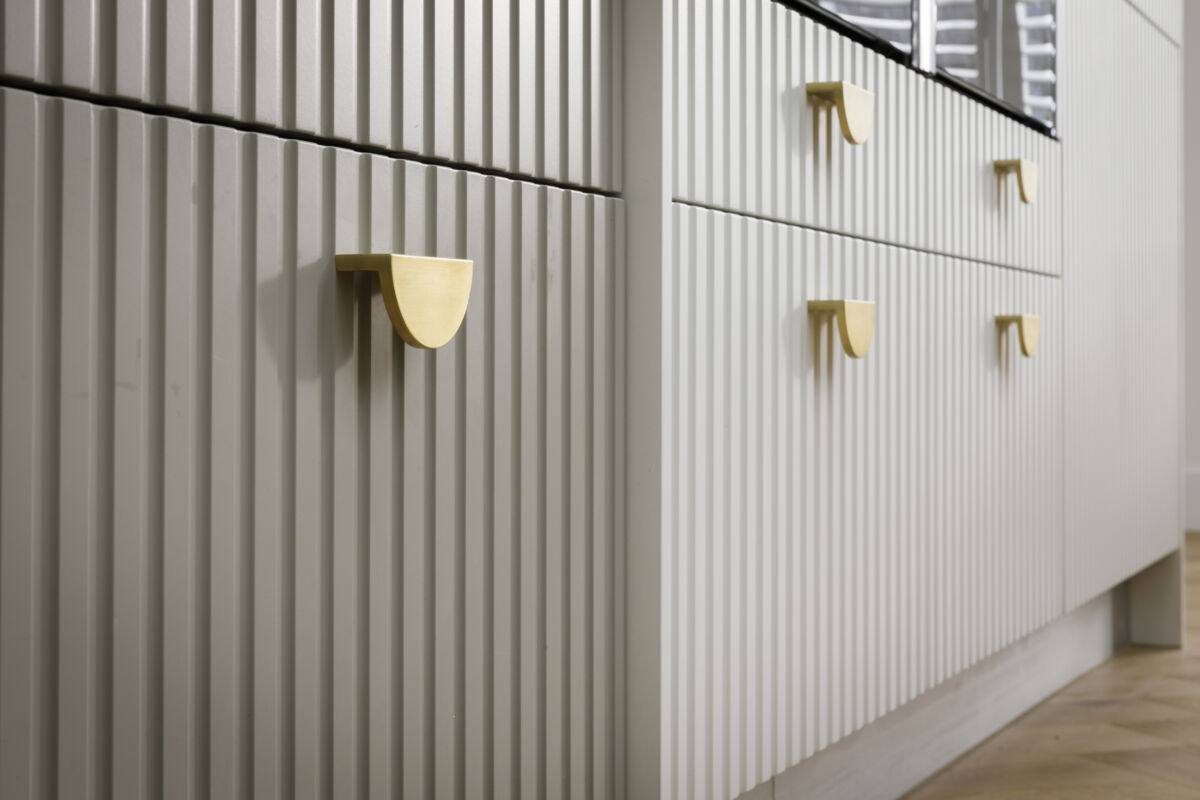 Barrington Eclipse Plain Matt Brass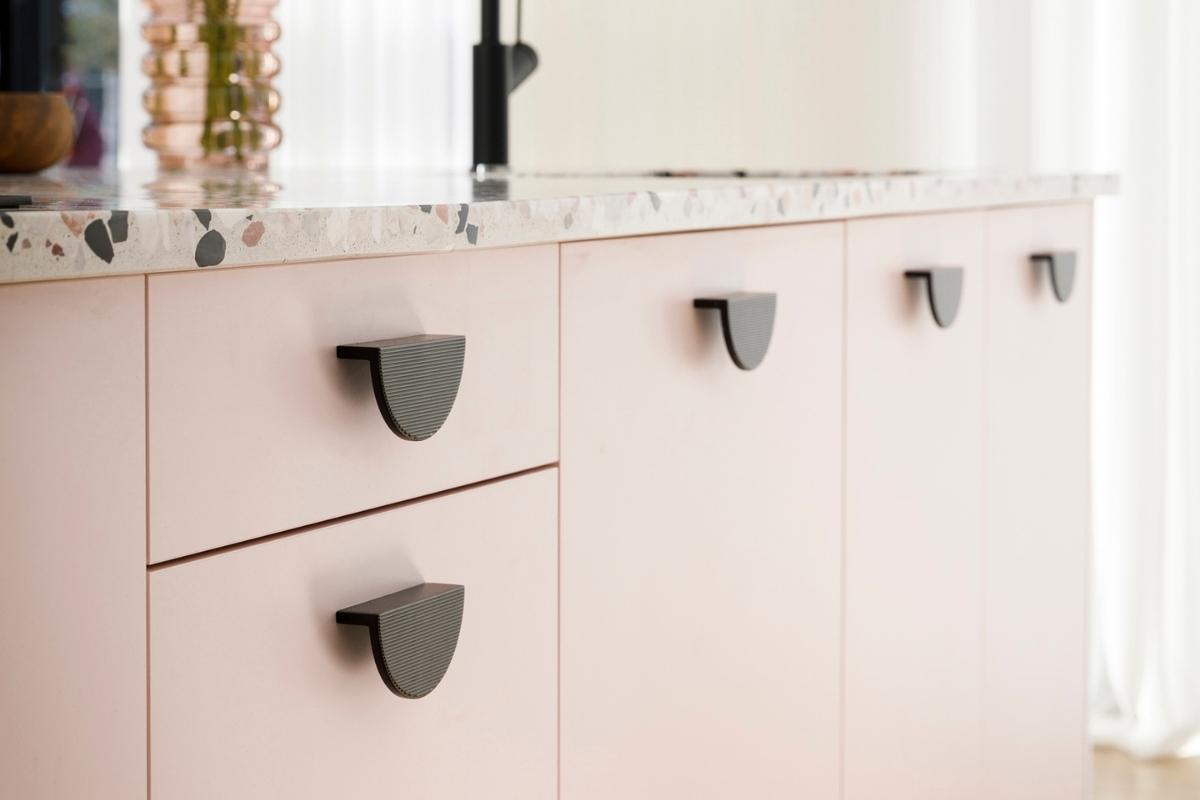 Barrington Eclipse Ribbed Matt Black
Its wide appeal is the reason why this particular handle featured within several rooms throughout The Block. The Plain Matt Brass format within Mitch and Marks' kitchen and laundry was the perfect match for their chic coastal-style home with heritage touches. In contrast, Tanya and Vito opted for the Ribbed Matt Black design to pop against the blush pinks, timber and white tones they used within their Mid-Century inspired kitchen and laundry.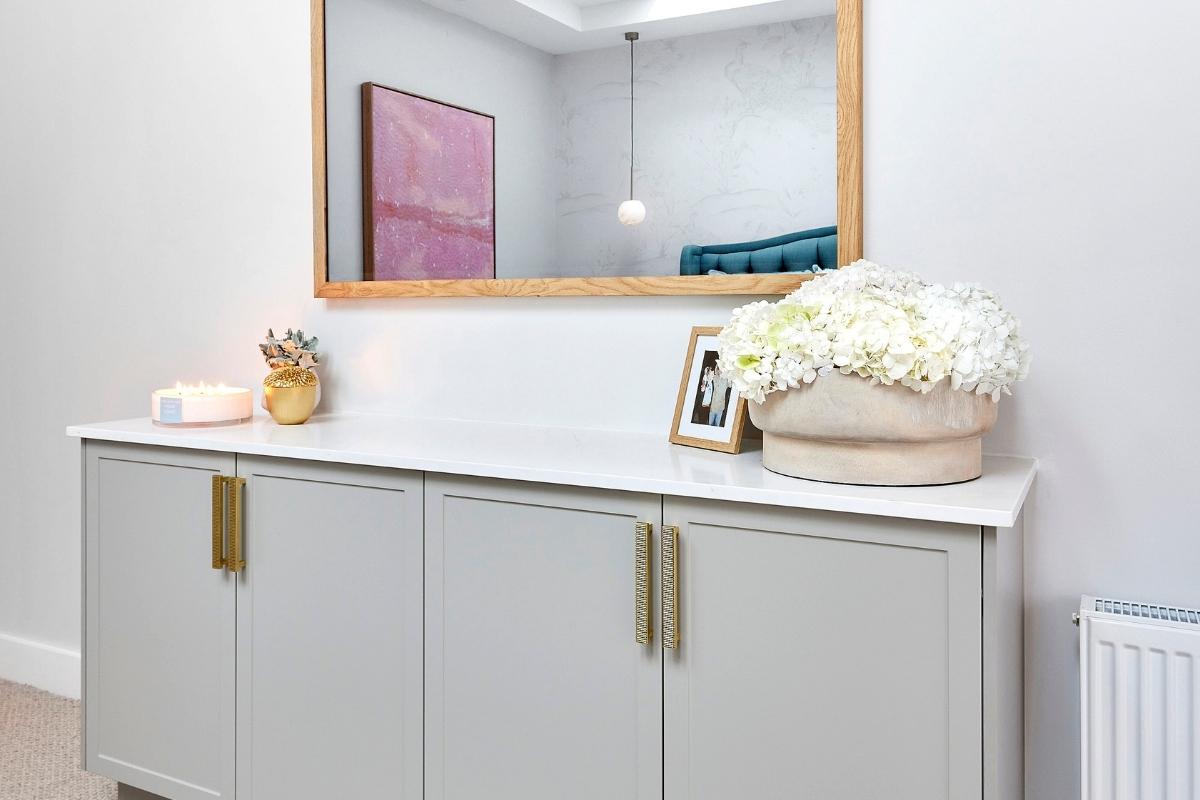 Brass Barrington Bar
Last but not least, the Brass Barrington Bar handle added the perfect glam touch to House 2's Wardrobe and Credenza within Mitch and Mark's Primary Bedroom. The bold Brass 160mm bar with ribbed finish proved it works just as well within a bedroom when paired with wardrobe joinery as it is with kitchen and laundry joinery.
Otto Brass Bar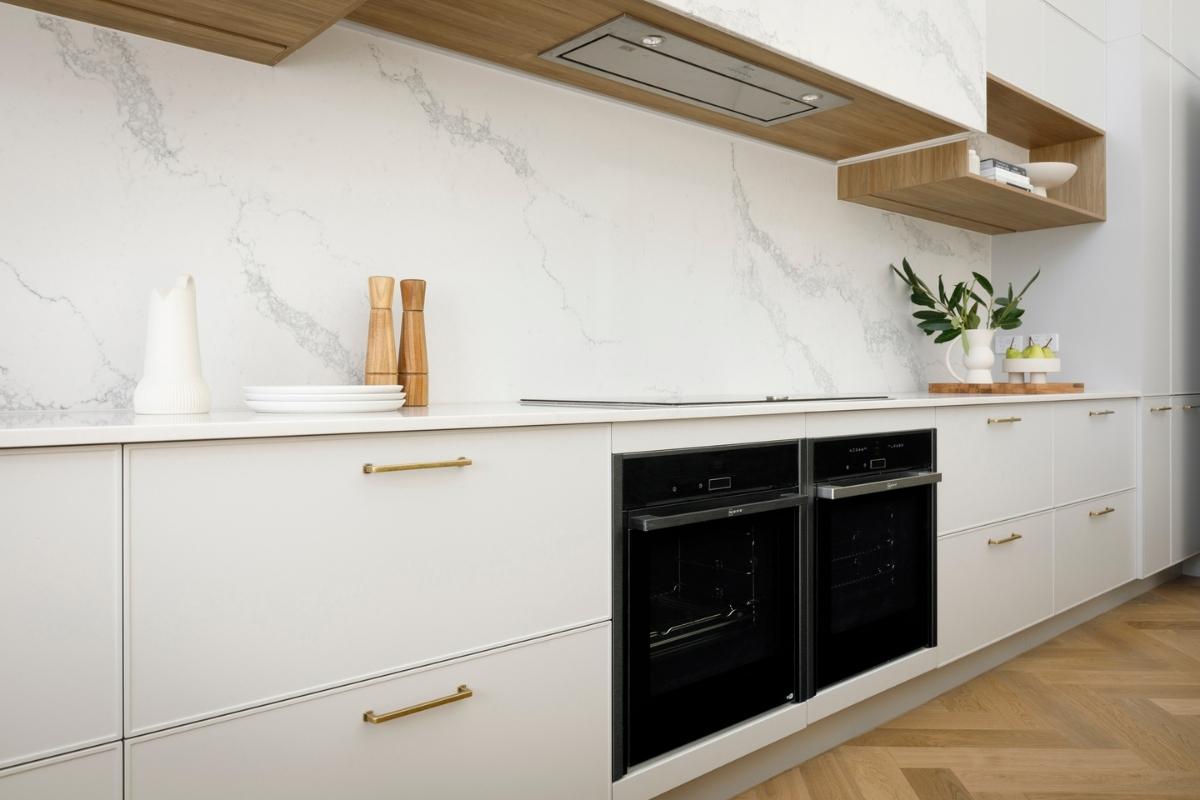 With its distinct blend of contemporary and traditional styling, the Otto Brass Bar handle injects a touch of urban influence into any space. Style masters Ronnie and Georgia selected this handle for their beautiful kitchen and laundry; its look, colour, and style are a perfect fit for the chic Coastal style and colour palette of grey, timber, marble, and brass.
Satin Brass Rounded Bar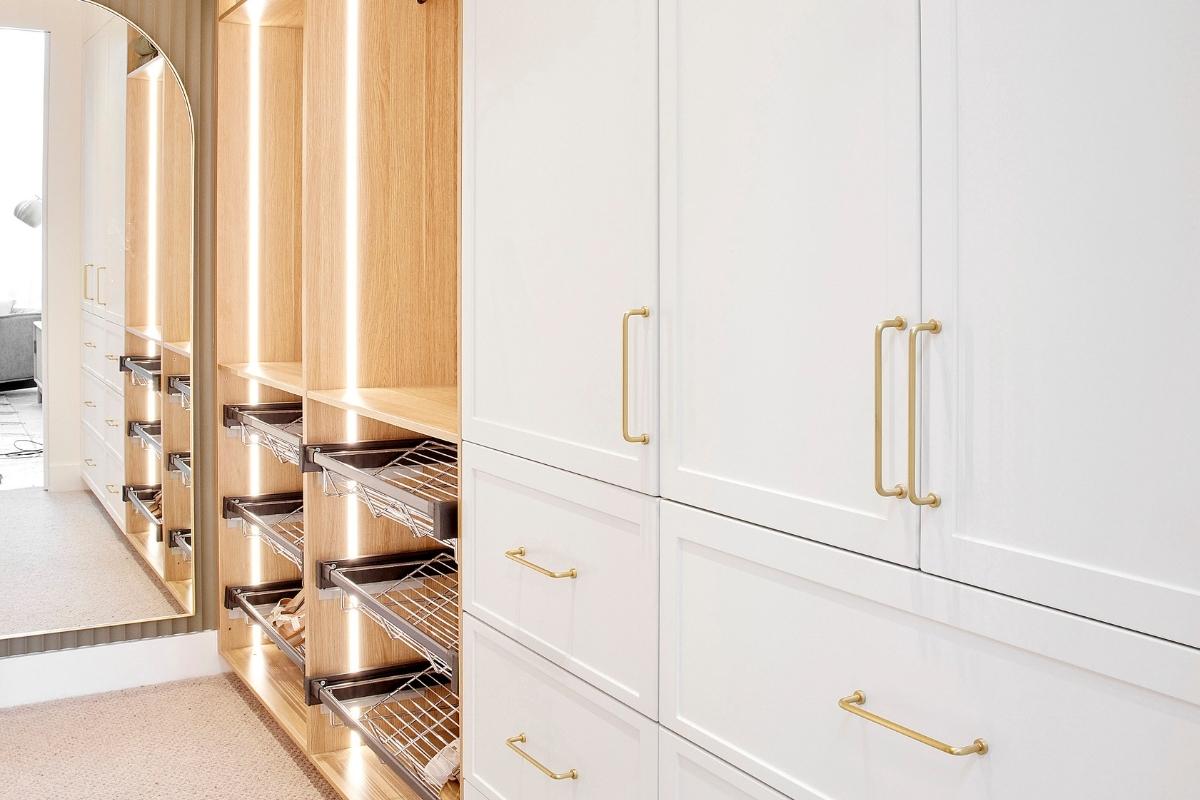 Finally, our Satin Brass D Rounded Bar handle could be found throughout The Block, and for good reason! Featuring subtle and elegant brass tones, we love how the Satin finish adds the perfect amount of metallic without the glossy effect of polished brass. This stylish hardware option suits many design styles, especially a Hamptons, Coastal or Country look. Use on wardrobe doors, home office drawers, entertainment units, kitchens and laundries, and create harmony and flow in your home by using it within several spaces.
Fallen in love with the perfect handles for your home? Start creating your dream kitchen, laundry, wardrobes and more with Kinsman today!
Book your in-store, in-home or virtual design appointment HERE.
For more inspiration, ideas, and rooms on The Block Fans v Faves, download our latest catalogue HERE.