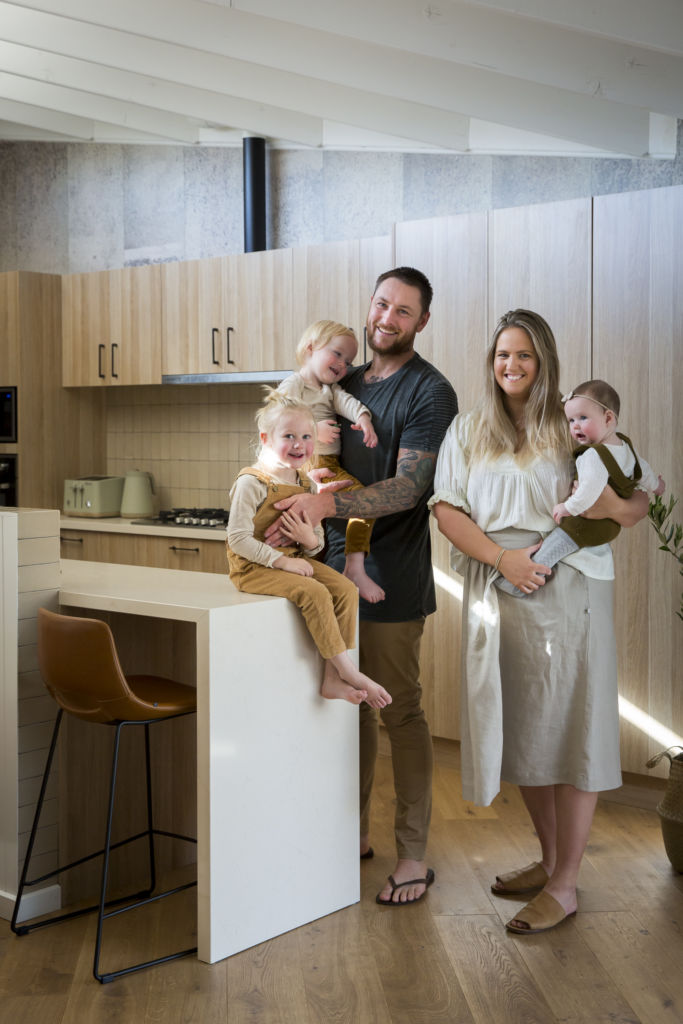 Since first appearing on TV screens as popular contestants on The Block in 2012, and then returning in 2013 for The Block: All Stars, Dale Vine and wife Sophie have gone from strength to strength. Dale's laid-back charm and DIY know-how have cultivated a huge following that enjoy his larrikin personality and insights into his family life, as much as they respect his repertoire for renovation.
So when it came to renovating his own kitchen, you can expect that Dale would make a wise choice that balances quality, style, affordability, and speed of installation.  And being a hands-on, DIY kind of guy, he isn't afraid of the words "flat pack kitchen"!
Read on for all the details on Dale's kitchen renovation with Kinsman Xpress.

The Problem
Dale and Sophie had been living with their outdated kitchen for around six years, and always had the intention of renovating – it was just a matter of finding the right time. They both lead busy lives with Dale's landscaping business and Sophie's online kids store, in addition to raising their own little ones, who now total three with the addition of baby Dulcie just before Christmas.
Their outdated cabinets didn't have enough a large enough opening to fit a bigger fridge for their growing family, their appliances also needed updating, and they didn't have enough bench space.  Their front benchtop was an old laminate which they wanted to upgrade to a stone look, and make the whole space a more modern family hub.
For a quick renovation, the Vines were happy to keep the layout of their galley kitchen, but wanted a fresh look that reflected their earthy style.

The Design Brief
Dale visited the Kinsman showroom within the Good Guys store in Geelong, VIC for his design appointment.  He told our designer that he needed a fast, stylish solution that didn't compromise on quality materials, to last throughout the years with his growing family.  Their new kitchen design needed to work in more bench space to fit some stools for a servery, accommodate a bigger fridge and more overhead cabinetry, and add a second pantry for food storage.
Since Dale was happy to keep the same footprint of their old kitchen, he was focused on finding cabinetry that offered a more modern light timber look to match their flooring, and solutions to make the most of their storage space.  Dale and Sophie knew they wanted a neutral palette for their new kitchen, "to hopefully be more timeless and note date as quickly as other bold kitchens".
"We wanted a real natural, warm, earthy feeling kitchen that was calming, and what better way to achieve that than with a lot of timber grain," said Dale.
At the showroom the Kinsman designer took his vision on board and showed him the Xpress range samples of cabinet doors to suit, as well handle options, and sinks and taps. Also available through both ranges are benchtop choices which include premium laminates and engineered stone.
The Solution
After looking at various options, Dale decided to go with Kinsman's Xpress range for his new kitchen.  Having ready-to-assemble flat packs delivered to your door appealed to his DIY nature, since he could assemble the carcasses quickly himself, saving time and money with the kitchen installer.  The speed of delivery was also a plus, as Xpress can be delivered within 10 days after finalising the order.
The Kinsman designer drew Dale a plan that kept the layout of their original storage, adding in tall pantry cabinets on either end of the kitchen, plus uniform deep drawers below to replace their old mish-mash of base cabinets.  They made the benchtop bigger and longer and designed a larger space for their new fridge, with extra overhead cabinetry.
To get the natural timber look and feel that they were after, Dale and Sophie selected cabinet doors in the colour Whistler from the Xpress range, which has a beautiful light timber tone and the texture of real wood. 
Their favourite thing about the kitchen cabinetry? 
"The realistic woodgrain look, and now that we have the kids, soft close doors and drawers are much quieter".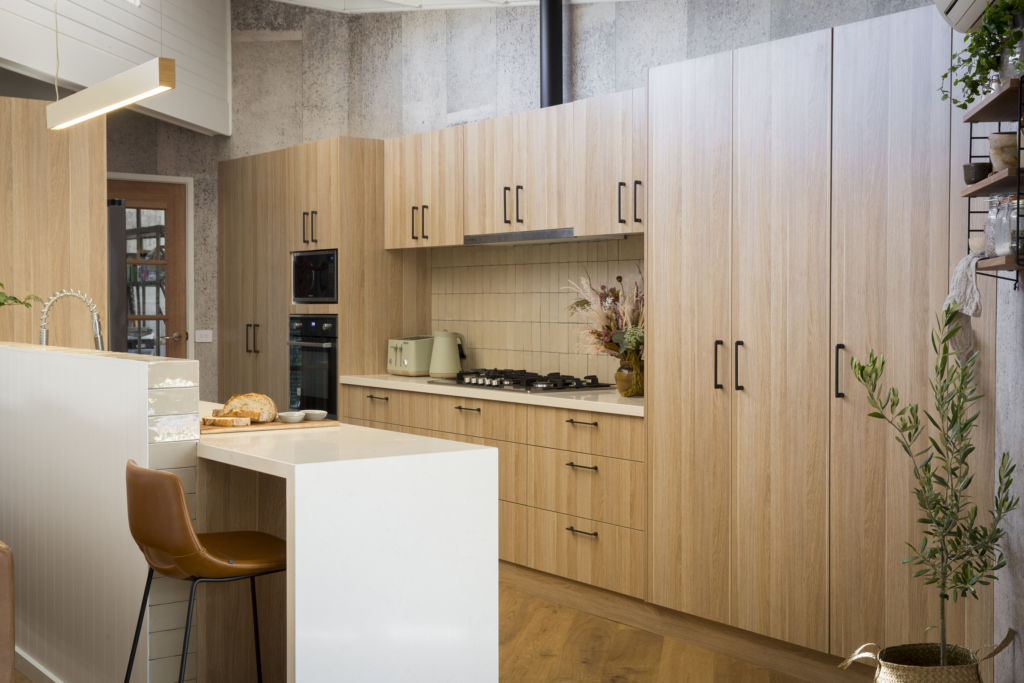 Here's what Dale had to say about his new Kinsman Xpress cabinets.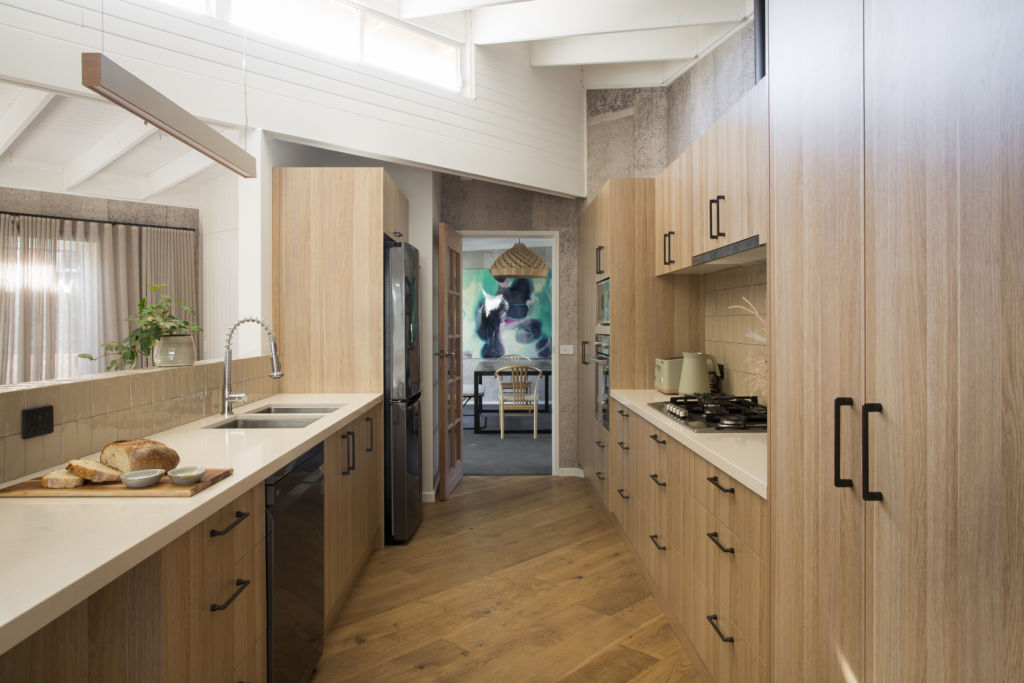 Their galley kitchen now has a lovely warm and organic feel from the timber flooring to the surrounding joinery, through to the dining room. 
The lofted white ceiling serves to brighten the galley layout which might otherwise be a little dark – and the skylight above illuminates it even further during the day, allowing beautiful beams of sunlight to stream into the space.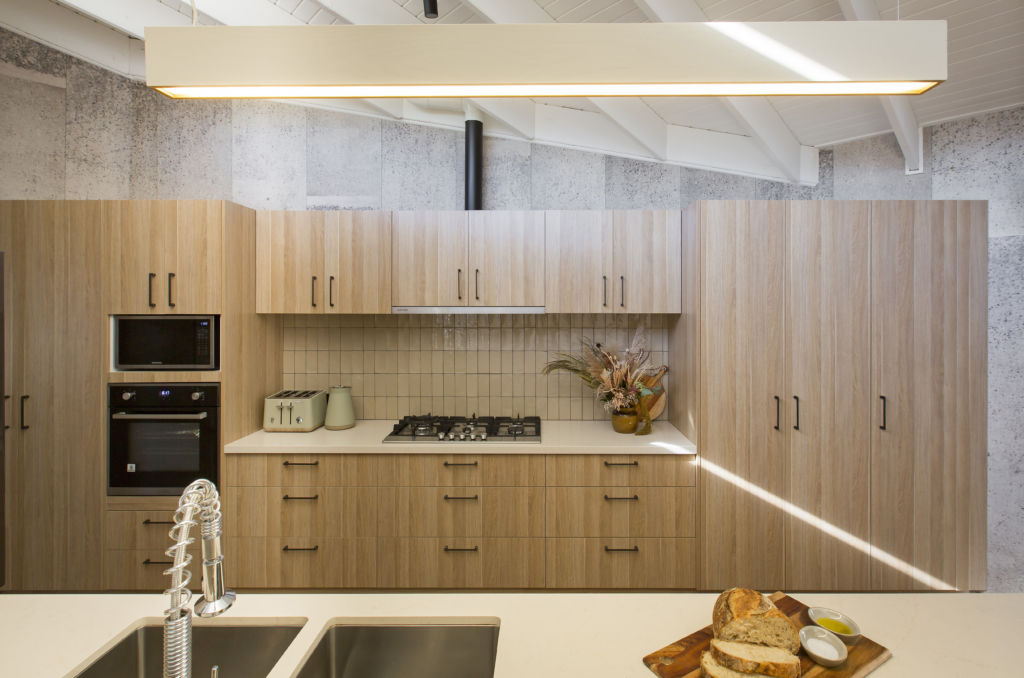 The tall pantry on the right side features an abundance of storage space not only for food, but also cookbooks and anything else they want on hand in the kitchen.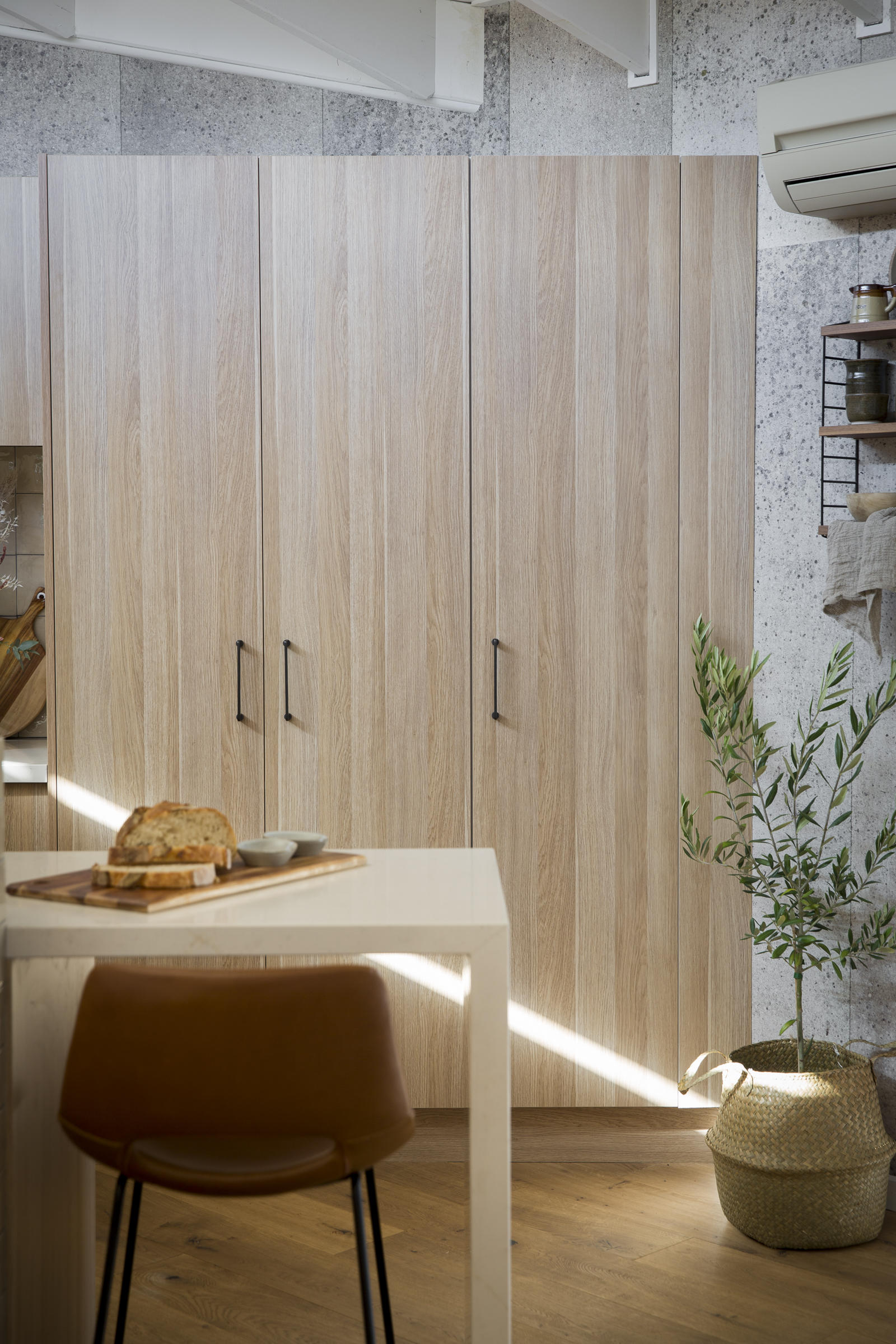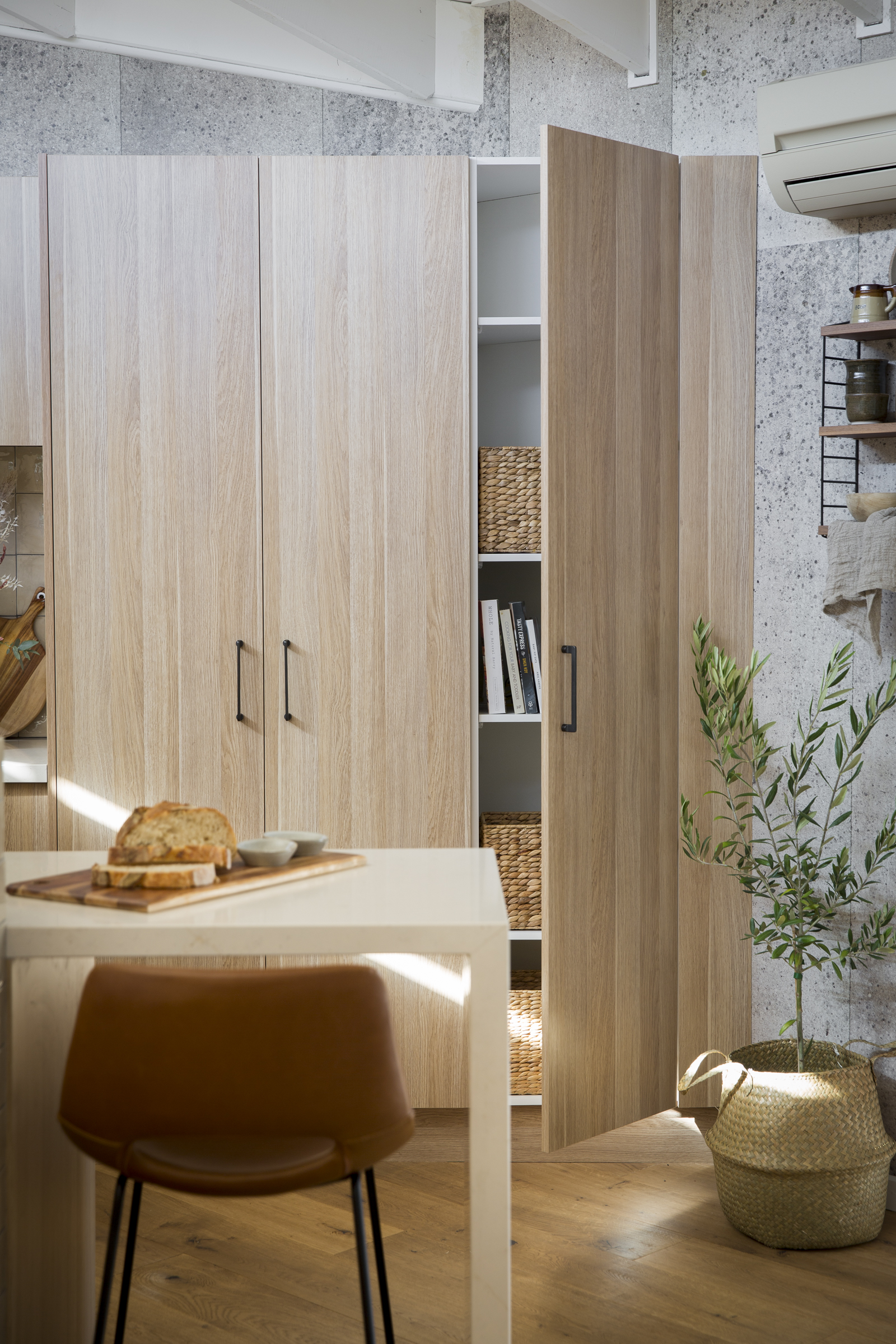 The stunning Xpress cabinets in Whistler match perfectly to their choice of practical bar handles, used throughout.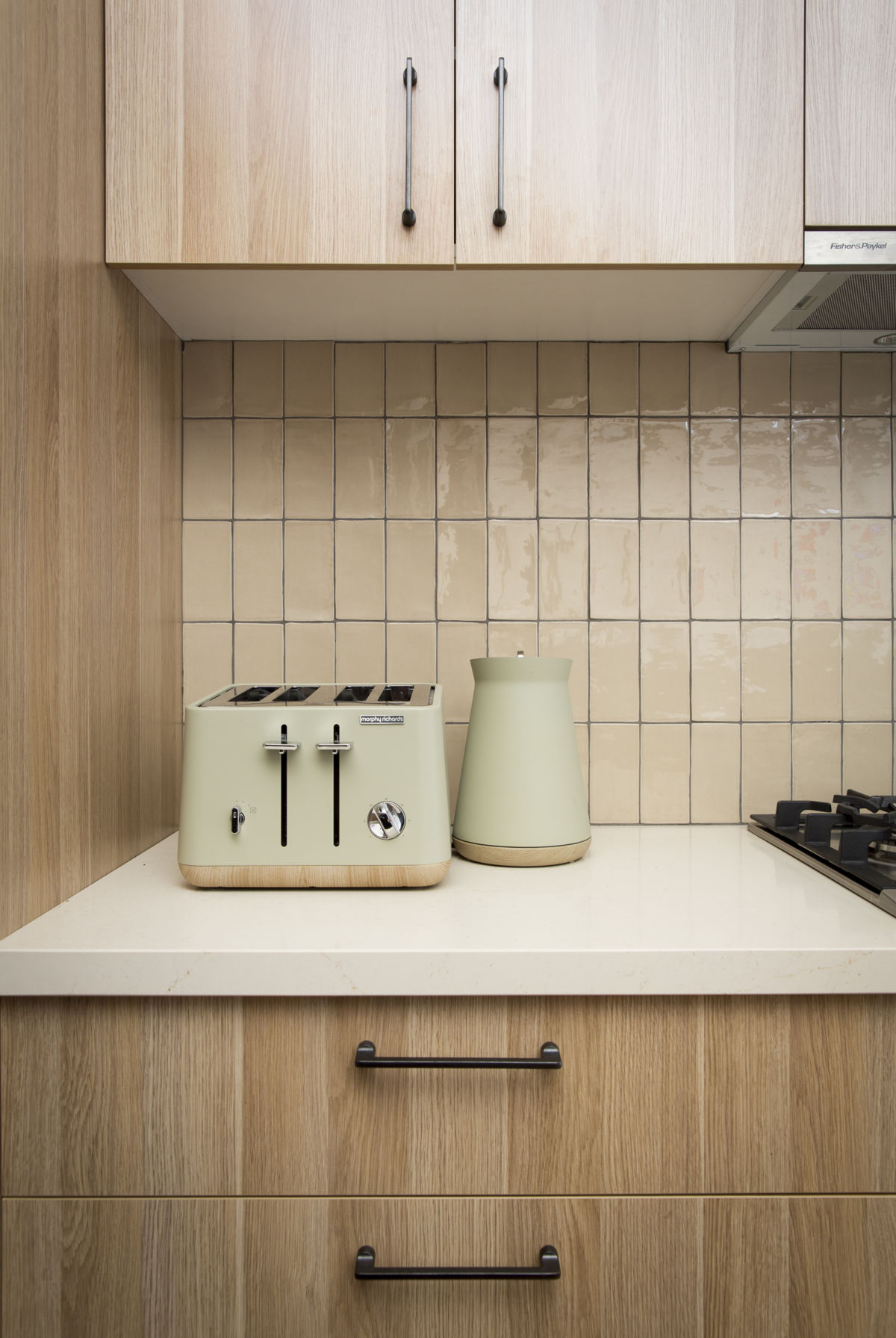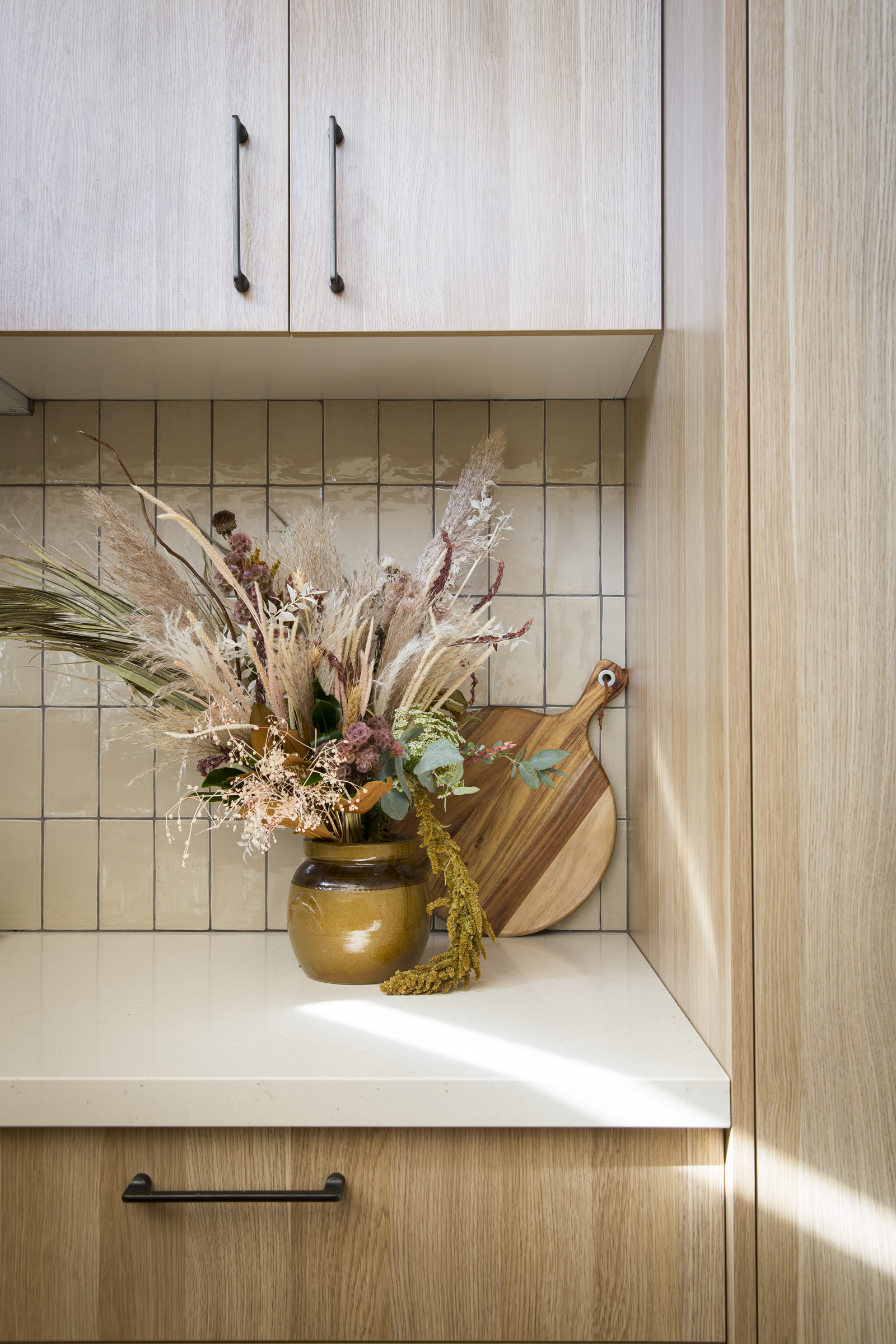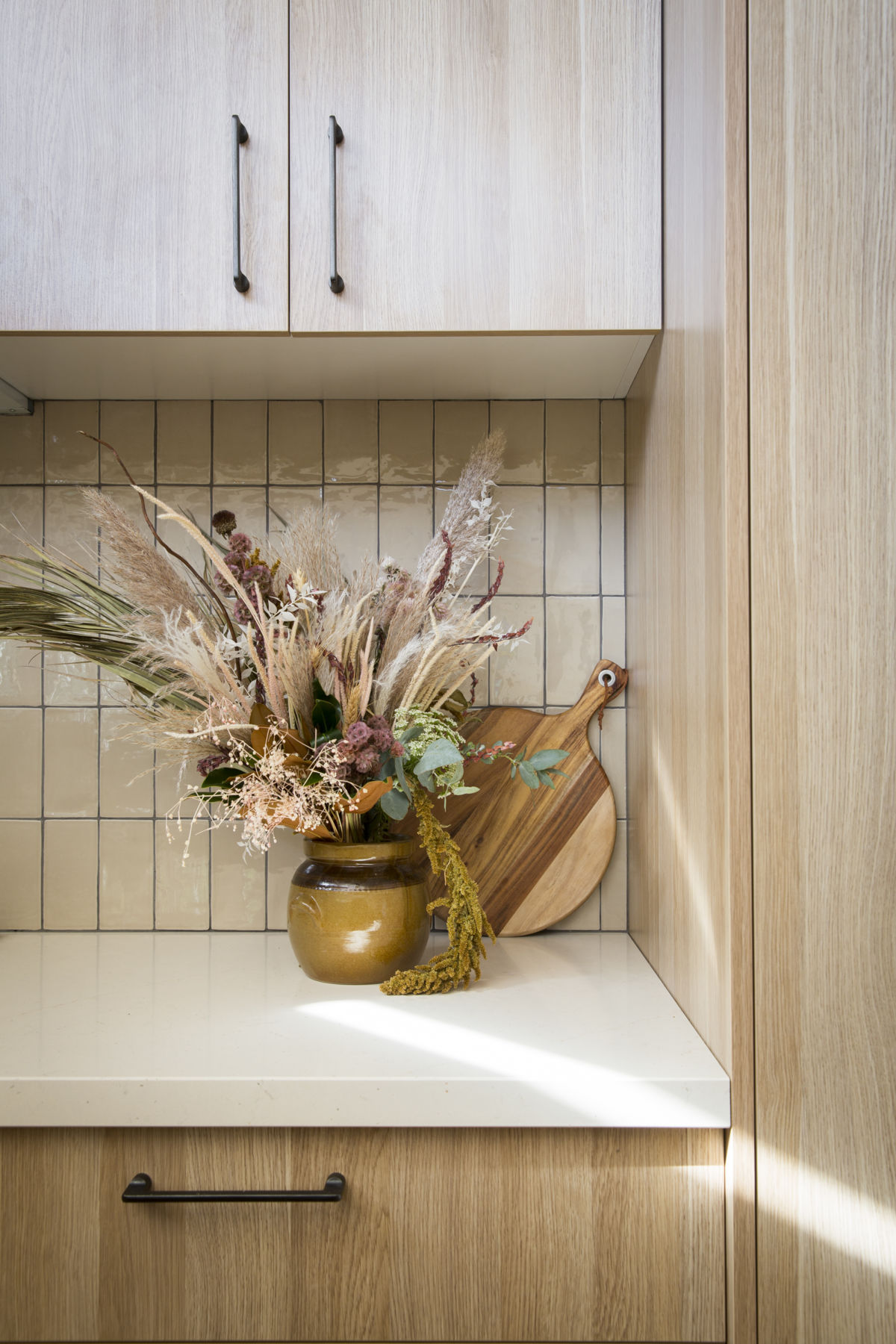 Their new microwave and oven have had their places switched in the new cabinetry, for better usability.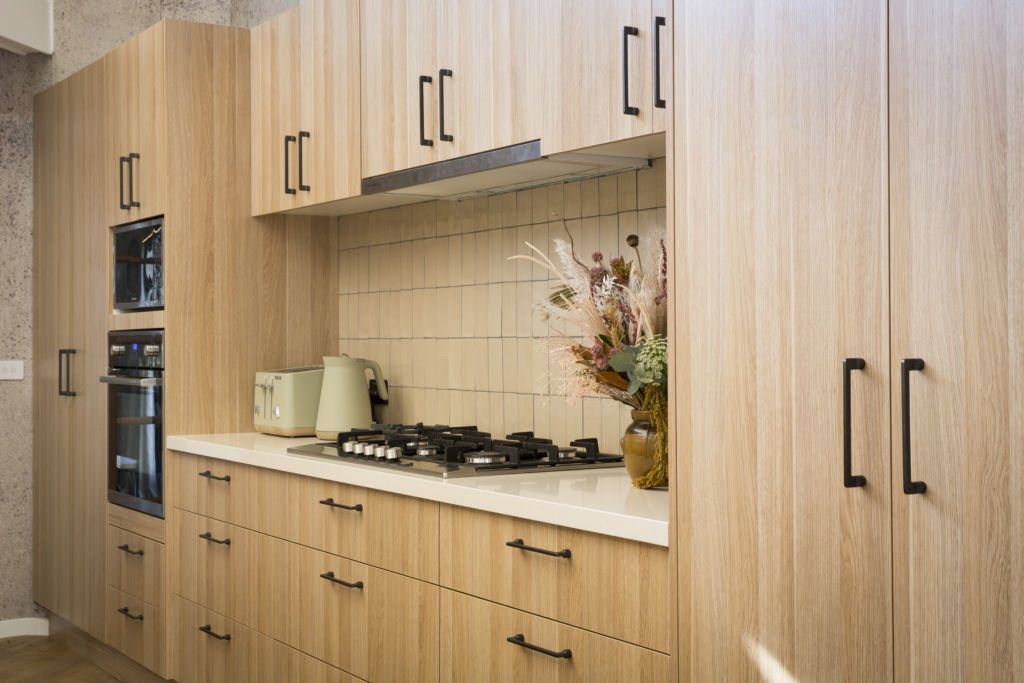 The deep drawers under Dale and Sophie's rear benchtop feature a premium soft-close mechanism, which comes standard with the affordable Xpress range – just like the Designer range.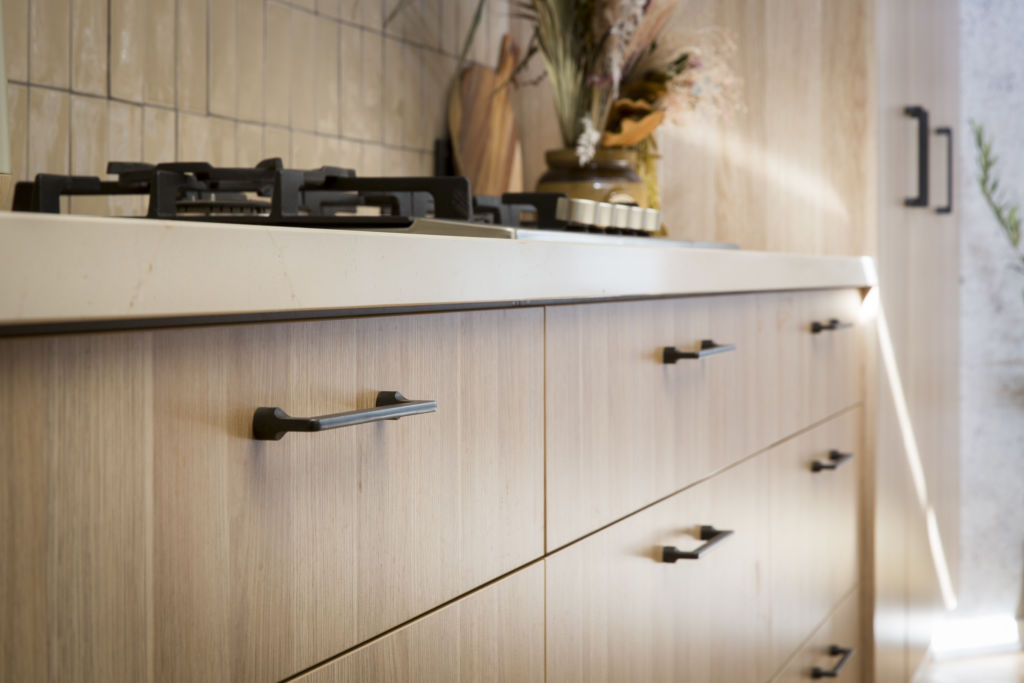 A gooseneck tap and double sink have been integrated into the front bench, facing the living room so they can work while watching the kids.
The bench has also been made made bigger and longer than the original, and upgraded to a durable engineered stone, beautifully finished with a mitred waterfall edge.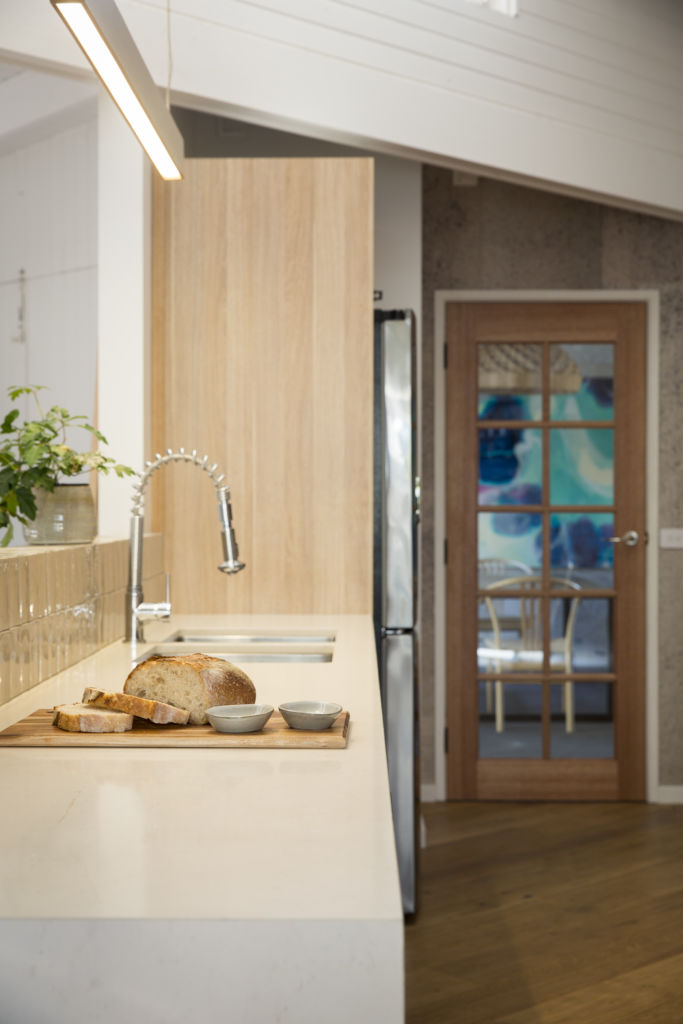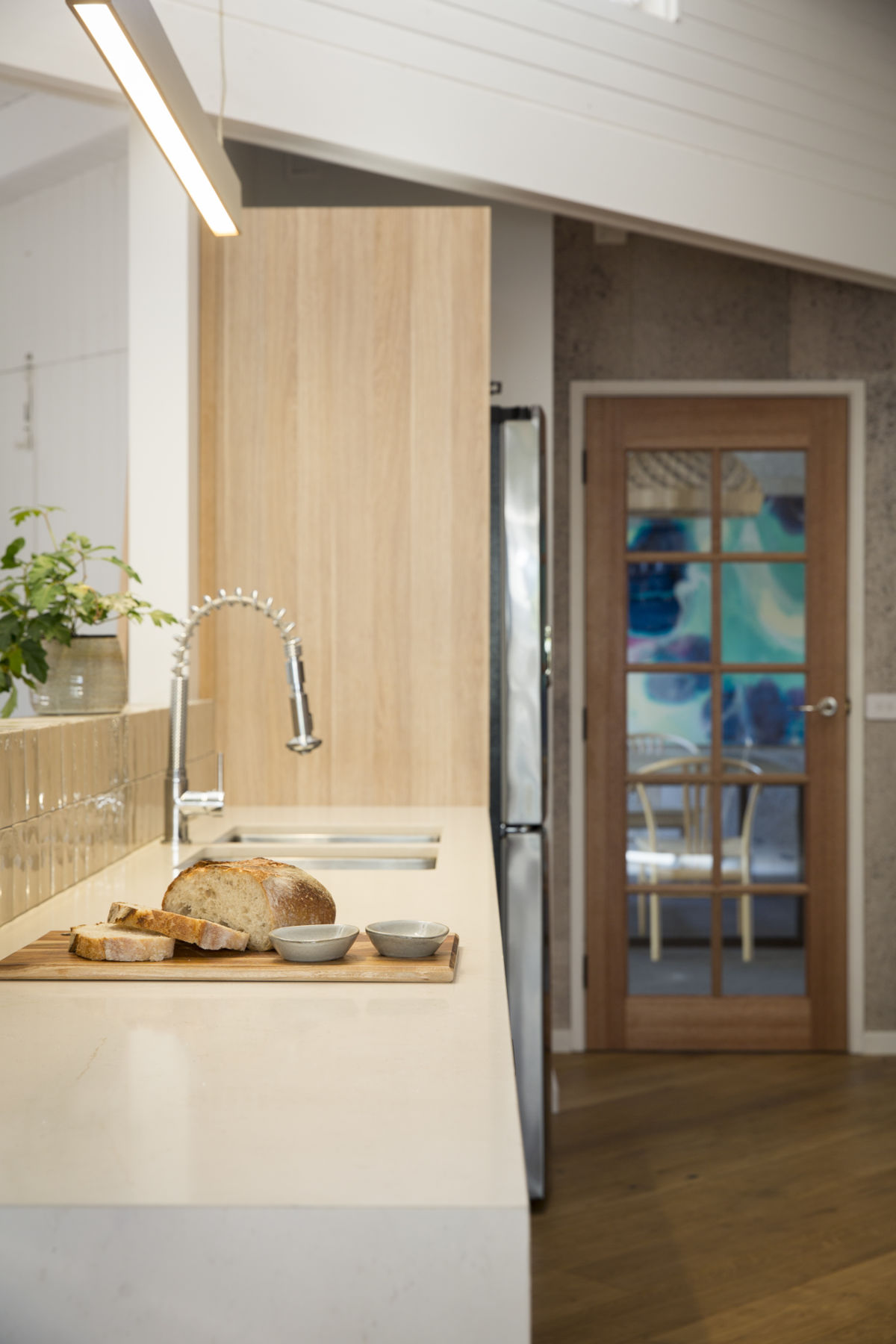 Take another look at Dale Vine's amazing Kinsman Xpress kitchen renovation Before & After, side by side: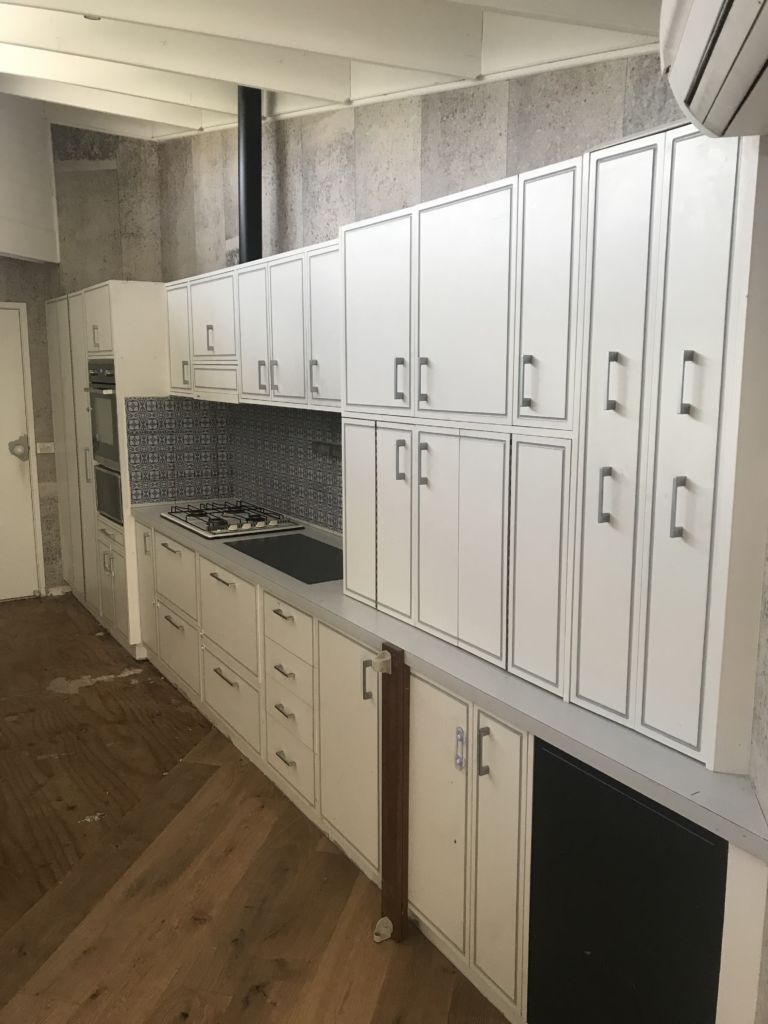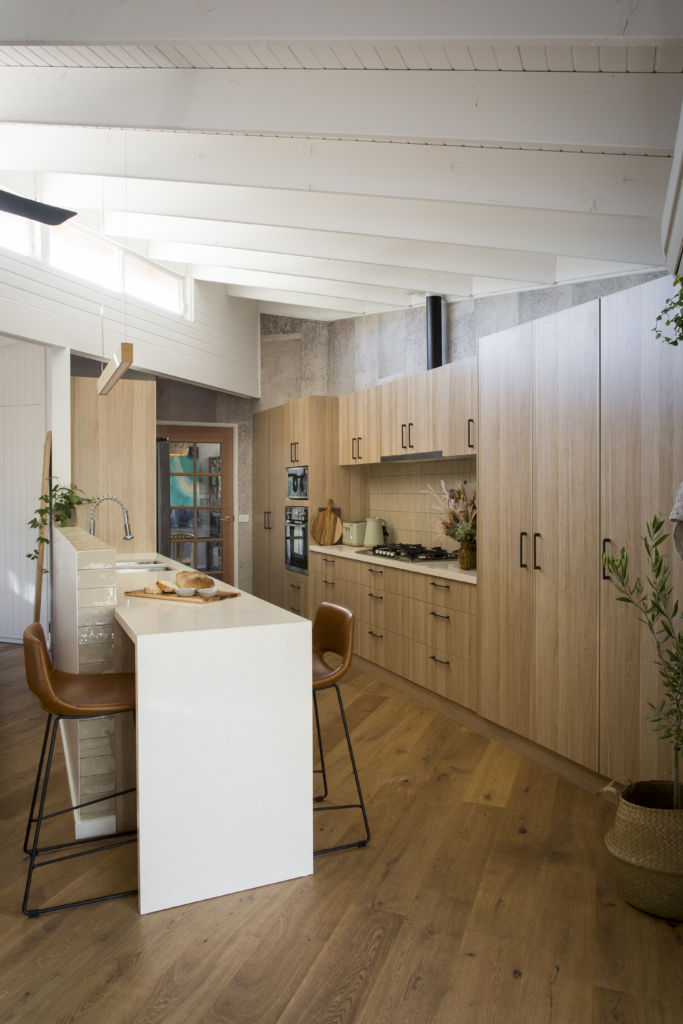 It's clear Dale and Sophie Vine love their warm and inviting new family kitchen.  Here's what Dale had to say about his experience with Kinsman Xpress.
Watch a recap of Dale's entire kitchen renovation journey.