Bar stools are the cherry on the cake when it comes to kitchen styles and that's why it's important to find the perfect match for your design. Not only do you need to choose style, tone and texture, you'll need to consider height, width, function, material and budget alike.
To help you choose the ideal stool for your kitchen, we've collaborated with Satara who hold the secret ingredients to the perfect stools that will add a touch of natural luxury to your home. Combining natural and manmade materials with skilled craftsmanship, their Indoor Collection includes best designs from eras gone by with new modern classics as well as a range of organic and textural furniture.
Read on to find your perfect stool for the job!
The New Classic Kitchen x Float Hole Bar Stool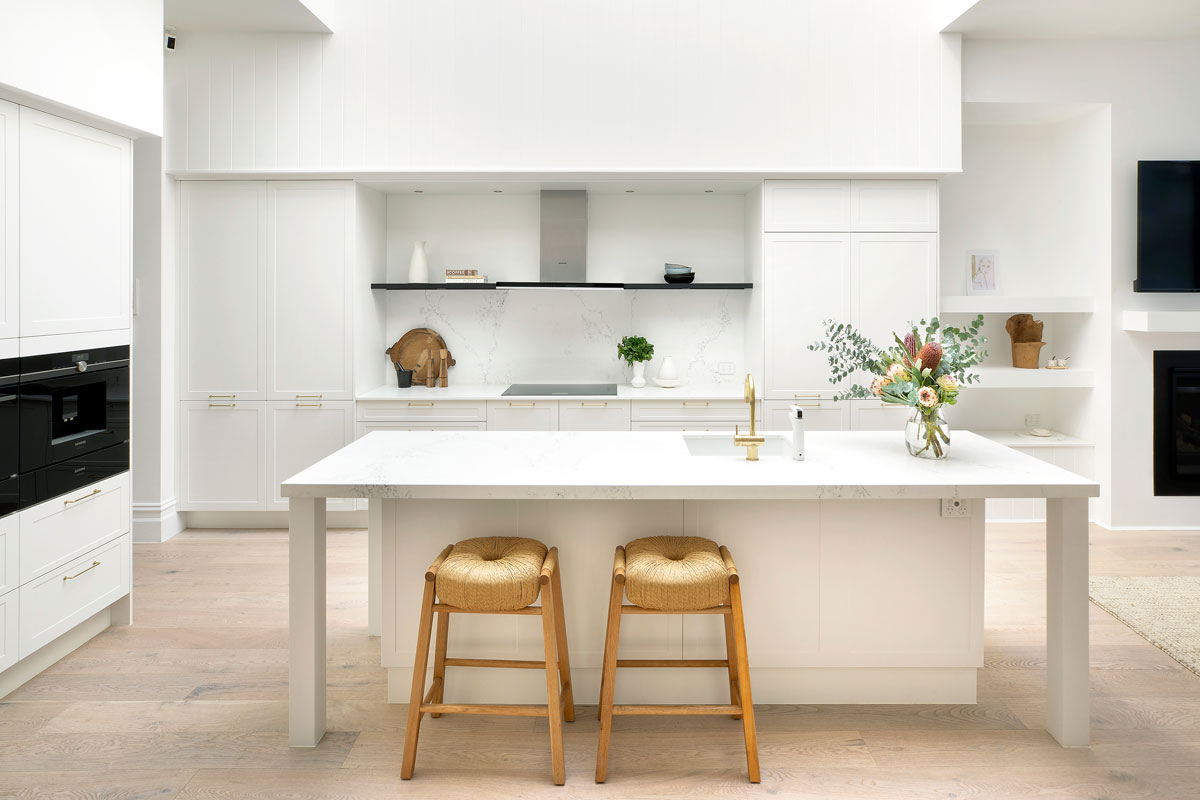 Neutral and nostalgic, this Hampton's inspired winning Kinsman Kitchen was created by Deb and Andy on The Block 2019.
White Matt cabinetry envelops the heart of the home in this New Classic style kitchen. Kinsman's Somersby Shaker-style doors in Classic White, bring a traditional element to the bright and breezy atmosphere of this Hampton's inspired space. Luxurious marble-look Caesarstone© Empira White™ benchtops and splashback have been perfectly paired with profile doors, adding refined elegance. Key to the Hampton's style, enter Satara's Float Hole Bar Stool which radiates warmth into the room with natural textures and tones of cord and oak. Timber flooring accentuates these characteristics while metallic accents of handles and tapware add a sophisticated and modern twist.

The Contemporary Classic Kitchen x Pican Bar Stools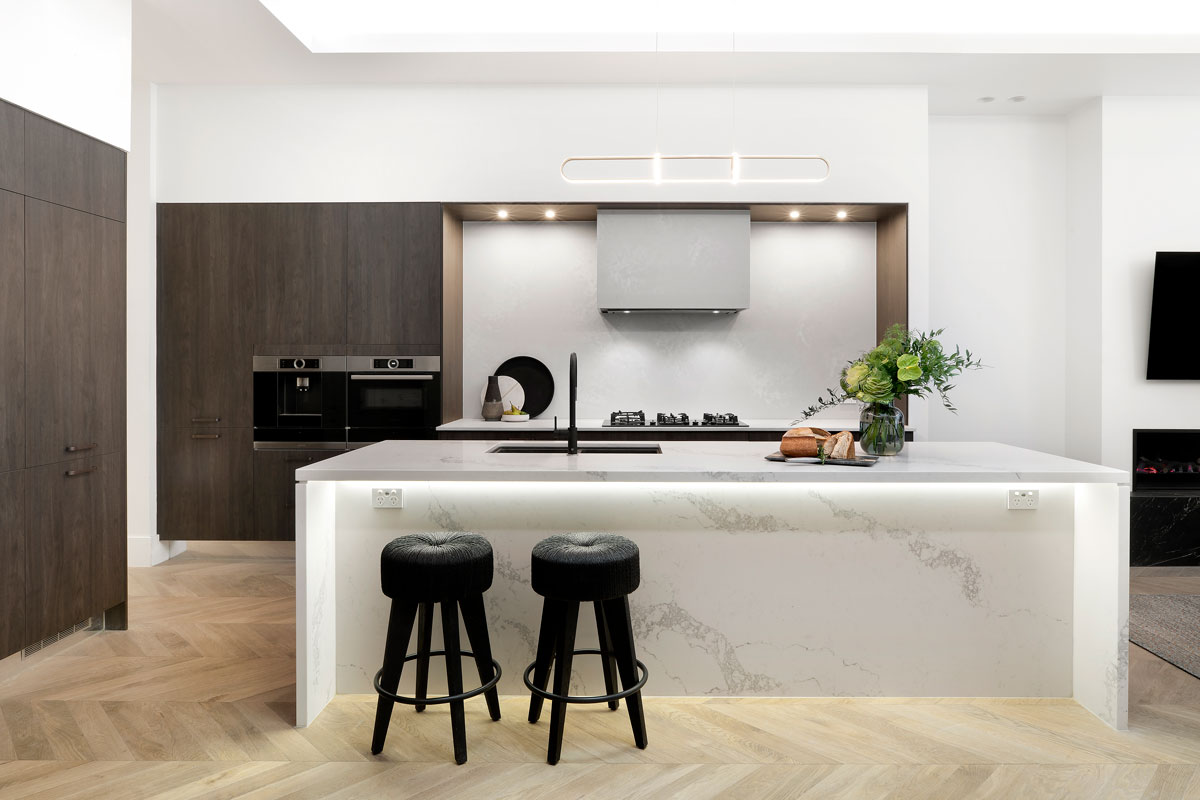 On The Block 2019, Jesse and Mel created this contemporary yet timeless kitchen which celebrates a natural, rich and indulgent colour palette.
Boasting clean lines and a sleek design, this Contemporary Classic style kitchen is oozing with natural surfaces. This striking colour palette encompasses monochromatic hues and natural textures including cabinetry in Perugian Walnut Woodmatt which exudes a rich timber effect that wraps around the focal point in the room – the island bench. A centrepiece that speaks volumes with its elegant waterfall design, flowing seamlessly from end to end, sits pretty in the centre of the room. Its lavish marble-look finish accentuates grandeur while LED strip lighting illuminates the premium quartz' charming aesthetic. Satara Pican Bar Stools in Woven Black Cord and Black Stained Oak completes the dramatic style of this kitchen with their bold presence, contemporary shape and natural textures which tie in perfectly with the organic characteristics that occupy the space.

The Family Kitchen x Tailored Kitchen Stools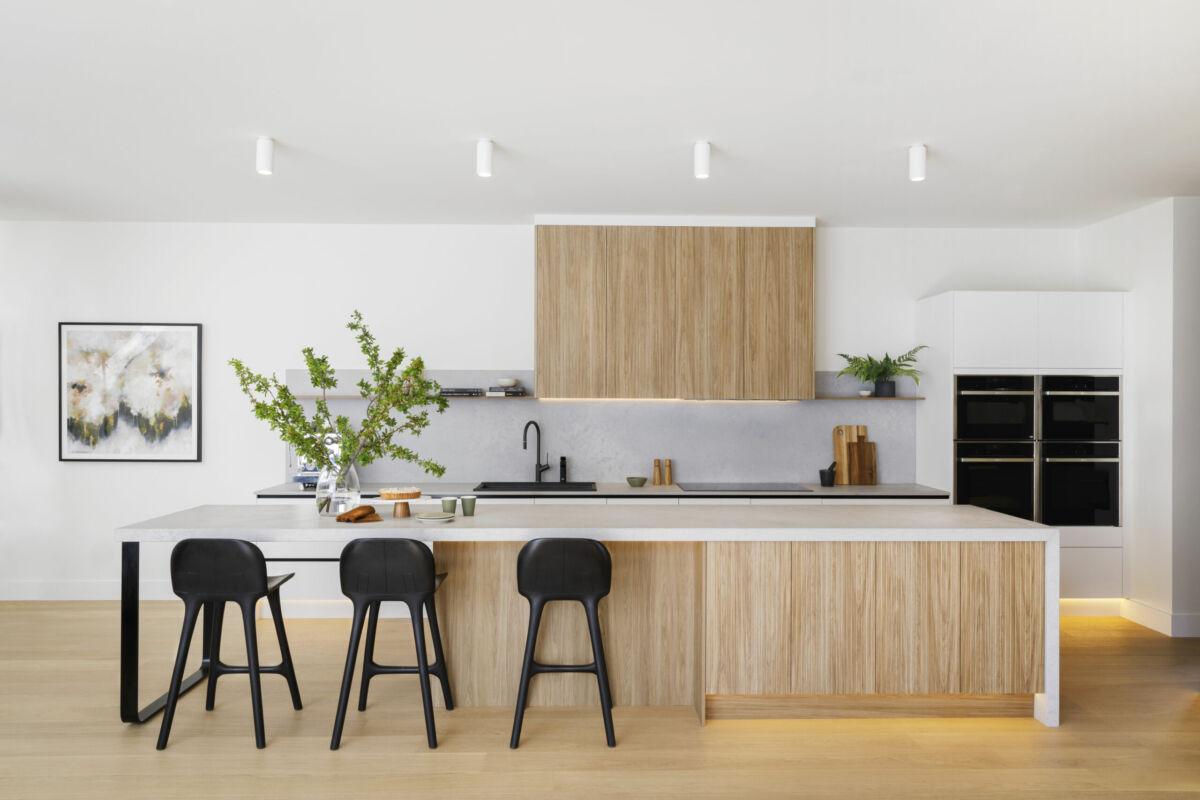 With enough space to accomodate 8 people, this generous 4.3m long benchtop in Caesarstone© Airy Concrete™ was described by Shaynna as a 'catwalk' on The Block 2020.
When Kitchen Week arrived on The Block 2020, Harry and Tash wanted to create a masterpiece using emotional connection to create a heart of the home which resonated with their roots. They chose to create an entertainer's kitchen to host a large family which came with the requirement for ample seating and functional storage space, both of which Kinsman had no trouble offering! This 4.3m long benchtop is bursting with storage opportunities and bears enough space to seat 8 people. The generous space brings the outdoors in with a neutral colour palette, embracing brightness, texture and warmth with a modern twist of industrial black accents. Perfectly coherent with the Scandi style of this kitchen and its industrial elements are Satara's Tailored Kitchen Stools in a matte finish. Made from fiberglass, they too celebrate a sleek design with clean lines which accentuates the contemporary look and feel of this stunning kitchen design.
Designer tip: Planning is key! Consider the number of stools you would like to sit at your island or benchtop before you design your kitchen.
Seamless Scandi Kitchen x Lucas Weave Stools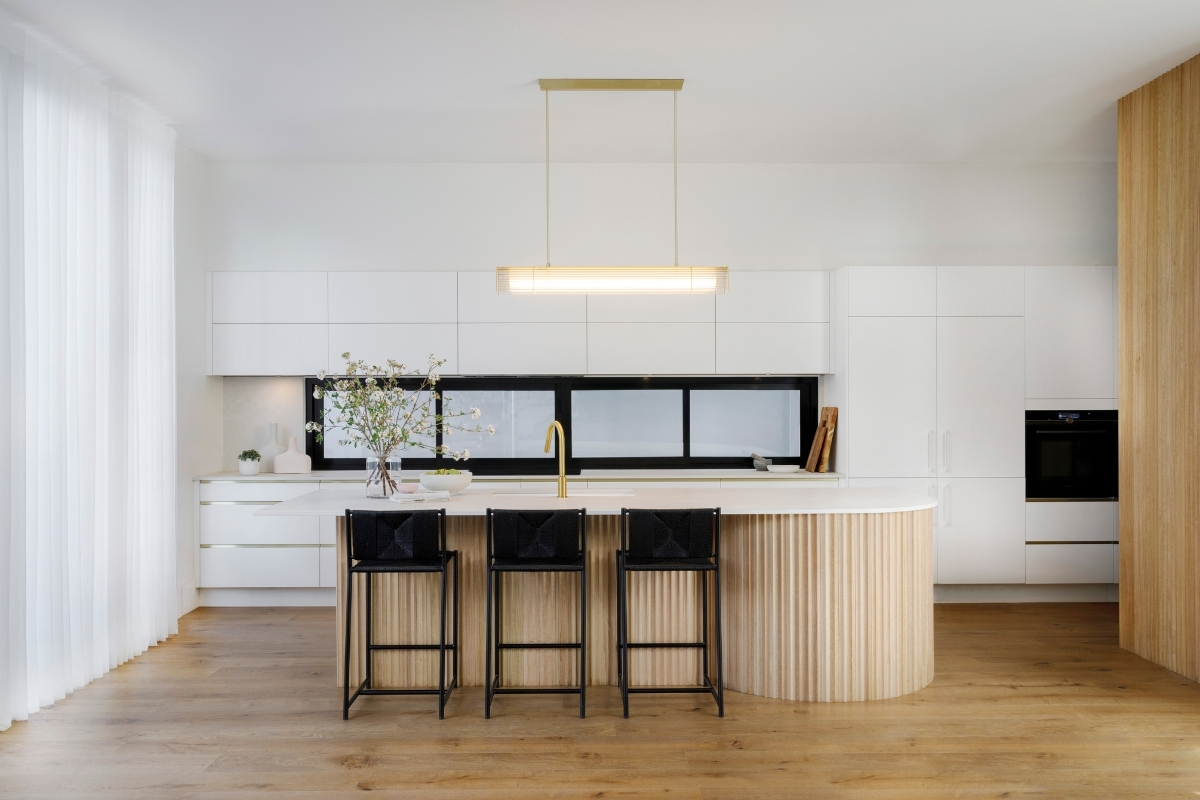 Embracing light, natural materials and curves, this timeless kitchen design was created by Luke and Jasmin on The Block 2020.
Bright and airy, a seamless bank of white cabinetry provides the perfect blank canvas to design a Scandi style kitchen. Metallic highlights of UltraGold Marq Handles and gold tapware add a touch of glamour and elegance to the space. A stylish curved island bench is wrapped with scalloped shape timber and topped with Caesarstone© Airy Concrete™, drawing the eye to natural materials and defining a clear focal point in the centre of the room. Lucas Weave Stools by Satara complete this kitchen's look with their dramatic Black/Charcoal colour and decorative design, created with Danish Cord.

Retro Luxe Kitchen x Skal Bar Stool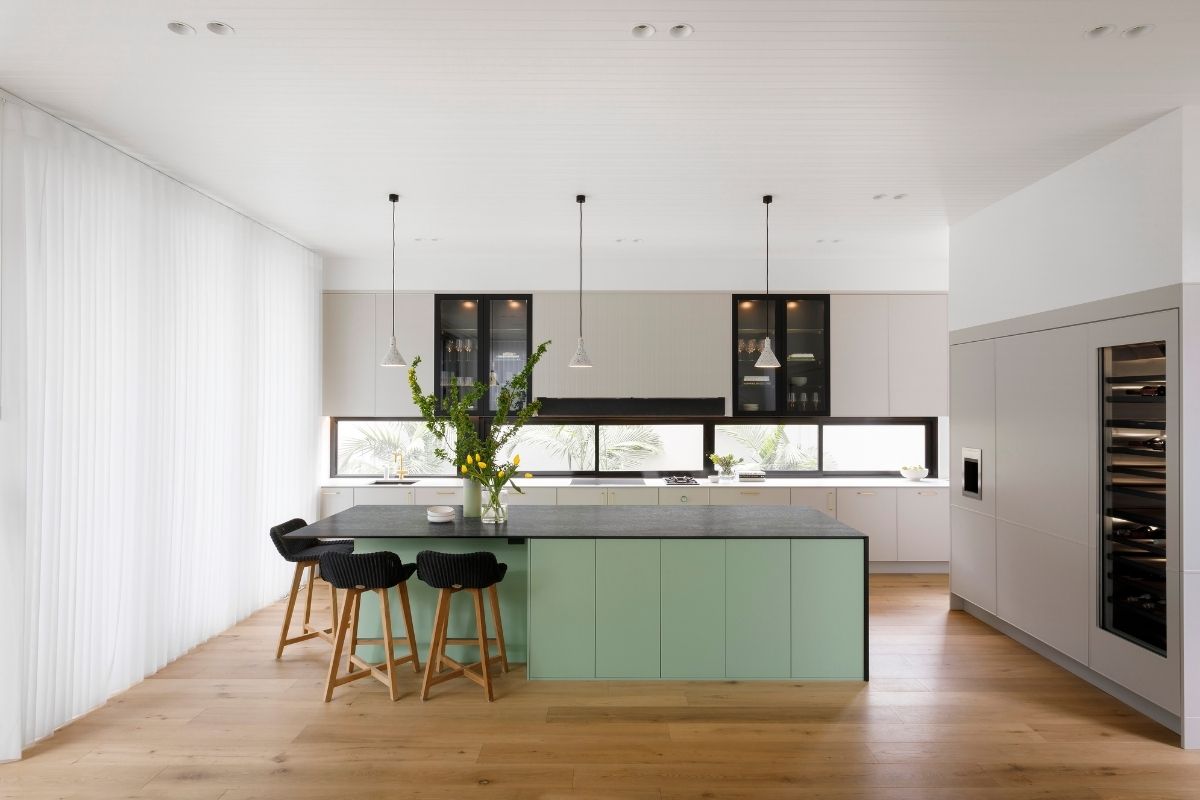 Playful pops of green nod to the 1950s heritage of Jimmy and Tam's home on The Block 2020.
This fun and fresh kitchen is a fusion of the past, present and future; filled to the brim with texture, tones and Gaggenau technology to fulfil any home chef's dream. Jimmy and Tam chose banks of Oyster Grey Matt cabinetry featuring Camden and Avalon profile doors to frame the designated kitchen area, creating a neutral and textured base from floor to ceiling. Ballina Enamel Natural cabinetry injects colour into this classic design, paired with a dramatic Caesarstone© benchtop in Black Tempal™ to make a true statement. Contrast flows from the kitchen to Satara's Skal Bar Stools, textural Black Synthetic Weave seats oppose with the Teak legs that they stand on, completing this state of the art kitchen masterpiece.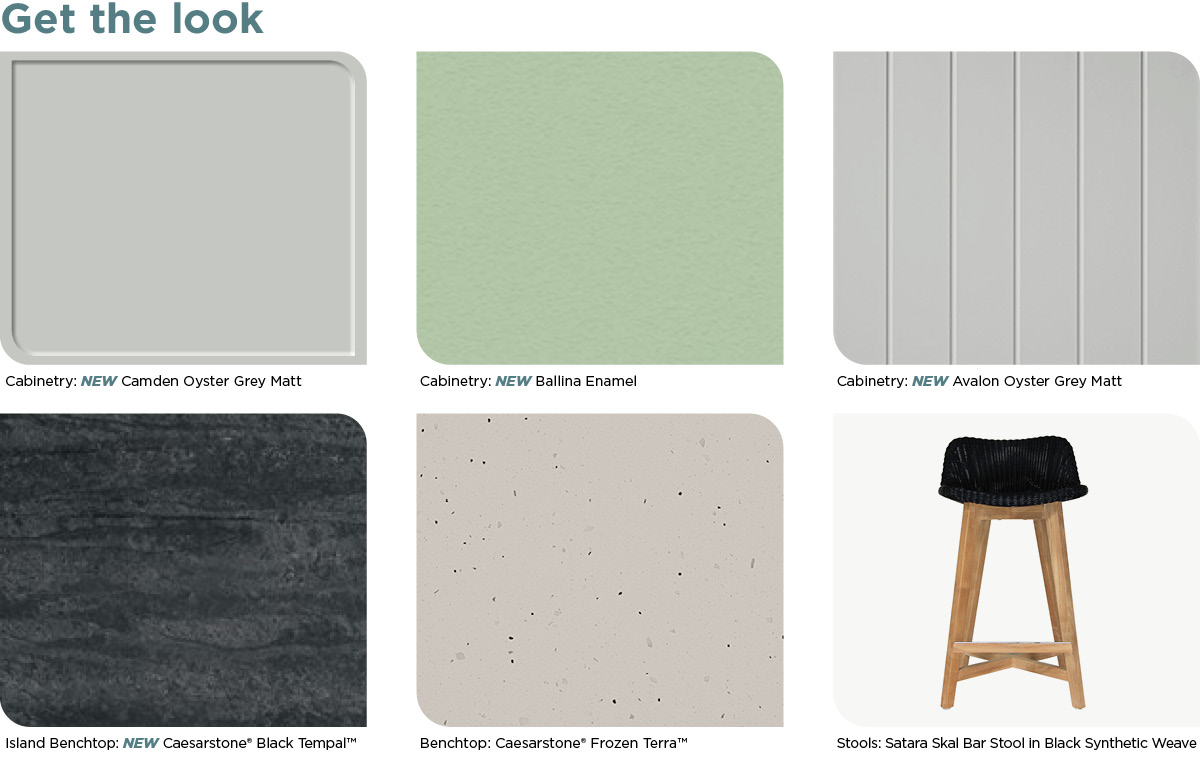 Ready to design your Kinsman Kitchen? Book your in-home, in-store or virtual design appointment HERE.
Alternatively, download our latest Ideas and Design catalogue HERE and flick through for more kitchen inspiration.
Find your perfect stools to match! Explore Satara's carefully designed and curated collection of bar stools that emulate relaxed luxury resort living. CLICK HERE to find stool success.