When homeowner Jessica decided to transform an unused room located directly across from the Master Bedroom into a dream 'His & Hers' Walk-In robe complete with a study nook for husband Michael and herself, she enlisted the help of Kinsman Wardrobes to bring it to life! Step inside this exciting and highly functional room and be inspired!
The brief.
"My brief to the designer was simply: please design my dream wardrobe," smiles Jessica. "I wanted to have a space that would house all of my clothes, shoes, bags and jewellery. I also knew I wanted a mix of hanging storage and drawers as well as shelves to display all of my favourite things. Finally, I wanted an area to be able to sit and do my makeup".
Presented with a blank canvas with two beautiful windows which have since been updated with plantation shutters, we quickly set to work to create a new robe design that ticked all the boxes!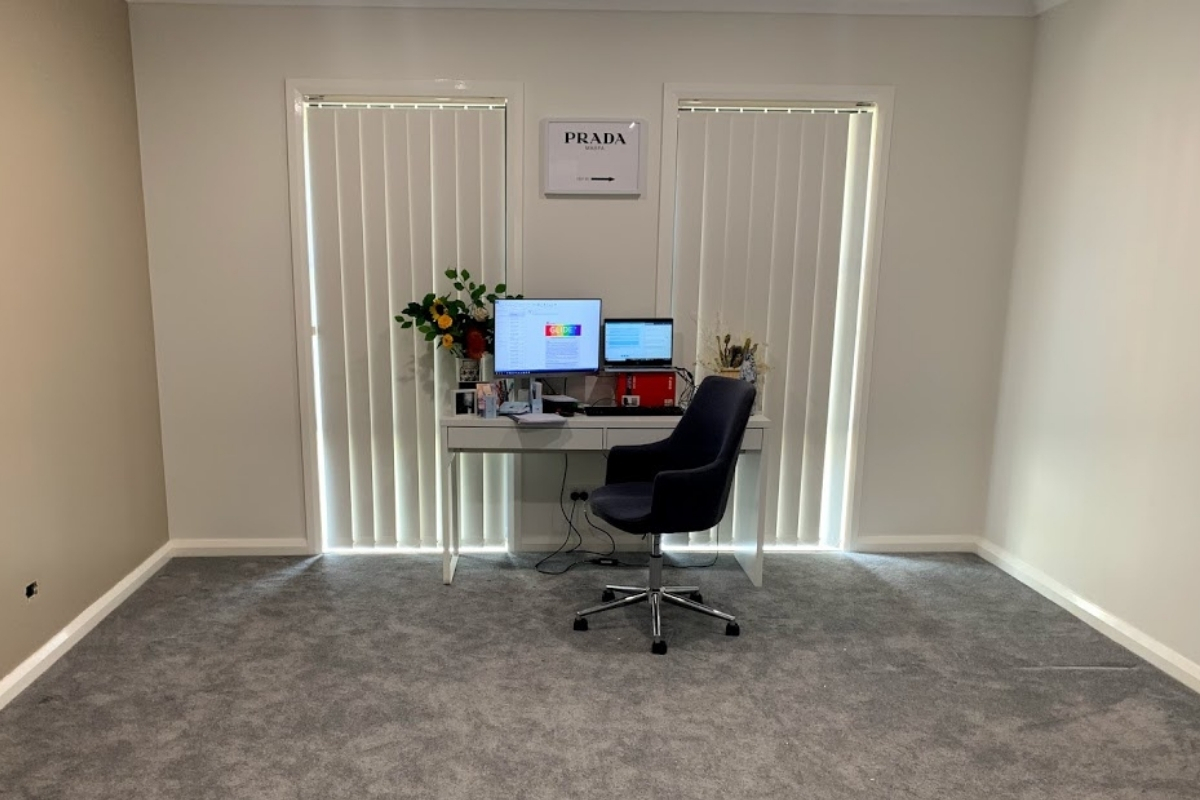 Before: An unused lounge room in the family home, opposite the Master Bedroom, was the perfect location to create a dream walk-in wardrobe and home office for the homeowners.
The result.
Due to the generous size of the room, this Master Walk-in Robe features two 4.7 metre banks of generous storage combining hanging space, drawers and open shelving to store all clothing, shoes and accessories for the couple. No external doors were included, the design is all open. "I wanted to be able to see everything at once," explains Jessica. "So I opted not to have any doors on the wardrobe."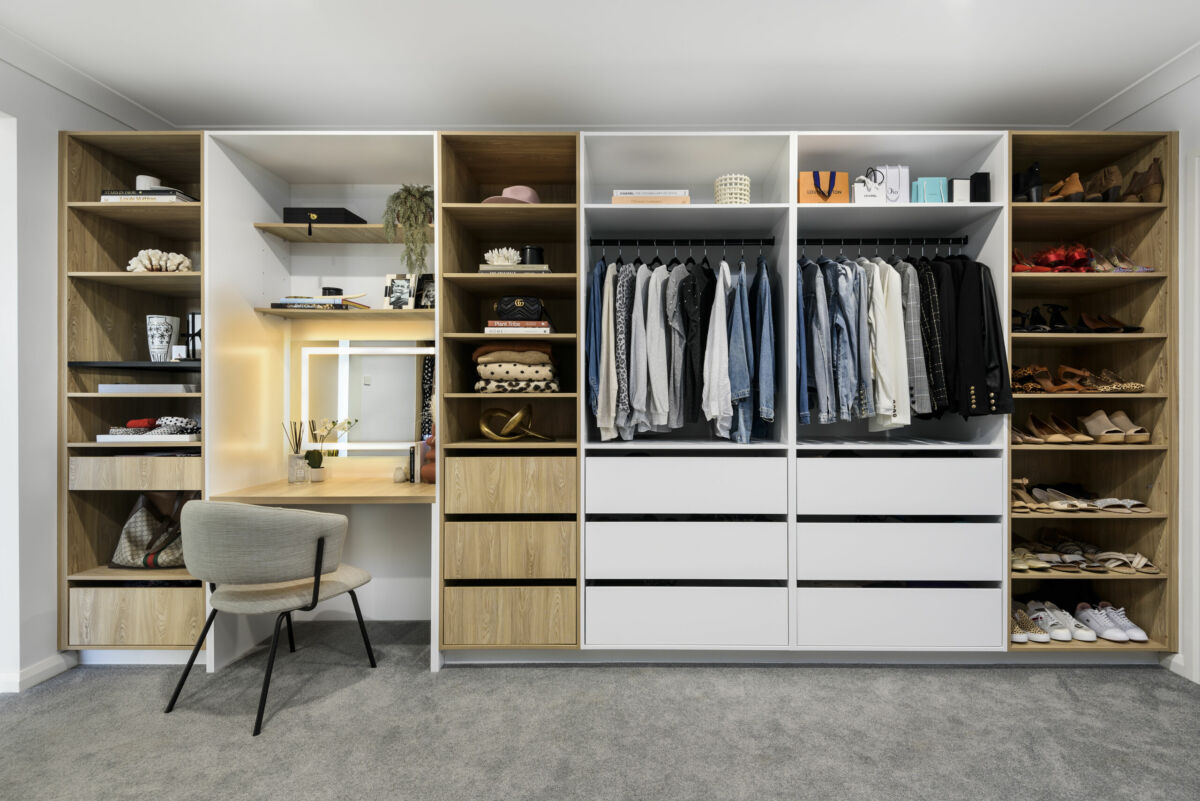 Storage galore!
On the right hand side of the room, the open robe offers four full hanging sections which house coats, dresses and jackets, half hanging for shirts and skirts, a Scarf/Tie Rack, as well as additional shelves above.
To the left, more half hanging space is on offer as well as a decorative black frame glass shelf and jewellery drawer to showcase Jessica's beloved pieces. Soft closing drawers perfect for storing items such as t-shirts and underwear out of sight, a makeup station complete with a state of the art mirror and open shelving that can double as a study space. Open shelving also features amongst the main robe, allowing Jessica to store her shoes and accessories.
Designer tip: Decorative items such as vases, books, sculptures, artwork, plants and the like will inject colour and add a personal touch to your wardrobe and/or bedroom.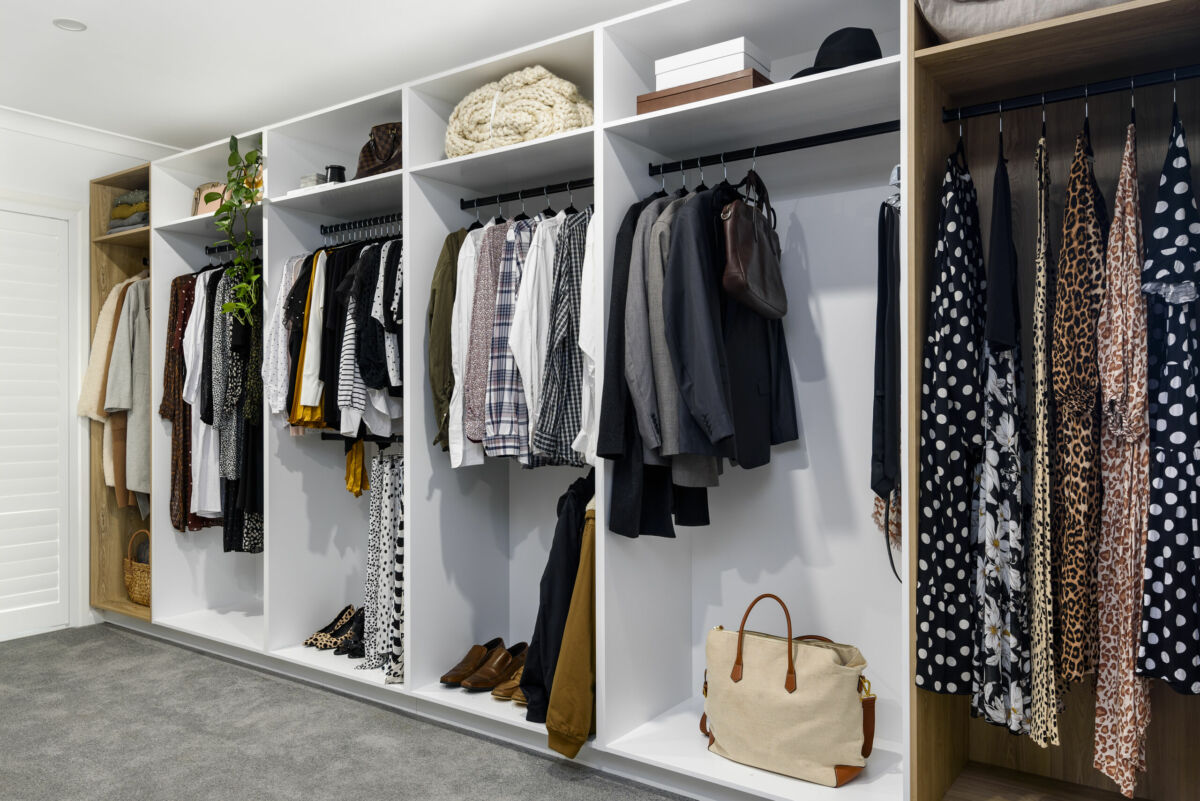 The colour palette.
Both open robes feature a stylish mixture of Kinsman's interior finishes in White Satin and Natural Oak Matt, creating a fresh and modern take on the classic Scandinavian style that the couple love. Matte black hardware including the hanging rails, and open shelving in matching Natural Oak Matt found within the makeup station further enhance the look.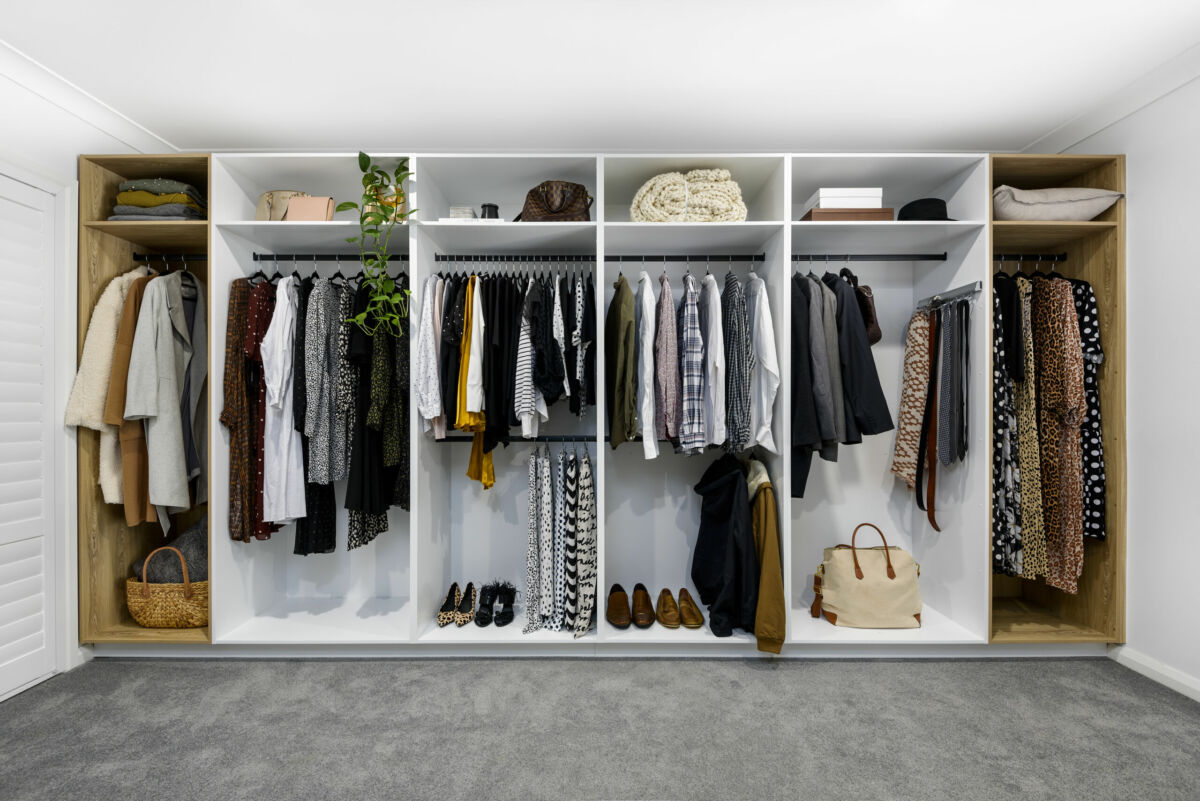 "I originally wanted an all-white colour scheme, but it was the designer's suggestion to have the two-tone white and oak finish," says Jessica. "I am so glad I took her advice as I just love it! It feels luxe, warm and pairs perfectly with the Scandinavian styling we have in other parts of our home. It feels very classic and I can't ever imagine it going out of style."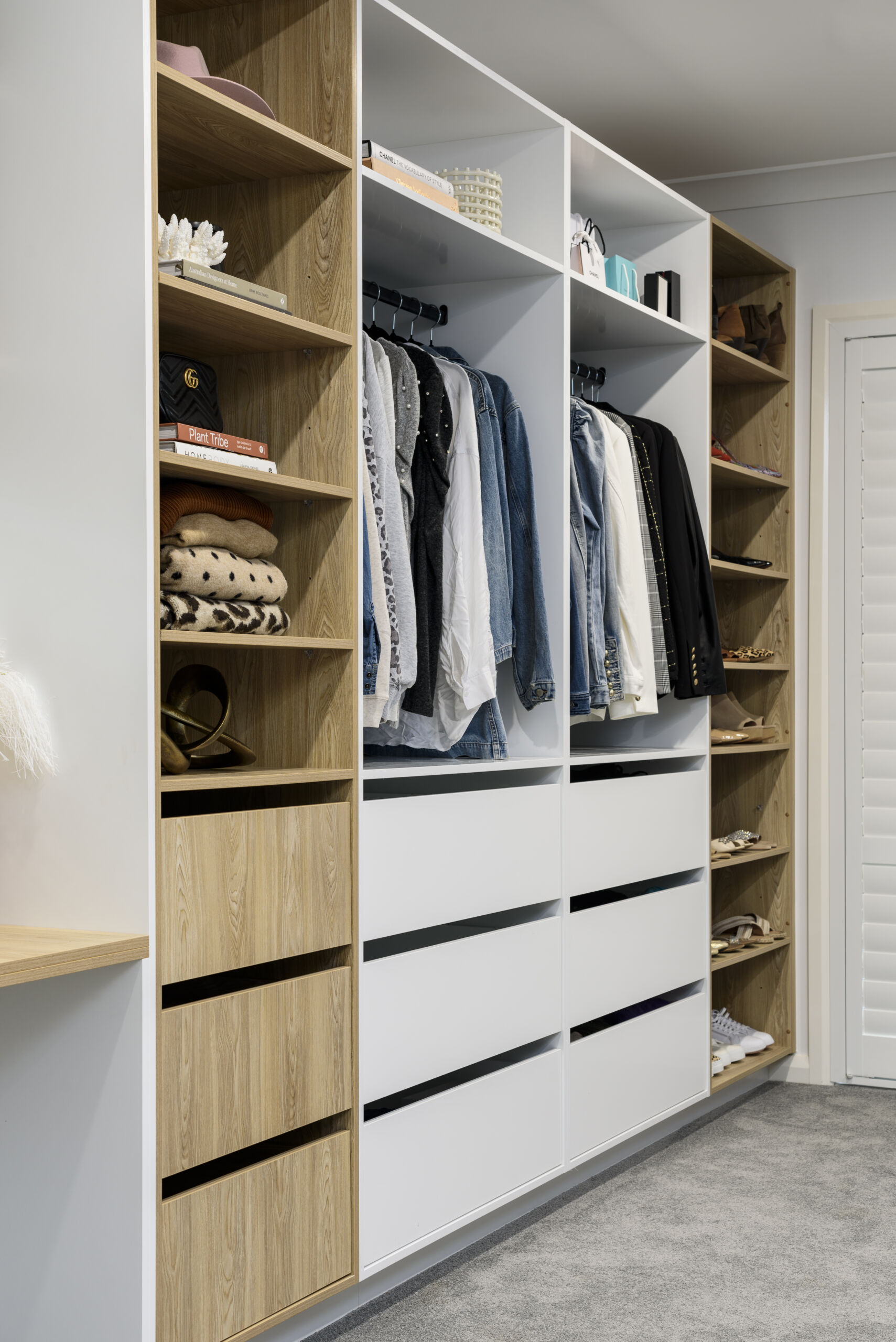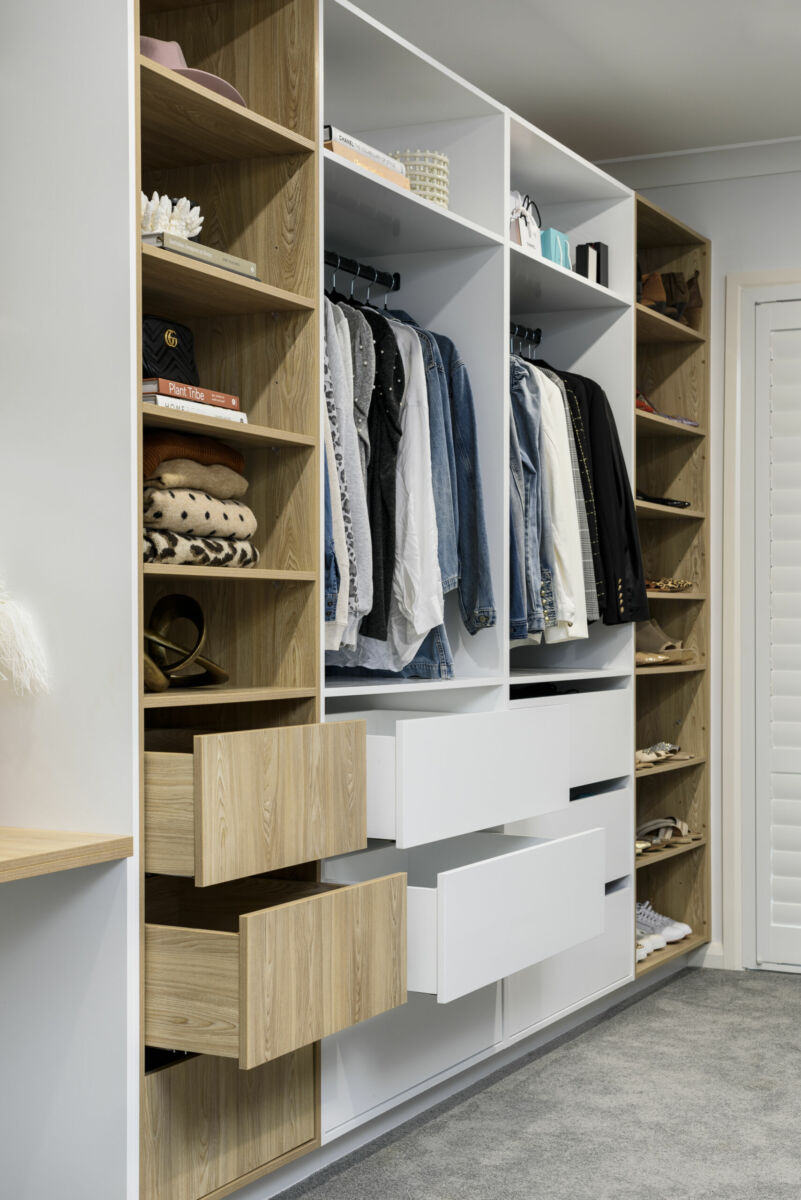 Makeup station/study nook.
One of the stand out details of the wardrobe is the makeup station which also doubles as a home office nook. It is also (unsurprisingly) one of Jessica's favourite spots in the room, which she added to her 'must have' list after seeing the various designs from The Block 2020. Maximising the luxe and enjoyment factor, the new Loox Multi-Dimensional Mirror was chosen, this luxurious extra combines both makeup and mood lighting, a Demister, and a Bluetooth-powered sound system.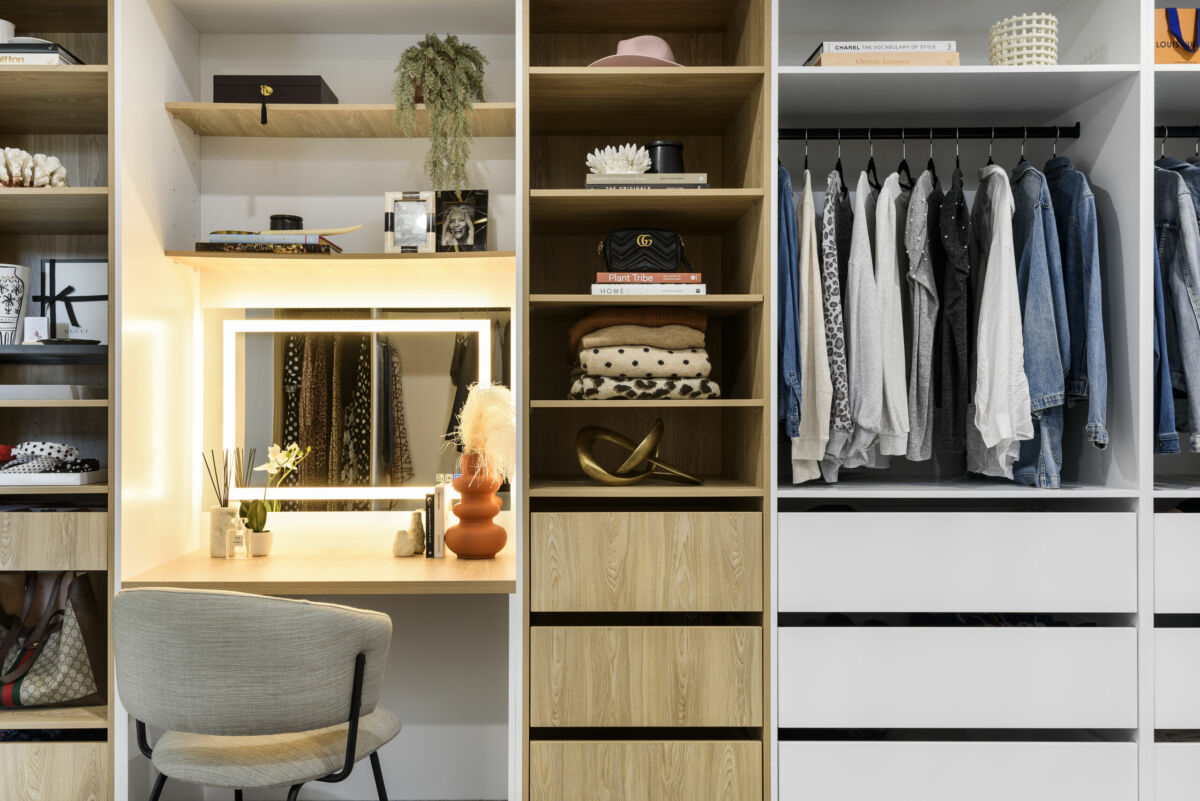 "I loved the aesthetic of the make-up station and the mirror is just the cherry on top," Jessica declares. "It's so comfortable to sit at the desk with the lights on, listening to some music and have lots of room to spread out my makeup."
Playing favourites.
When asked what her favourite part of the wardrobe design is, Jessica can't pick just one! "It's a tie between the drawer for all of my jewellery, and the makeup desk, complete with the Loox mirror that has touch controls for lights and to play music" she says.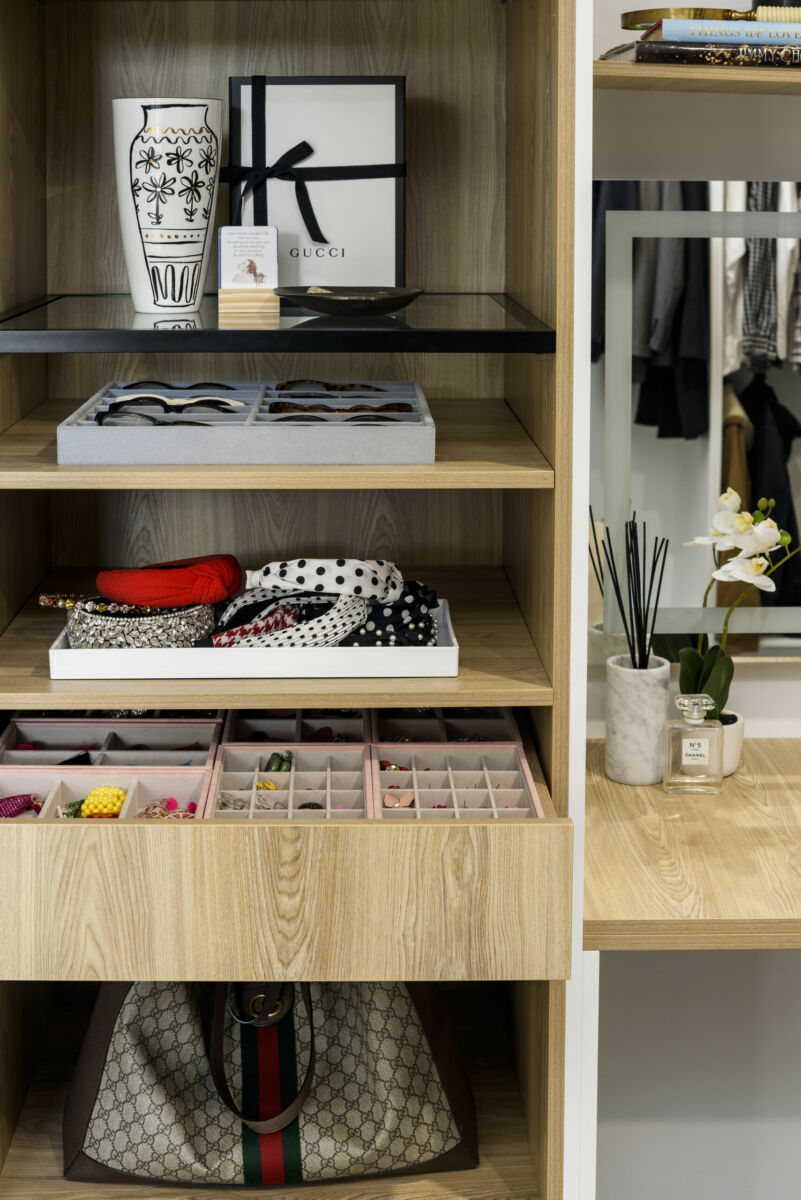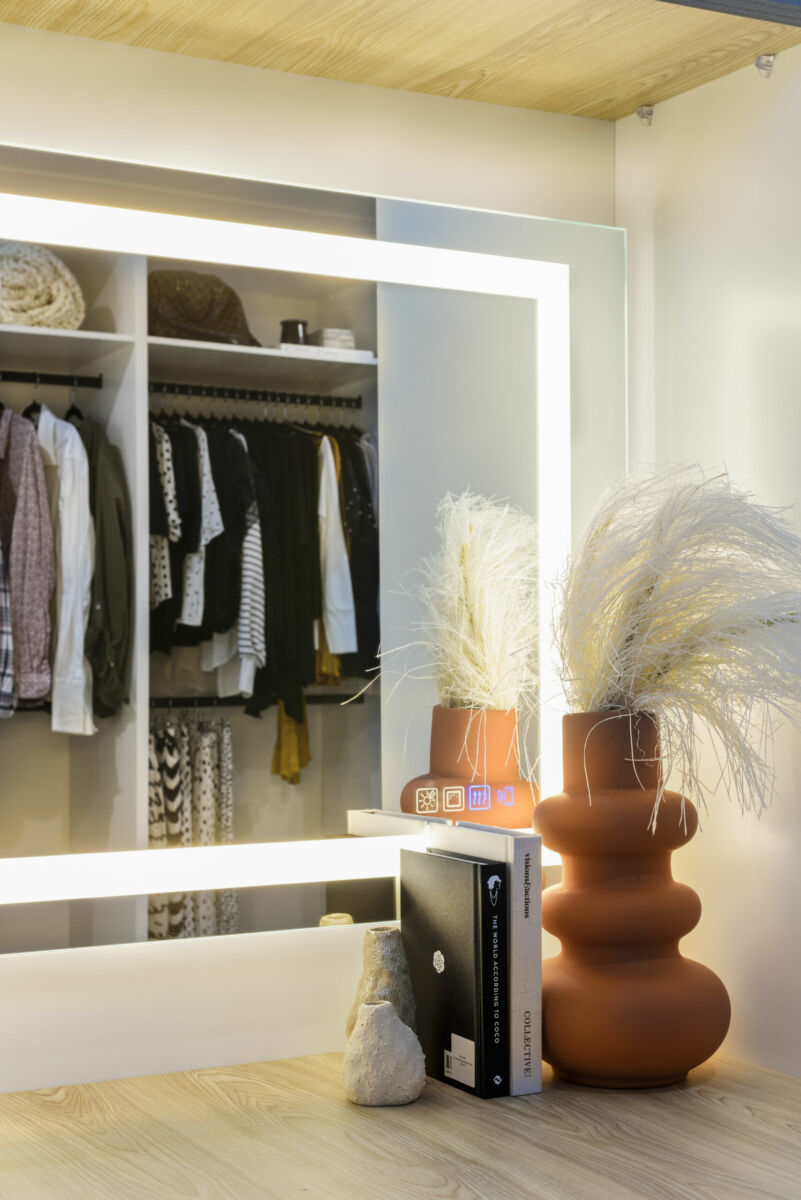 Featuring:
Interior finishes: White Satin, Natural Oak Matt
Desk: Natural Oak Matt
Mirror: Loox Multi-Dimensional Mirror
Accessories: 2020 Black Framed Glass Shelf, Scarf Rack, Hanging Rails, Soft Close Drawers
The Kinsman experience.
"It was a great experience working with Kinsman, says Jessica. "From the initial phone call enquiry, through to the wardrobe design and quote and the finished product. The online customer service portal was a terrific way to keep up to date with each step of the process."
Photography: Jerome Treize – Atelier
Styling: Lara O'Donnell – Tailored HQ
Ready to transform your wardrobes that combine style, functionality and lots of storage?
Create your perfect Kinsman Wardrobe with us today! Book your expert in-home, in-store or virtual appointment HERE. For more inspiration and information on our range of wardrobes, download our latest catalogue HERE.