A well-designed and stylish pantry can transform the storage and organisation in your kitchen and home, making it a joy to use every day.
At Kinsman we understand that every home, style and needs are different as well as the physical space you may have for your pantry, and we are here to help: with options ranging from Butler's, walk-in, standalone, to simple yet highly effective pull-outs, we have pantry solutions to transform your home!
Read on to discover what we consider when designing a stylish and functional Kinsman Kitchens pantry.
Discover your perfect pantry match.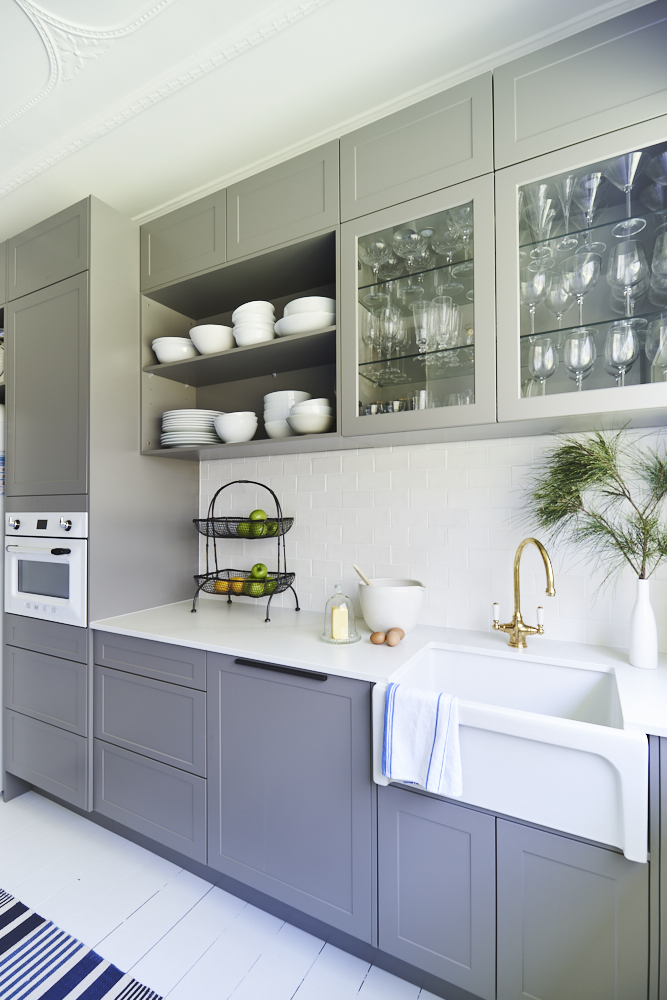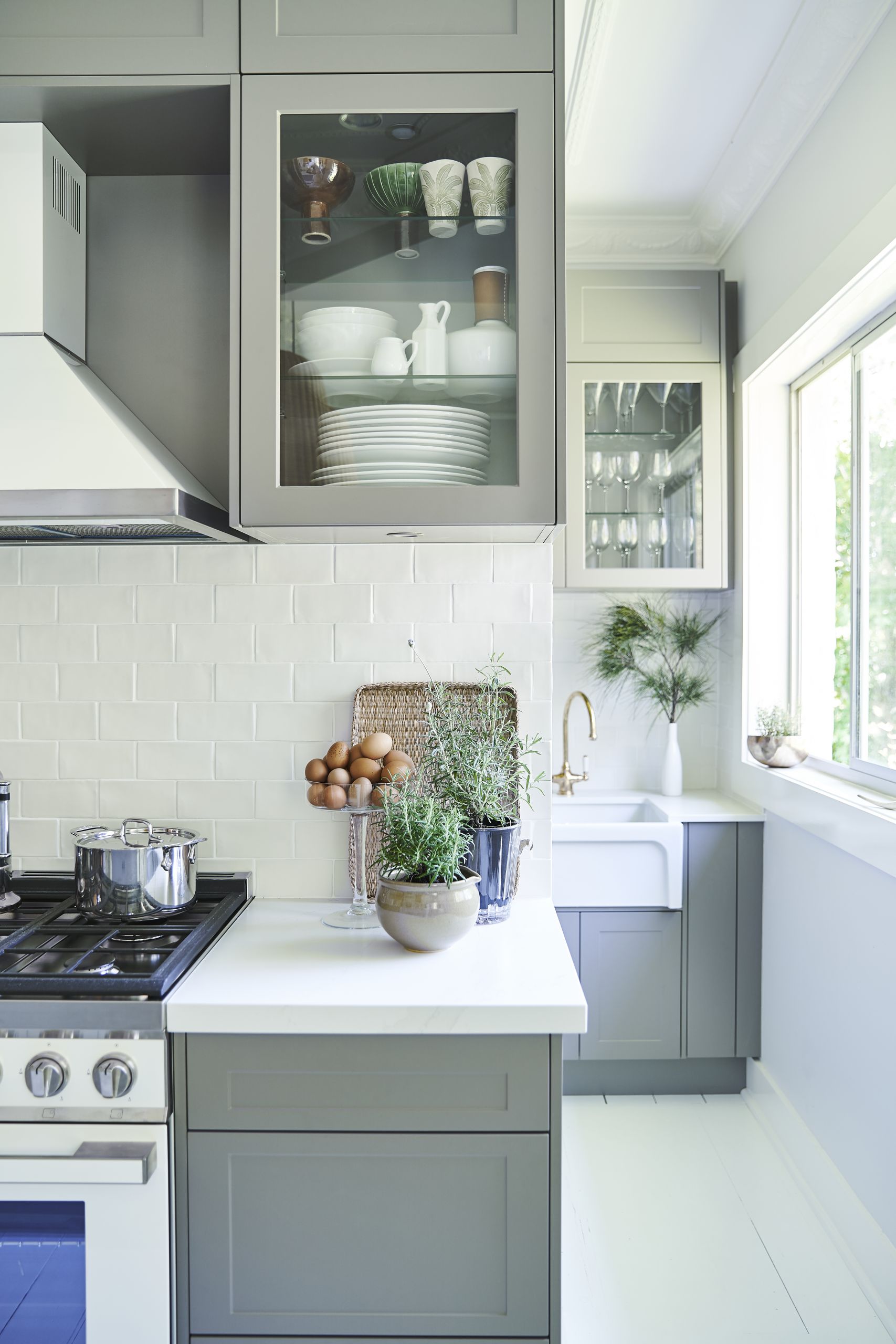 Soap Star: Style guru and judge on The Block, Neale Whitaker entrusted Kinsman to create a light-filled, stylish and functional Butler's pantry that perfectly suits his country-style Kinsman Kitchen and which acts as a mini-kitchen.
Butler's pantry or Butler's kitchen
The type of pantry you include in your home will largely depend on the size of your space you have to allocate to it, and at Kinsman, we have a range of options to suit- all of which ensure that your pantry will work hard and look great!
If space permits, a Butler's pantry or Butler's kitchen is the ultimate in pantry design. A standalone room, it combines storage with elements of kitchen functionality- ranging from additional prep area, extra appliances such as ovens and dishwashers as well as a plethora of storage. It is a great option for those who love to cook and entertain, as it functions as a mini-kitchen – with the added bonus of being able to hide all the mess from guests!
Don't despair if you don't have the space for a Butler's pantry, our range of walk-in, standalone and pull-out pantries are designed to maximise storage space, making organisation a breeze in your home. A walk-in and standalone pantries provide storage space for not only dry-goods but for small appliances too, and our wire pull-out pantries create optimal space utilisation in narrow cabinets within your main kitchen area.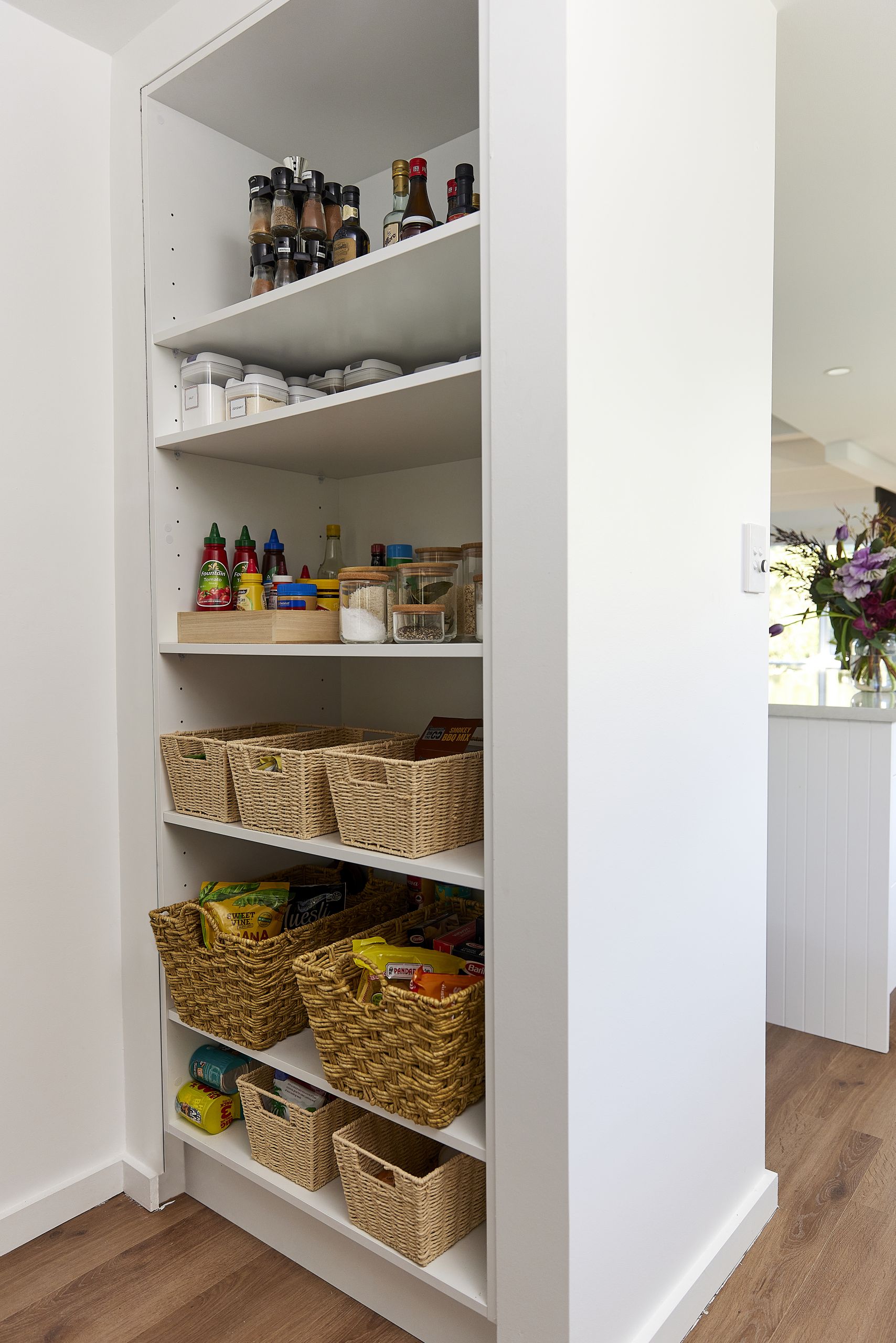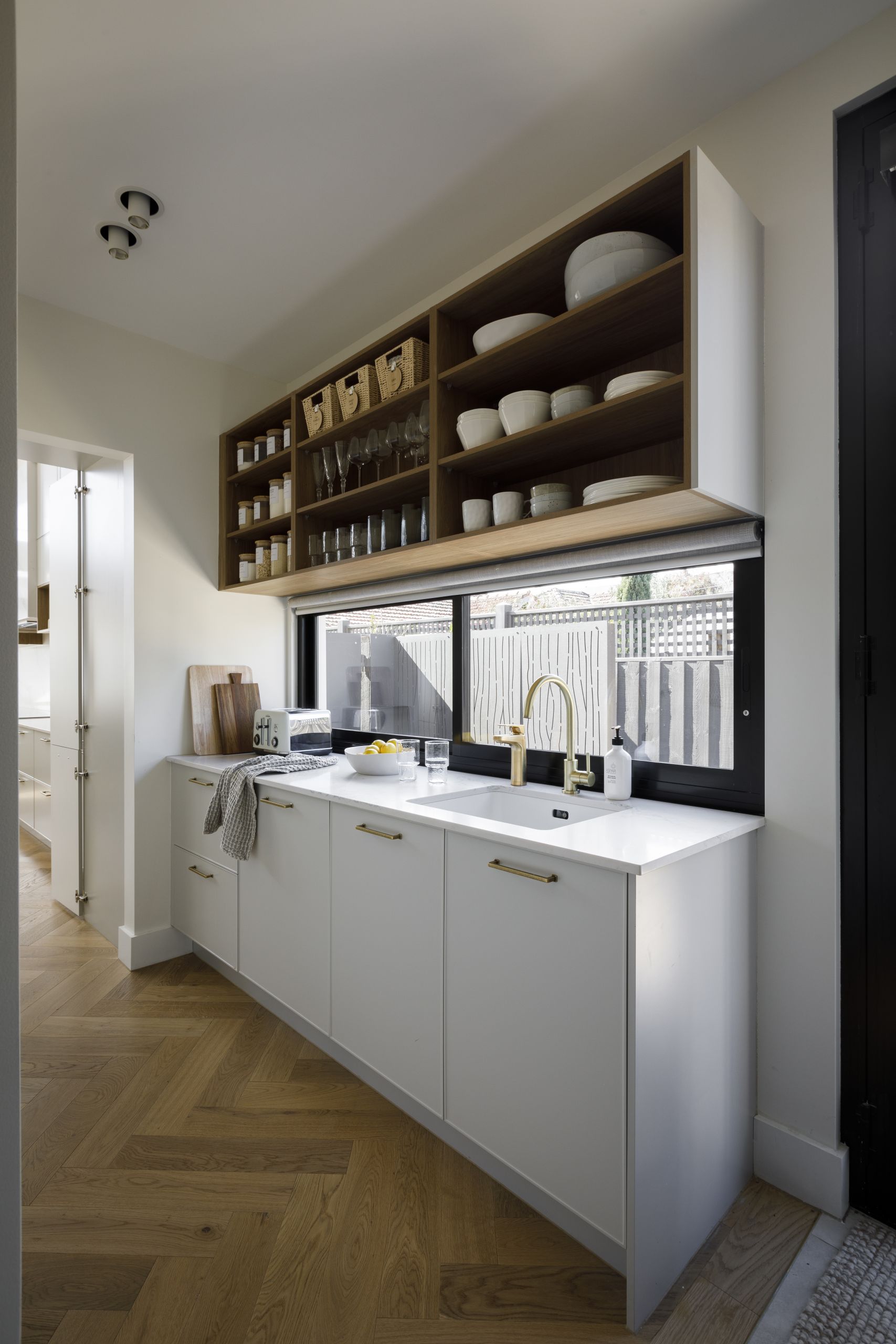 Depending on your layout you may like to create a separate pantry 'hutch' as seen above, where additional cabinetry and open shelving has been used.
Storage is king.
You can always have enough storage. Said no one ever! A truly successful pantry is one that maximises storage. Adjustable open shelving is the easiest and most stylish way to ensure that your pantry items are easy to both see and access. We love to mix cabinets with open shelving and drawers, allowing you to store everything you could possibly need.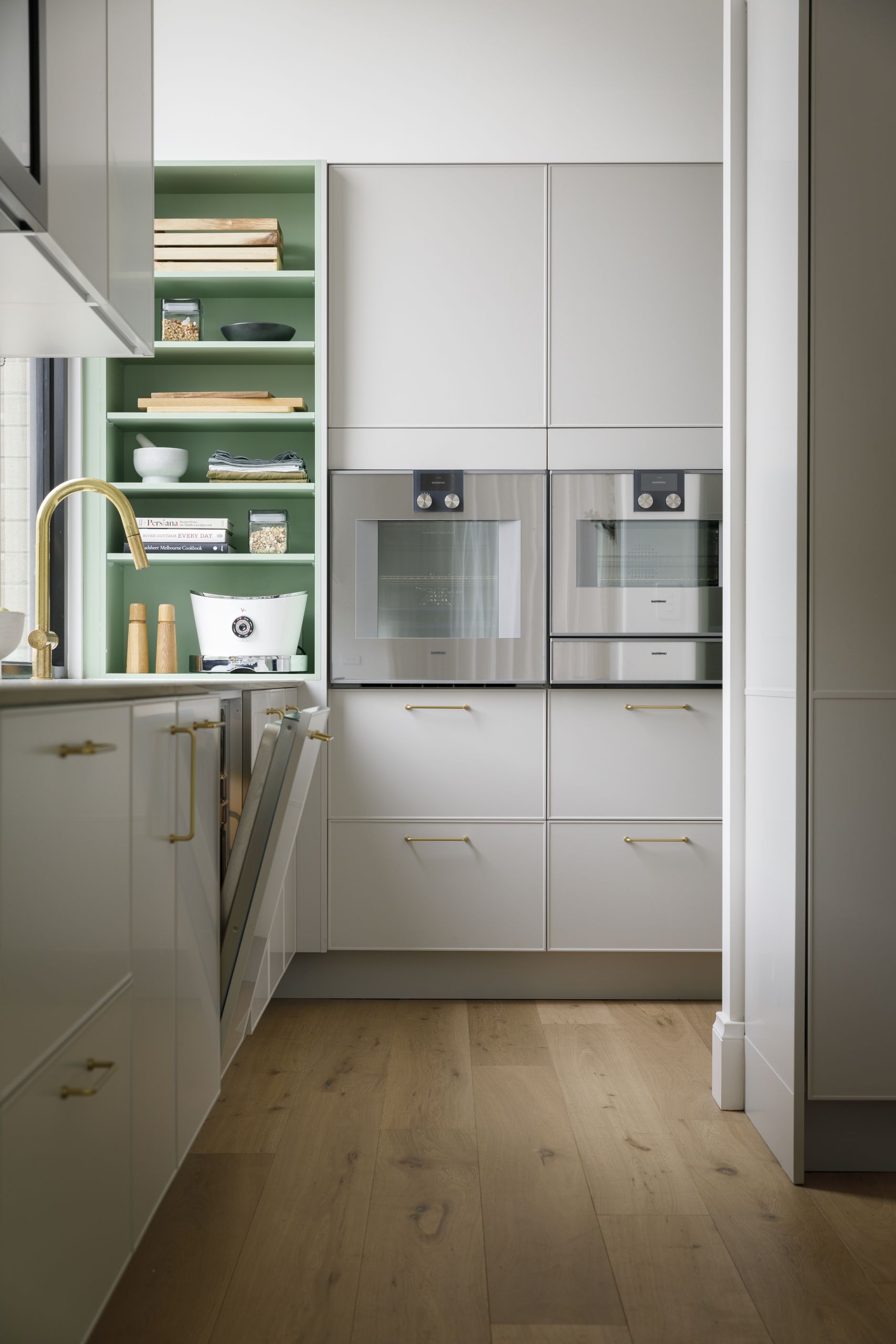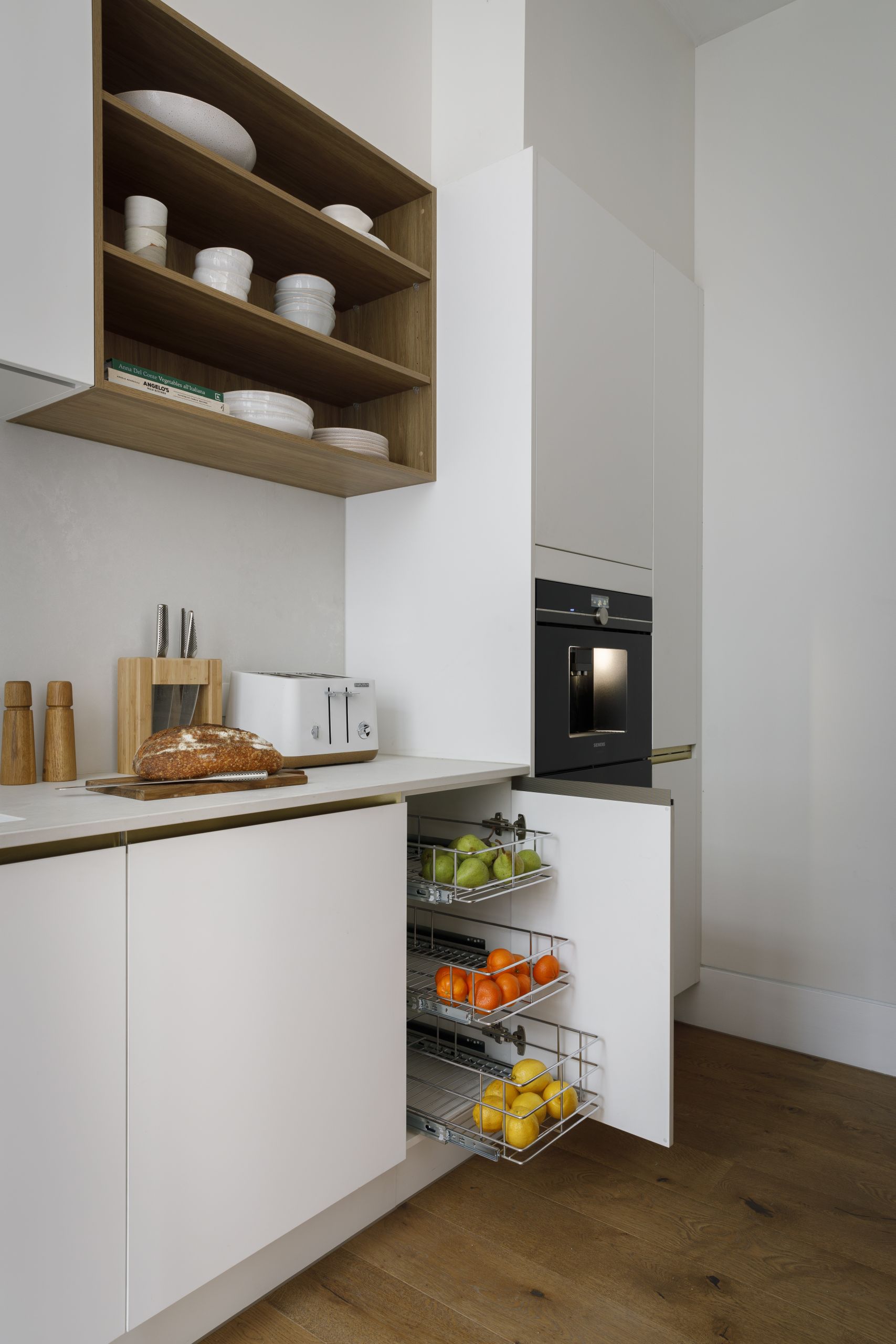 In the zone: Jimmy & Tam from The Block 2020 has included an integrated dishwasher in their pantry, and Harry & Tash incorporated internal wire drawers creating functionality and an abundance of storage, both above and below the bench space.
Elevate your pantry.
Choose from our extensive range of accessories to maximise your storage and streamline the way you use your pantry space. Also consider the inclusion of additional appliances to elevate your design.
Accessories: Incorporate the same additional accessories that you would include in your kitchen to your pantry and make organisation a breeze. Select from our wide range of wire accessories including internal wire drawers, corner carousels, to pull-out pantries and shelves which create optimal space utilisation in narrow cabinets. We also recommend adding cutlery trays and inserts to your drawers, as well as additional bins to ensure your pantry works hard and efficiently.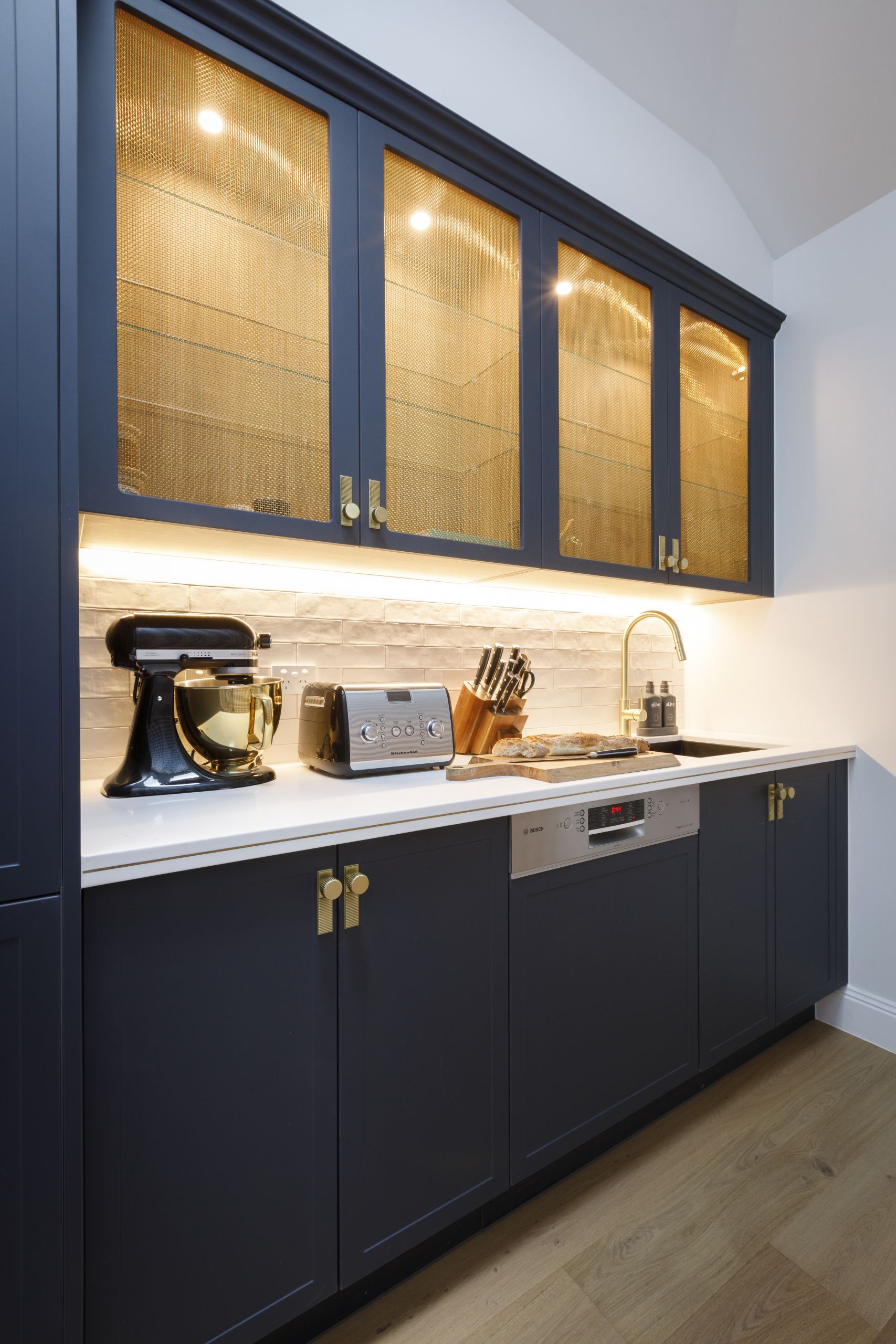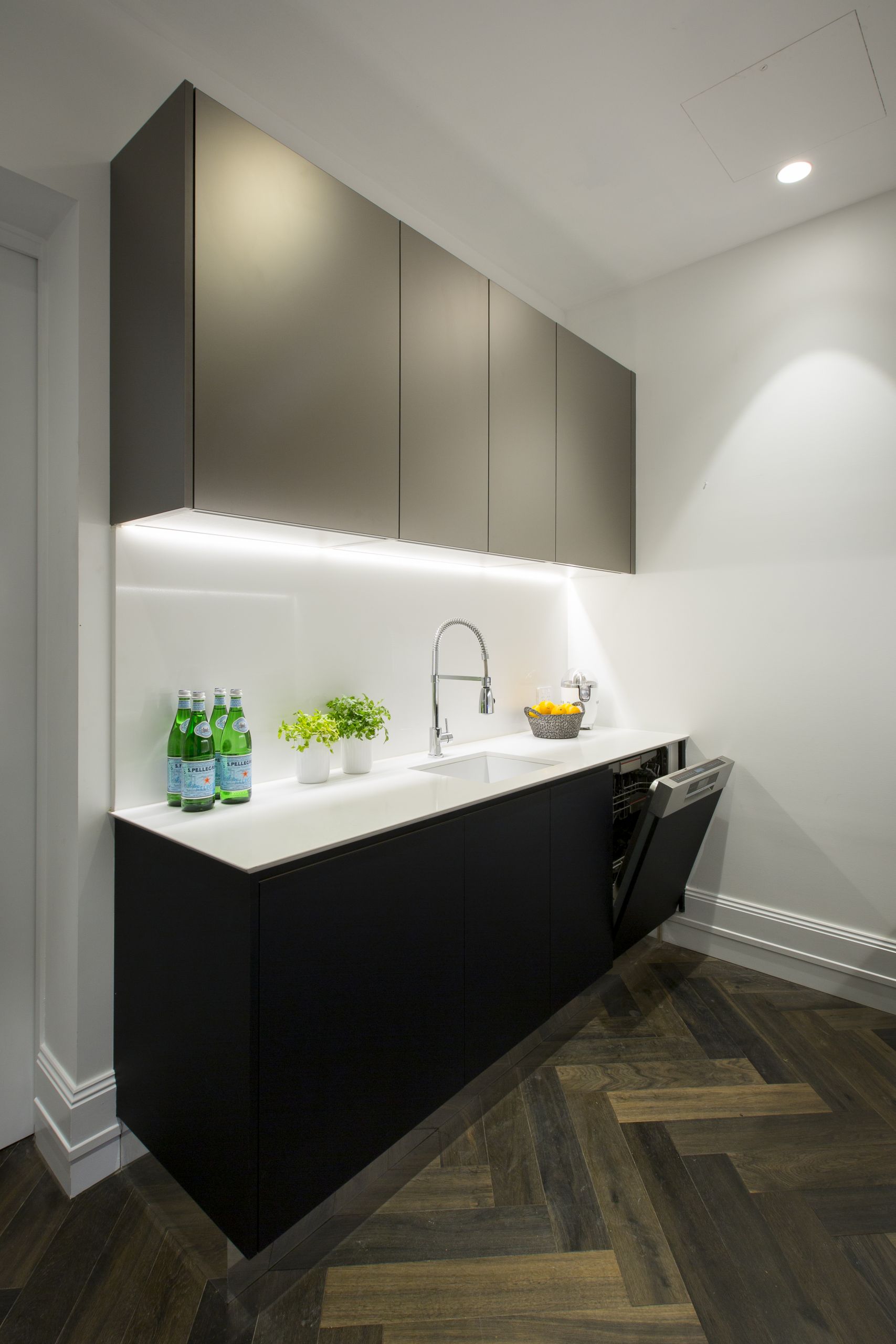 Kirsty & Jesse from The Block 2021 featured Premium LED Strip Lighting, Warm LED Downlights in their country style Butlers Pantry.  Mitch & Mark from The Block 2019 designed a stylish Butler's pantry which mirrored the colour scheme in main kitchen space adding an additional sink & tap, bin and semi-integrated dishwasher, as well as a smart lighting scheme to ensure prep is a breeze! 
Light it up.
Lighting: Lighting may not be the first thing you think of when designing your kitchen and pantry, however a well thought out lighting design can transform your pantry space. Light prep and storage areas using LED downlights and/or our Strip Flexy lighting. Motion sensor lighting is also a great option for walk-in and Butler's pantries.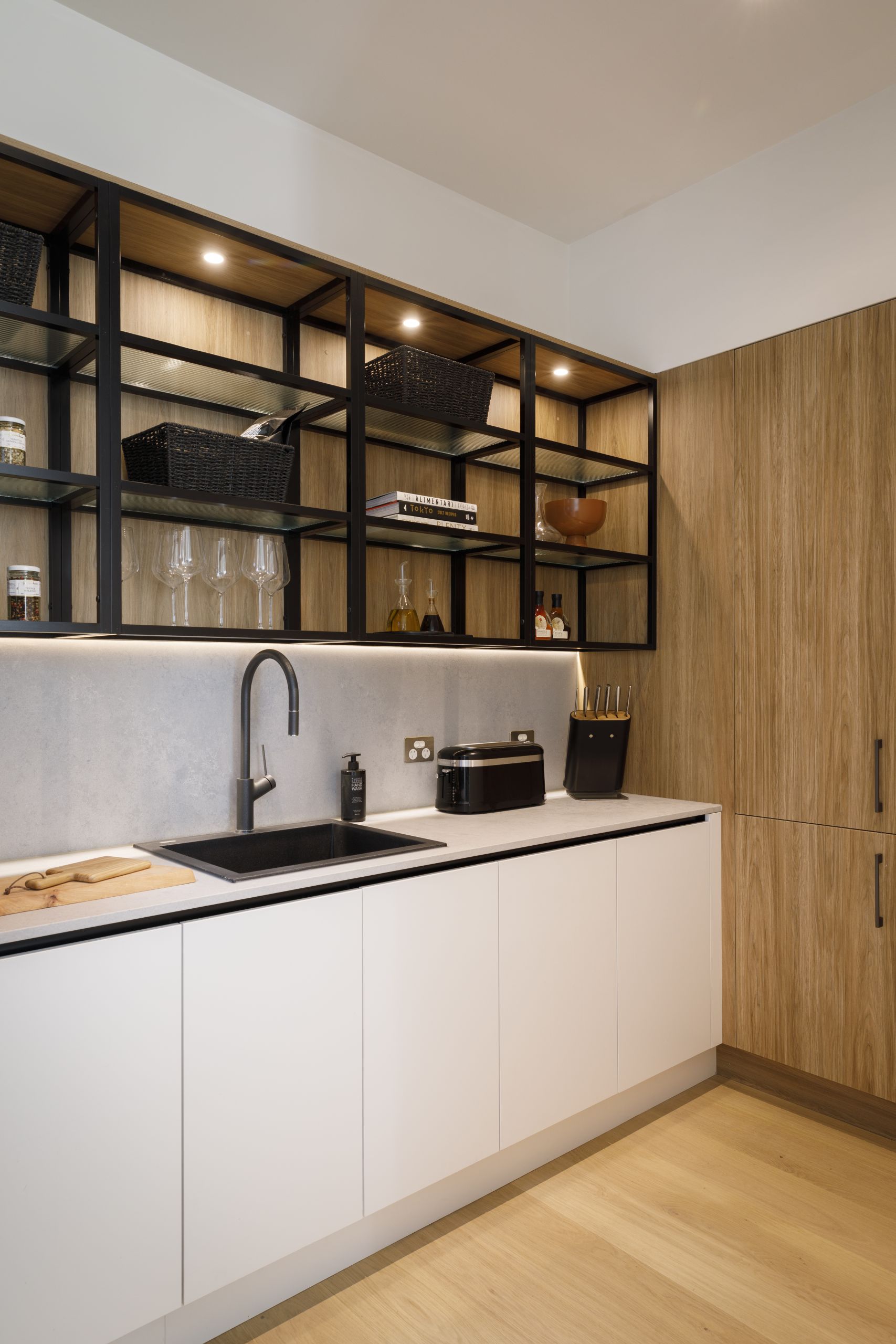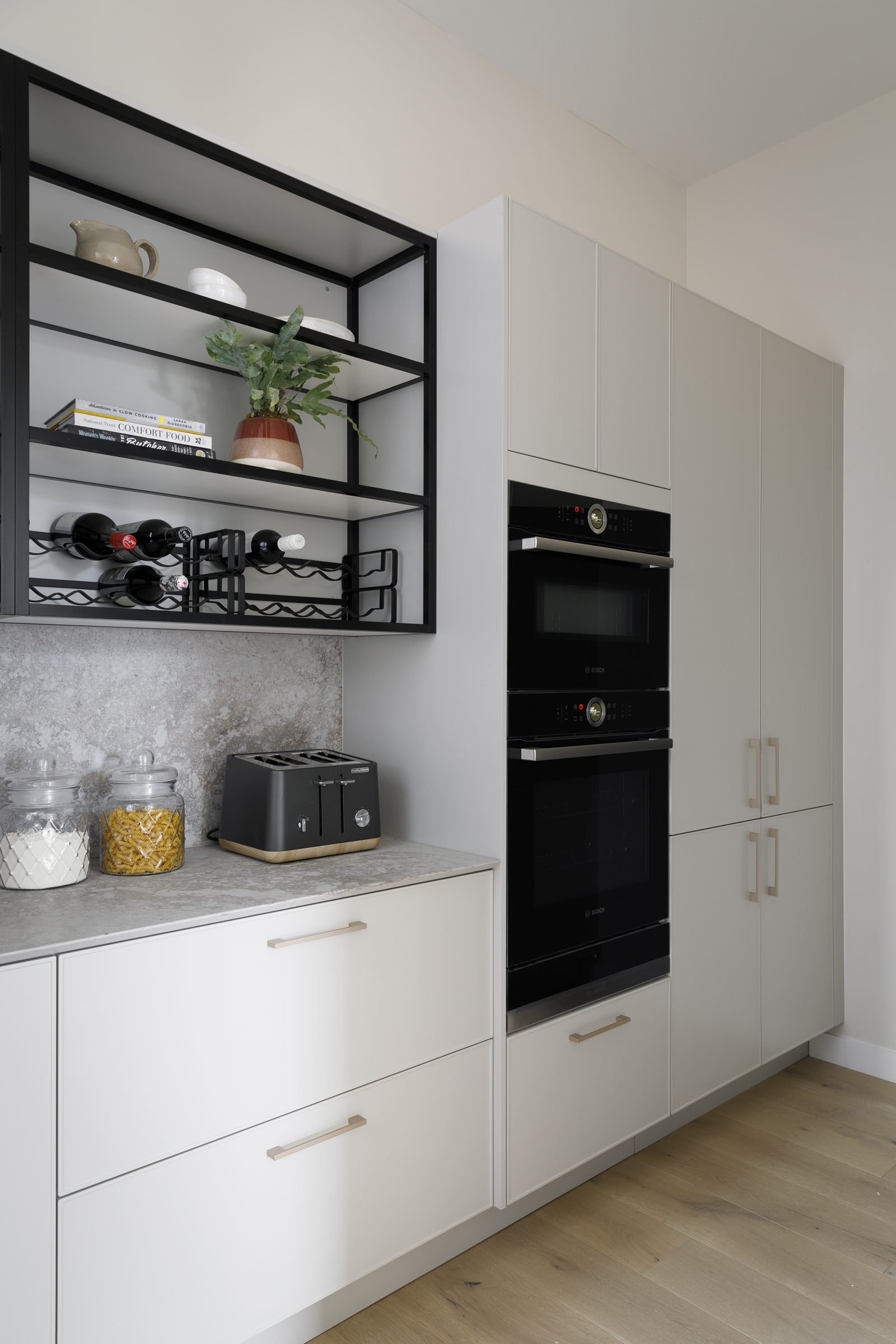 Make a style statement
Black Alumin Frame Shelving: Make a style statement with our Black Alumin Frame Shelves which features chic anodised matte black framing with glass shelves. Providing a striking visual effect they're a clever way to incorporate extra overhead storage as well as a space for styling décor items.
Add appliances: If space permits in your pantry, the inclusion of an additional appliance or two, such as an oven or microwave, can really elevate the space. It is also the perfect zone for the storage of smaller appliances such as coffee machines, kettles and toasters.
Cook's delight: Additional appliances in your pantry are perfect for those who love to entertain. Create your own mini-kitchen, where you can prep, cook and most importantly hide the mess!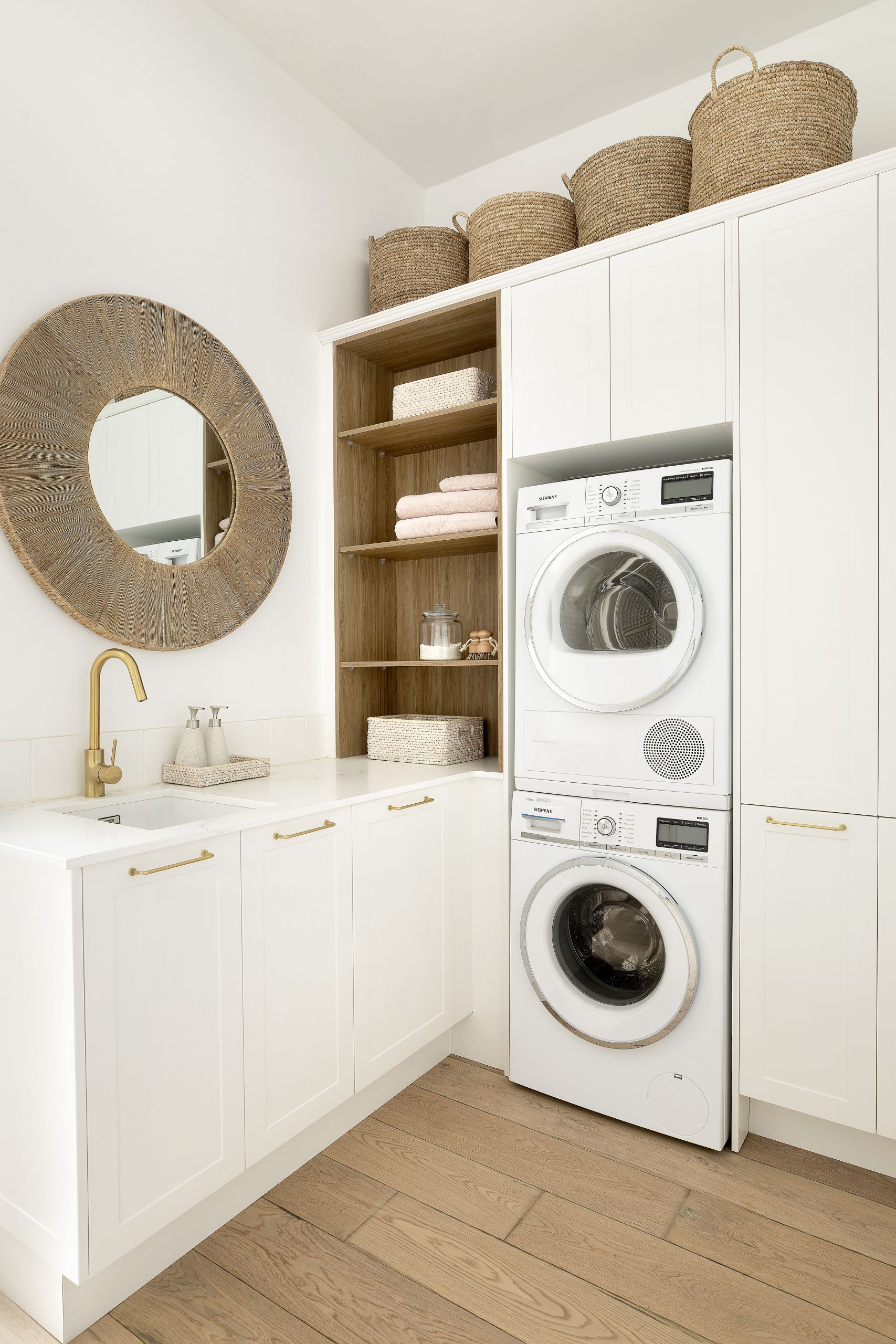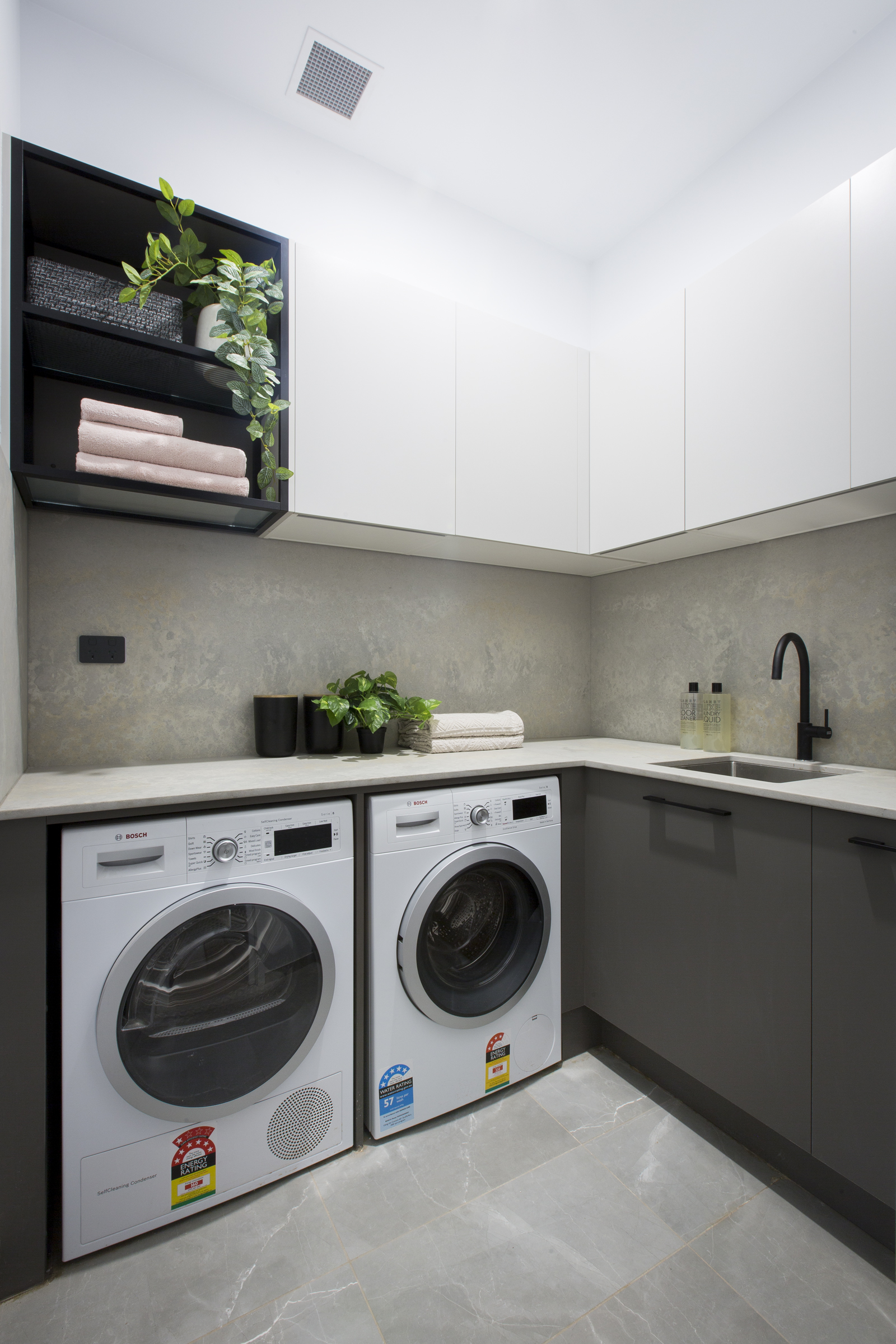 Smart spaces. The Block 2019 saw the majority of the Blockheads, including Deb & Andy (left) and E'lise & Matt (right), present rooms that combined both a pantry and laundry behind their kitchens- and the judges loved them!
Designer tip: Consider a 'Lantry': combined pantry and laundry.
So confession time- we may have made up the term 'lantry', however designing one room with both a pantry and laundry is an exciting emerging trend in Australian interior design, as it works incredibly well to maximise more compact layouts within smaller homes and apartments.
This trend has been seen most recently on The Block 2019 where the majority of contestants presented a Kinsman Kitchens room that combined the two spaces.
Transform your pantry with us today!
Book your expert design appointment HERE, and don't forget to download our latest catalogue HERE– it's full of inspiration, information and product details!