Kinsman Master Walk-in Wardrobes Revealed on The Block 2022
It was another exciting week on The Block, with the highly anticipated reveals of Master Suites and Walk-in Wardrobes airing last night. Celebrating glamour, style, and storage, the contestants delivered five incredible wardrobes that the judges loved. Complementing each teams' bedrooms which celebrated a 'New Rural' aesthetic, each walk-in robe design would be as at home in a city-based abode as it would these farmhouse properties.
Step into each Walk-in Wardrobe and discover all the details below. 
House 1: Tom and Sarah-Jane
Place: 1st
Score: 28.5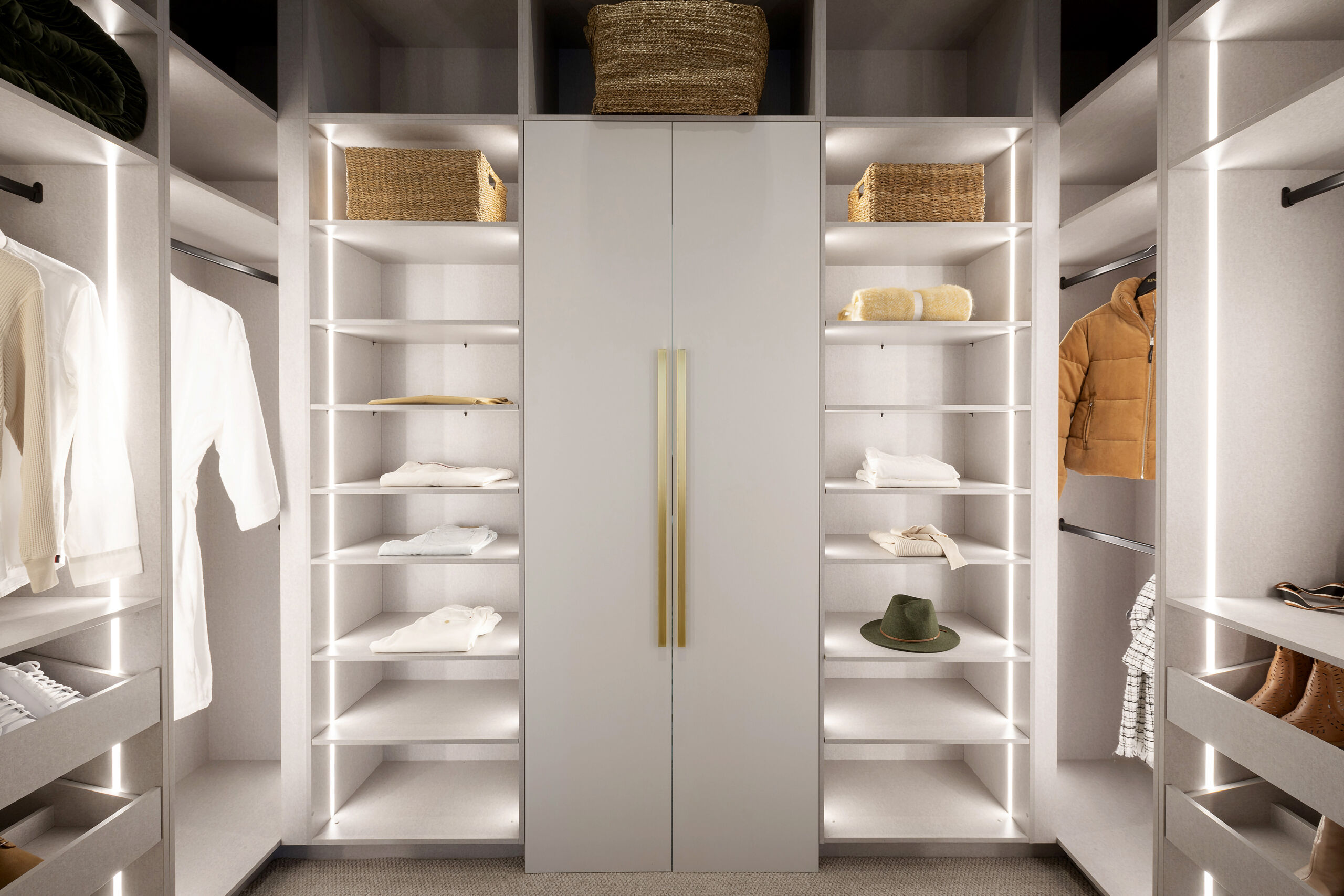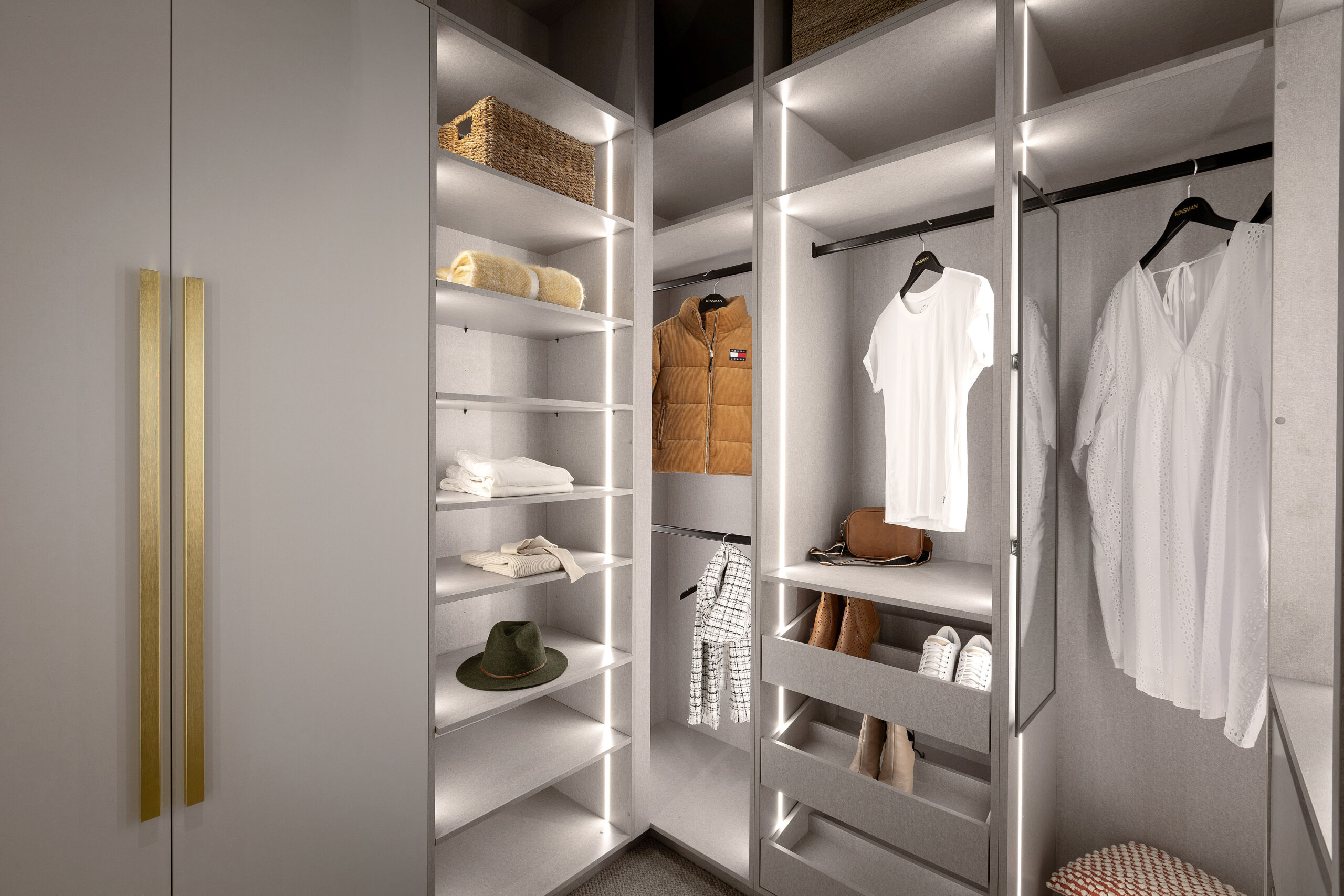 The judges were blown away by the warmth and cosiness of House 1's Master Bedroom and Walk-in Wardrobe. So much so that Neale Whitaker awarded the room his first 10 of the season, leading Tom & Sarah-Jane to take out the win for the week.
Effortlessly chic and brimming with storage, Tom and Sarah-Jane's winning Master Walk-in Wardrobe balances style with functionality. All three judges considered the walk-in 'another treat, that was really well done and styled to perfection'. The colour palette centres on softs greys with pops of brass, featuring two new additions to the Kinsman Wardrobes range: Dove Grey Matt doors and French Linen interiors. Square Hook handles in Brushed Brass add a luxe contrast to the grey tones.
The judges loved how the Walk-in Robe sits between the bedroom and the ensuite bathroom, connecting all three zones within the Master Suite. Storage and organisation for clothing, accessories, and shoes has been carefully considered, reflected in the inclusion of a Folding Mirror, Tie and Belt Rack, and Multifunction Inserts. Vertical Strip lighting adds to the effect, illuminating the contents of the closet beautifully.
"This is going to pull at the heartstrings of buyers, Shaynna Blaze declared. People are going to go 'This has emotionally got me, and I want this'!"
Main Features:
Exterior Doors: NEW Dove Grey Matt
Interior Finish: NEW French Linen
Wardrobe Handles: Square Hook in Brushed Brass 34-K-134
Accessories: Häfele Folding Mirror in Anthracite, Häfele Tie and Belt Rack, Häfele Multifunction Insert
Lighting: Häfele Verti-Strip
House 2: Rachel and Ryan
Place: 3rd
Score: 27.5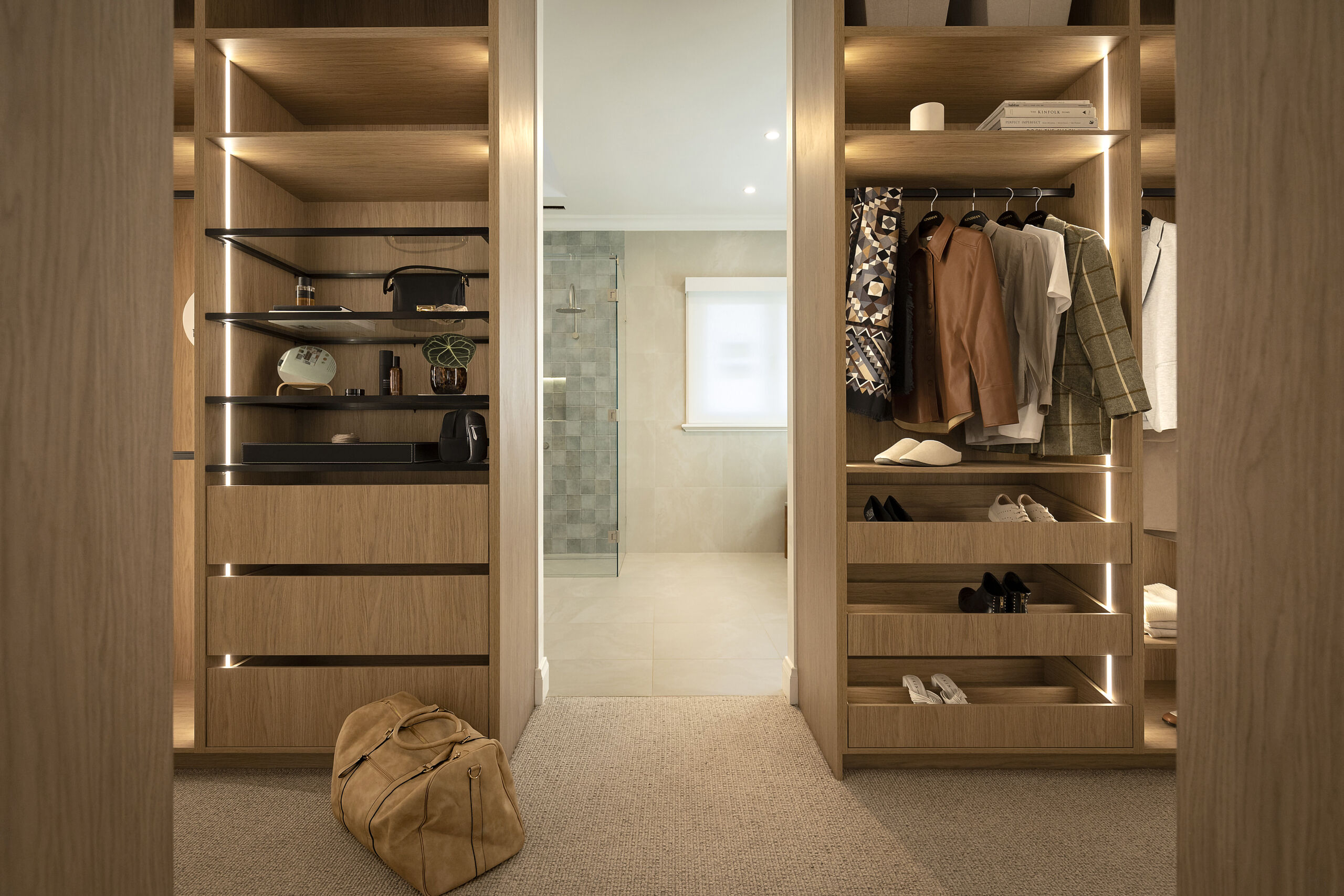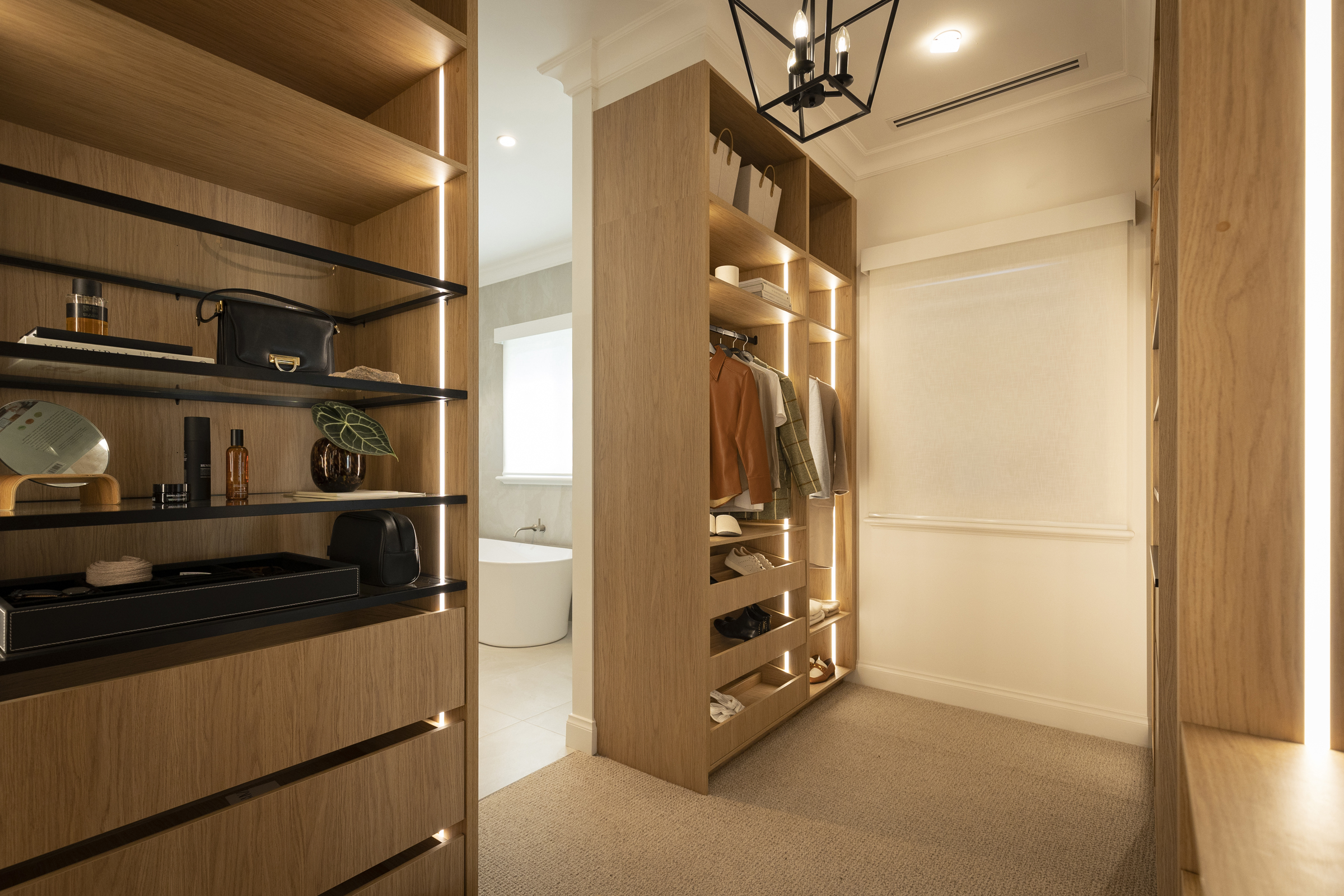 It's been a rocky start for seasoned renovators Rachel and Ryan however this week saw them hit their stride, creating a warm and inviting Master Suite that evoked the charm of a country lodge. "Ooh la la," exclaimed Darren Palmer upon entering the space, as he immediately connected with warmth, calmness, and ambiance that the couple achieved.
While the judges loved the bedroom area, they were all blown away by the scale and beauty of the palatial 'His and Hers' Walk-in Wardrobe that the couple presented, hidden behind a stunning timber barn door. "This is prime real estate, Neale Whitaker explained. It will tug at the heartstrings!"
Simple yet highly effective, the design showcases an open design with Kinsman's new Oak Woodgrain interiors, with a large window separating the two units of joinery. Each section offers the user a wealth of storage thanks to a mixture of hanging space, soft-close drawers, and Black Glass Framed Shelving.
Several storage accessories have also been included to elevate the experience of using the closet, with Shoe Drawers, Black Framed Glass Shelving, Jewellery Compartment Trays, and Folding Mirror included. "There's a lot of good storage here, smiled Shaynna. It's just gorgeous!"
Main Features:
Interior Finish: NEW Oak Woodgrain Matt
Accessories: Shoe Drawers, Black Framed Glass Shelving, Jewellery Compartment Trays, Häfele Folding Mirror in Anthracite
Lighting: Häfele Verti-Strip
House 3: Sharon and Ankur
Place: 2nd
Score: 28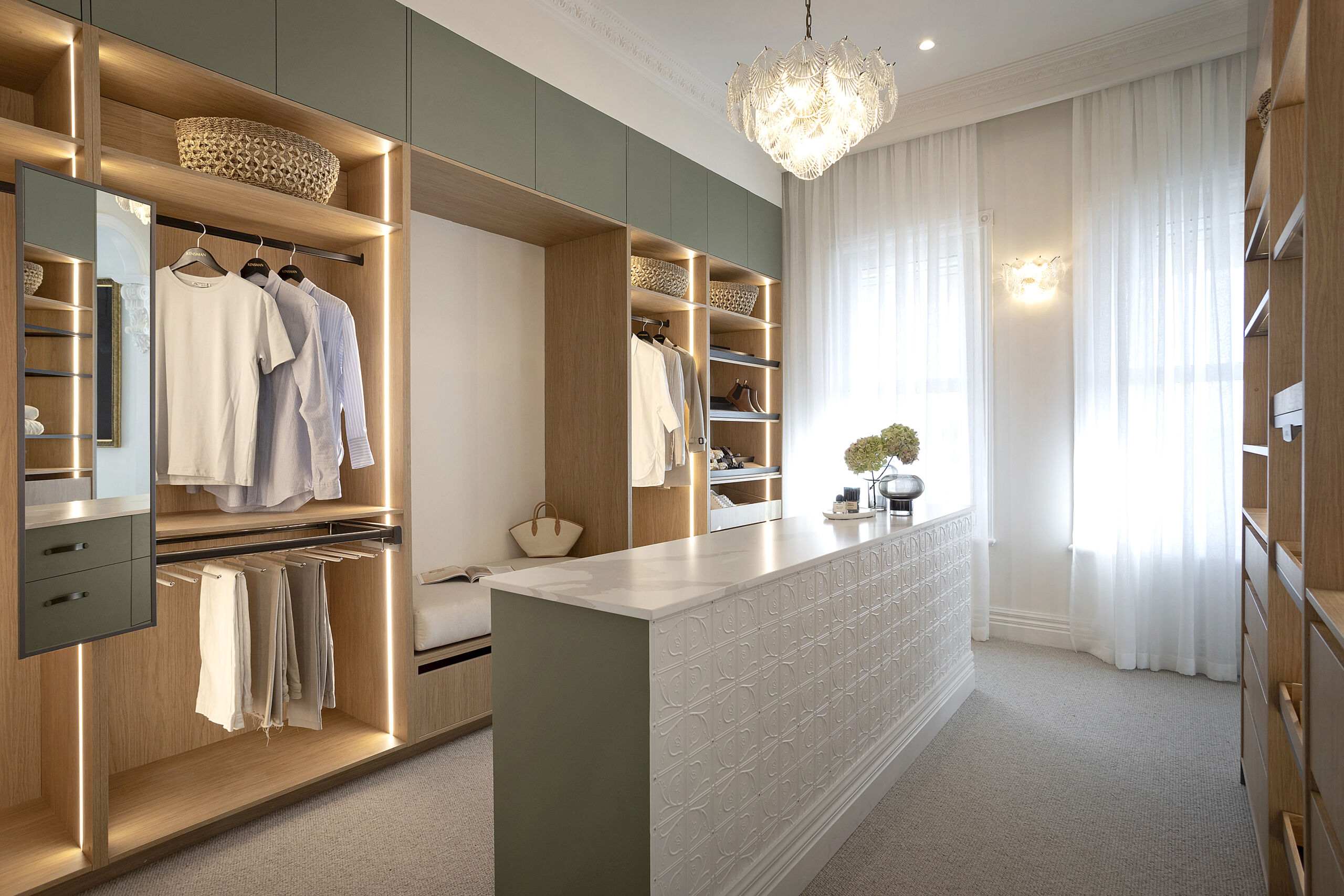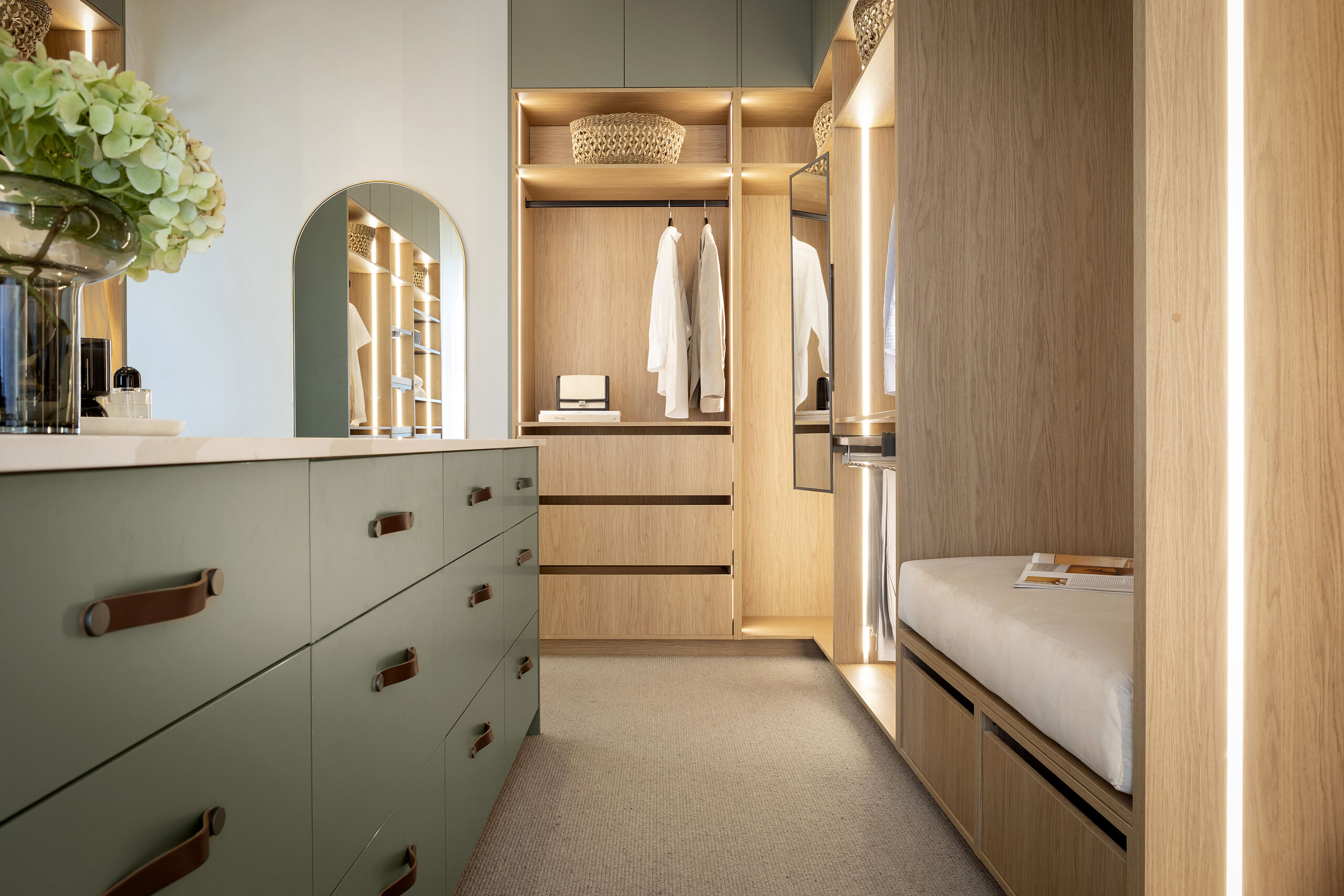 Brimming with opulence, detail and scale, Sharon and Ankur's Master Suite was full of surprises, celebrating a French Country style. Soaring ceilings, a Marie Antoinette portrait, and an extravagant gold frame mirror/television all lent themselves to a theatrical space that demands attention. The judges however were concerned that the pair may not be sticking to budget and didn't agree with all their styling choices.
They were however all on the same page when it came to the couple's luxurious walk-in wardrobe. "Wow, wow, wow, wow," exclaimed Shaynna, "how glamorous… I am home!"
Sharon and Ankur chose an earthy colour scheme for their Master Walk-in Wardrobe to evoke a Modern Country look. Kinsman's new Bonsai exterior doors feature throughout, with new Flexa Leather Pull handles featured on the island bench. The use of Oak Woodgrain interior finishes adds to the nature-inspired palette, illuminated by Verti-Strip LED lighting. The judges loved the contrast of the colours within the room, with Darren Palmer saying, "It's just beautifully balanced."
Inclusions such as open shelves, hanging rails and soft-close drawers ensure plenty of storage space within the design. Additional accessories ensure organisation is maximised and include Pull Out Trays and a Folding Mirror. One of the most exciting additions is a series of Häfele Convoy Lavido pull-out units which allow bags, jewellery, and fragrances to be beautifully displayed.
The long central island offers additional organisational space thanks to twelve drawers, while the Caesarstone® Calacatta Maximus benchtop is the perfect place to showcase special pieces, décor, and florals. 
Main Features:
Exterior Doors: NEW Bonsai
Interior Finish: NEW Oak Woodgrain Matt
Wardrobe Handles: NEW Leather Dark Brown Pewter Button 182mm 34-M-40
Island Benchtop: Caesarstone® Calacatta Maximus 20mm Pencil Round
Accessories: Pull Out Trays, NEW Häfele Convoy Lavido Units, Häfele Folding Mirror in Anthracite
Lighting: Häfele Verti-Strip
By contestants: Decorative panelling to rear of island
House 4: Dylan and Jenny
Place: 4th
Score: 25.5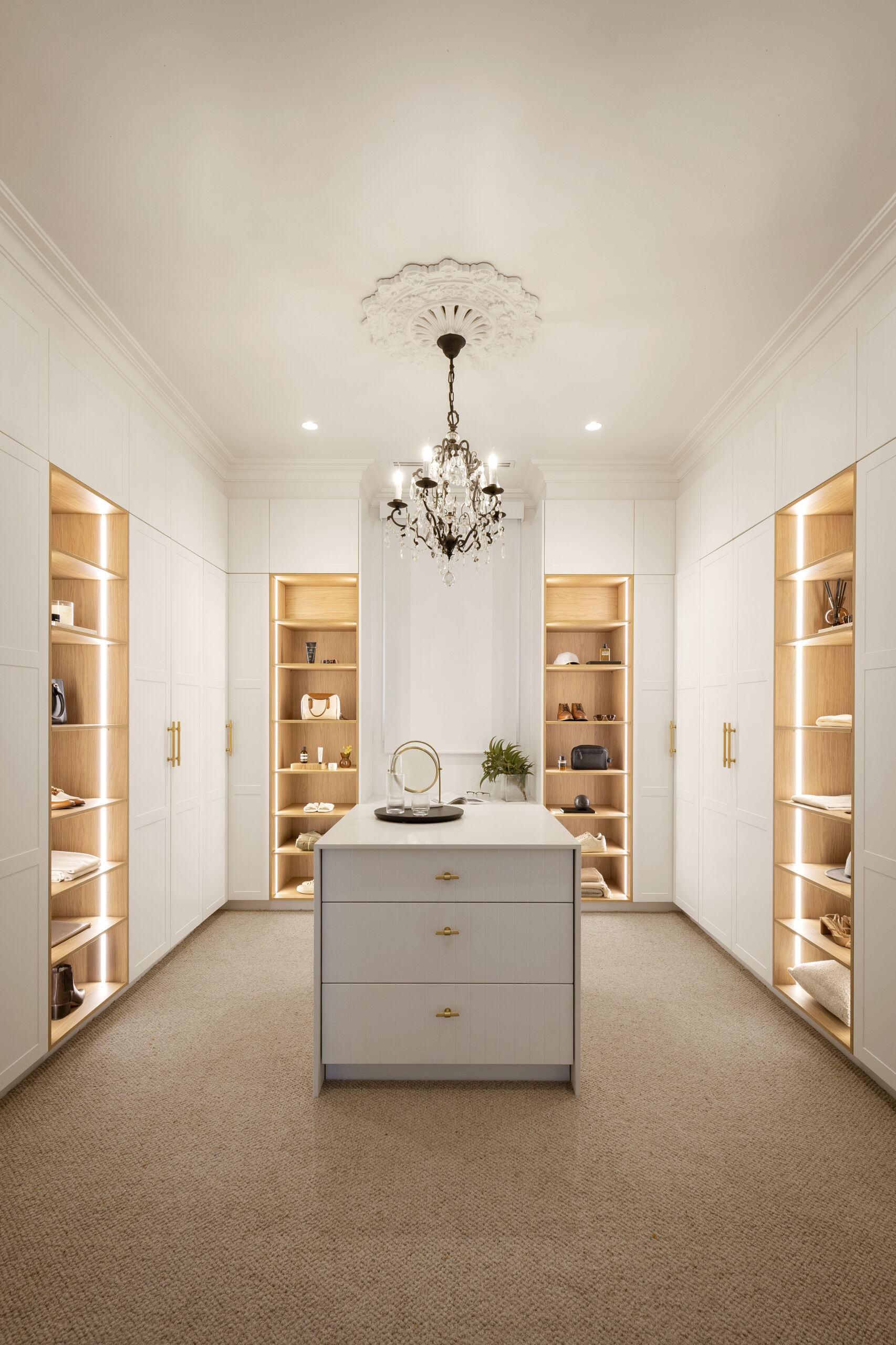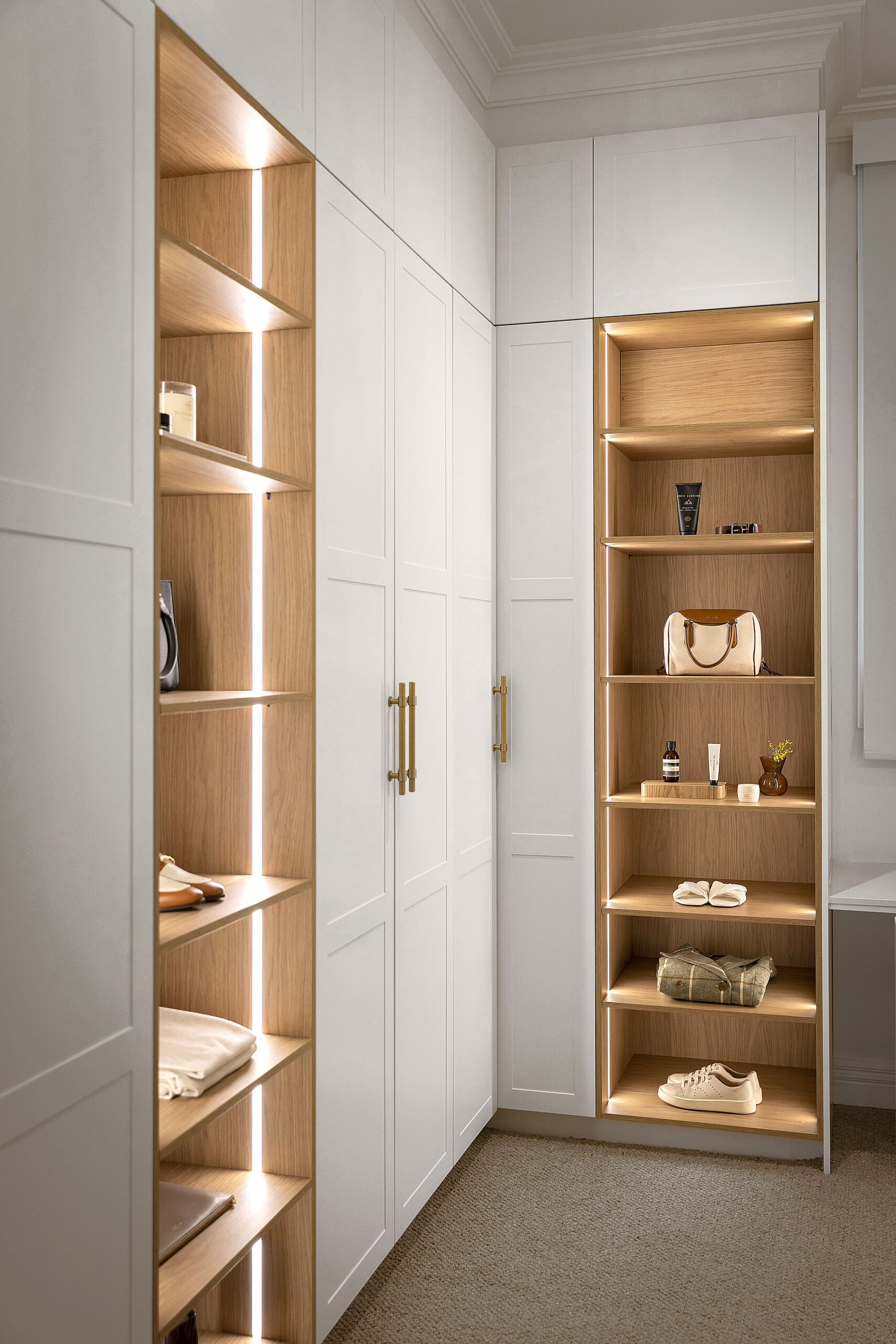 In an unexpected (and exciting) twist, Dylan and Jenny's Master Walk-in Wardrobe was what the judges entered when they opened the double doors to their Master Suite. After a moment to take it all in, the judges loved the pairs decision- and the wardrobe itself!  "This room literally oozes quality," said Darren. "This is very high-end glamour, isn't it?" added Neale.
The stunning walk-in robe features an impressive mixture of cabinetry, open shelving, and an island bench. Shaker-style Somersby White Matt doors, Oak Woodgrain interiors, and Solid Brass Knob and Bar handles produce a classic and timeless colour scheme. Kinsman's new panelled Avalon White exteriors have been used on the central island, topped with Caesarstone® Riverlet quartz.
Storage abounds in the closet, with Dylan and Jenny incorporating a blend of hanging space, soft-close drawers, Multifunction Drawer Inserts, and Jewellery Compartments, all illuminated with Verti-Strip lighting and Black Front Bars.
While the couple's master bedroom failed to impress, the judges loved the couple's 'drive-in' wardrobe complimenting the colour scheme, storage space and luxurious finishes.
Main Features:
Exterior Doors: Somersby White Matt, NEW Avalon White Matt
Interior Finish: NEW Oak Woodgrain Matt
Island and desk benchtop: NEW Caesarstone® Riverlet
Wardrobe Handles: NEW Solid Brass Knob 38-M-44, NEW Solid Brass Bar 45-M-53
Accessories: Häfele Multifunction Drawer Inserts in Oak, Häfele Jewellery Compartment Trays, Häfele Folding Mirror in Anthracite
Lighting: Häfele Verti-Strip, Black Front Bars and Sensors
House 5: Omar and Oz
Place: 5th
Score: 22.5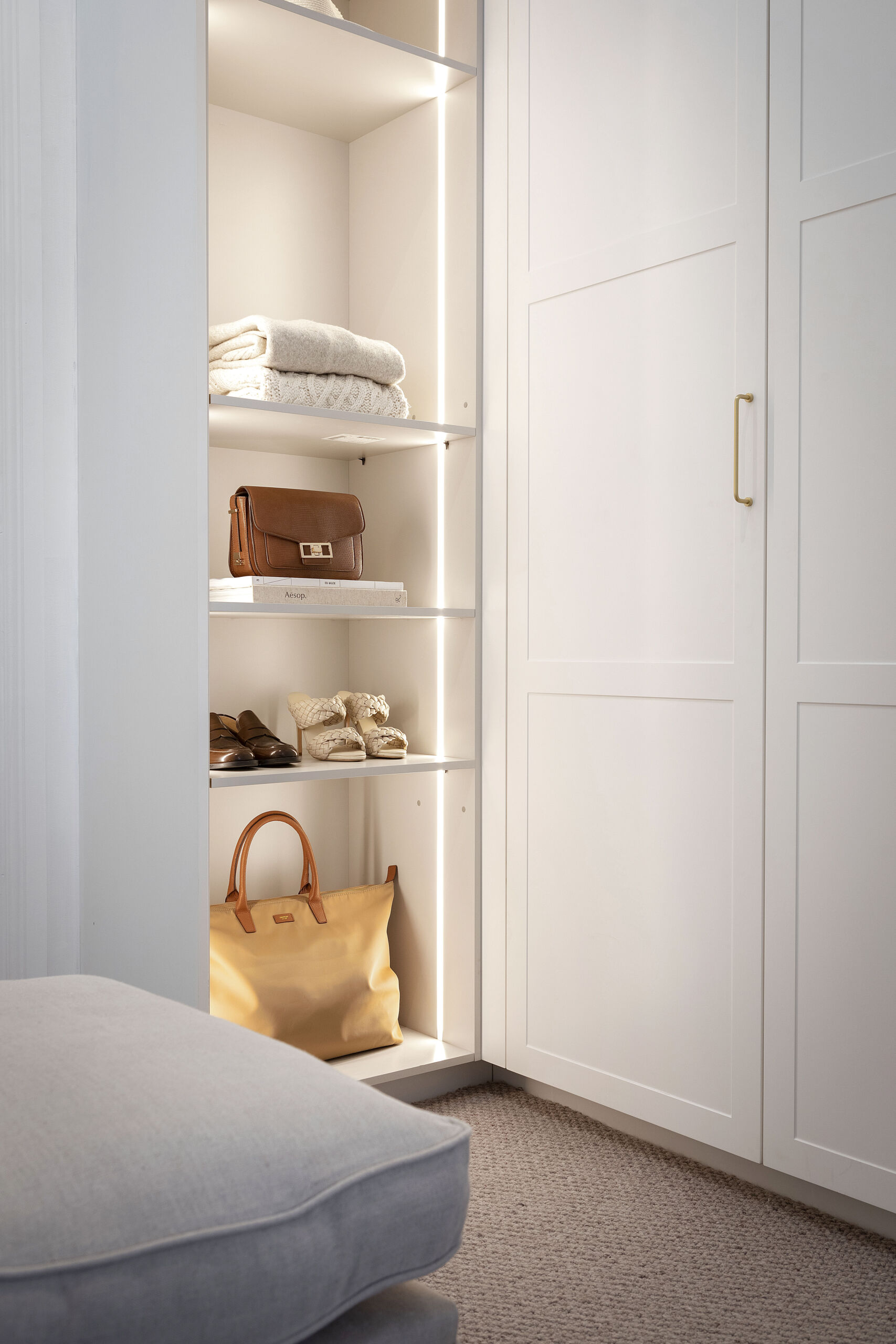 Coming off their second win of the season Omar and Oz, otherwise known as the 'Bathroom Kings', were quietly confident with their Country-focused Master Bedroom which featured a reading nook framed by their Queenslander's beautiful original fretwork.
The boys carried their Contemporary Country style through to their Walk-in Wardrobe which connects the bedroom with the ensuite. The robe features classic Shaker-style Somersby White Matt doors, glass shelving, Matt Brass Rounded handles, and new Dove Grey interiors. Black Front Bars and Verti-Strip lighting operate on a sensor, illuminating the contents of the robe with ease.
Beyond the essential storage features such as hanging space and soft-close drawers, the boys also opted to include open shelving for displaying favourite accessories, as well as luxury extras including a Trouser Rail Pull Out. While the judges loved the palette and finishes of the robe, they were concerned about the size of the ottoman which took up a significant amount of floorspace, affecting access between the spaces, and thought that more storage would be suited for a Master Suite.
Main Features:
Exterior Doors: Somersby White Matt
Interior Finish: NEW Dove Grey Matt
Wardrobe Handles: Matt Brass Rounded D 160mm 34-K-132
Accessories: Häfele Trouser Rail Pull Out
Lighting: Häfele Black Front Bars, Häfele Verti-Strip
Love what you saw and want to create amazing Kinsman Wardrobes in your home?
Take it one step further and design your wardrobe like a pro on our NEW Kinsman Room Planner Tool
Book your in-store, in-home, or virtual design appointment HERE. For more inspiration, images, and product details, download our Wardrobes Catalogue HERE.
Don't forgot to tune into Double Room Week – this week the teams will be presenting both a Guest Bedroom and Ensuite! View from 7.30pm Monday- Wednesday and 7pm on Sunday- on Channel 9.