Have Fun Styling Your Kitchen
Styling your kitchen will bring the whole room together. We like to think of it as adding the perfect handbag to your outfit or putting icing on a beautiful cake. 
Today's blog focuses on how you can incorporate beautiful styling elements, giving you practical ideas of how to bring out the true beauty of your kitchen. We recommend keeping your kitchen styling simple, fun and thoughtful, focusing on key zones such as island benches and splashbacks to add stylistic touches. 
Read on for our favourite kitchen styling tips. 
Modern Classic Kitchens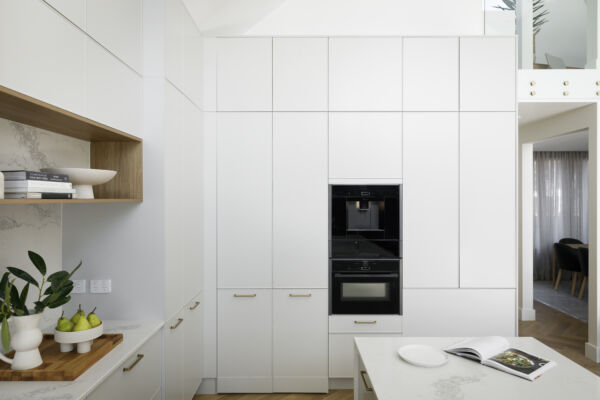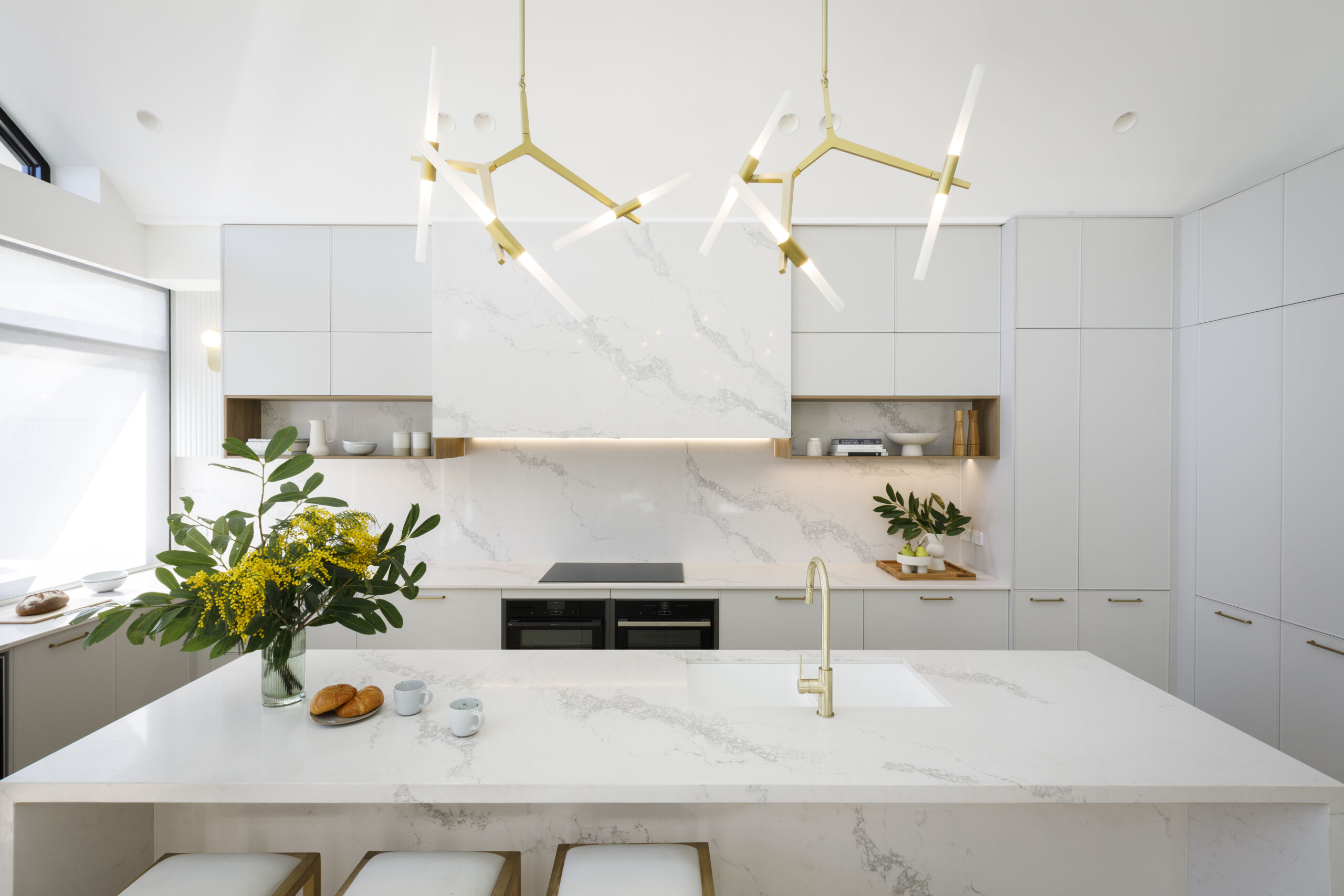 In Ronnie and Georgia's stunning kitchen from The Block 2021, judge Neale Whitaker dubbed the style of the room as "the New Classic". Light and bright, the space balances a colour palette of white, marble, timber and brass, creating a look and feel that appeals to a broad range of people. 
Styling elements in this kitchen style should be aligned with the understated and classic feel of the room. Stick with a neutral and earthy palette with very subtle pops of colour such as green and yellow, as seen in the delicate wattle arrangement on the island bench. Textural ceramics of different shapes and sizes work beautifully, especially within open shelves in Chadstone Prime Oak Woodmatt. Timber will inject warmth to the room, so look as including timber kitchen stools and chopping boards.   
Country Kitchens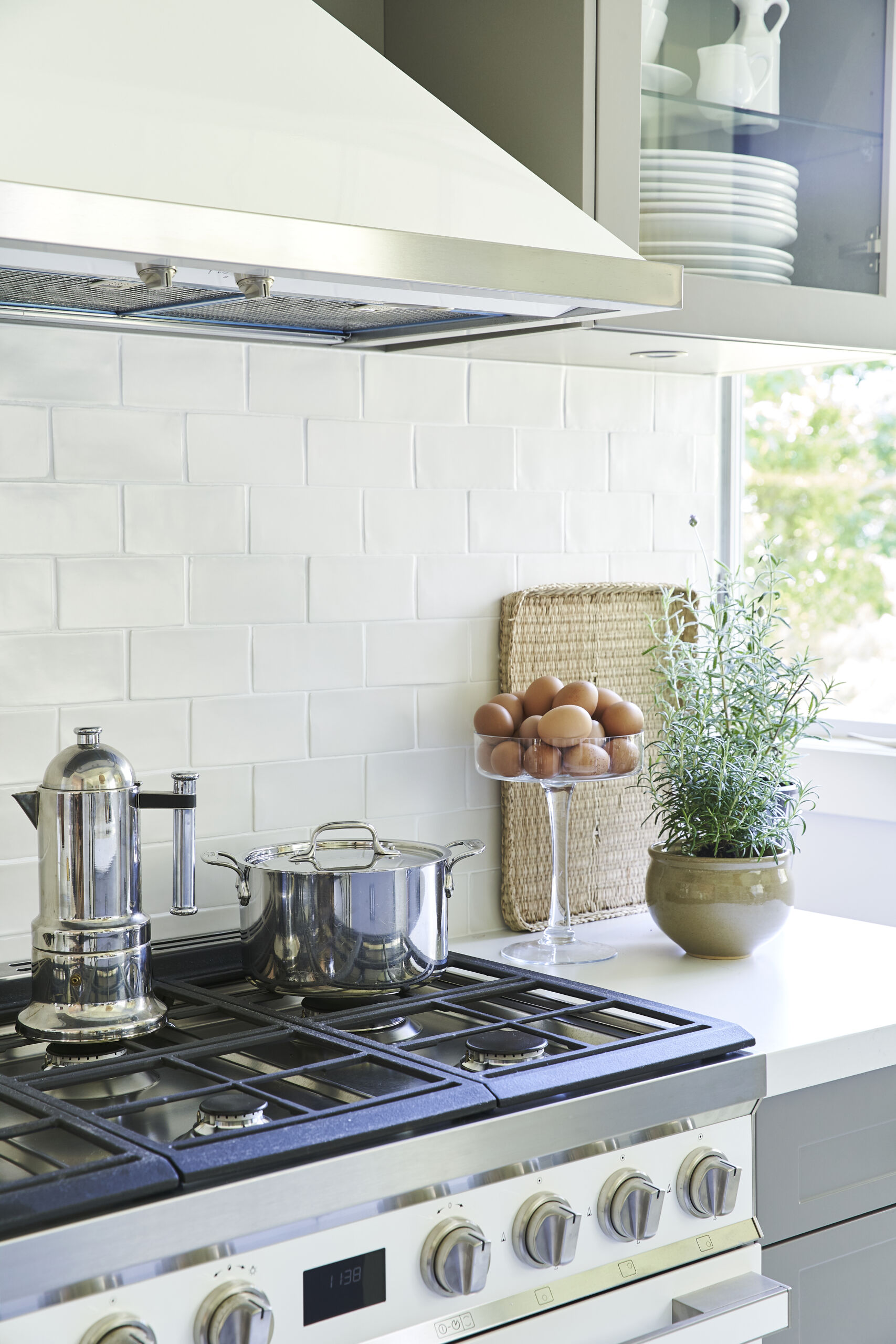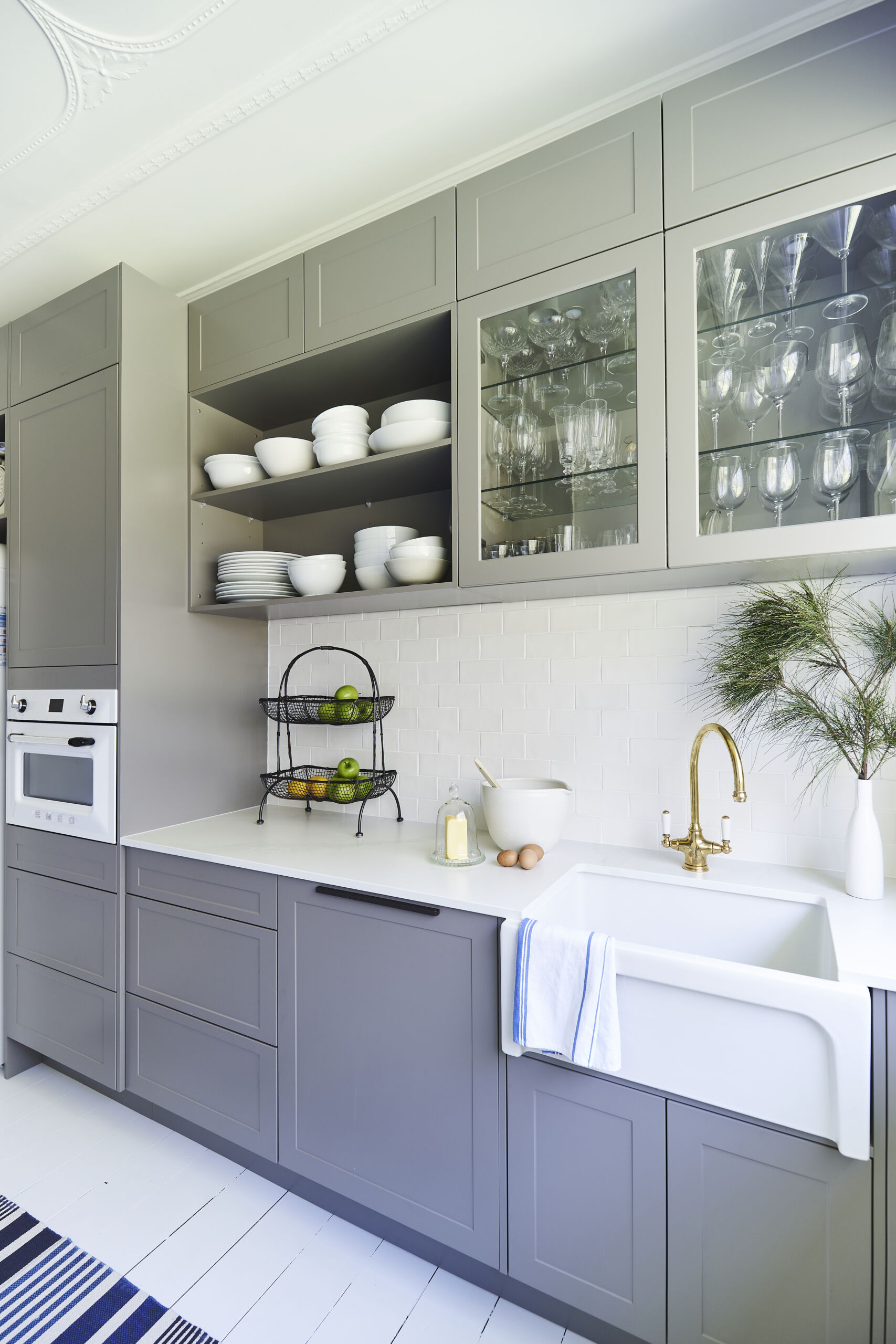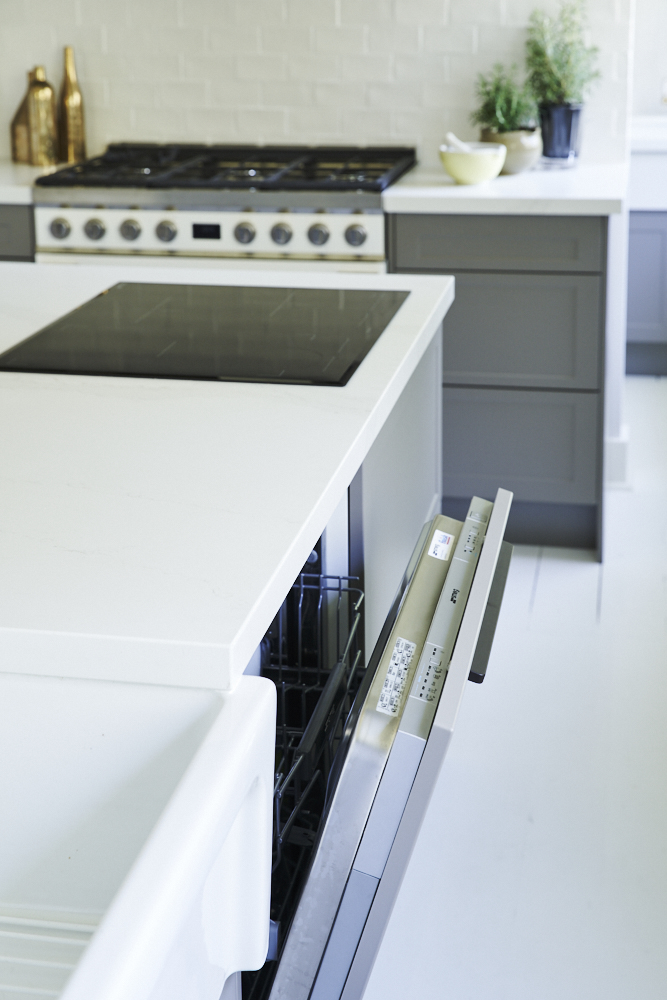 We love Country kitchens as they exclude warmth, comfort and homeliness. Both traditional and modern-look Farmhouse kitchens have seen a rise in popularity within Australian homes, and here at Kinsman, we love the style as well! 
Styling-wise, the joy in Country kitchens is that you can layer many elements to create a beautifully lived-in feel to the room. Lean towards decor that is both functional as well as stylish. Fresh flowers are a must, as is fresh produce from fruit and vegetables to eggs from the hen's house. Love baking? Put loaves of bread, cakes and any other creations out on display on boards or cake stands. Also, consider textural items such as tea towels and if you have an opportunity to display glassware or ceramics, do so!  
Coastal Kitchens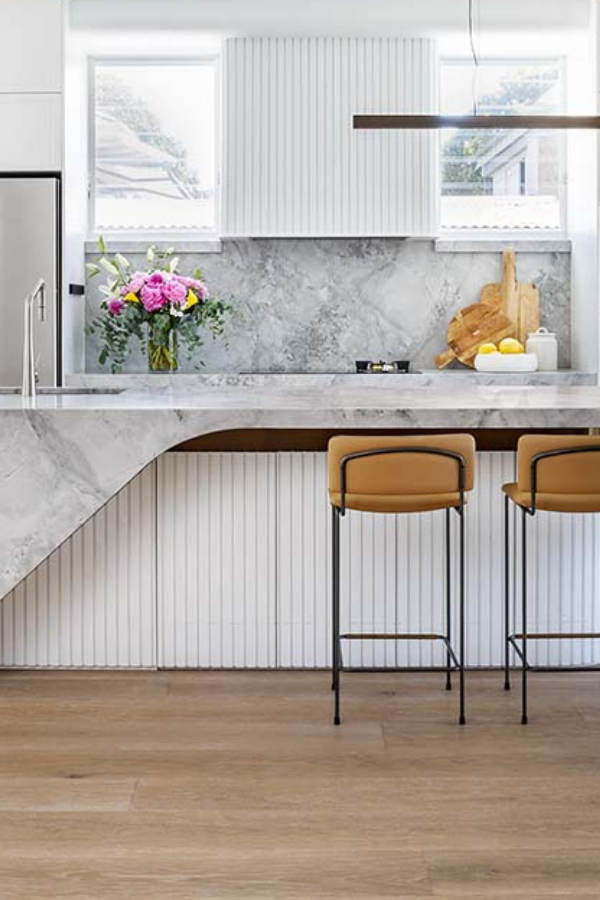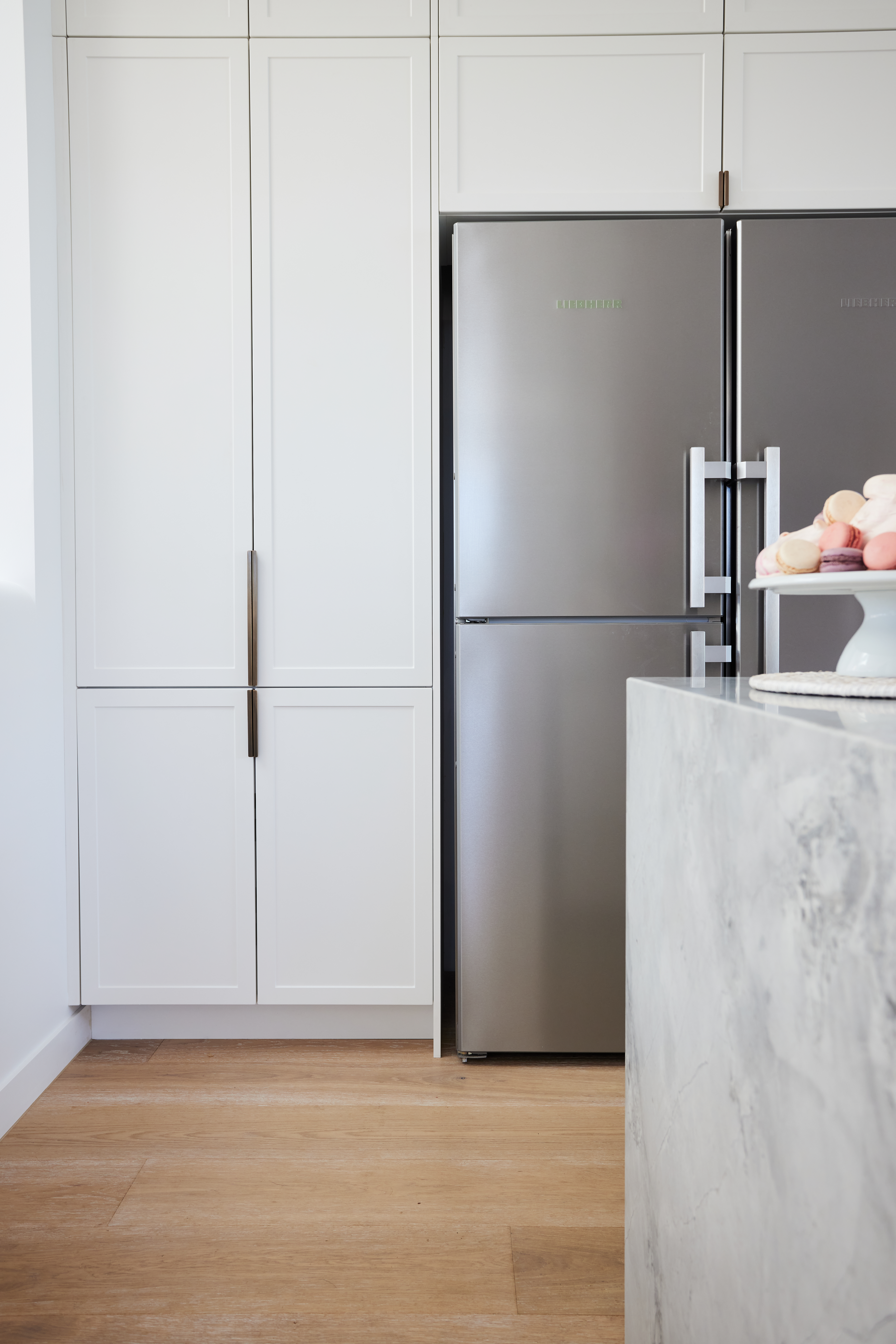 Bringing in the beauty of the beachside can be done in various ways if you have opted for a Coastal-style kitchen in your home. From the bold glamour of the Hamptons to a more casual and neutral take, it is one of the more popular kitchen looks in Australian homes. 
The kitchen above, which we created recently for TV presenter Allison Langdon and her family, showcases a modern take on a beach vibe, as does the styling. The styling is fresh and contemporary, complementing the Shaker-style Montauk cabinetry and bold limestone countertops. 
Starting on the island bench, the styling is focused on the dining end, adding a functional touch and kept low so as to not distract from the backbenches. The limestone splashback provides the perfect backdrop to place styling items. Play with height, colour and texture in this zone- bright florals, layered serving broads and ceramics will work well in this kitchen zone, bringing the look together.   
Urban Luxe Kitchens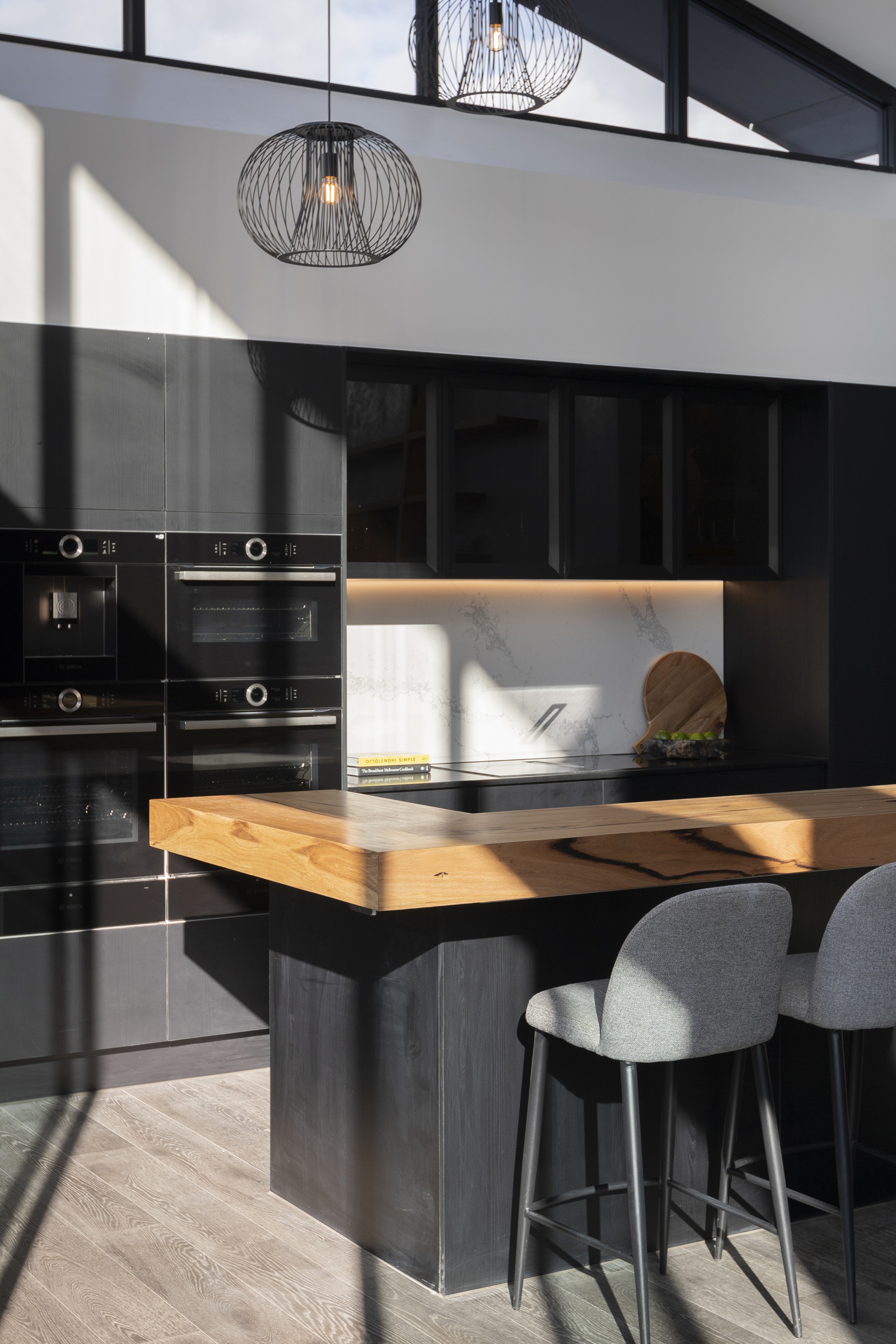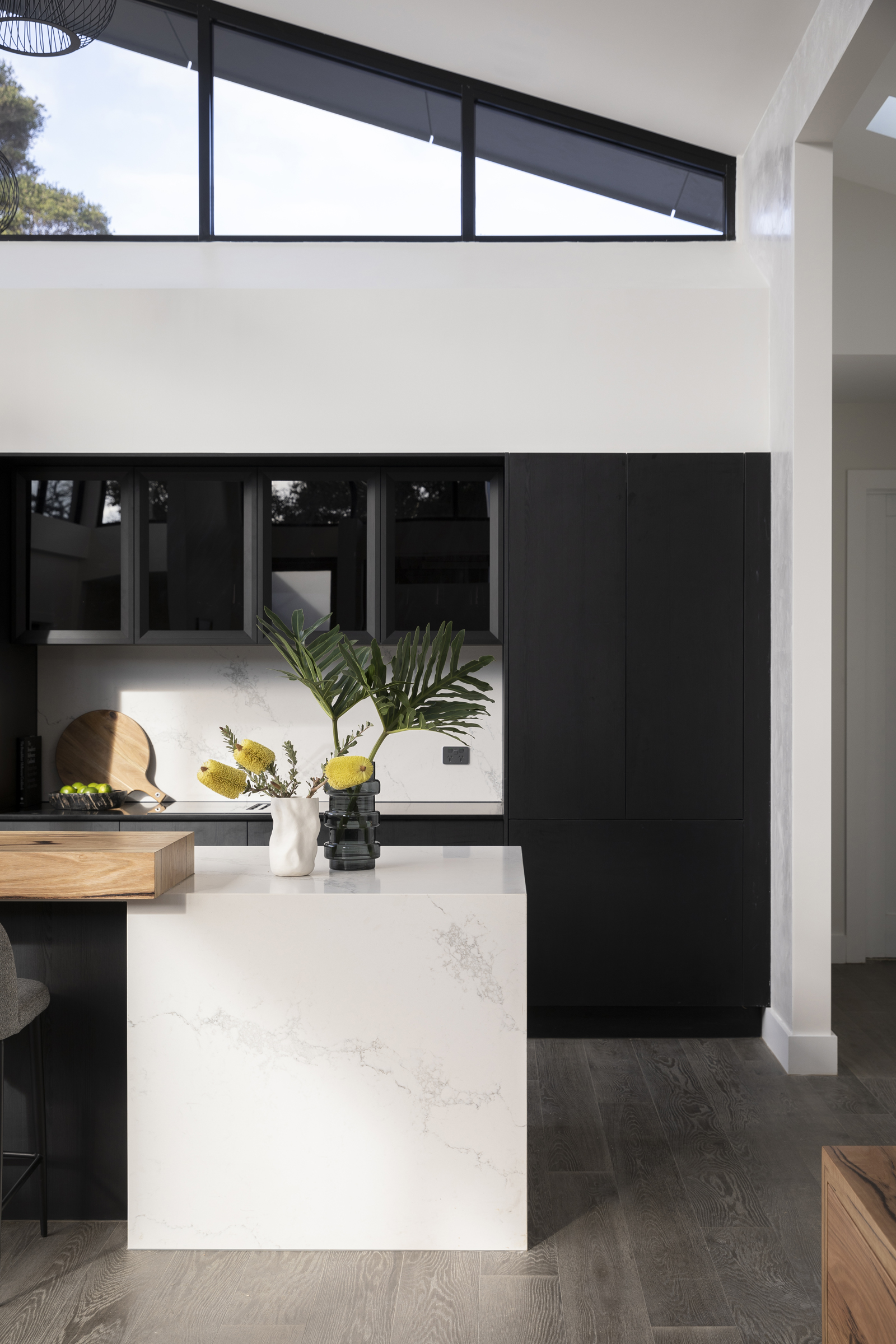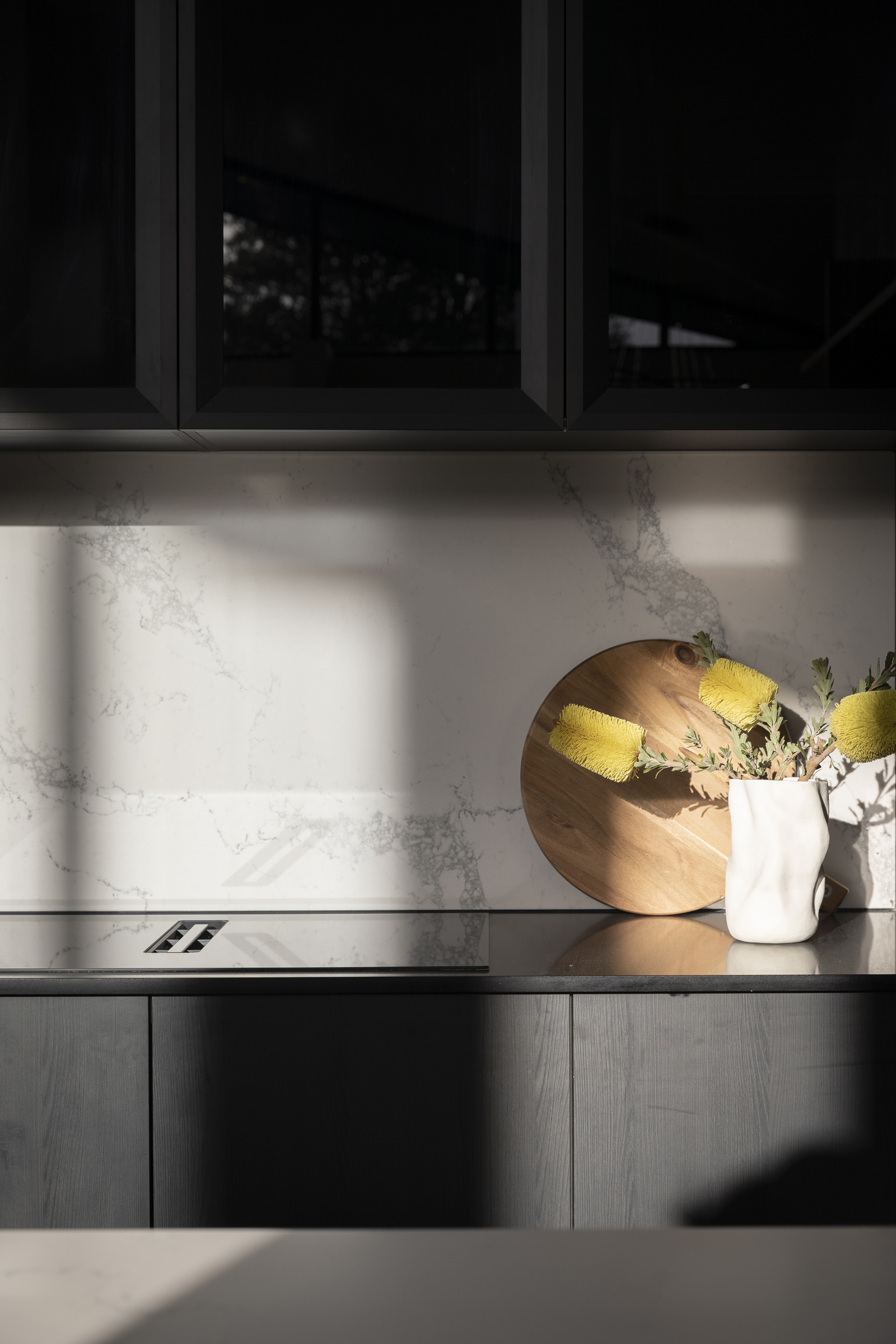 Effortlessly sleek and chic, an Urban-style kitchen is a wonderful choice if you like bold and modern design. This style typically showcases darker cabinetry, especially black, and really pops when paired with touches of white and timber. Twins Josh and Luke brought this look to life in their architecturally-focused kitchen on last year's series of The Block. 
When styling a more modern and urban kitchen, less is more. Fill sleek vessels with simple greenery- although we also love a pop of yellow to contrast against dark kitchen doors. Timber is another essential ingredient for this look- we recommend a small arrangement against the splashback with a chopping board as a starting point. Place smaller items in front, such as a candle or bowl limes or lemons, as they will tie back with the colours you have used in other parts of the kitchen.  
Retro Glam Kitchens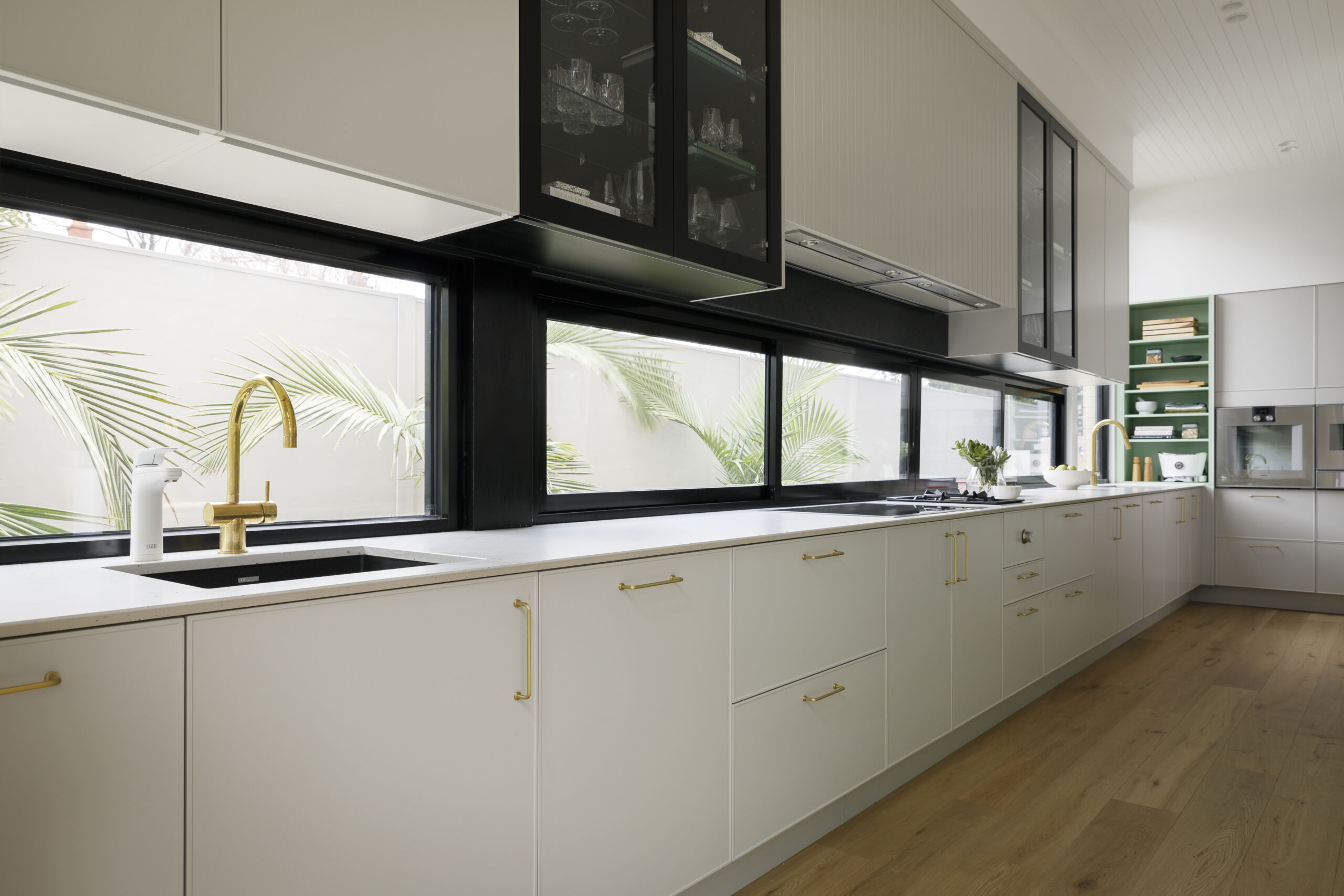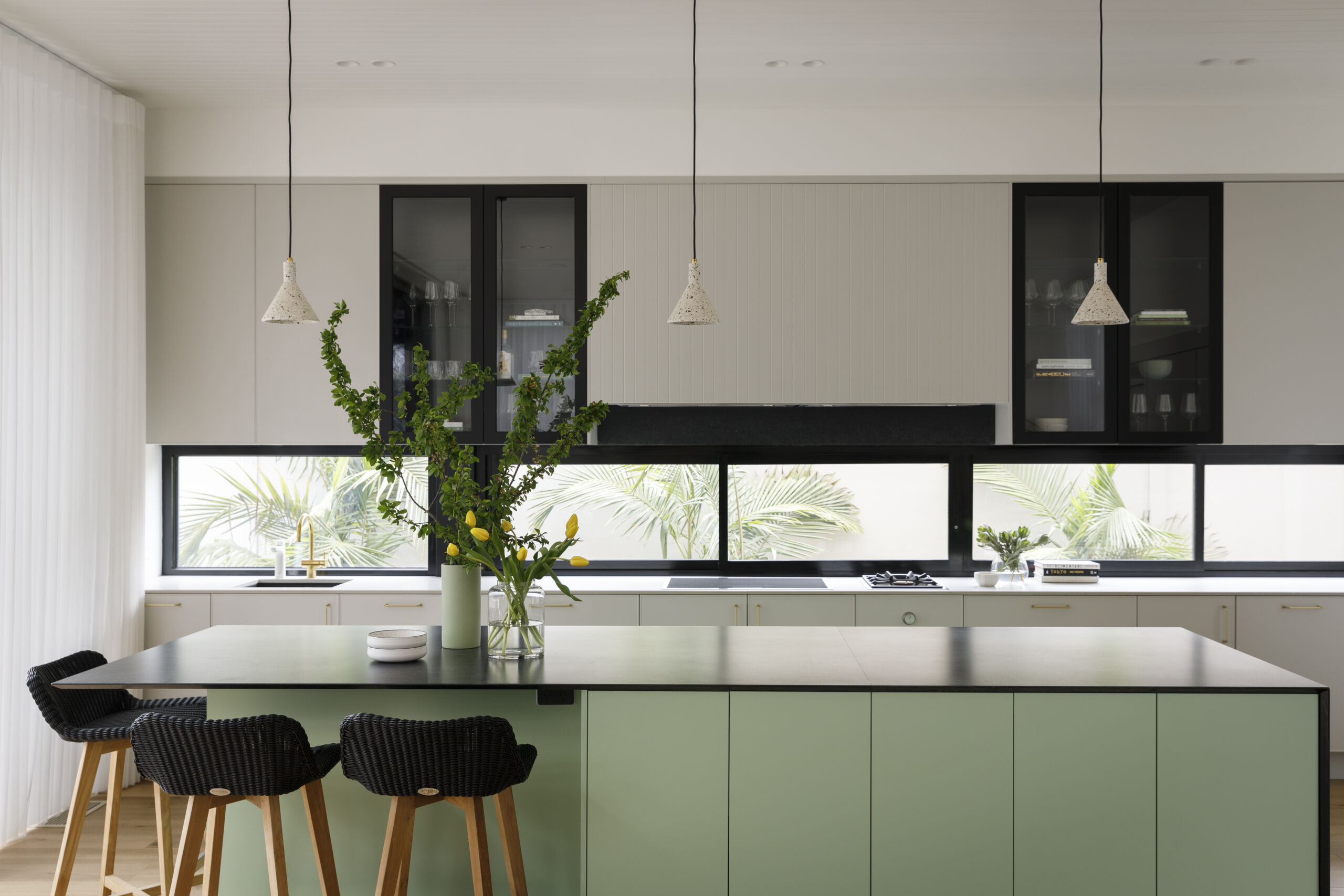 Winners of The Block in 2020, Jimmy and Tam, produced a fun and colourful kitchen that suited their Art Deco meets Palm Springs home. Thanks to our Ballina Enamel and Camden Oyster Grey Matt joinery, the palette focused on a blend of greens and greys. 
With such a bold colour scheme, we love how the styling has been pared back and doesn't compete with the room, instead giving it a fresh touch. Look to create a styling focal point on your island bench with florals or greenery arrangements; however, make an unexpected moment by having two vases of different heights.
Elsewhere, keep styling low on the backbenches, ensuring an uninterrupted view out of the glass window splashback. White ceramics, neutral-coloured cookbooks and subtle greenery are all beautiful choices.  
Inspired to create the perfect kitchen for you, your family and your home, where you can add your styling stamp? 
Book your in-store, in-home or virtual design appointment HERE. Or download our latest catalogue HERE for more inspiration, images and product information.