Caesarstone® benchtop colours to fall in love with.
5 of our favourite Caesarstone® benchtop colours.
A critical design element within your new Kinsman Kitchen are your benchtops as they will complement your joinery and help bring your dream look together. Caesarstone® quartz countertops combine the very best in quality and style, and below we share 5 of our favourite colours and what cabinetry and handles will work well with them.
Plus, take advantage of our $1000 off Caesarstone® benchtop offer, available for a limited time only. Terms & conditions apply and are listed at the end of this blog. Let the inspiration begin!
1.  Caesarstone® Statuario Maximus™ benchtops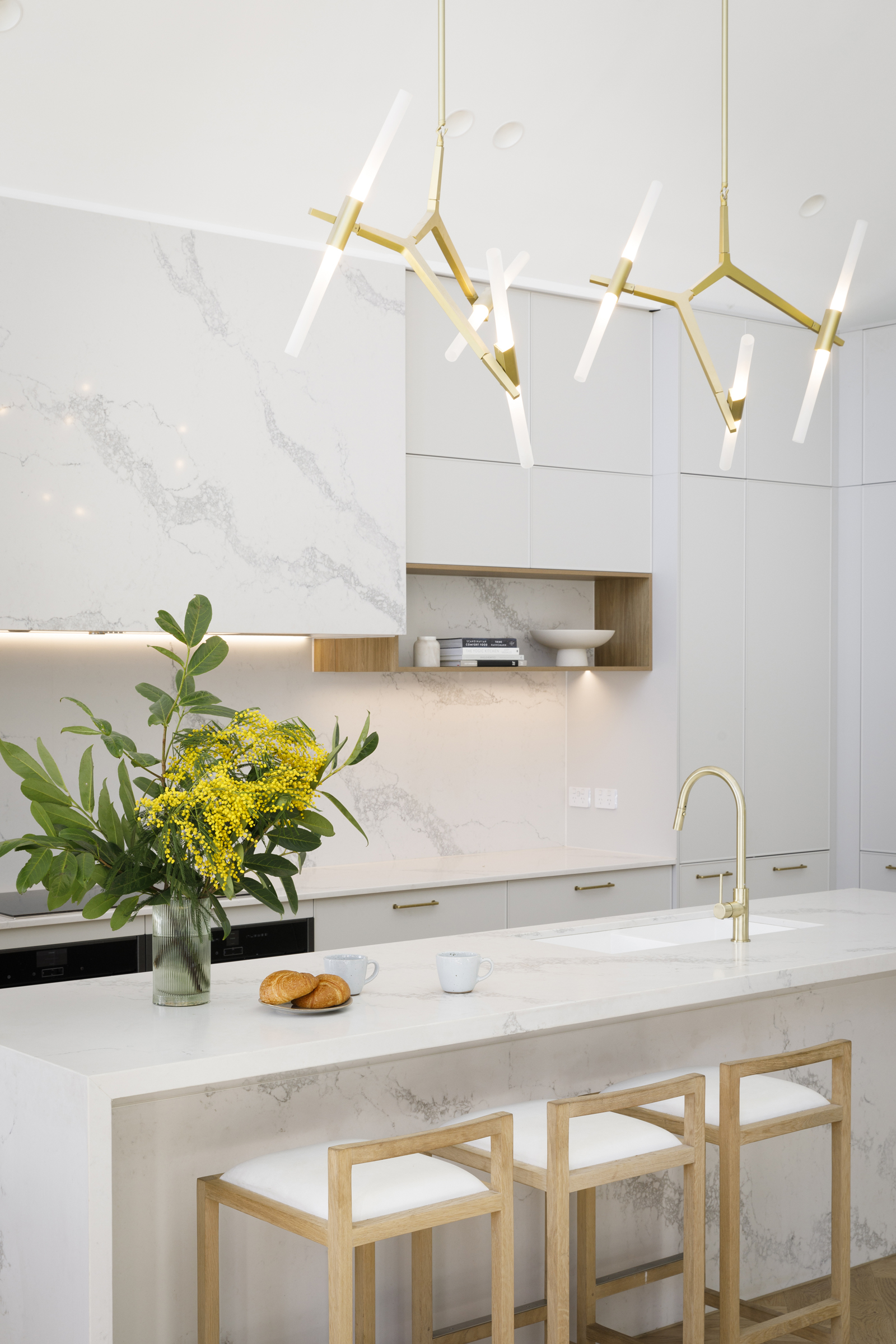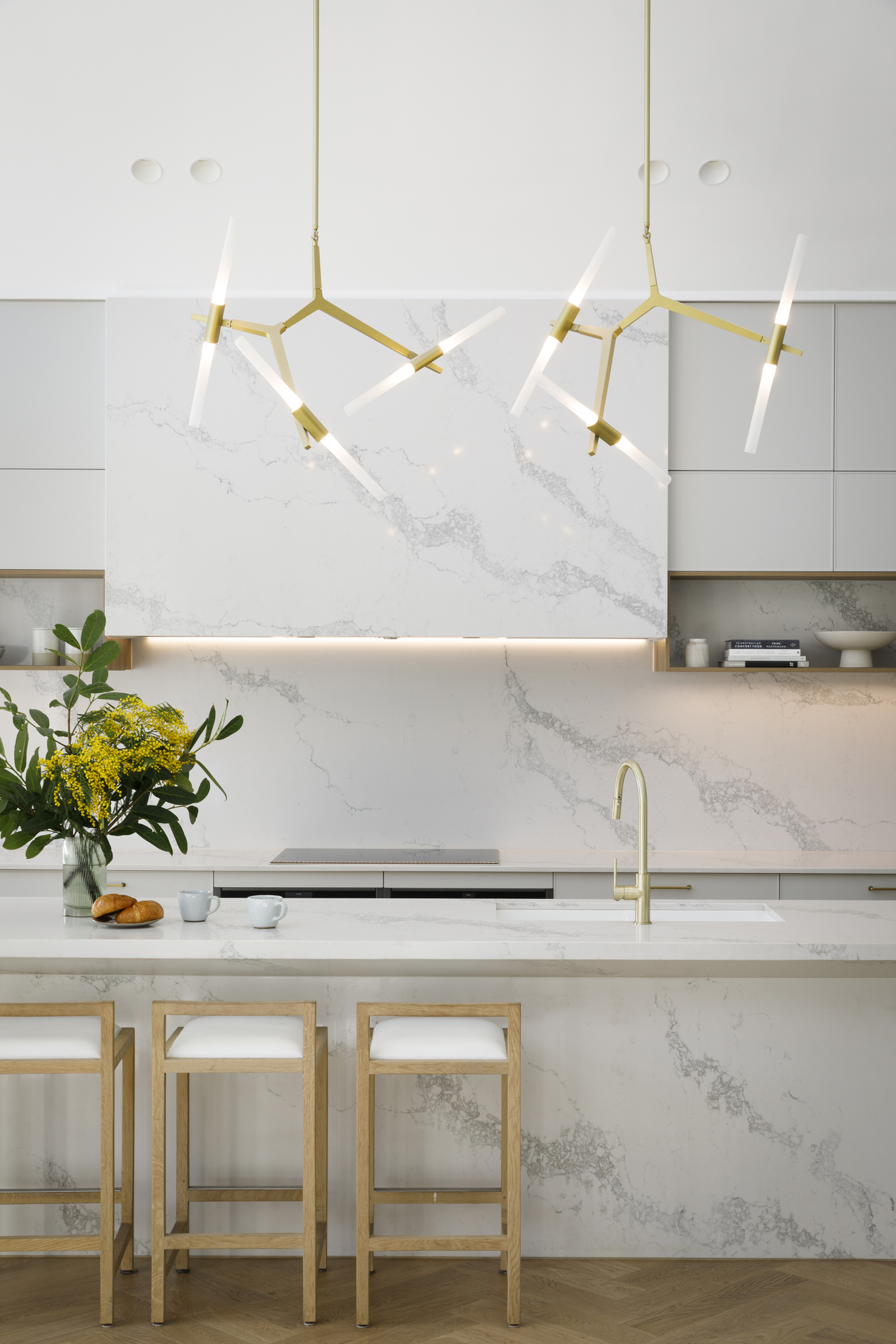 Classic and elegant, Statuario Maximus™ is a stunning marble-look design that offers a feathered dove-white base, contrasted by broad light-grey veins in a clouded swirl that is absorbed deep into the surface, like mist.
Perfect for a country, Hamptons or French Provincial style kitchen and home. Pair with classic Shaker-profile cabinetry in neutral shades of white and grey and add the luxe factor with brass or gold-look accessories and handles to create a look that will turns heads. This is exactly what Ronnie and Georgia did when they created their Kinsman Kitchen on The Block in 2021, teaming Statuario Maximus™ benches with slim shaker-style Camden Oyster Grey joinery and Otto Antique Brass Bar handles.
2. Caesarstone Aterra Blanca™ benchtops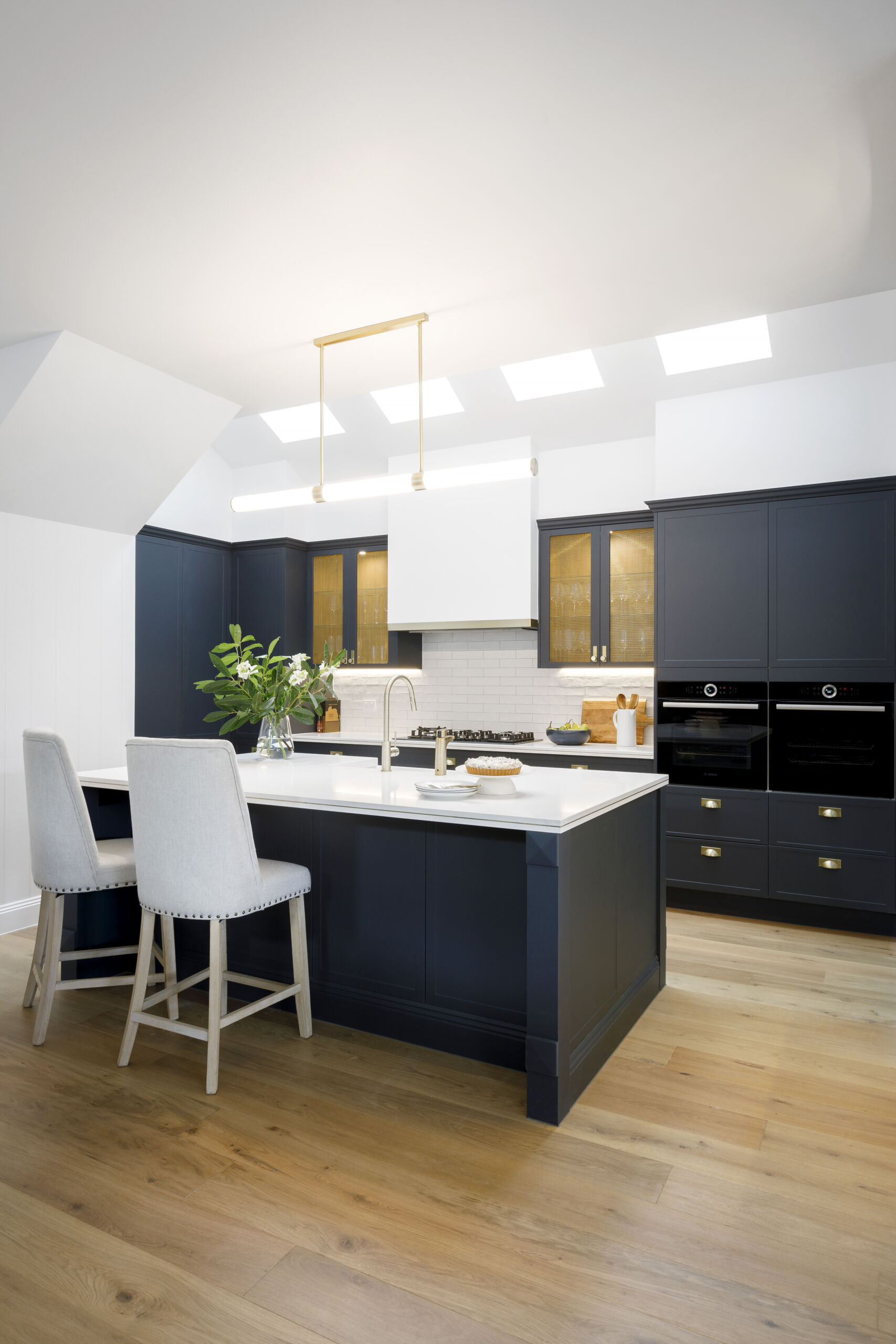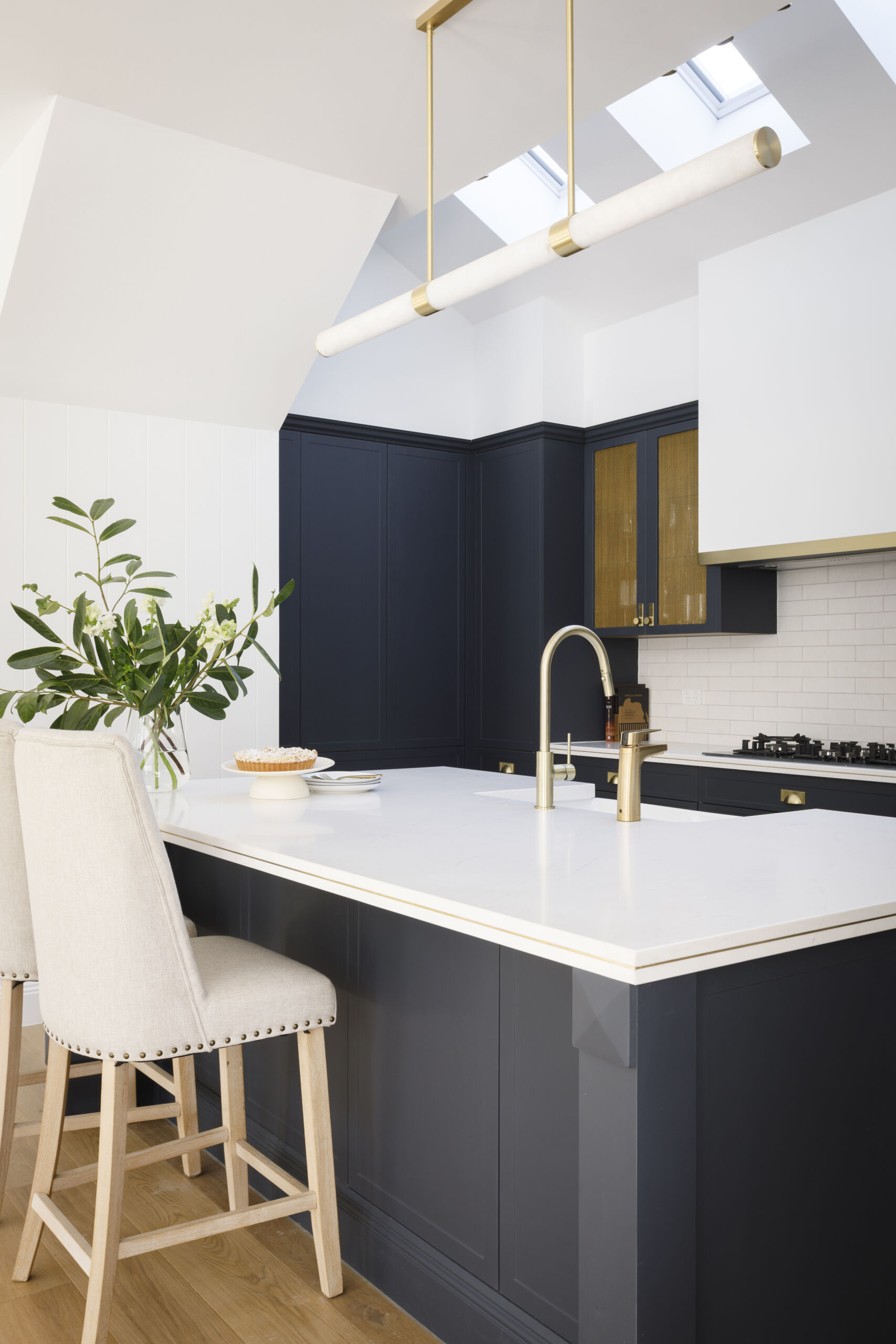 Inspired by natural marble, Aterra Blanca™ is an elegant misty white quartz surface with delicate earthy veins that achieve a subtle yet evocative and textured look. Aterra Blanca™ is a versatile design, suited to a broad range of styles, from classic or country, to minimal and sleek. Its luxurious feel is timeless in any room in your home, including a kitchen and laundry.
Kirsty and Jesse's winning kitchen from The Block 2021 featured Aterra Blanca™ benchtops throughout. The marble-look quartz pairs perfectly with the Ink Blue and Brass colour scheme the couple used to evoke a Hamptons meets the Country look. Kinsman's new Montauk Ink cabinetry showcases a 40mm shaker-profile, allowing the Brass Patina Mesh door panels to stand out with their raw beauty. Intricate detailing is found throughout the kitchen, including the bespoke brass inlay placed within the island bench which matches our new matte brass Barrington Knobs with Backing Plate, and Cup Pull handles.
3. Caesarstone® Riverlet™ benchtops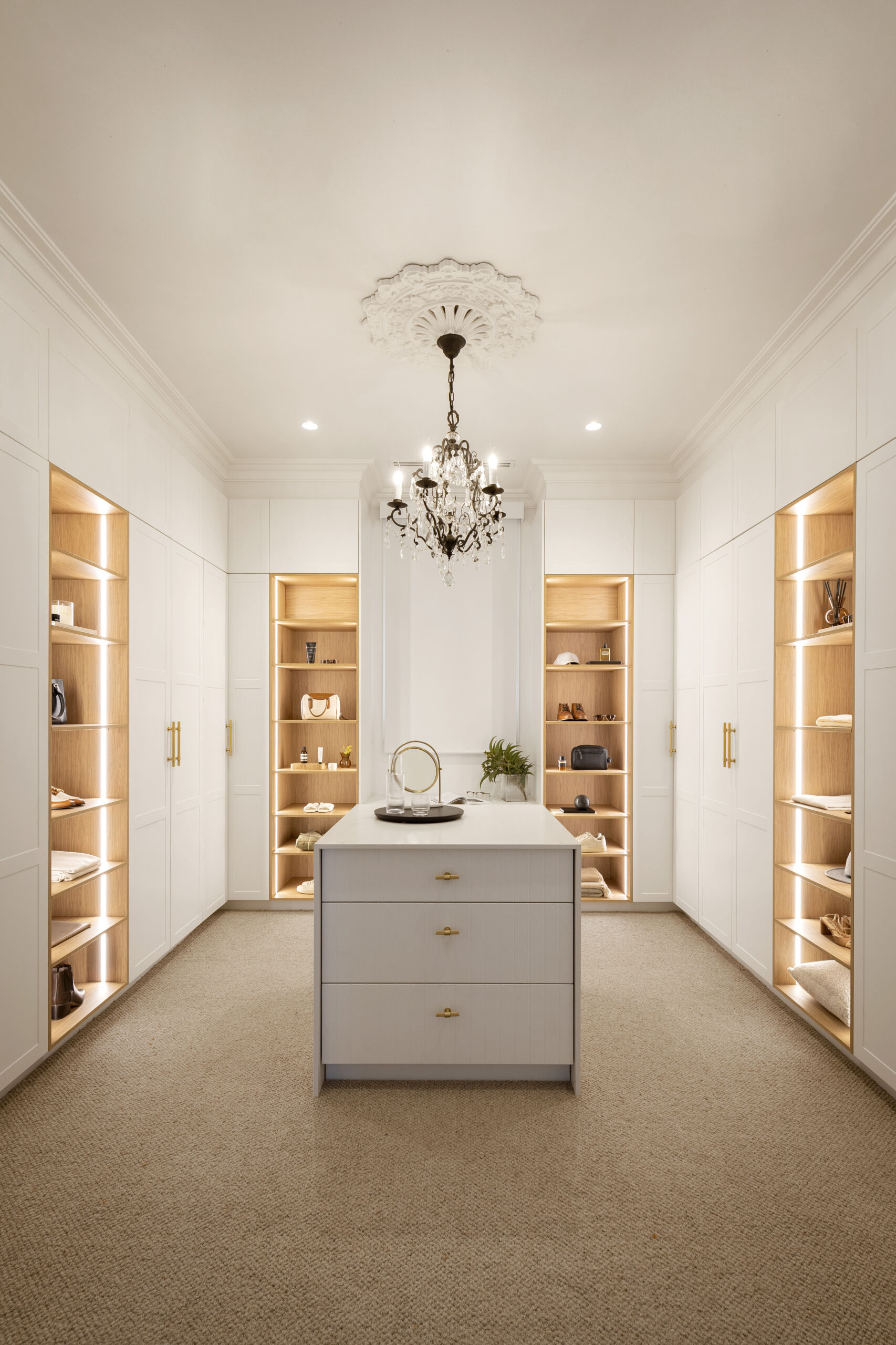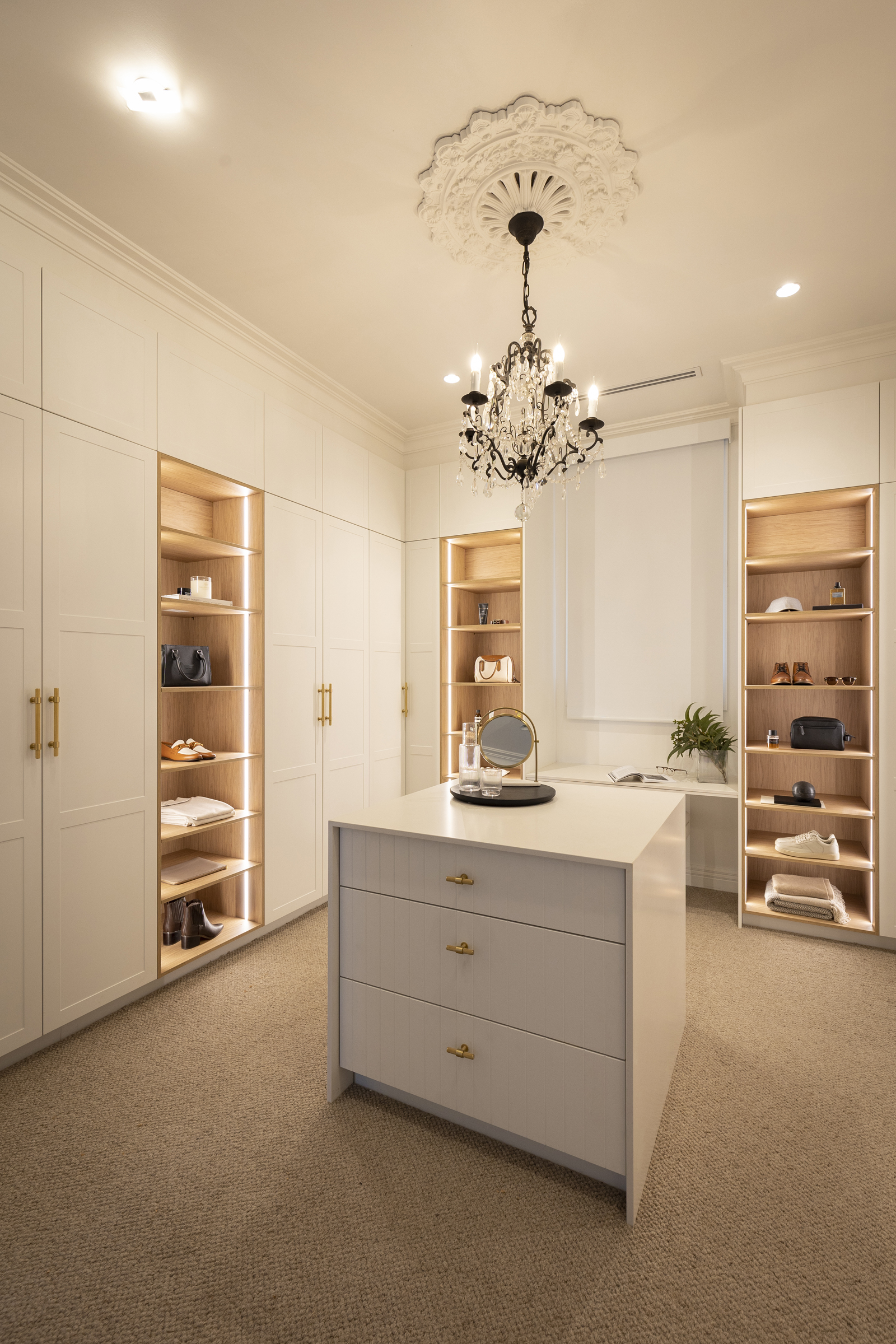 An exciting new addition to the Caesarstone® range, Riverlet™ benchtops showcase a gentle off-white base touched by honied-amber capillaries that flow softly across the surface. The honed finish offers a pop of freshness that reflects more light in the room where it has been used.
Use this new colour throughout your home, such as your walk-in wardrobe, like Dylan and Jenny's jaw-dropping Master Walk-in Robe in The Block 2022. The couple used Riverlet benches across both their central island and a makeup table adding instant glamour to the room. Celebrate a neutral and warm colour scheme by layering with crisp white or soft grey joinery, touches of oak or walnut and brass handles. Shaker-style Somersby White Matt exterior doors, Oak Woodgrain Matt interior finishes and Solid Brass Bar handles are a perfect match.  
4. Caesarstone® Airy Concrete™ benchtops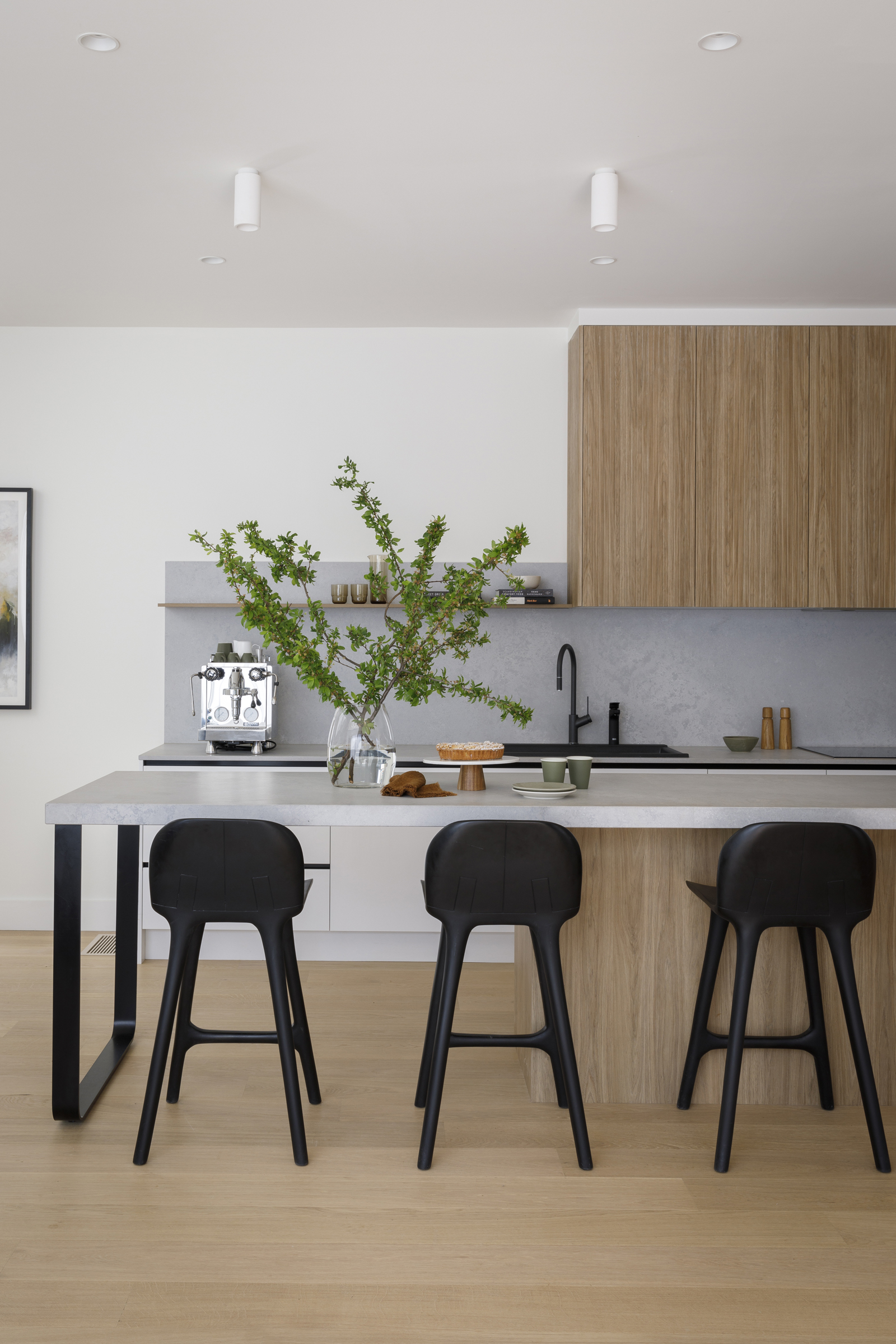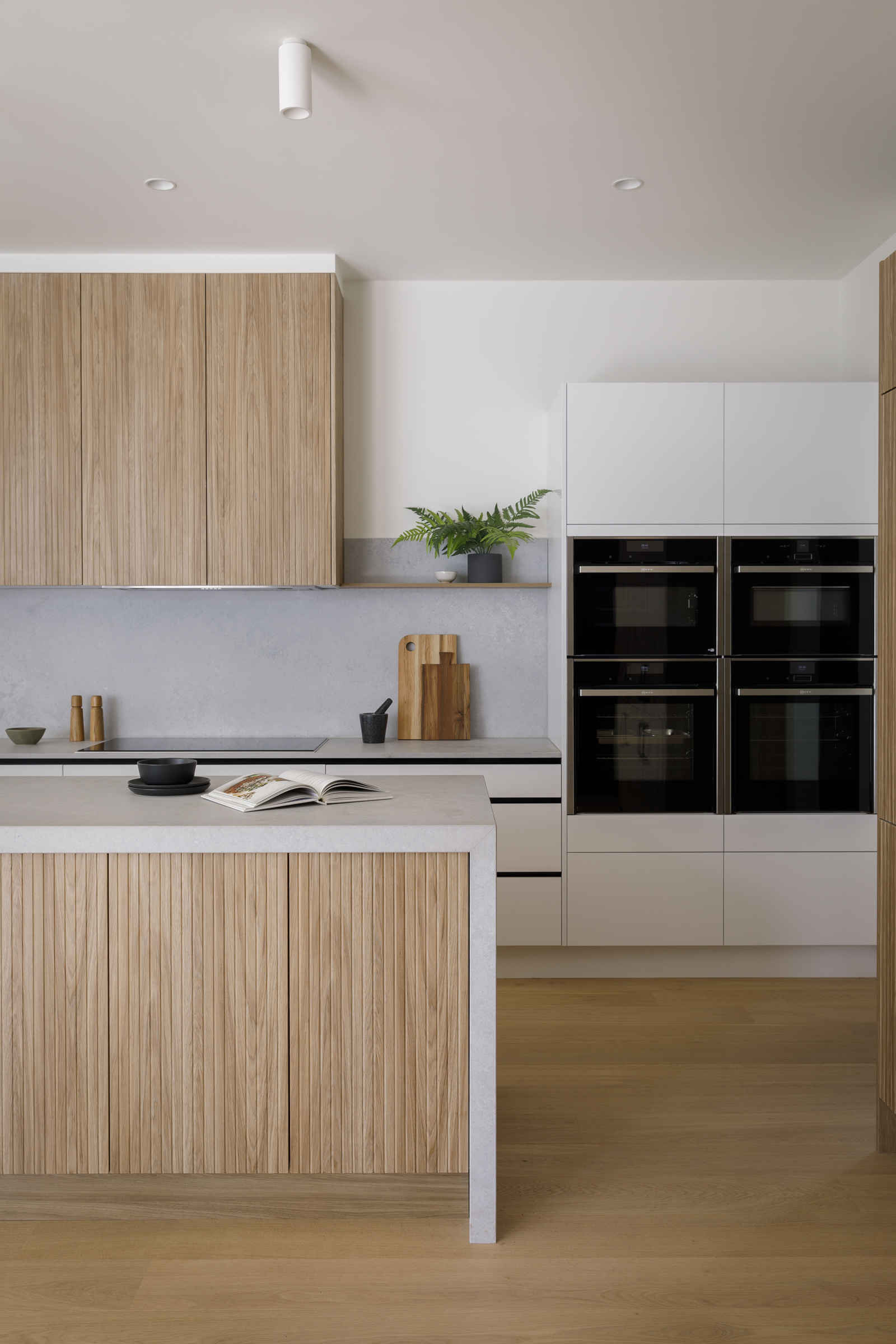 Concrete-look benchtops are a wonderful choice for a range of kitchen styles from sleek, urban spaces to more laid-back coastal aesthetics. Airy Concrete™ from Caesarstone® is the perfect example of how successful this colour can be, and a hero within the space, when mixed with a blend of timber-look and white joinery and matte black or graphite handles.
This colourway evokes the feel of concrete in full movement, refined for the home with mineral splotches for a fascinating multifaceted surface that is sure to be a star within your kitchen for years to come. Create the look like father-daughter team Harry and Tash did in The Block in 2020 by using the quartz across both their benchtops and splashbacks and pairing with Avoca, our decorative and vertical fluted door 'Avoca' in Prime Oak Matt and integrated handles.  
5. Caesarstone® Black Tempal™ benchtops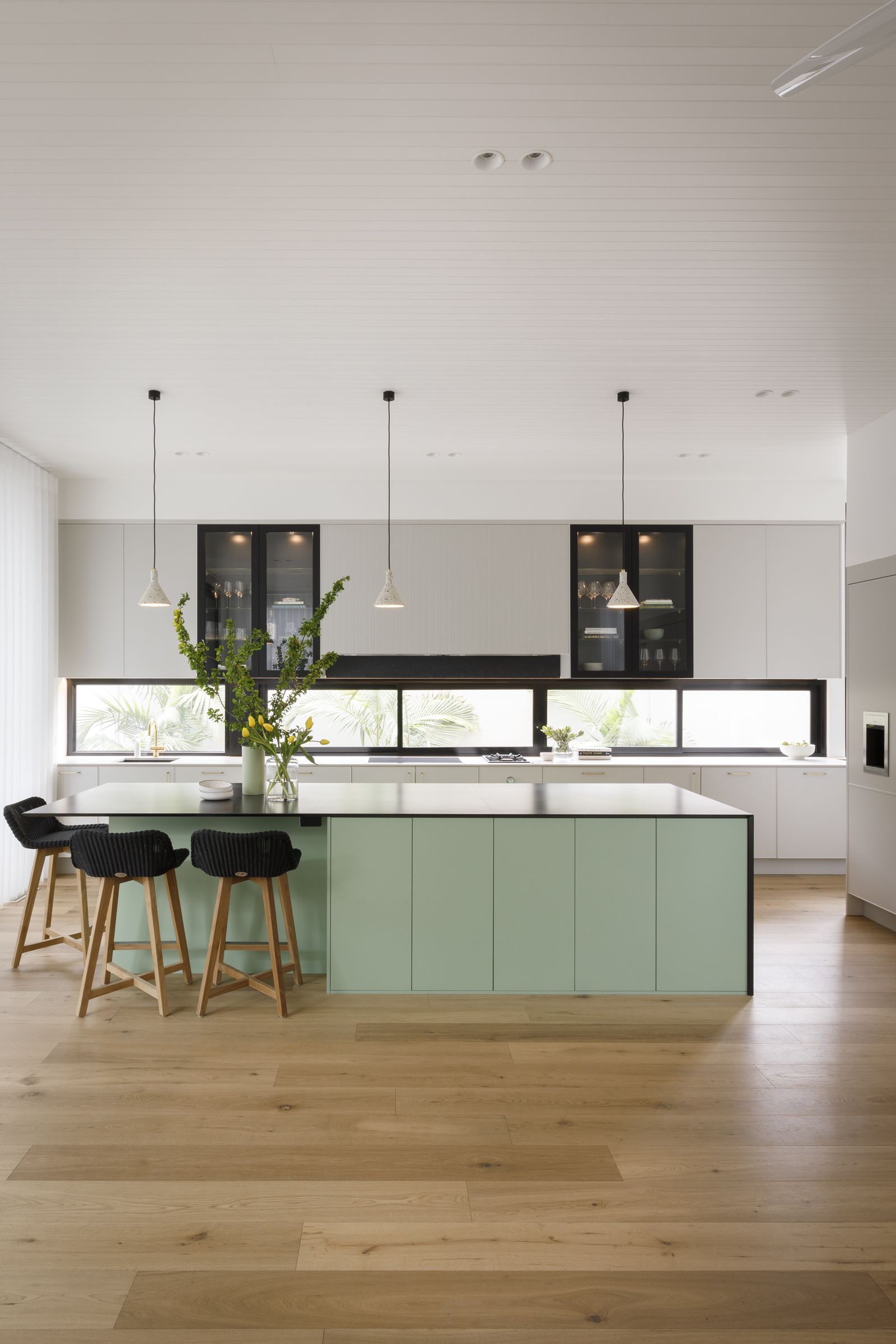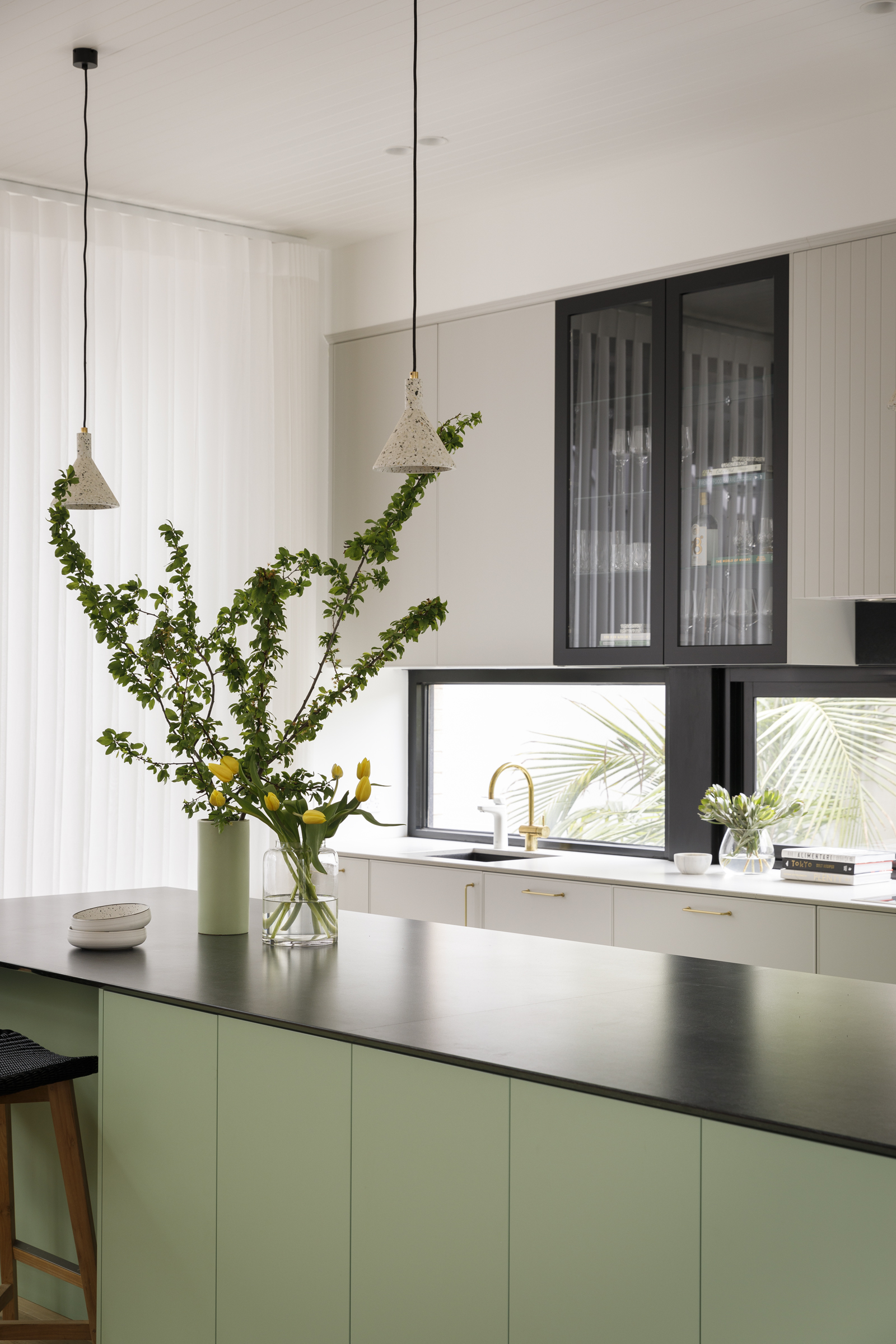 Showcasing a complex industrial composition reflecting a captivating interpretation of industrial travertine, Black Tempal™ features a black charcoal base with delicate, warm whites across the slab.
One of the most exciting trends we are seeing this year is a rise in black and dark materials that evoke a natural and raw finish, and Black Tempal™ encapsulates this in spades. Winners of The Block 2020,  Jimmy and Tam, selected this stunning stunning quartz benchtop for their amazing kitchen – pairing it with light grey and green-toned cabinetry for a contemporary and fresh look. It also works beautifully when paired with a monochromatic cabinetry colour palette and black or silver-look handles and accessories.
Fallen in love with your perfect Caesarstone® benchtop and ready to start your Kinsman Kitchens journey?
Don't wait! Book your in-home, in-store or virtual design appointment HERE. Ask your designer about our latest special offer.
For more inspiration, ideas and to explore more of the Caesarstone® range, download our latest catalogue HERE.
Complete your new Kinsman Kitchen and enjoy $1,000 off Caesarstone benchtops* when purchasing a Studio Range Kinsman Kitchen valued from $5,000 or a Designer Range Kinsman Kitchen valued from $8,500.
Prefer to opt for a flat pack option? Explore our Xpress Range Cabinetry and enjoy $1,000 off Caesarstone benchtops when purchasing an Xpress Range Kitchen at $5,000 or more. 
*This offer of $1000 off Caesarstone benchtops is available to customers who purchase a Designer Range Kinsman Kitchen valued at $8,500 or more at the first kitchen design appointment (excludes glass splashbacks, delivery and trade works). This offer of $1000 off Caesarstone benchtops is also available to customers who purchase a Studio Range or Xpress Range Kinsman Kitchen valued at $5,000 or more. This offer supersedes all previous offers and cannot be used in conjunction with any other Kinsman Kitchen offer. Available within 100km of Kinsman stores in NSW, QLD, VIC and 50km of the Kinsman Mile End store in SA. See https://kinsman.com.au/showrooms/ for locations. Valid 1st until 30th November 2022.