Top 7 Tips to Creating the Perfect Pantry
A well-designed and stylish pantry can transform the storage and organisation in your kitchen and home, making it a joy to use every day. Whether you have a simple wall, walk-in or butler's pantry, there are several ways you can up the luxe and functional factor in your design to ensure that your pantry looks great while working hard. 
Below we share our favourite pantry ideas that were featured on The Block through the years. Which design elements would you include in your new Kinsman Pantry?
1. Use Floating Pantry Shelves for Display and Space.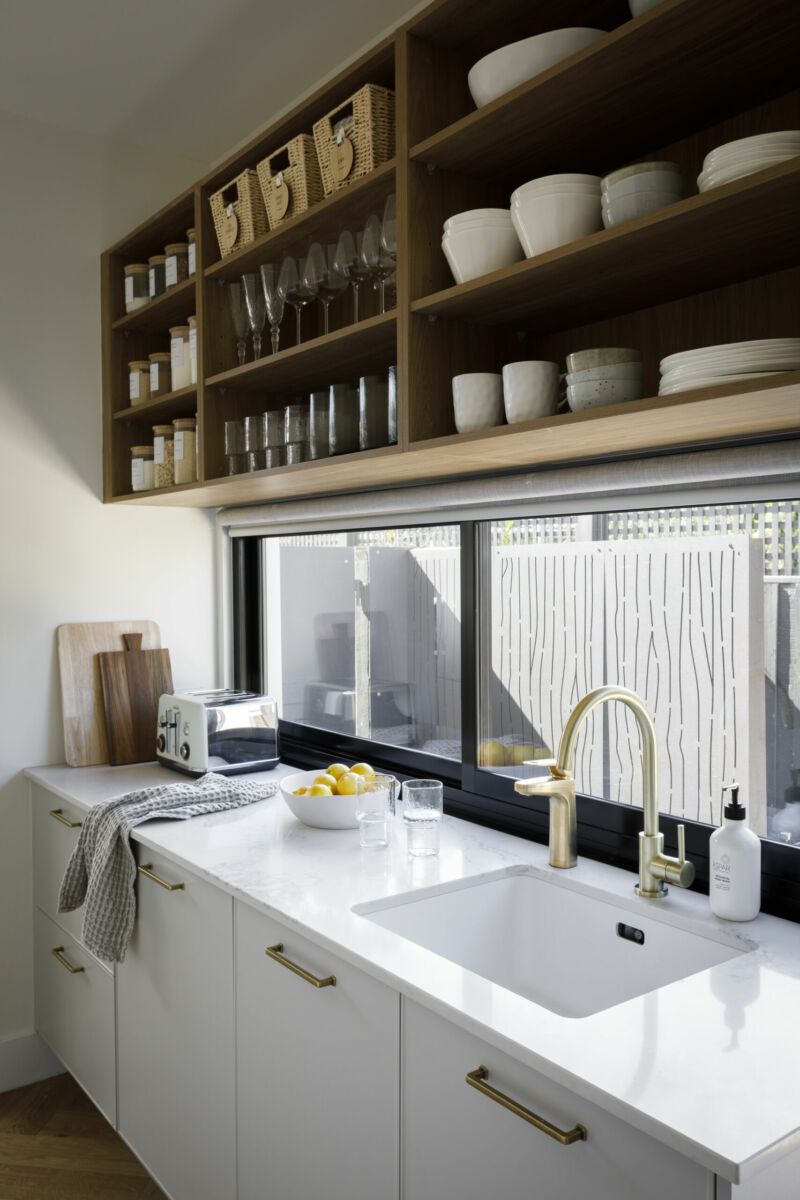 Ronnie and Georgia's Pantry The Block 2021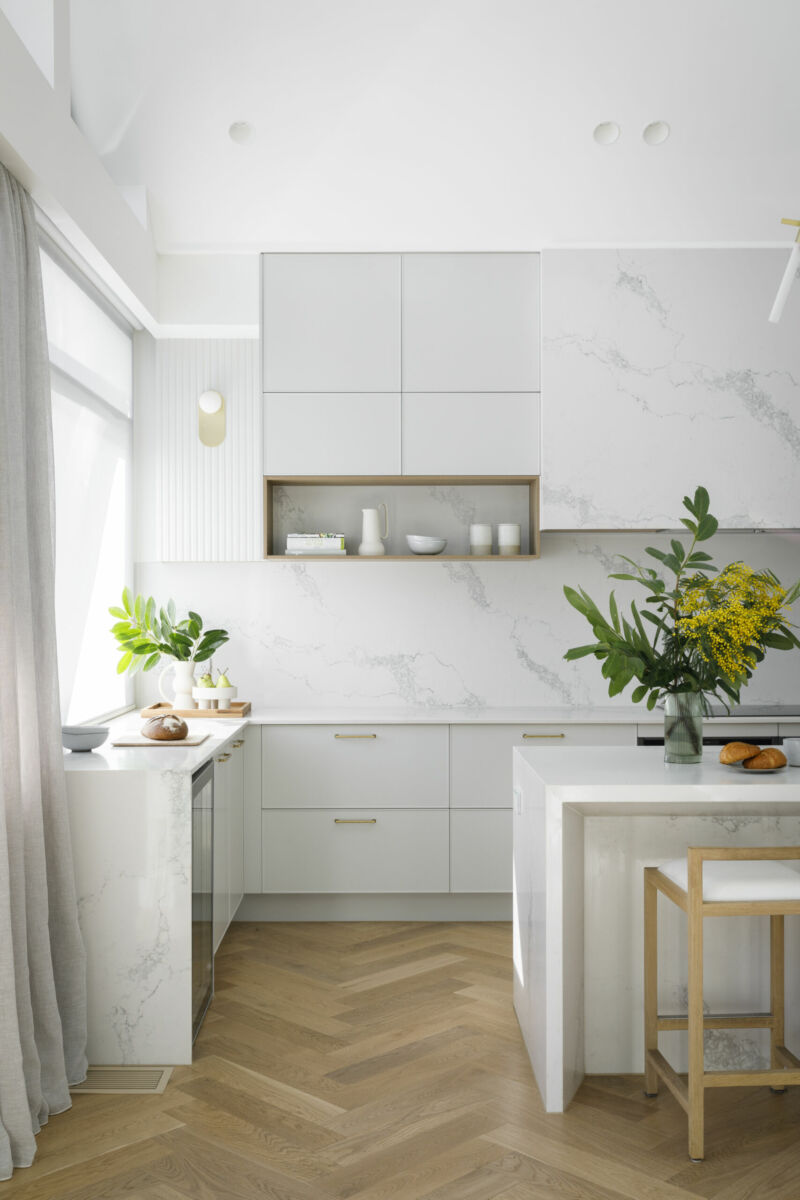 Ronnie and Georgia's Kitchen The Block 2021 
The inclusion of open shelves within your pantry comes with a number of advantages- both from a style and practical point of view. Display pantry staples for easy access and create a focal point with jars, fresh produce and greenery. Styling queen Georgia did just this in the pantry she and Ronnie created in House 1 reflects this- the personalised labels on all the canisters shown above are a beautiful touch. 
Open shelving is an excellent pantry storage idea if your pantry is smaller in size as they're not as dominant as wall cabinets, giving the illusion of space. They are also a cost-effective choice, which will allow you to focus funds on other parts of your pantry.  Another great addition to your open shelving is to include great lighting to light up and transform the space. Find out more about how you can incorporate lighting in your pantry here. 
2. Remedy Tall Pantry Cabinets with Wire Drawers.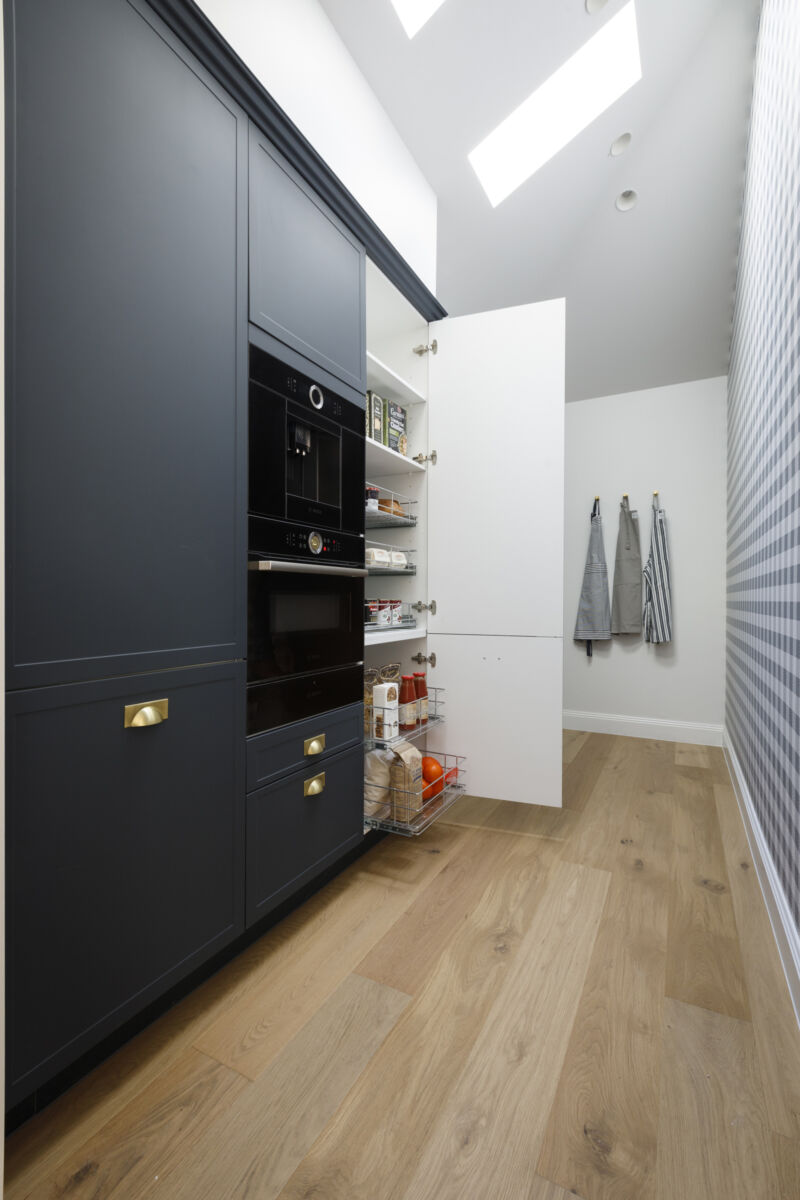 Kirsty and Jesse's Pantry The Block 2021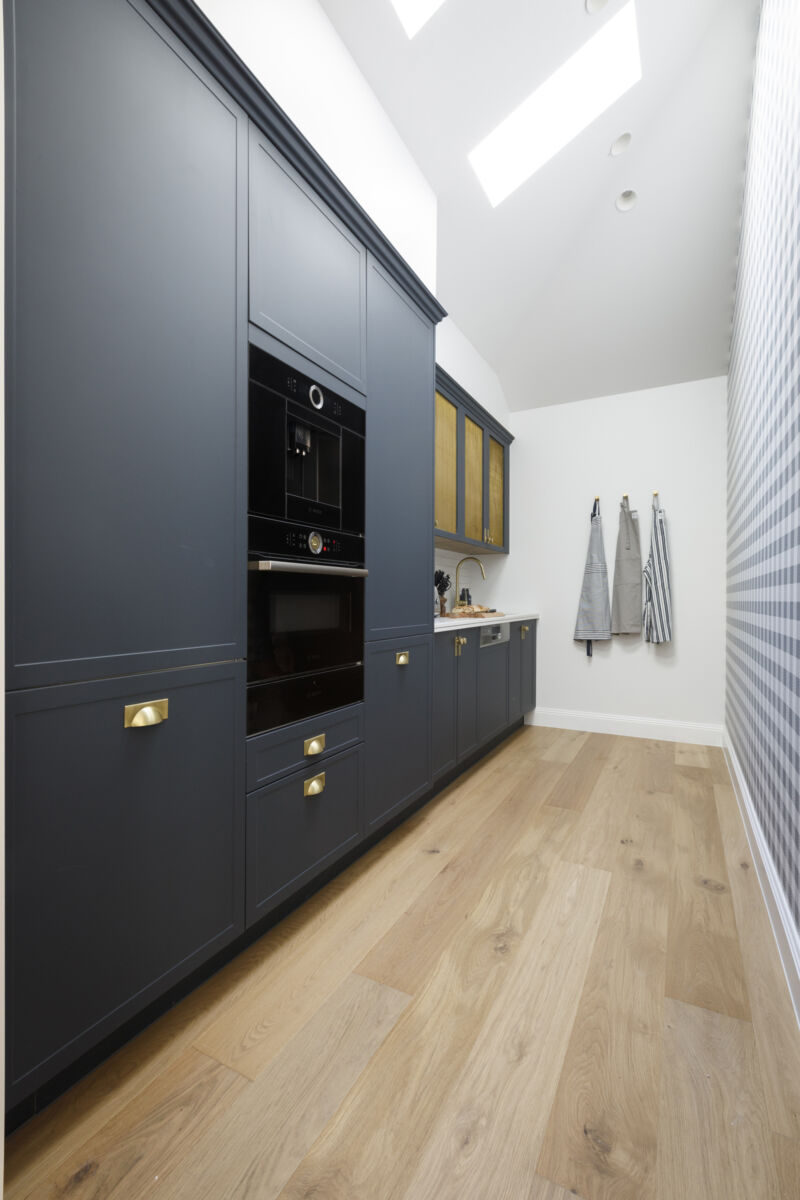 A tall pantry is a classic choice in most pantries. However, the feedback we often get from clients is that access becomes an issue when the tall pantry only includes shelves, as it's hard to see and reach items at the back. To remedy this, we recommend including our Stainless Steel Internal Drawers so you can still access any dry pantry items of various shapes and sizes with ease. You can see how successful this addition is in Kirsty and Jesse's winning pantry.
3. Use Deep Pantry Drawers For Additional Storage.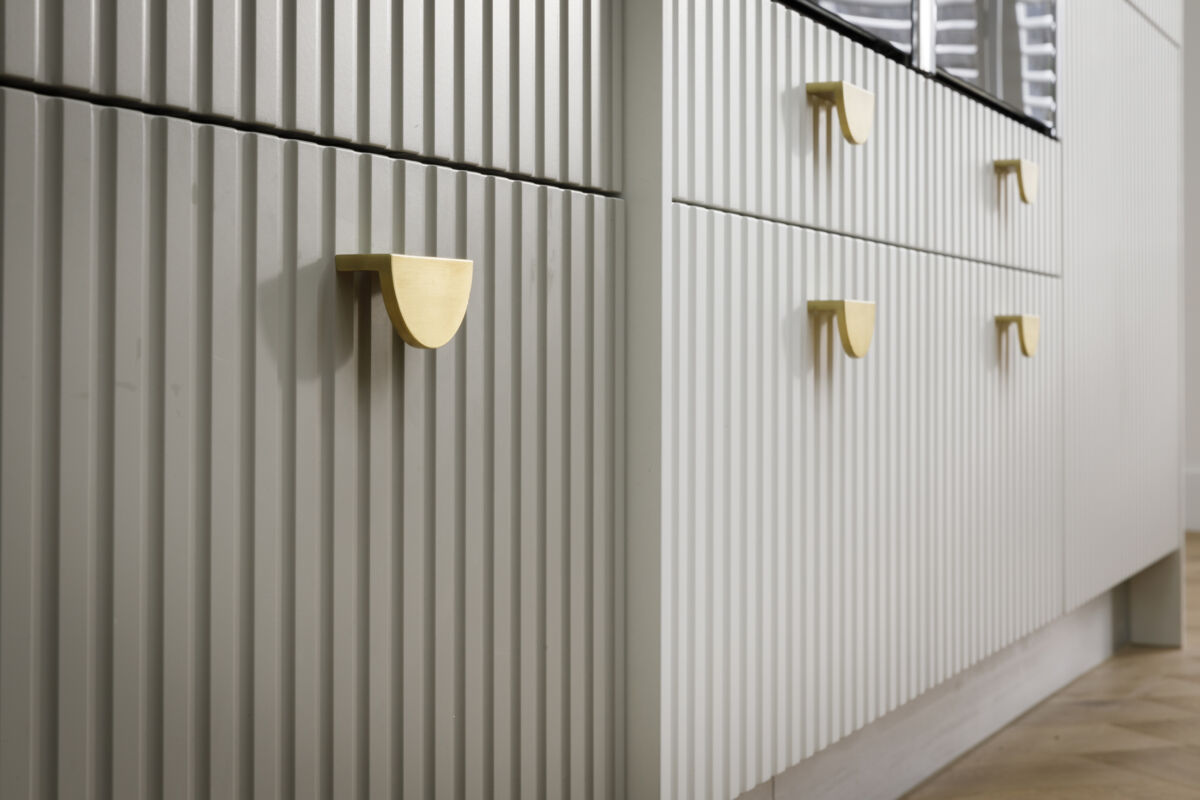 Mitch and Mark's Kitchen Pantry The Block 2021
Consider storing your pantry staples within deep, soft-close drawers for a modern and stylish alternative to a tall pantry. They allow you to easily see and access the contents, making it a great option for a modern home cook and kitchen- something that Mitch and Mark wanted to showcase in their Contemporary Coastal home.
Our Deep Drawers with Design Sides are a fantastic choice as they enable you to store even more items within the drawer while adding a beautiful and stylish feature. While the judges worried that Mitch and Mark hadn't include enough drawers to store all of the dry pantry items a modern family would need, if you take stock of what items you need to store your Kinsman designer will be able to assign the correct number of drawers you need within your design.  
4. Install a Pantry Bench For Additional Food Preparation.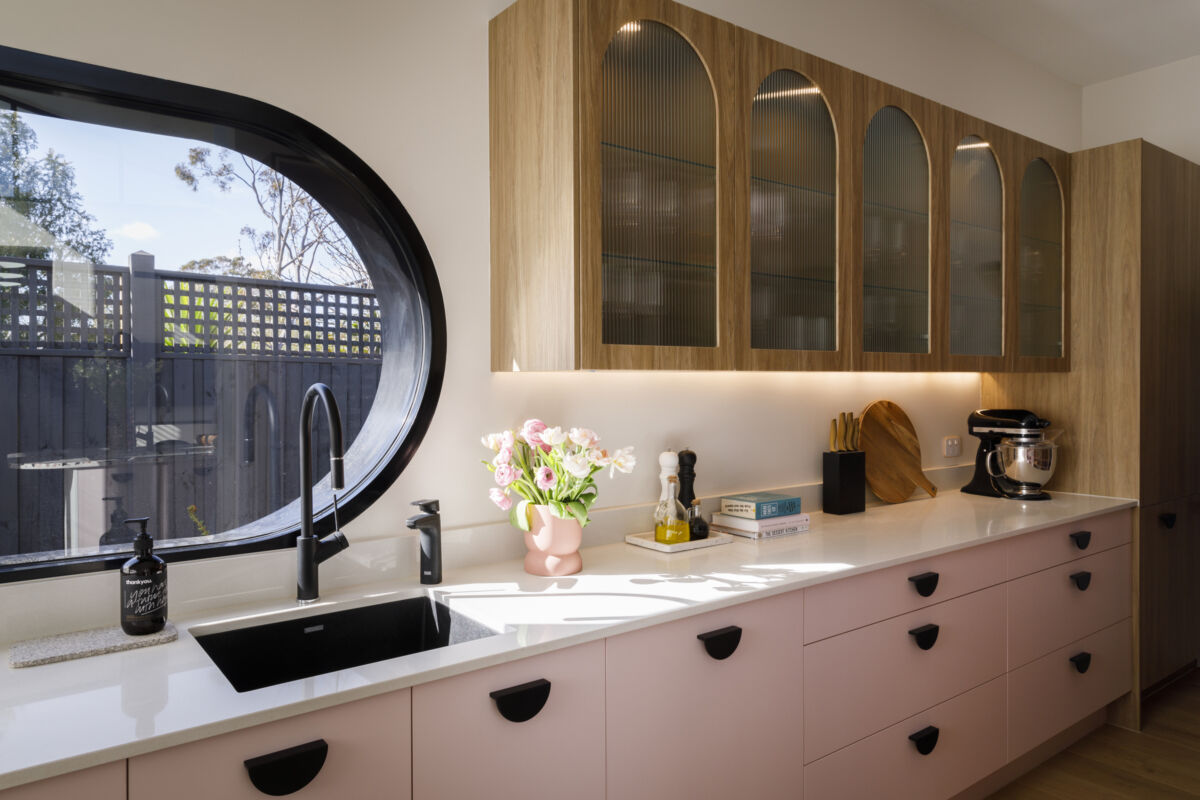 Tanya and Vito's Pantry The Block 2021 
Bench space is real estate gold in a walk-in or butler's pantry. Don't worry if you don't have a lot of room for it- even a small benchtop is handy for food prep or to house your small appliances such as kettles and toasters so that you don't have to have those out on display in your main kitchen area. Tanya and Vito provided a long countertop in their spacious butler's pantry, creating plenty of prepping and display space within their Mid-Century Modern space. Bench space will create plenty of space below for extra storage such as cupboards or drawers, and you can double up with open shelving or wall cabinets above.  Explore some of our favourite benchtop colours from Caesarstone.
5. Make A Statement with Pantry Climber Shelves.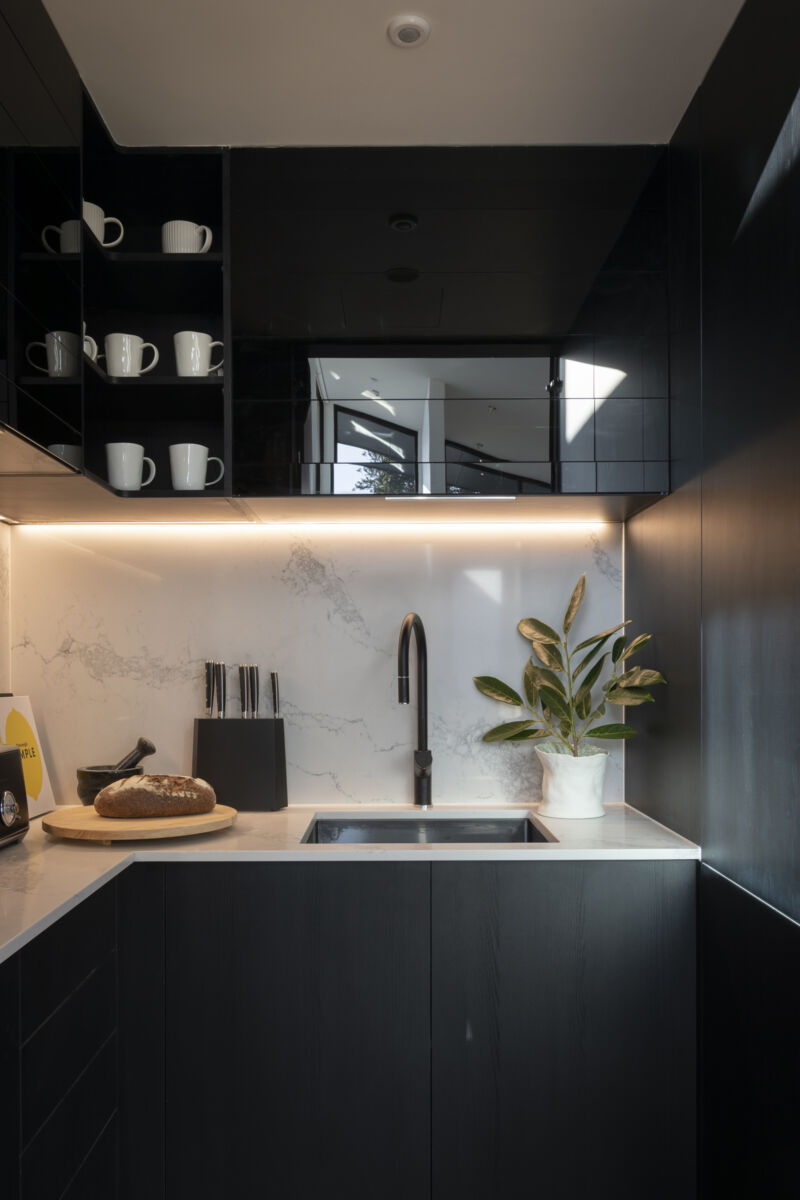 Josh and Luke's Pantry The Block 2021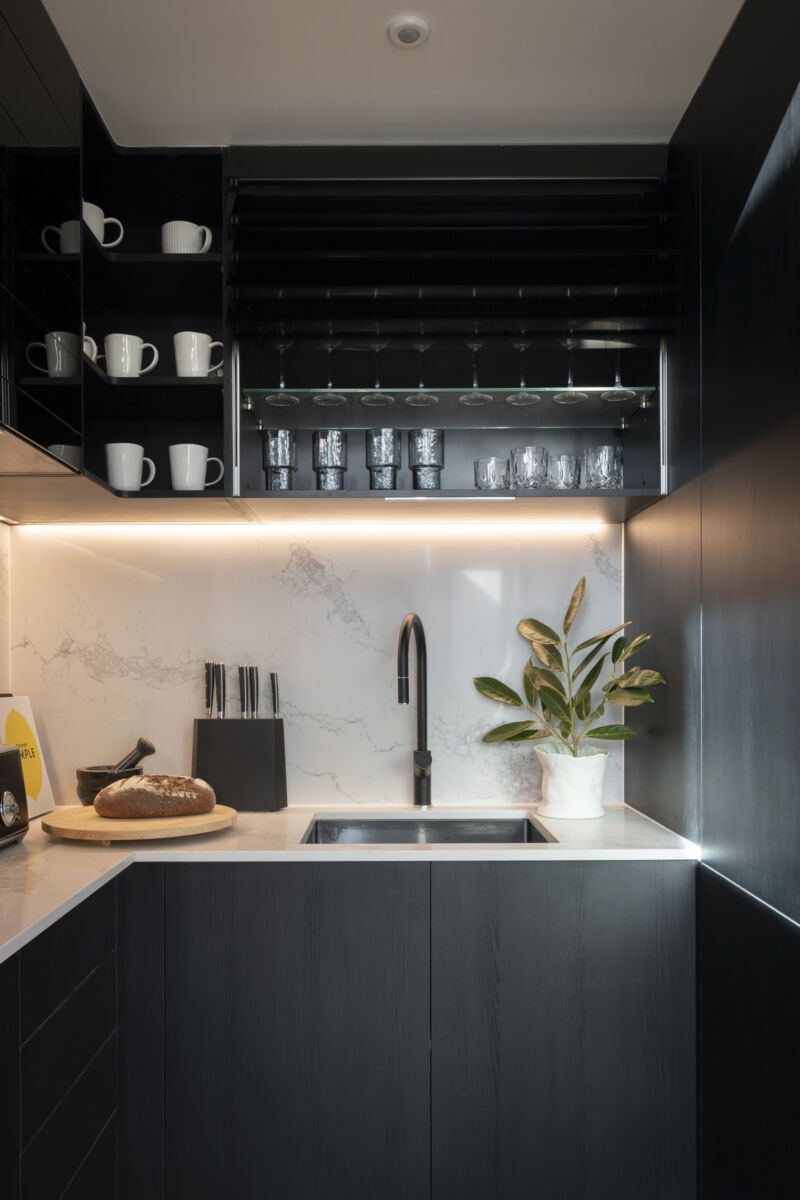 Josh and Luke's ultra-modern monochromatic kitchen included a hidden walk-in pantry, and while compact in size, it punched above its weight when it comes to style and functionality. Dark and glamorous, our Climber Shelves are the perfect addition to a kitchen that celebrates a sleek and urban style. At a fingers touch at the base of the cabinet, the glass frames raise electronically to reveal the contents within, while internal lighting automatically turns on as the doors lift! This is also a major trend we have seen discover the full trend forecast here.
6. Create a Pantry Feature Wall Cabinet for Added Style.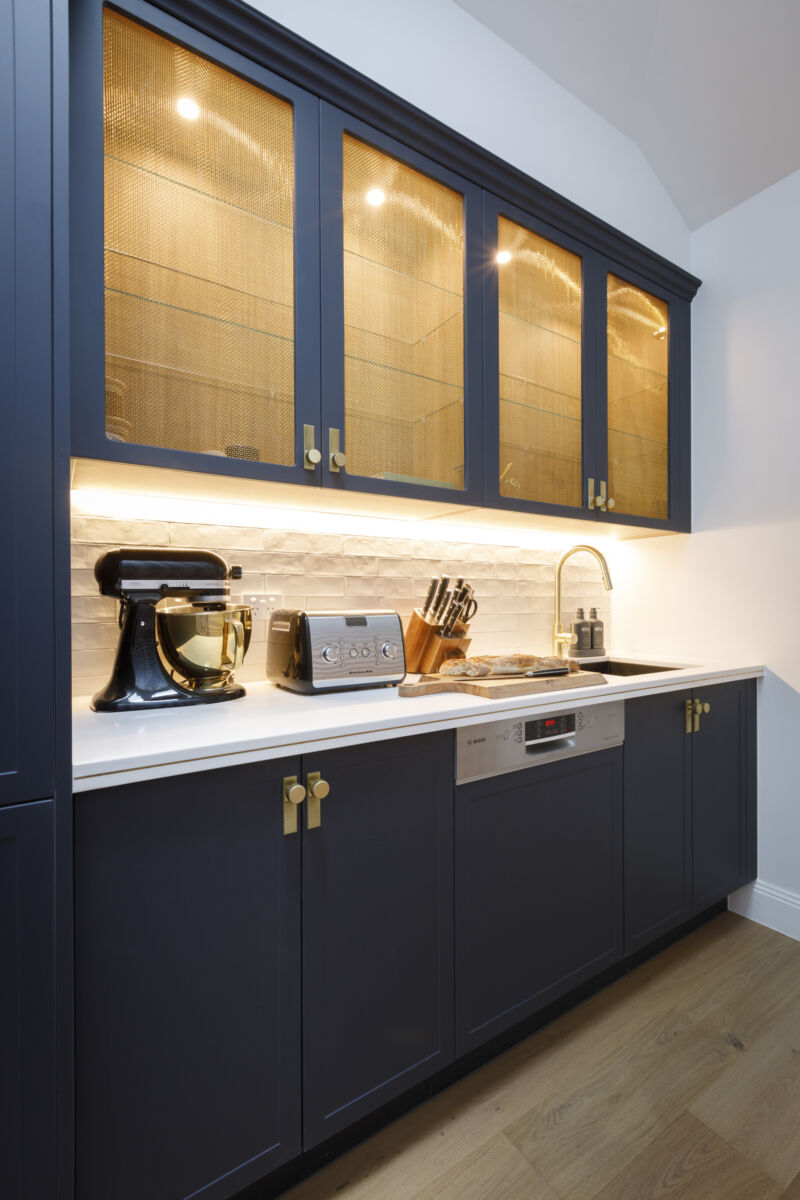 Kirsty and Jesse's Pantry The Block 2021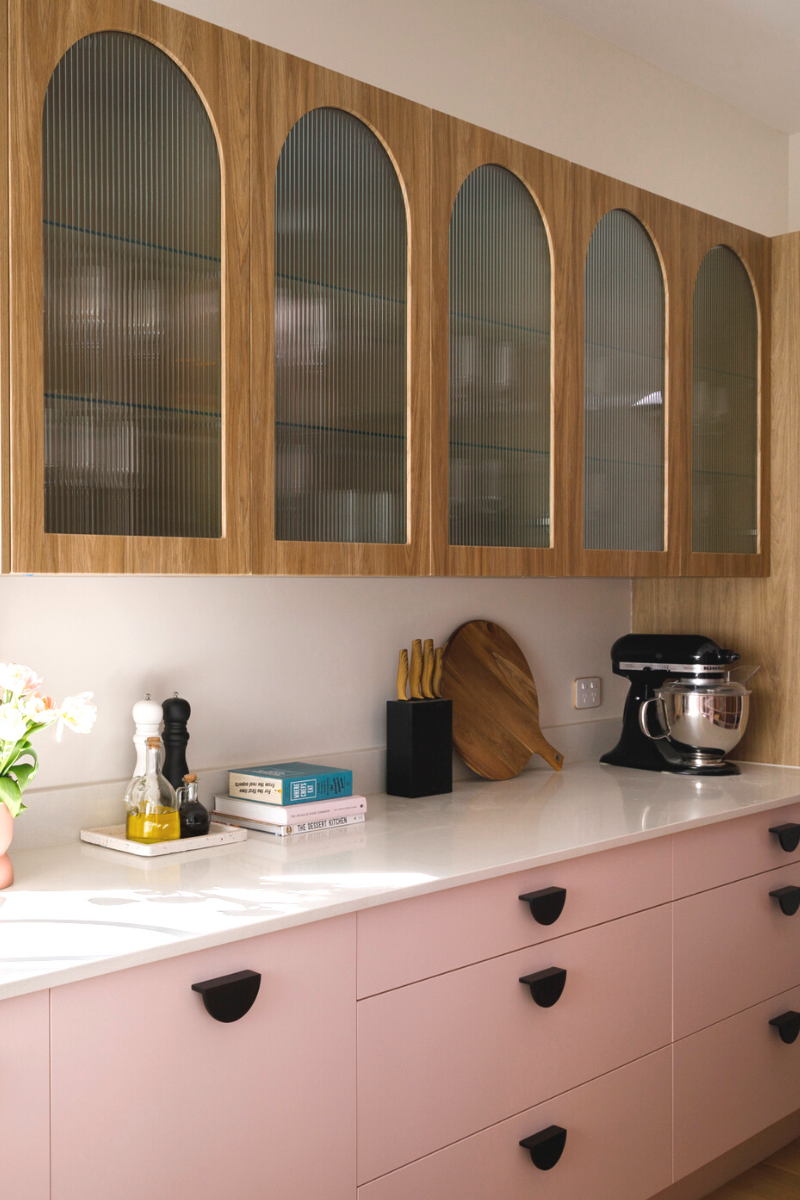 Tanya Vito's Pantry The Block 2021 
While they're a functional space, we believe pantries should be as stylish as your main kitchen. Perfect for storing pantry staples or glassware, wall cabinets can provide an opportunity to make a design statement. 
We have introduced several new door profiles that are perfect for both kitchens and pantries. If you love a glamorous Hamptons meets Country style, look to our new Montauk Ink Shaker-style doors with Brass Patina Mesh panels as seen in House 5. Over in House 3, we love our Archie doors with their elegant arched detail and Broadline Glass inserts for a contemporary Mid-Century or Coastal vibe.  
7. Install Pantry Appliances & Accessories for Food Prep and Cleaning.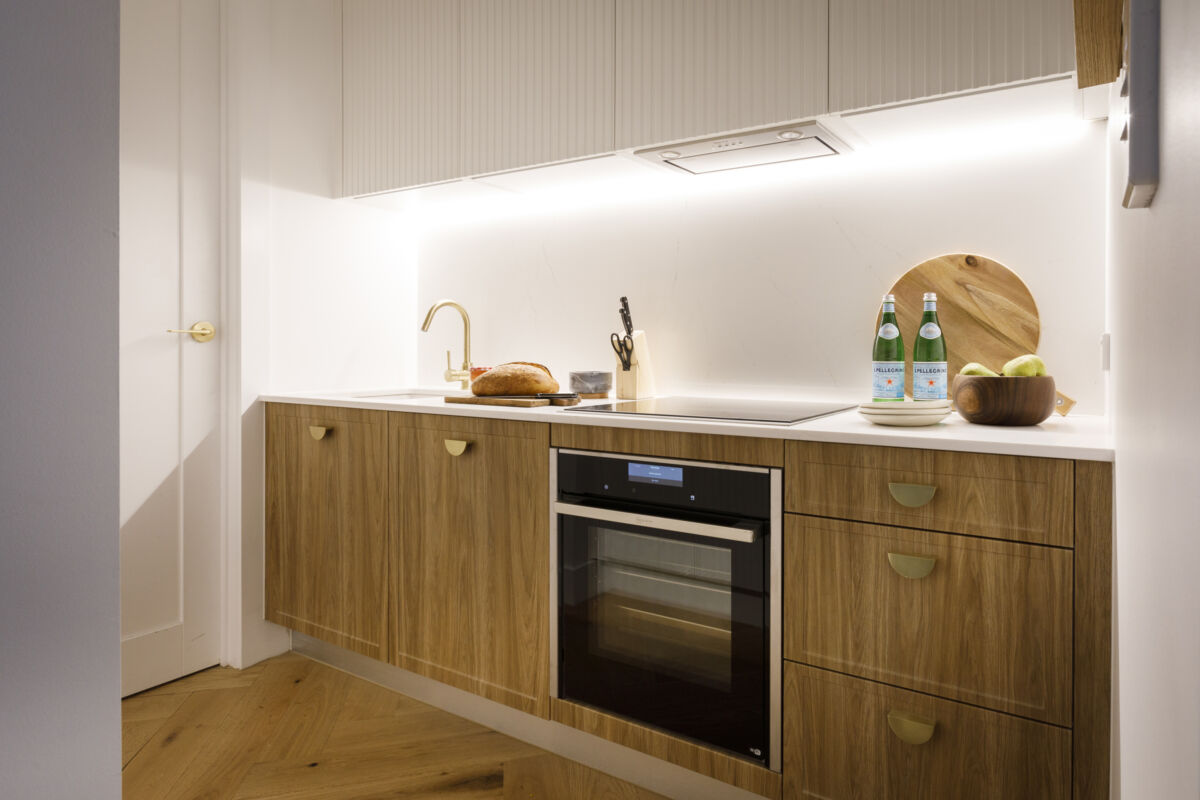 Mitch & Mark's Pantry The Block 2021
Your butler's pantry will be the workhorse of your home when you include cooking appliances such as ovens as well as an additional sink, tap, bin and dishwasher. By having these essential items, your pantry can be the space to do most of your food prep and cleaning- the perfect addition for those you love to entertain at home. Mitch and Mark's walk-through pantry showcase this perfectly.
Create the pantry of your dreams with Kinsman today!
Book your in-store, in-home or virtual pantry design appointment with our expert kitchen designers. Or download our latest kitchen design catalogue for more inspiration, images and product information.
What goes in a butler's pantry?
Sarah Farrugia
2023-02-07T11:58:38+11:00
Depending on the space you have available, our designer will provide you with ideas on what you should include in a butler's pantry. However we do suggest that if space permits you include the key cooking appliances such as oven, sink, fridge and benchtop space for food prep. This will allow you to entertain guests, whilst keeping all the mess hidden.