The end of the year heralds the arrival of some of our favourite things: warm weather, summer holidays, gathering with friends and family; and here at Kinsman Kitchens it also signals the time where we start getting excited about the kitchen trends we will be seeing in 2021.
Soft curves, natural colour schemes, textured and matte finishes and an overall focus on home living are just some of the design features we expect to see next year in Australian kitchen design. In fact the kitchens that were revealed on The Block 2020 showcase many of these exciting new trends, a fact that judge Neale Whitaker summed up perfectly.
"I feel like I'm seeing things I haven't seen before; these kitchens are ahead of the curve. These are kitchens that will be setting trends!"
Read on as we round up the top kitchen trends that we will be seeing in 2021. Prepare to be inspired!
Home Living.
Home has never been as important as it is now, and at the heart of every home is the kitchen. Open plan living sees the kitchen connected to other key areas of the house, in particular the living and dining spaces and well as backyards or balconies.
The Block kitchens had two key things in common when it came to their kitchen designs – they all gave great consideration to being family-friendly as well as being generous entertainers kitchens. This was reflected in the inclusion of island benches, generous storage, multiple appliances and butler's pantries.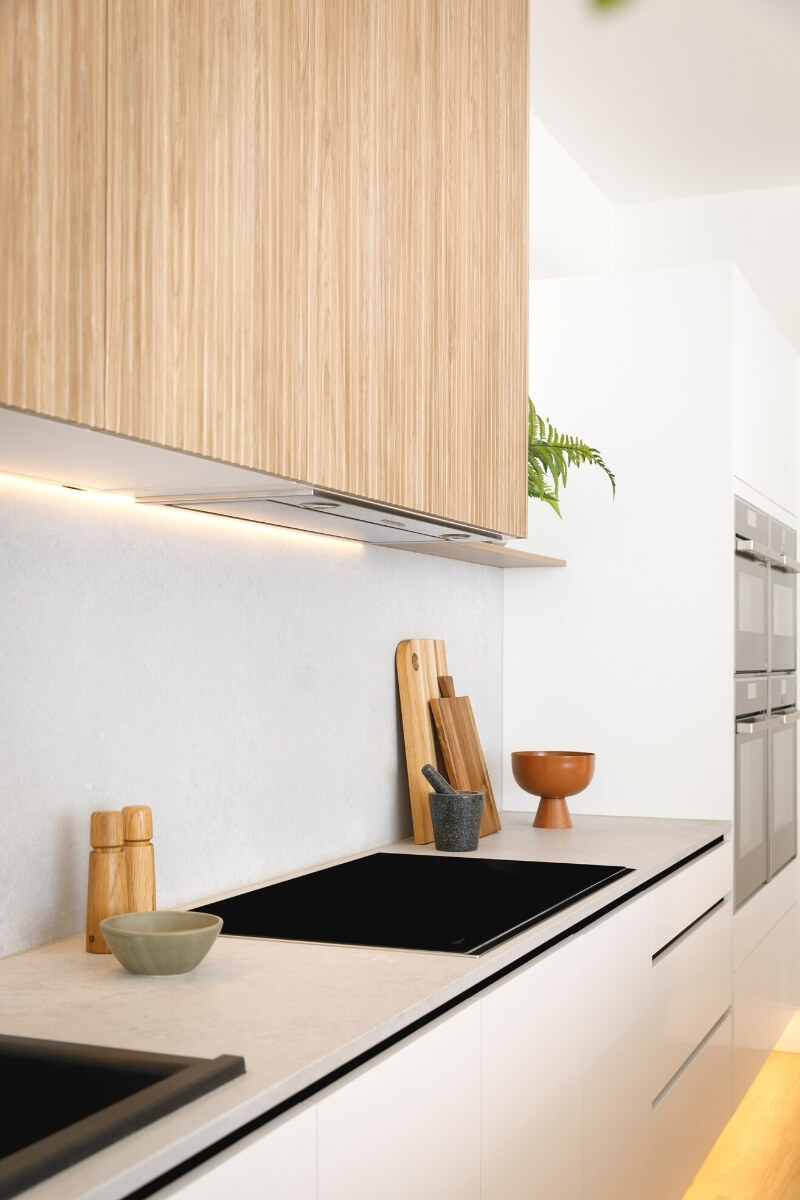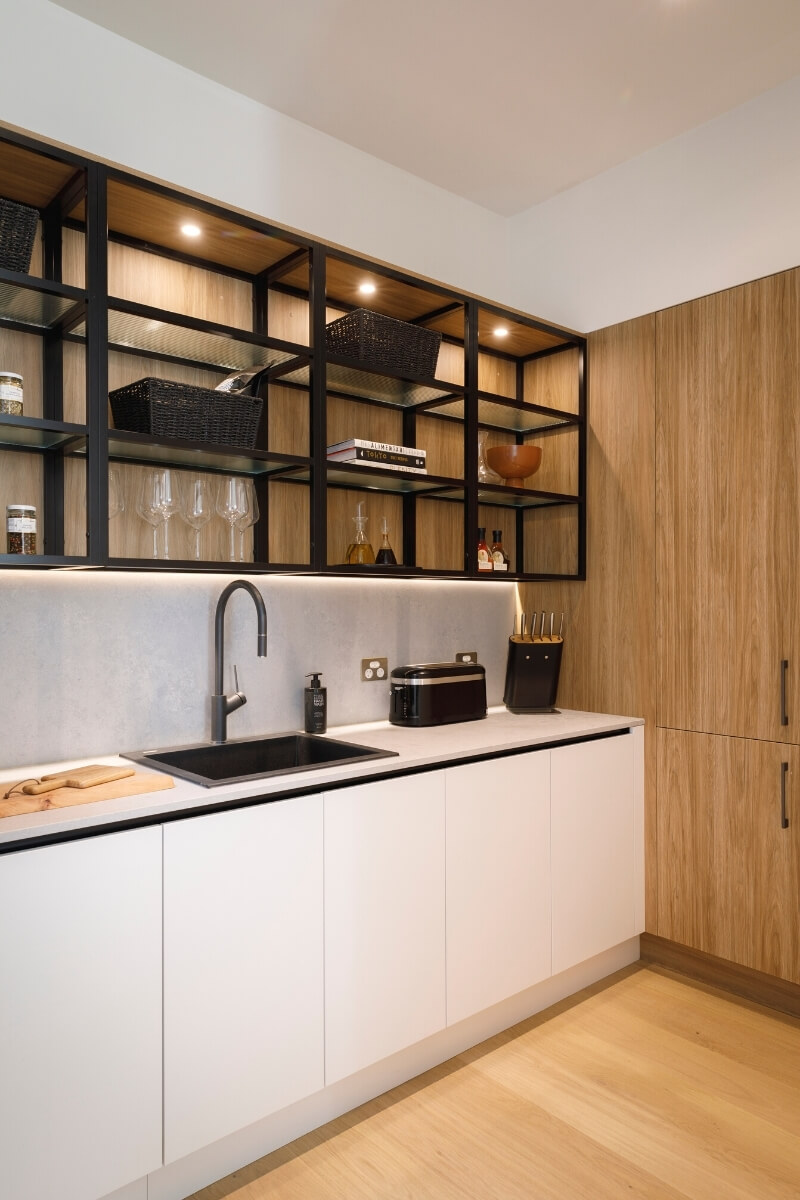 Create a streamline entertainers kitchen by incorporating hidden concepts such as a butler's pantry, integrated appliances, or small appliances hidden within an appliance hutch or behind a roller door, will keep your kitchen clutter-free. Touch catch cabinetry and integrated handles such as our brand new Crest Channel handles complete the look.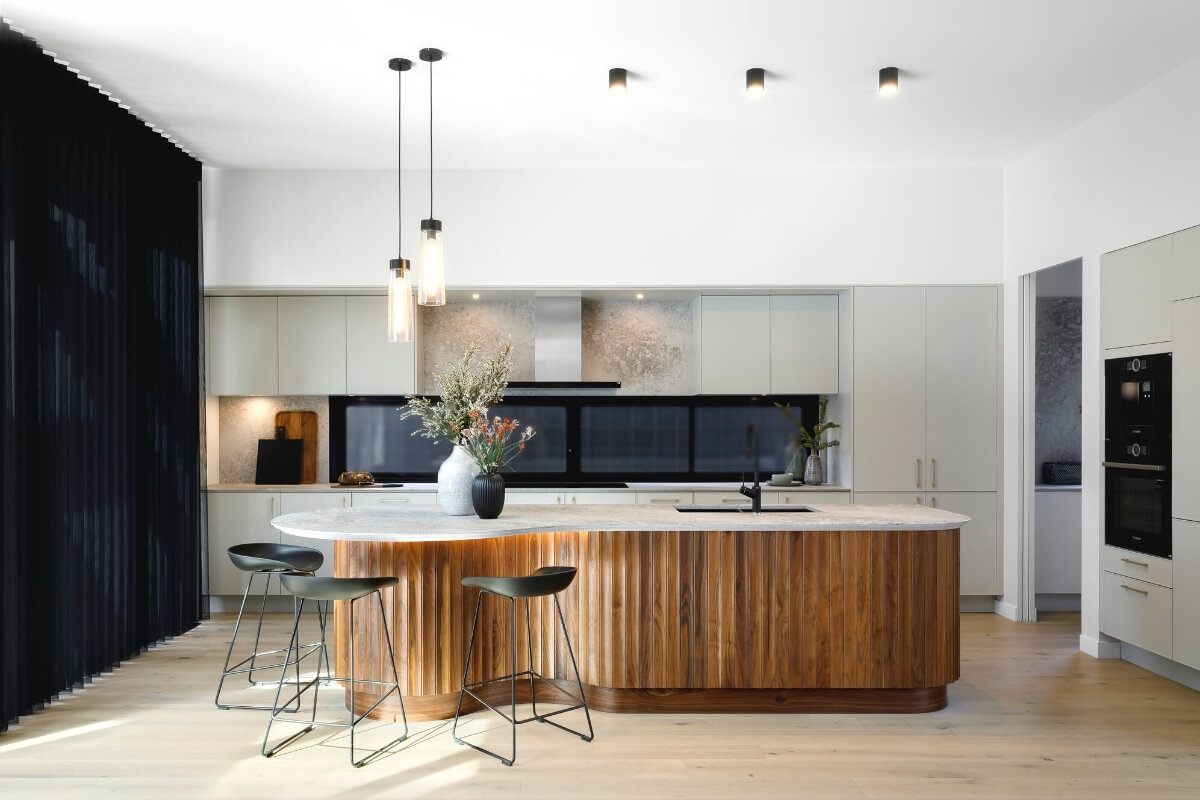 Including an island bench in your kitchen is not only visually beautiful, it also provides a plethora of additional benefits. They create a beautiful informal dining space and a natural gathering hub in the home as well as providing plenty of additional storage. When planning your new kitchen layout, consider incorporate design features such as serveries to connect to your outdoor areas, as well as dining nooks, desks, bars into your kitchen design and transform the kitchen into a multifunctional space that connects to the other living spaces within your home.
Curves Ahead.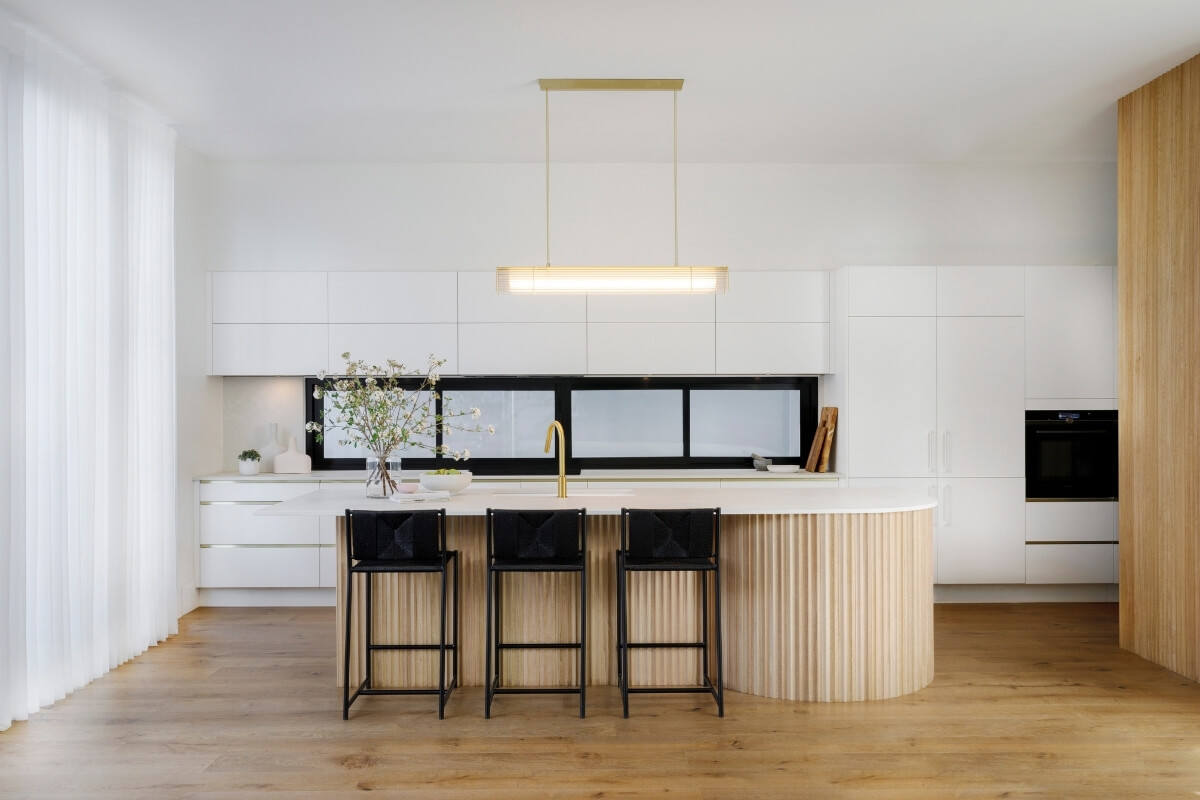 In recent years we have seen the emerging popularity of curves in interior design both here in Australia and internationally, from furniture design, to archways throughout homes, and now we are seeing this beautiful feature taking the spotlight in kitchen design.
Three out of the five kitchens from The Block featured a curved island bench or benchtop, a feature that blew the judges and the viewers away, and is something we will be seeing a lot more of next year. Contrasting with the clean, straight lines of the rest of your kitchen cabinetry, a sculptural island provides a generous, casual dining space where people feel closer and more connected.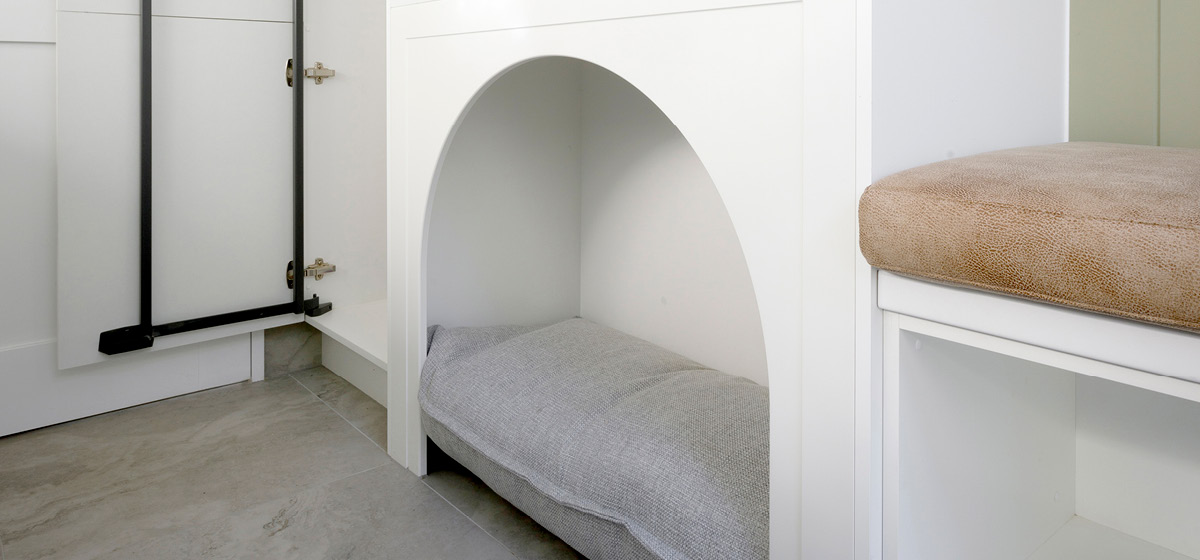 Plus, think outside of the square with our new Pet Beds so that your fur children are part of your design. If your kitchen is connected to your garden or balcony, add the pet bed to the back run of cabinetry closest to the outdoor space, otherwise it's perfect within your mudroom and laundry.
Natural Beauty.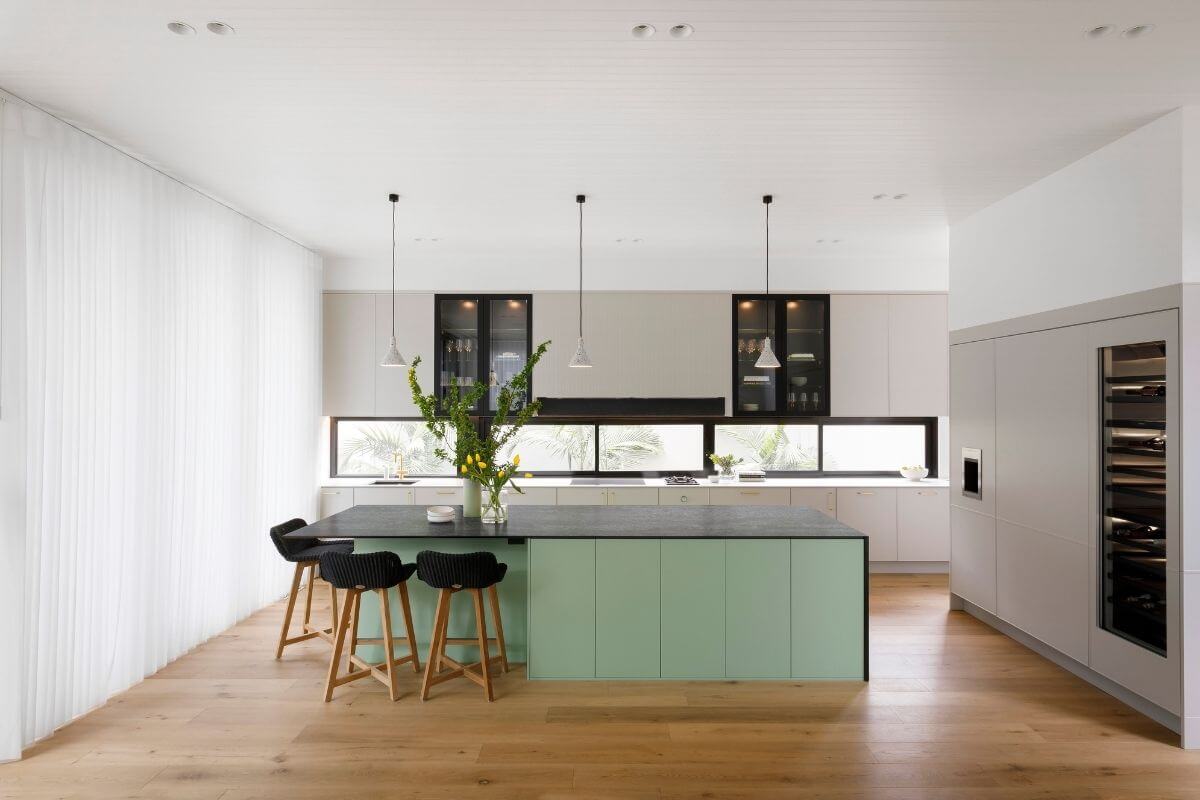 In 2021 kitchen colour schemes will reflect earthy, organic and natural tones; with cabinetry, benchtops and splashbacks celebrating textural, raw and matte finishes.
Expect to see bright whites in a matte finish, blacks and soft greys with one focal feature of a vibrant yet natural colour such as green, mint, or deep blue. Our new Ballina Enamel Natural finish is an exciting addition to our range, its green tone providing the perfect amount of colour when paired with a monochrome palette.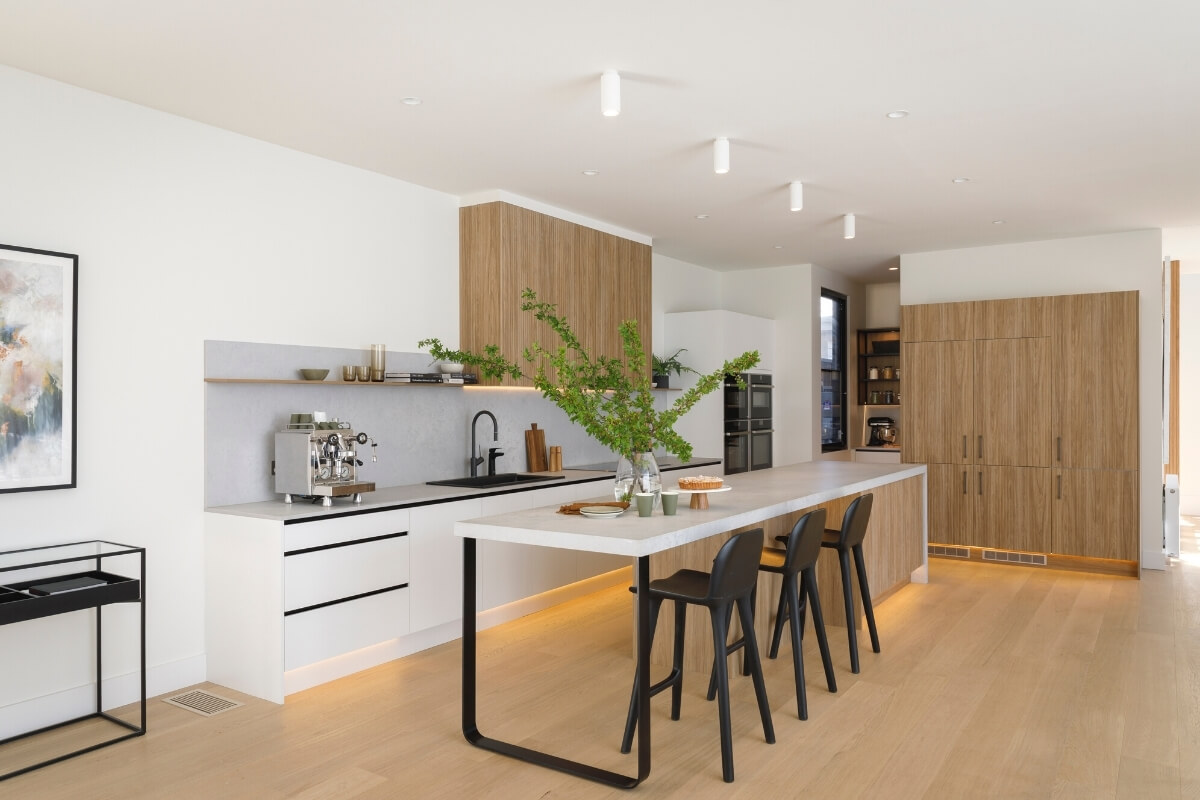 Add warmth and texture by introducing timber into your kitchen design. Our Prime Oak and Bottega Oak doors feature a timber woodgrain, mimicking the look and feel of timber without the maintenance.
Rather than a flat door profile opt for one of our new profiles: Avalon, a traditional V-Groove door profile or Avoca, for a more contemporary, thinner-spaced V-Groove profile. Both are available in a matte finish, and we recommend using them across wall cabinets and/or wrapping around an island bench for maximum impact.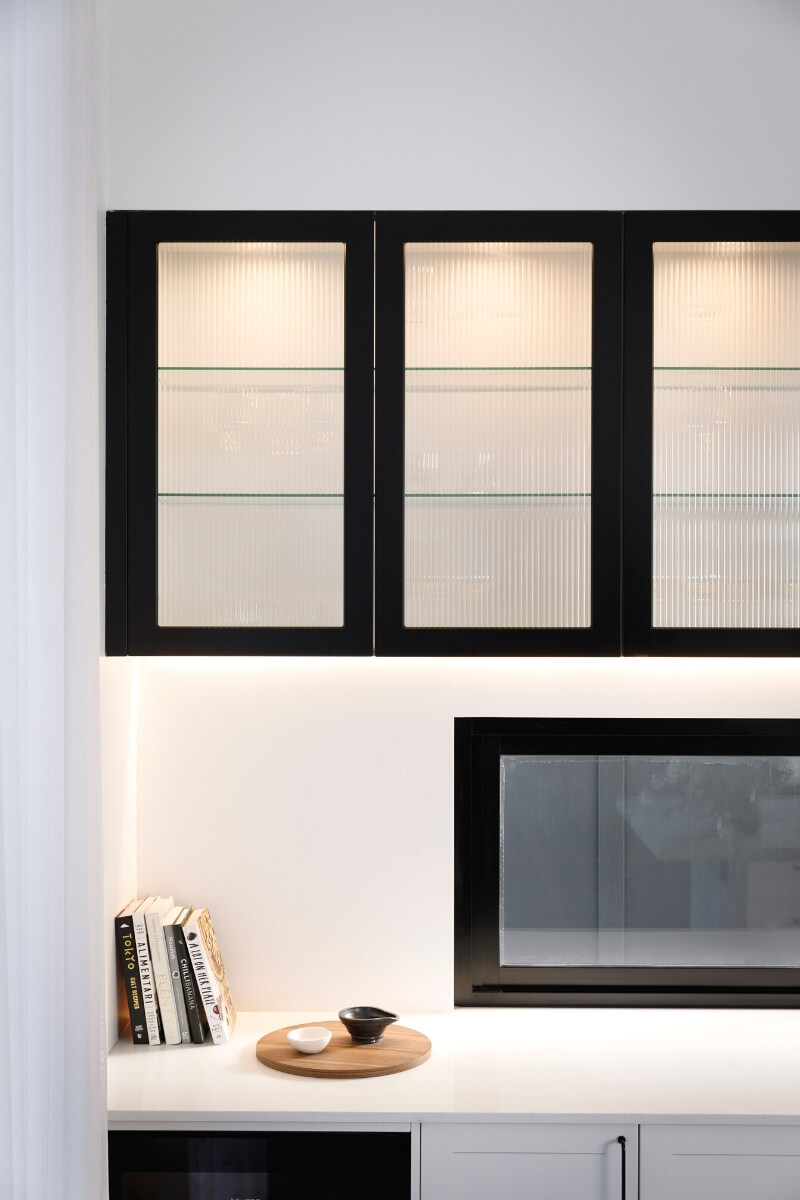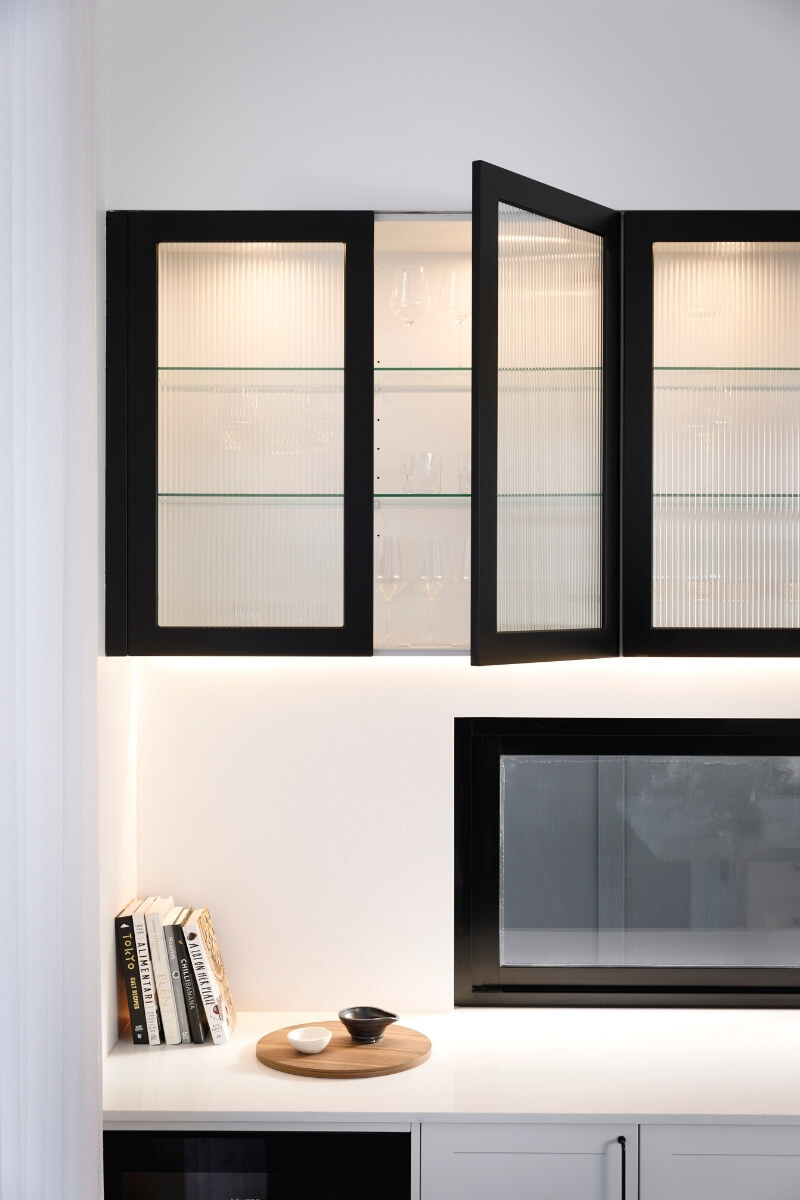 If timber isn't your cup of tea then consider Broadline Glass cabinets or our new Glass Climber cabinets for a luxurious and classic look. The fluted design of the broadline glass adds texture and interest- we love to add internal lighting to enhance the look as it allows you to showcase the contents within your cabinets. Our new Glass Climber cabinets are a sight to behold- at a fingers touch, the glass frame doors rise electronically, and an LED light turns on automatically, revealing the contents within!
Midas Touch.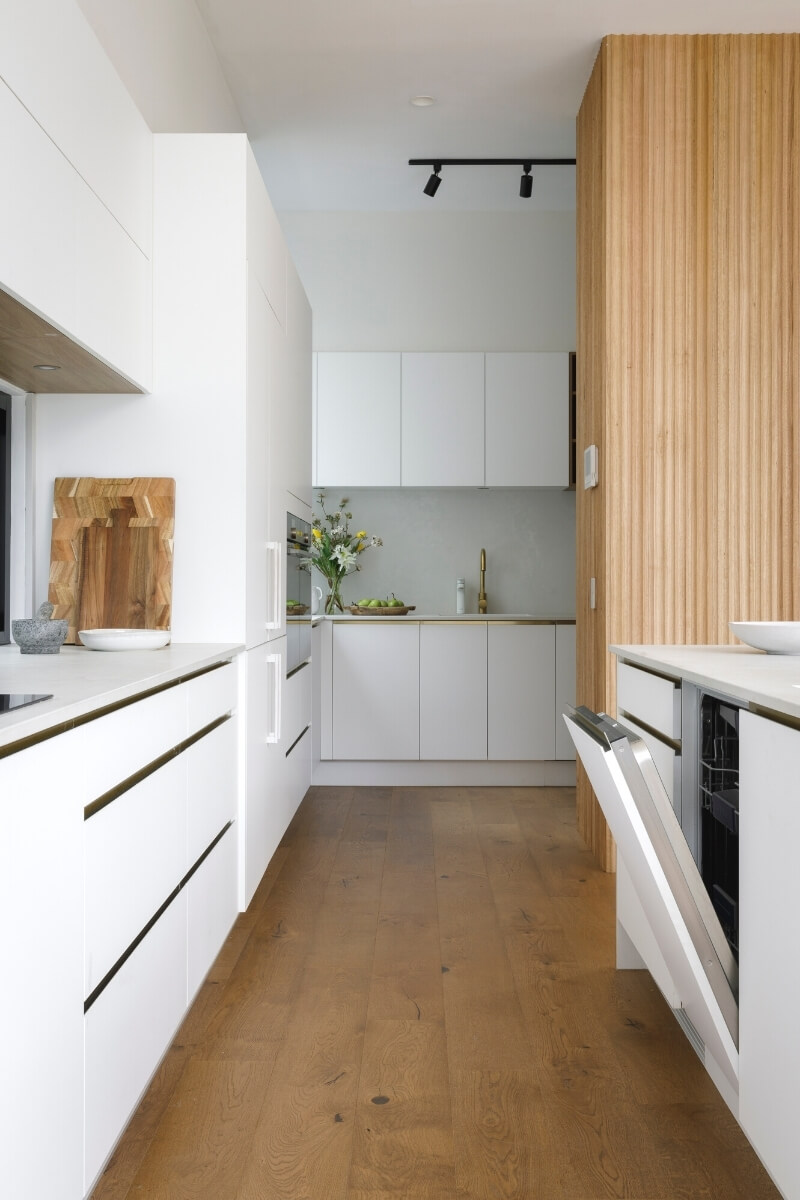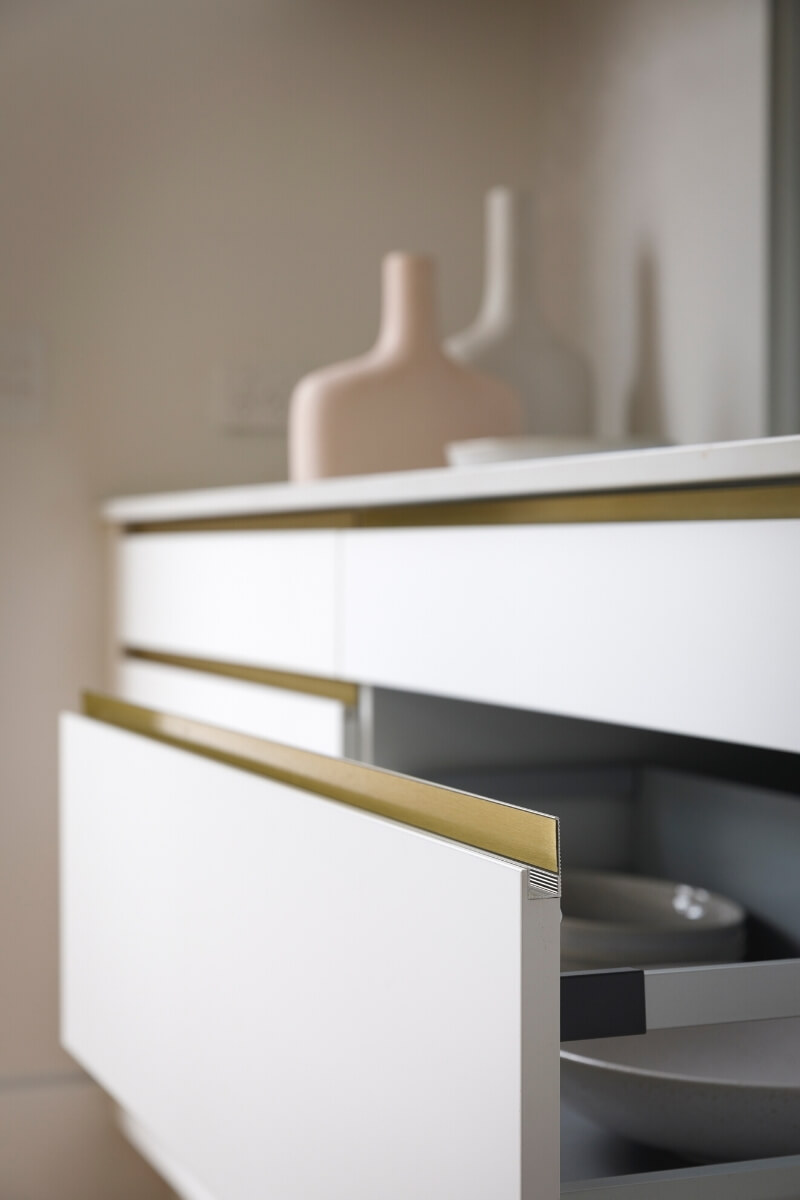 In the past metallics have been used seen across large stretches of cabinetry to create a dramatic focal point within the kitchen. Now, however, we are seeing a shift towards more subtle cues, such as handles in metallic tones which add instant glamour in a more considered way. Choose from our Brushed or Polished Brass, Champagne and integrated Marq handles in UltraGold to up the luxe factor in your kitchen.
Shake it up.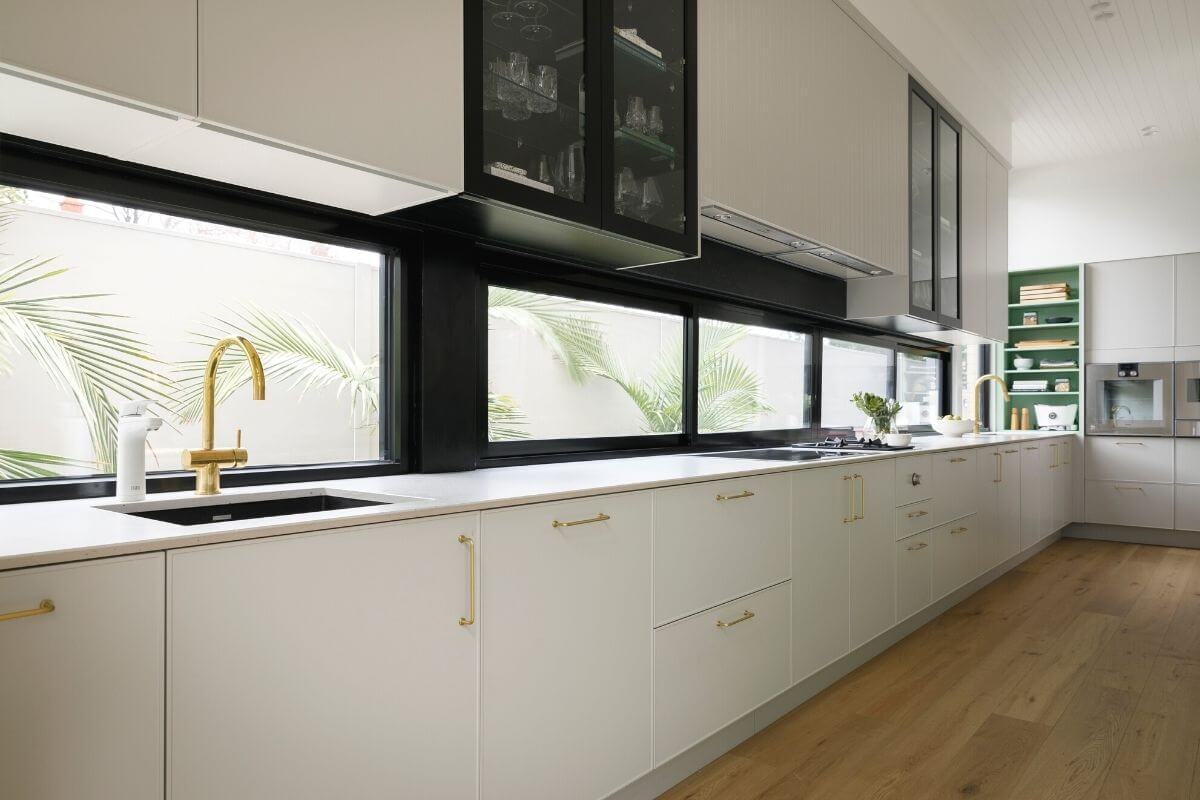 A perennial favourite, we've given the Shaker-door style a modern update with the introduction of our new Camden door. Its thin profile is perfect for those who want to bring the classic style into a modern home and kitchen in a way that doesn't overwhelm the space. Available in a variety of colour ways from blacks and whites to various shades of grey, the Camden profile suits a number of kitchen styles and is already driving to be a popular choice.
Make a Splash.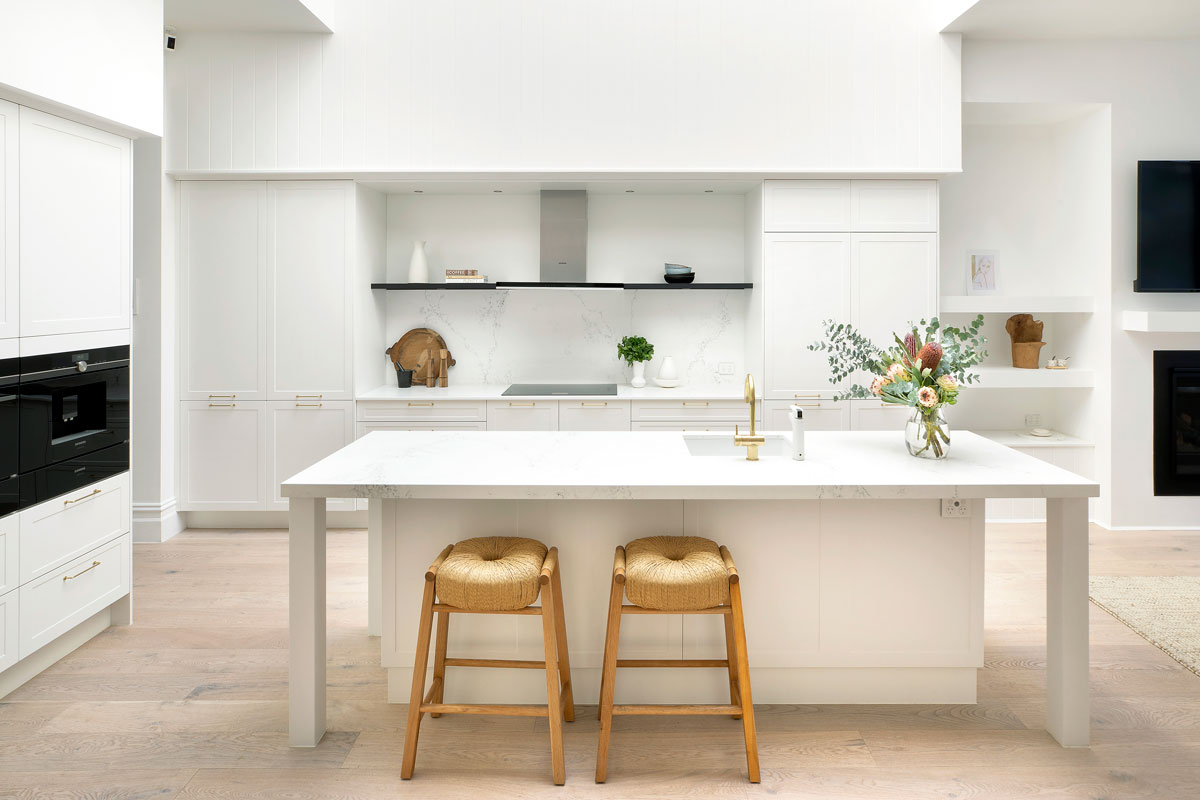 In keeping with the move towards more organic and natural finishes, now is the perfect time to reconsider a tiled splashback and instead opt for beautiful finish in a quartz Caesarstone or Vasari,* a stunning porcelain material that can be used for both benchtops and splashbacks that we have just welcomed to the Kinsman range. Both are a cost-effective and low maintenance options for achieving a natural stones concrete or marble look in your kitchen.
Alternatively, create a frame of natural beauty with a window splashback. Allowing for plenty of natural light, a window splashback is like living art- it will constantly evolve as the seasons change and your garden grows.
In this article on Kitchen Trends Forecast 2021, we explored some of the most popular styles and features that homeowners are incorporating into their kitchens. If you're looking for more inspiration, be sure to check out our guide on Top Kitchen Layouts, where our Kinsman design experts provide insights on selecting the perfect layout to maximize efficiency and style in your home.
Ready to start the new year with a new Kinsman Kitchen that is the perfect fit for your home and family?
Book your in-store, in-home or virtual design appointment HERE.
For more inspiration, ideas and all the rooms we have created on The Block 2020 download our latest catalogue HERE.
*Vasari is currently available in Brisbane & Melbourne only. Please ask your designer for details.