Next-Level Living and Dining Spaces from The Block 2021
After the biggest week on The Block last week – Kitchen Week – the blockheads moved to the spaces adjacent and presented their Living & Dining Areas. In a whirlwind week that included sunken lounges, Domain presentations, and various interior design features, two teams (Houses 1 & 5) turned to Kinsman to assist with their joinery to bring these rooms to life.
Here, we step inside the two spaces and take a closer look. Would you use joinery throughout your home to create flow and harmony?
House 1: Ronnie & Georgia, Score: 29.5, Place: Equal 1st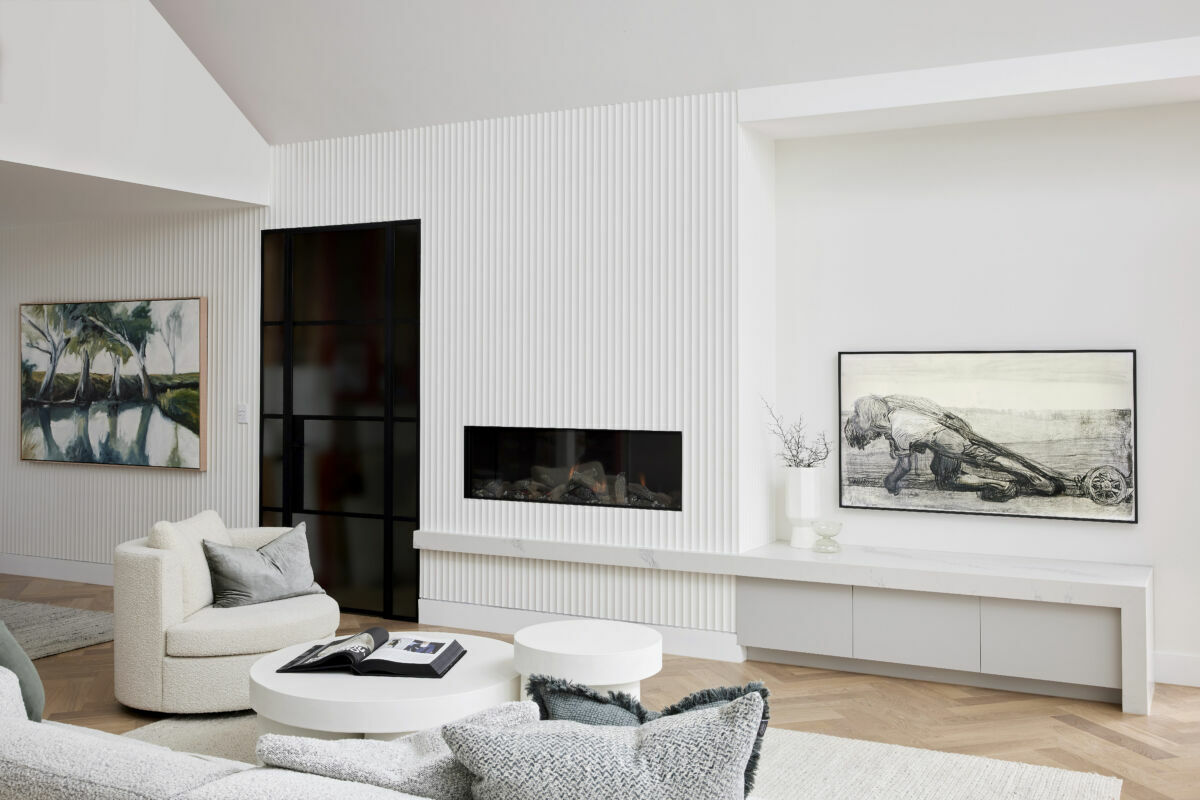 All-Stars Ronnie and Georgia had quite a week! Following the reveal of the incredible kitchen they created with Mitch & Mark for Tombolo Academy earlier week, they then took out another challenge win for their Domain video presentation. All the while, the duo consistently worked on their sophisticated, pared-back and inviting Living & Dining space. The result wowed the judges and, using the one point gnome, resulted in another win for the couple, tying with Tanya and Vito.
"Ahh! Now everything makes sense," exclaimed Darren Palmer walking into the space. Neale Whitaker added, "It's like the master plan is now revealed." The judges loved the sky-high ceiling, natural light and beautiful styling. All the judges were very excited by the annexed space that's yet to be revealed, wondering what this piece of the puzzle would be.
Creating harmony and connectivity throughout House 1, the Faves have used Kinsman joinery in their home's living and dining areas. Within the stunning Living Area, cabinetry in Oyster Grey Matt adds warmth to the predominately white palette. The three small cabinets have been kept sleek with Touch Catch handles. A showpiece 100mm Mitred benchtop in Caesarstone® Statuario Maximus runs the length of the wall, which contains the television and fireplace.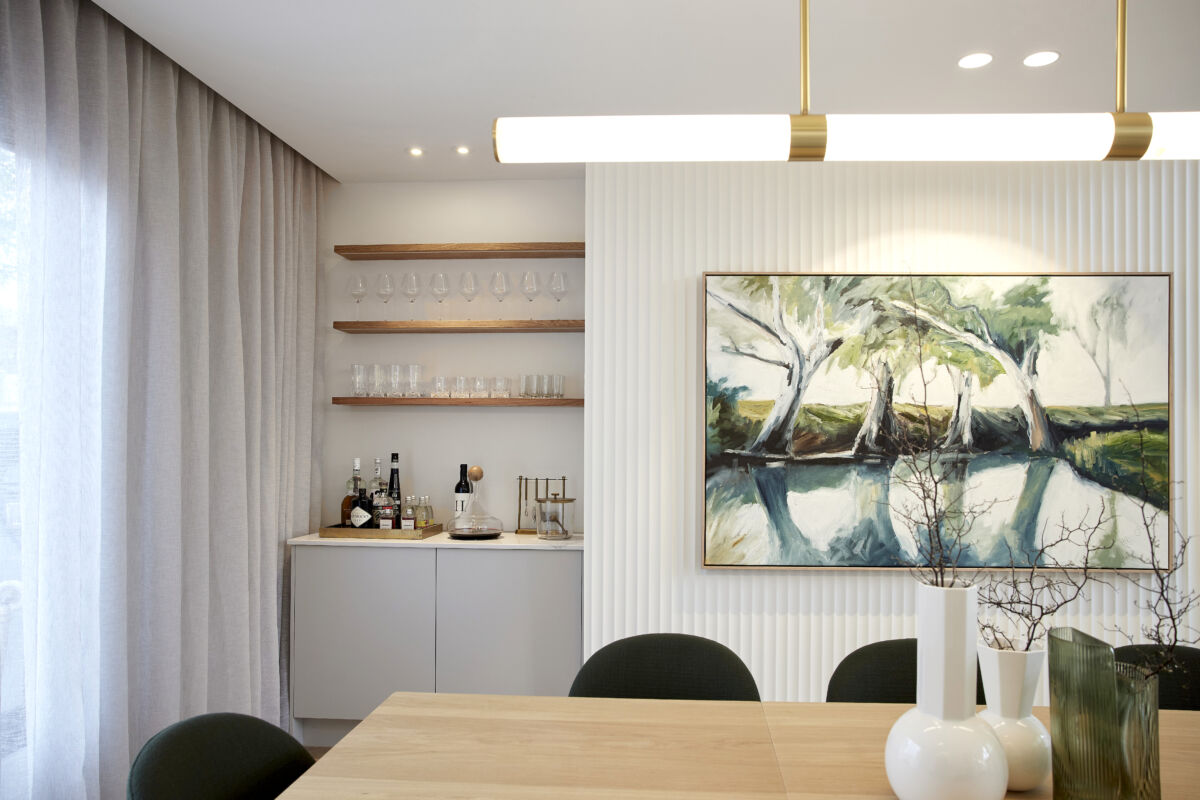 In the Dining Room, a drinks nook sits within one of the corners of the room. Oyster Grey Matt doors with Touch Catch handles feature again, providing additional storage space. A Caesarstone® Statuario Maximus top is used again as a slim 20mm Pencil Round profile for a more subtle effect. Timber shelving for styling glassware completes the look.
"It just delivers and delivers and delivers and delivers," smiled Darren. The three spaces- kitchen, lounge and dining areas – blend and work together, producing a beautiful and considered zone that is the beating heart of House 1.
Key Features:
· Cabinetry: Oyster Grey Matt
· Benchtops: Caesarstone® Statuario Maximus 100mm Mitred (Living Room) & 20mm Pencil Round (Dining)
· Handles: Touch Catch
House 5: Kirsty & Jesse, Score: 29, Place: 2nd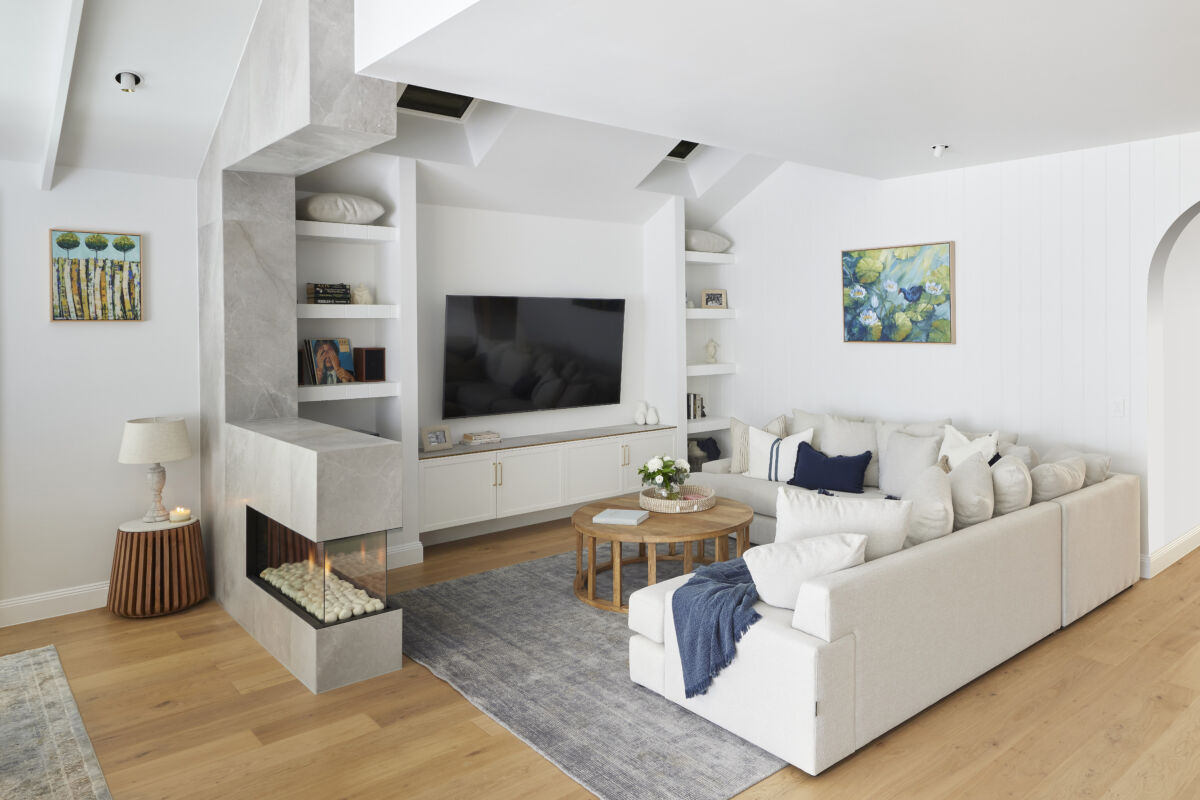 With the largest house on The Block this year, besides working on their Living & Dining space, Kirsty and Jesse have also been completing several other rooms, balancing a huge workload and a dwindling budget. Despite all this, the country couple continues to strive to deliver spaces that are not only functional but are stylish and evoke an emotional connection, and this week was no exception.
Echoing the Hamptons-style found throughout House 5, Kirsty and Jesse have once again opted for Kinsman's new 40mm Shaker-profile Montauk exterior doors in White Matt for their Living Room's entertainment unit.
Satin Brass Rounded Bar handles add the perfect amount of luxe and open up four cabinets with Natural Oak Matt interiors, providing plenty of storage within the room. The decision to use this combination of joinery and handles connects this room with the rest within the house.
The cosy and homely space blew the judges away, drawn to how the duo had designed and furnished it. "Honey, I'm home, said Neale. This is so beautiful!" "This is a space that wraps itself around you and gives you a big hug, continued Scott Cam, repeating the judges' feedback. It's just so warm and welcoming."
Key Features:
· Exterior Doors: NEW Montauk White Matt
· Interior finish: Natural Oak Matt
· Handles: Satin Brass Rounded Bar 34-K-155
· Top panels: White Matt
· Benchtop: By contestants
Love what you saw and ready to create beautiful joinery in your Living & Dining space in your home?
Book your in-store, in-home, or virtual design appointment HERE. For more inspiration, images, and product details, download our latest Catalogue HERE.
Follow Kinsman on our social platforms to get all the details from The Block Fans v Faves (plus so much more).
Instagram: @kinsmangroup
Facebook: /kinsmangroup