Kinsman's Work from Home Spaces Revealed on The Block 2022.
Another week on The Block and another series of incredible rooms were presented last night! The contestants moved out of their main homes and across to their massive sheds, creating a series of rooms that ranged from home offices, living spaces and media rooms- or a mixture of all three.
Former contestants and interior designers Alisa and Lysandra joined Darren Palmer in judging the spaces this week. Read on to discover what they thought, and the Kinsman products that featured within each space. 
House 1: Tom and Sarah-Jane
Score: 26
Place: WINNERS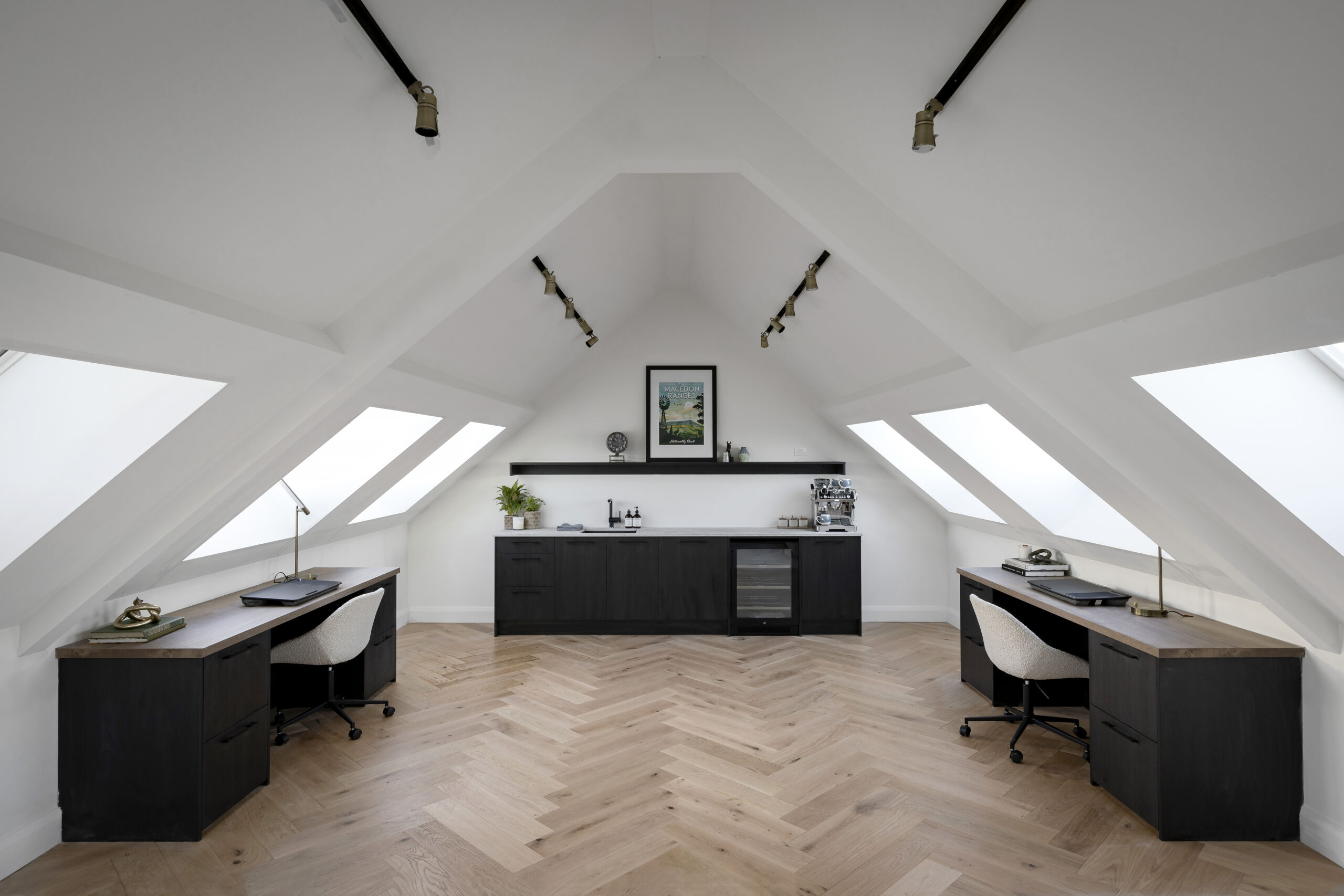 Tom and Sarah-Jane had a clear vision for their shed and work-from-home space, adjusting their floorplan all the way back in Week 2 to include a mezzanine area where they located their home office with a kitchenette. "Wow, what a beautiful space," exclaimed Lysandra. "I almost think this space is enough for them to win The Block!"
The couple choose a modern colour palette with dark timber tones seen throughout. Ballina Black Wenge doors have been paired with premium laminate Tobacco Halifax Oak desktops for the work zones. The home office kitchenette is topped with a Caesarstone® Excava countertop, and features a sink and tap, bar fridge, dishwasher, and a floating shelf in matching Ballina Black Wenge, creating a stylish and functional work or study space within their home.
The judges were blown away by the mezzanine area, and the couple took out their fifth win of the season! This week's scores also confirmed that they have topped the Domain Super Power Leaderboard, meaning that they will be able to pick the all-important auction order.
Main Features:
Exterior Doors: Ballina Black Wenge 
Desk: Tobacco Halifax Oak Streamline
Floating Shelving: Ballina Black Wenge
Kitchenette benchtop: Caesarstone® Excava 20mm
Handles: Touch Catch 
Appliances: Supplied by Winning Appliances 
House 2: Rachel and Ryan
Score:  24.5
Place: 2nd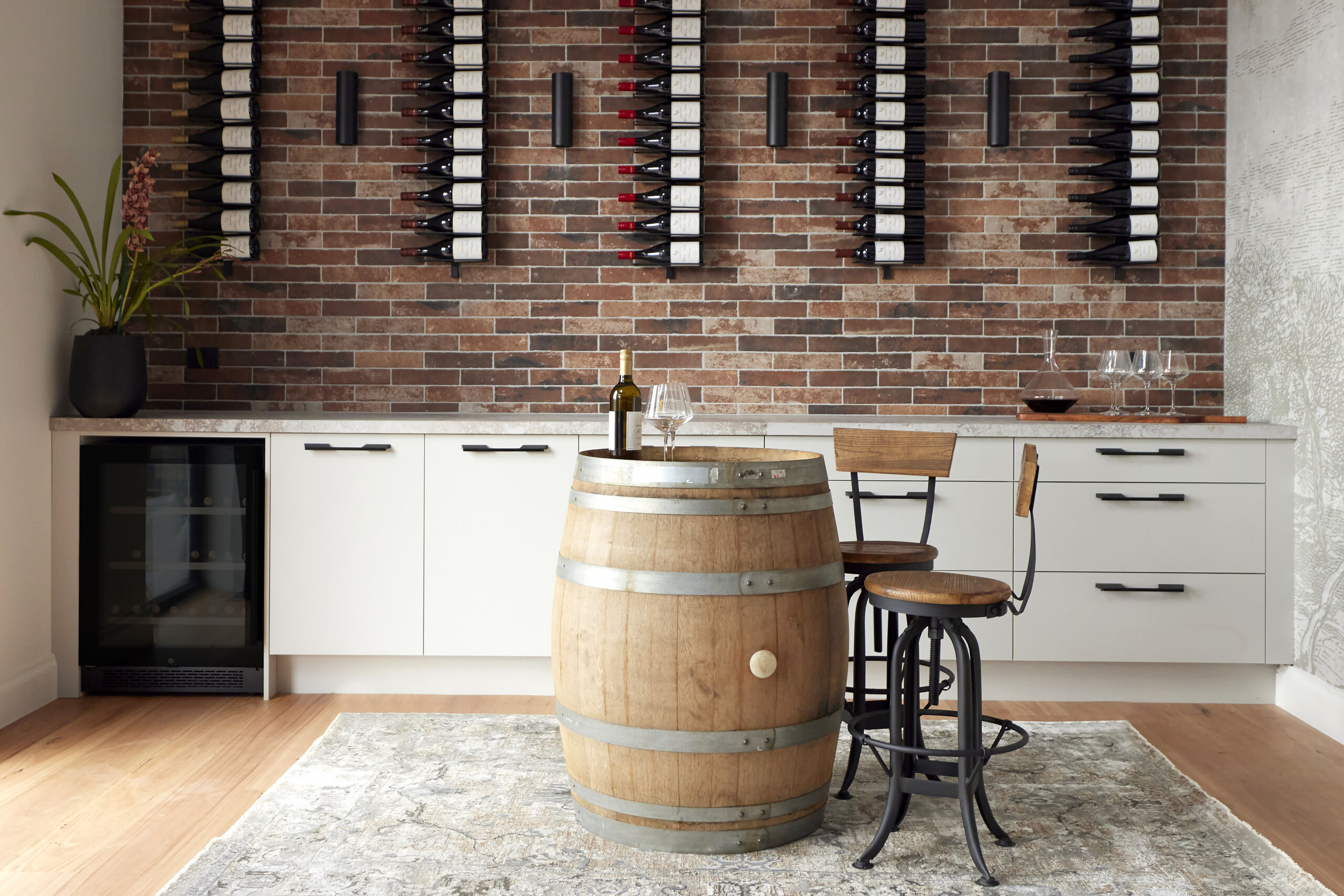 Rachel and Ryan decided to create an 'adults retreat' or second living area rather than a dedicated home office within their shed, selecting Kinsman joinery for the central entertainment unit. A classic colour scheme was chosen featuring grey, black, and copper tones. Chadstone doors in Oyster Grey have been paired with Kinsman's new Brushed Black Rail handles, while a mixture of cupboards and drawers provides plenty of storage. The Caesarstone® Excava benchtop brings a modern industrial feel to the room, evoking the beauty of oxidising rust and concrete. 
There was a discussion between the judges about whether the decision to create a second living area over a separate home office space was the right one, however, they ultimately all agreed that it was the right choice. "It sells the dream of the country lifestyle," said Alisa. "You know that feeling you get when you walk into a room, I've got it, and I don't want to leave."
Main Features:
Exterior Doors: Chadstone Oyster Grey
Handles: NEW Brushed Black Rail 38-M-52
Benchtop: Caesarstone® Excava 40mm
Appliances: Supplied by Winnings Appliances
House 3: Sharon and Ankur
Score: 19.5
Place: 5th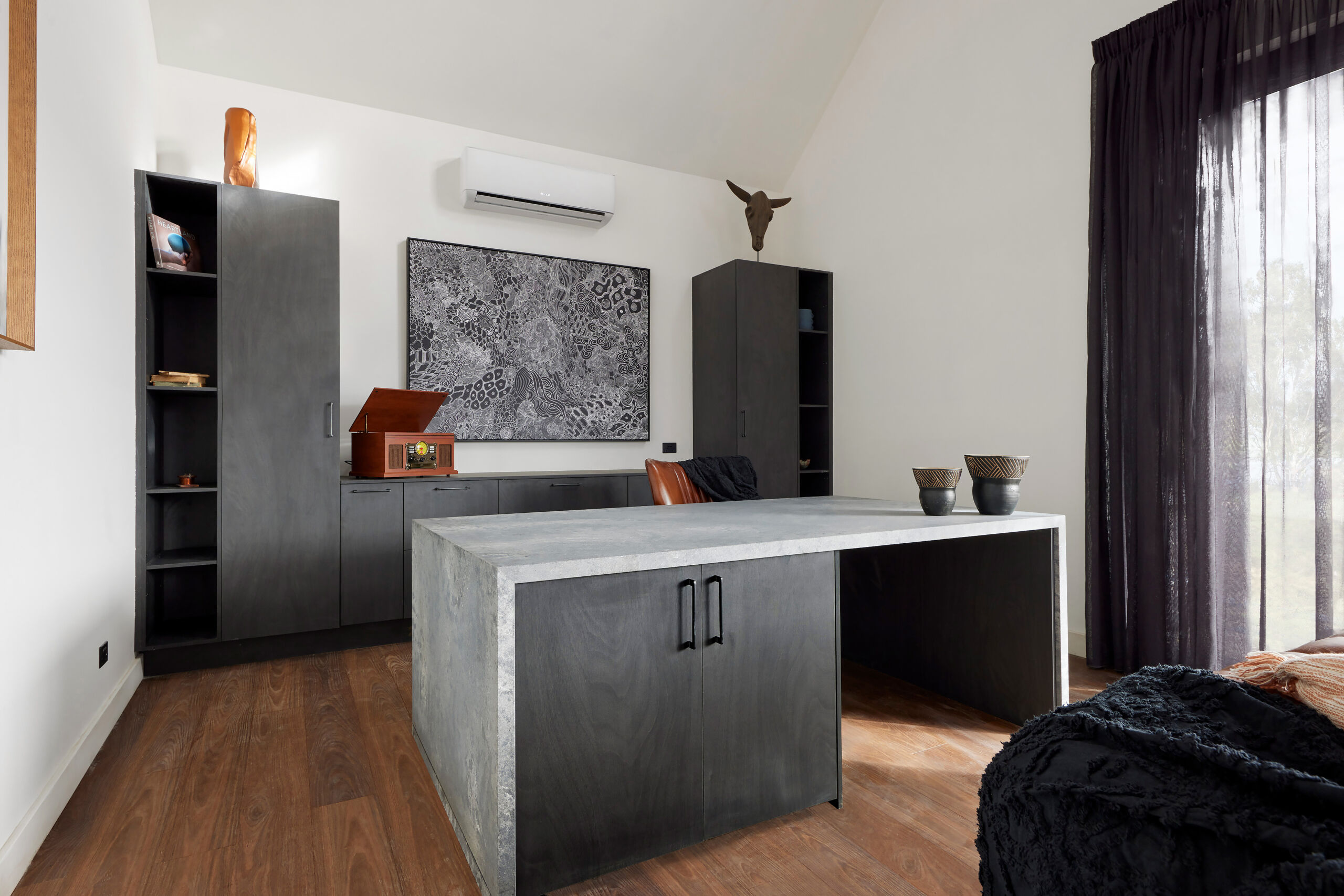 Ankur and Sharon combined a home office with a media room, wanting to create a multifunctional room where the owners could work or relax by the fireplace enjoying the stunning views of the Macedon Ranges. The couple chose a rich and dark look with black and timber tones for their modern home office space, selecting Kinsman's CUBE Range to create the look. The home office features a large desk topped in Caesarstone® Rugged Concrete with plenty of additional storage thanks to the inclusion of cabinets and drawers.  
The luxe home office design also includes a large span of Kinsman's CUBE Dark Woodgrain joinery along the rear wall, a stunning seamless look created as the interior carcass colour match the exterior doors. Oil Rubbed Bronze Bar handles complement the dark timber doors, while open shelving on each end allows for styling décor to be displayed- adding personality and colour to the room. 
The judges were quick to admire the amount of storage that the home office offers, however, were concerned about functional elements such as no GPO (power point) under the desk and said that they would have liked to have seen a warmer finish for the desktop.
Main Features:
Exterior Doors: NEW CUBE Dark Woodgrain
Interior Finish: NEW CUBE Dark Woodgrain
Handles: Oil Rubbed Bronze Bars 12-F-25
Benchtops: Caesarstone® Rugged Concrete 40mm
House 4: Dylan and Jenny
Score: 22.5
Place: 4th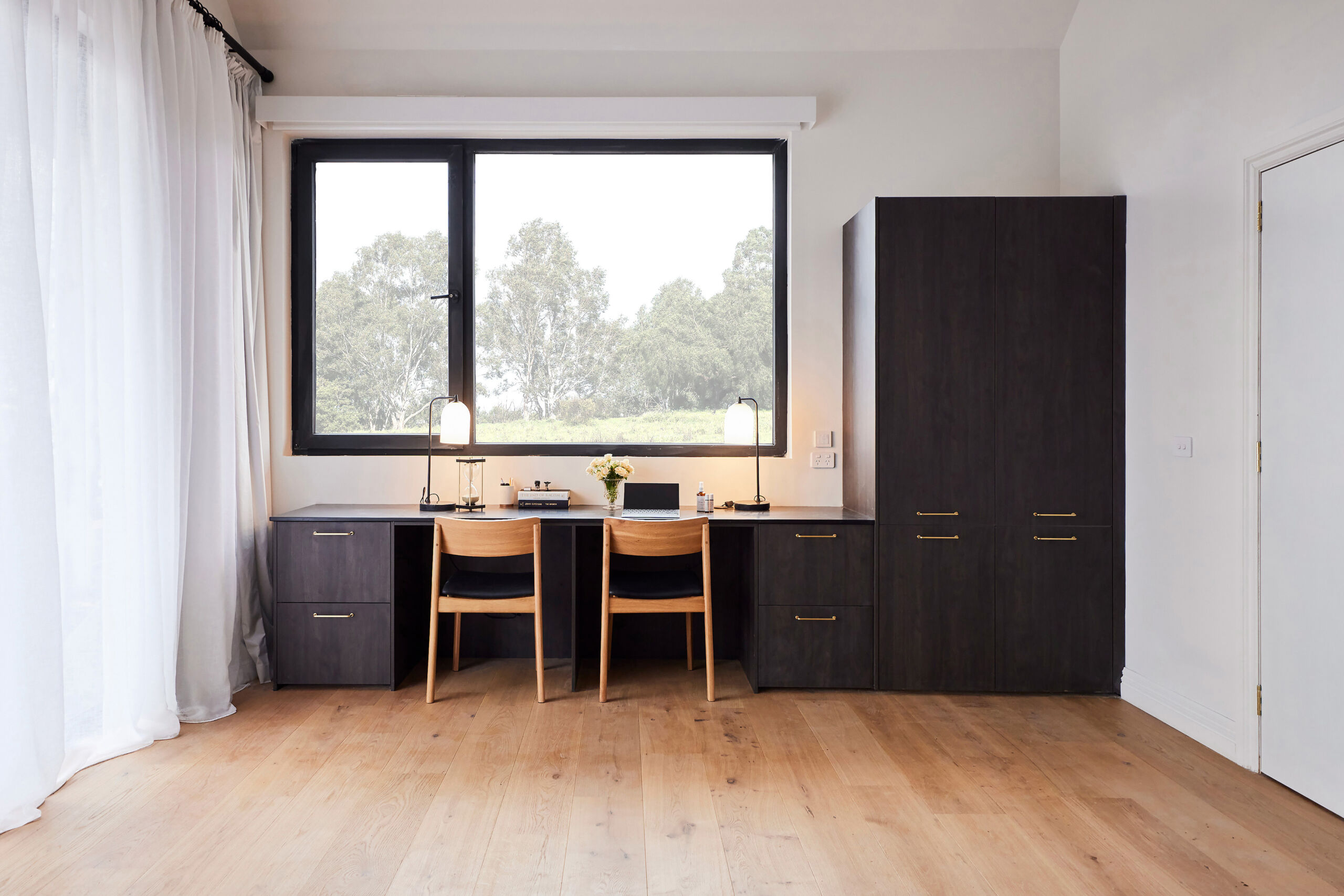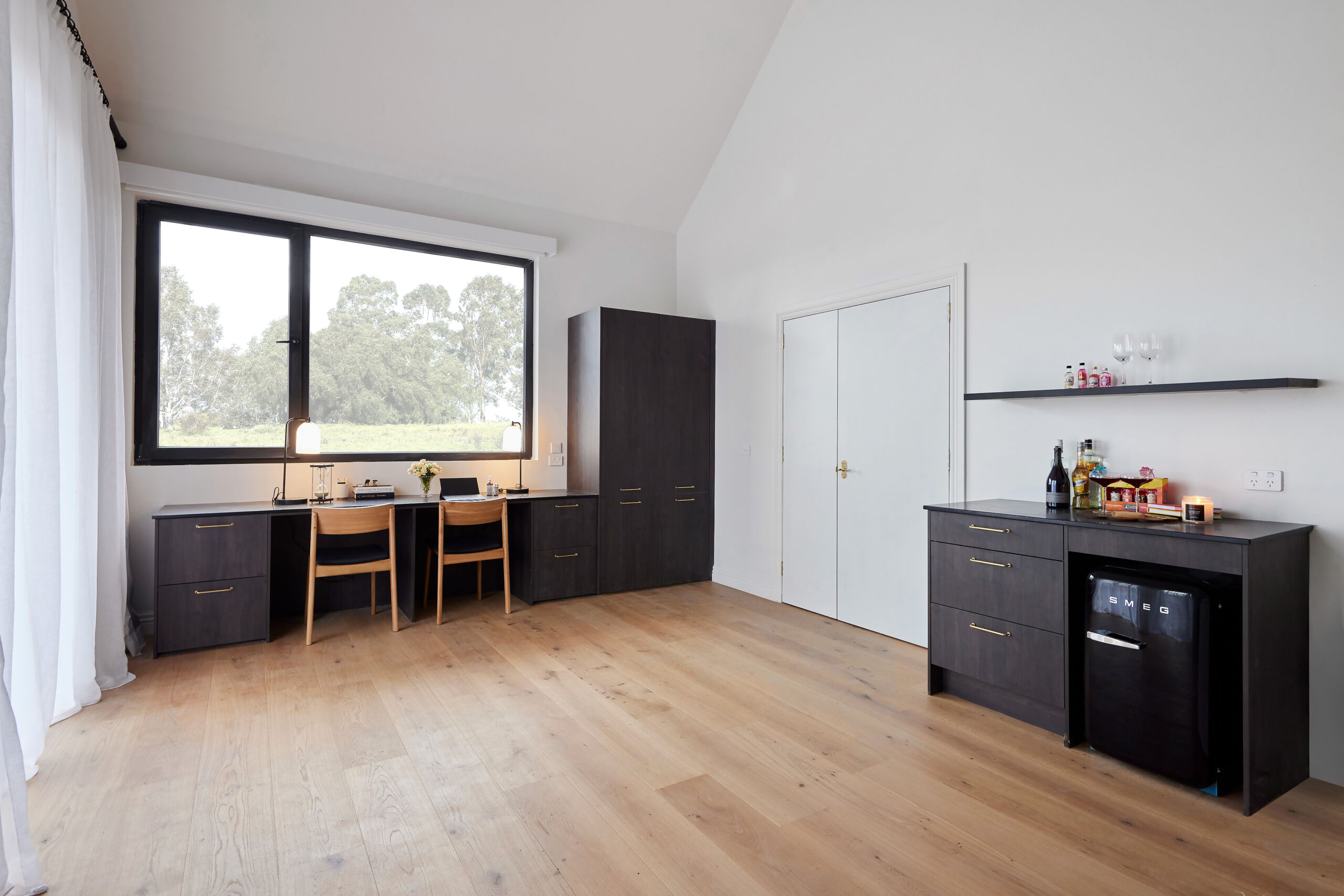 Embracing flexibility and usability, Dylan and Jenny produced a room that includes a home office, entertainment area, and mini bar. The pair choose a rich, moody colour palette of dark timbers and black, broken up with pops of brass thanks to Kinsman's Matt Brass Bar handles.
Exterior doors in Chadstone Perugian Walnut form the base of the darker colour scheme, with a thick floating shelf in Dark Woodgrain sitting above the mini bar zone, and Caesarstone® Empira Black countertops complete the look. The result is an impressive multipurpose space where you can work or play.  
When the judges were able to peel their eyes away from the huge 98-inch TV they were appreciative of how they have blended a home office and living space together and the quality of finishes used throughout. "They've finally done it," smiled Alisa. They've done the home office and living in one, and I'm loving the fact that they've got all of the inclusions!" The judges did suggest adding a round table and rug near the home office as a place to sit and eat meals and doubling the bar zone as a coffee station for during the day, but all agreed that it was a wonderful addition to House 4.
Main Features:
Exterior Doors: Chadstone Perugian Walnut Woodmatt
Thick Floating Shelf: Dark Woodgrain
Handles: Matt Brass Bars 34-K-132
Benchtops: Caesarstone® Empira Black 20mm
Appliances: Supplied by Winning Appliances
House 5: Omar and Oz
Score:  24
Place: 3rd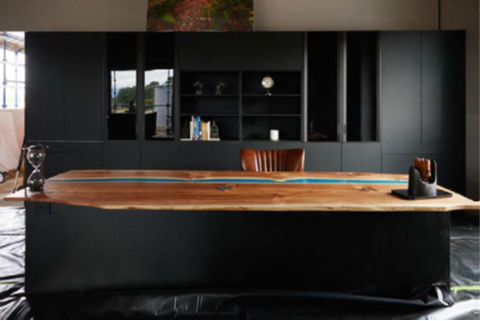 Our hearts broke for Omar and Oz when they learned that there was no way that they would be able to complete their work from home space as bad weather meant The Block construction team was unable to finish the shed's roof. The boys as always were gracious and positive despite such a huge setback and set up the room so that the three judges could see its potential.
The judges certainly could certainly see, and appreciate, what they were planning to create. "When this room is finished, it's not just a note on a brochure, this is a room that will make a great photo," said Darren. "In fact, it may very well become key to selling their home." 
Omar and Oz reworked their sheds' existing floorplan to make it larger so that they could produce an opulent home office, bar, and media room. The pair's impressive home office design offers plenty of storage and organisation opportunities with home office cabinetry that includes cupboards and soft-close drawers. Our new Black Alumin Frame Half doors with Acrylic Inserts provide a focal point within the room, a large island topped with custom timber adding warmth and luxury to the design. The room also include a bar zone, featuring new Matt Black floating shelves, offering a sink and tap and beverage centre. 
All three judges loved the amount of home office storage that was delivered. "The storage is incredible in their office space- great Kinsman cabinetry", read Scott Cam. "I think that [storage] out of all of the houses we've seen is certainly ticking the boxes," Alisa stated. When Darren asked the twins whether they preferred how the boys had laid out their space when compared to Tom and Sarah-Jane (as both were the same size), both Alisa and Lysandra declared that House 5 was their pick. "You walk in here and it has that 'wow factor' in all three zones," explained Lysandra.
Main Features:
Exterior Doors: NEW Black Alumin Frame Half doors with Acrylic Insert
Floating Shelves: NEW Matt Black (above mini bar)
Handles: Touch Catch
Lighting: Häfele Warm LED downlights
Appliances: Supplied by Winning Appliances
Benchtop: By contestants
Kinsman Home Offices create the perfect environment for easy, comfortable, modern living. The range provides a variety of work from home solutions that are both stylish and functional, for a life that's beautifully organised.
Book your in-store, in-home, or virtual design appointment HERE. For more inspiration, images, and product details, download our Home Office Catalogue HERE.
Follow our socials for all things related to The Block and more!
Instagram: @kinsmangroup
Facebook: /kinsmangroup