Kinsman's Shaker Cabinets: A Perfect Fit for Homes of All Styles
If we had to name the number one style of cabinets for kitchens, it would definitely be Shaker doors.
Whether your home is an older federation home or a new build, Kinsman's modern profile of the classic Shaker door makes it highly versatile for both classic and more modern kitchen styles – and it's a look that our customers love!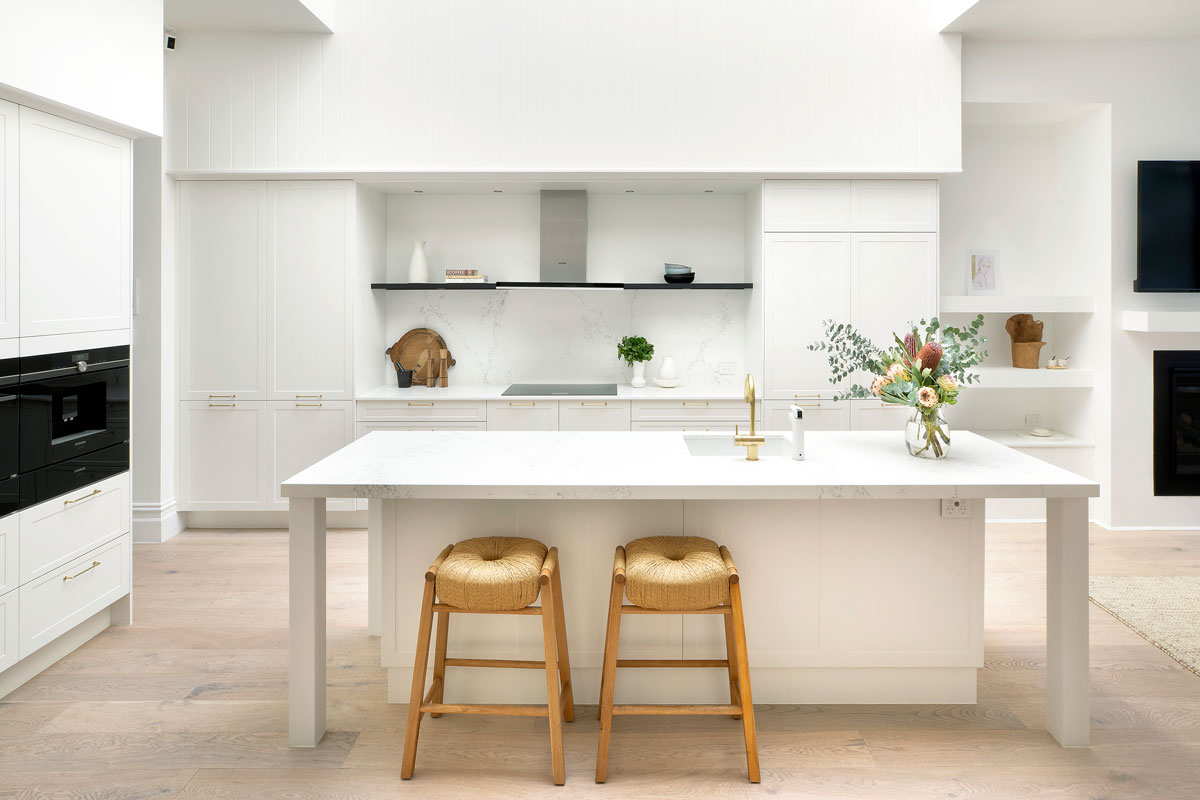 Who could forget Deb & Andy's stunning, sun-soaked Shaker style Kinsman Kitchen that was awarded top place during Kitchen Week on The Block 2019.
So what exactly is Shaker style?
Shaker doors have become ubiquitous and instantly recognizable, but you may not be aware of the origins or how they got their name. 
The Shaker style actually relates to a distinctive style of furniture developed by the United Society of Believers in Christ's Second Appearing – commonly known as Shakers. The Shaker community were largely self-sufficient, growing their own food and making their own wooden furniture, and so they became known for being highly skilled carpenters.
The Shakers' guiding principles of simplicity, utility and honesty were reflected in their design and craftsmanship.  Their maxim of "Beauty rests on utility" says it all – a cabinet is a cabinet, and their practical design needs no fancy embellishments to be considered beautiful.
Shaker craftsmen would have used handmade tools and precision to create the simple yet refined style which we find so appealing today.  Their cabinet doors were sturdy and there was little wood wasted in their construction, and so the solid framed panel became their signature: the Shaker door.  
Examples of original Shaker furniture is exhibited in the Shaker Retiring Room at the Metropolitan Museum of Art in NYC, and the underlying principles of Shaker design have given inspiration to some of the finest designers of modern furniture.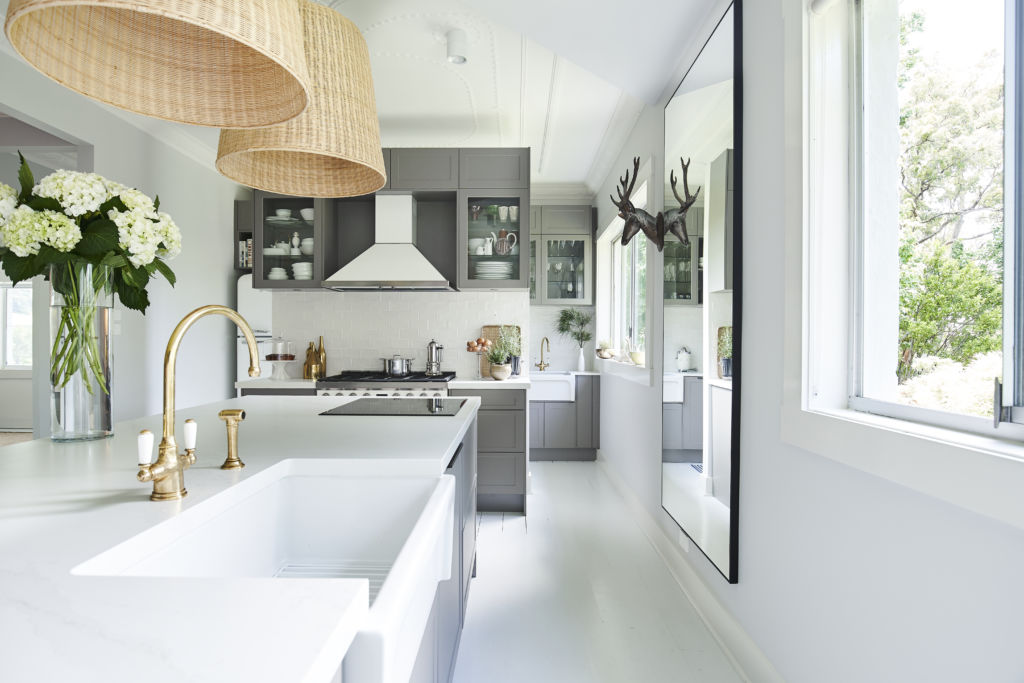 Neale Whitaker showcased our Somersby door in the beautiful Strata Grey, to help enhance the classic country style of his Kinsman Kitchen.
Is the Shaker style right for your kitchen?
Now you know more about the Shaker style, how do you know if it's right for your own kitchen?  Shaker style cabinets can actually suit several styles of homes, but they work especially well if you're going for a coastal Hamptons vibe, or classic provincial, country charm.  
Unless the style of your home is industrial or ultra-unique and contemporary, then the modernized Shaker of Kinsman's Somersby door profile is likely to suit.  The key is to keep the style consistent throughout your home. 
So if you're leaning towards Shaker doors for your new kitchen, be sure to also consider them for your laundry, and choose décor that complements rather than clashes with this classic look.
Shaker door colours
Whilst white is the most popular colour chosen for Hamptons inspired kitchens, the 'Somersby' modern Shaker door from Kinsman is available in several other colours that work equally as well, to make a personal statement.  Remember, you can also use more than one colour and style of door, such as using a different tone on a storage wall versus under your island benchtop – but limiting yourself to two types works best.
To help celebrate the start of a  new decade, we were excited to recently introduced two new colours – Oyster Grey and Oxford – to our popular modern Shaker-style door Somersby range! 
Oyster Grey
This soft grey colour is very much on trend across all Kinsman Kitchens cabinetry styles so it seems fitting that it has been included in the Somersby door range in 2020. Consider using this as a single colour for an entire kitchen, or pair it with matte white or black doors to create a multi-layered look that grabs attention.
Complete the look with marble-look benchtops such as Caesarstone's new Empira White or Frosty Carrina paired with black or silver hardware- we love the Black Anodised Bars for a sleek take on a classic style.

Oxford
The bold navy Oxford is a welcome new member of the Somersby family. There has been a strong focus on blue tones since Pantone announced Classic Blue as their Colour of The Year for 2020- describing it as "instilling calm, confidence and connection". Whilst similar to Classic Blue, Kinsman's Somersby Oxford is a deeper and more sophisticated navy blue- perfect for Australian kitchens.
Up the luxe factor with thoughtful pairings of benchtops and hardware with your cabinetry. Gold or brass-look handles and accessories such as sinks and taps are perfect for this look- we love the Matt Brass Rounded handles and our Tall Brass Taps. A classic marble-look benchtop such as Caesarstone's Statuario Maximus adds further to this luxurious palette. Alternatively tops in our timber-look and feel laminates such as Natural Halifax Oak are a perfect choice if you wish to create a distinctive and glamorous country-style kitchen.

Need more shaker-style kitchen inspiration? Check out some of our favourite examples of Shaker style kitchens and laundries using white, black and grey Kinsman Somersby cabinets below. 
Ready to start your kitchen transformation journey today? Make the most of the Kinsman Kitchen offer when you create and purchase your very own Shaker-style Kinsman Kitchen. Simply book a free design appointment HERE.
Want even more inspiration? Download our latest catalogue HERE.