Corporate couple and newlyweds Nicole and Carl fell in love with their 1950s home in the Sydney suburb Ryde – however they did not fall in love with the wardrobes which lacked storage and style. As well as transforming their very original laminate kitchen with Kinsman (go to the full story to read all about their amazing kitchen renovation HERE), the couple also knew that updating their wardrobes to be both stylish as well as functional was essential.
Read on and be inspired by their Kinsman Wardrobes journey.
Master it – the Walk-in Master Wardrobe
Oozing sophistication and glamour, the Master Robe balances good looks with practicality. Nicole and Carl wanted this space to hold all their corporate workwear and accessories so the design focused on creating a space that not only hosted all of these items but also arranged them in a way that was easy to access and maintain.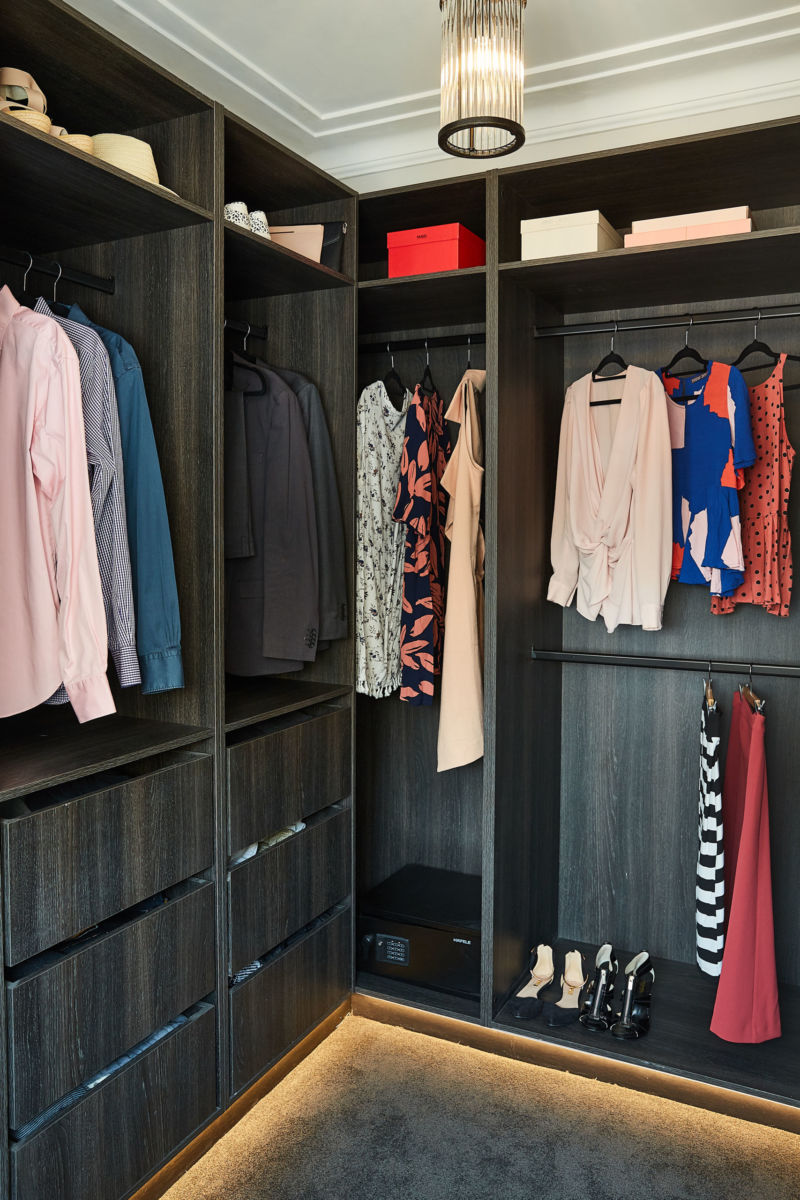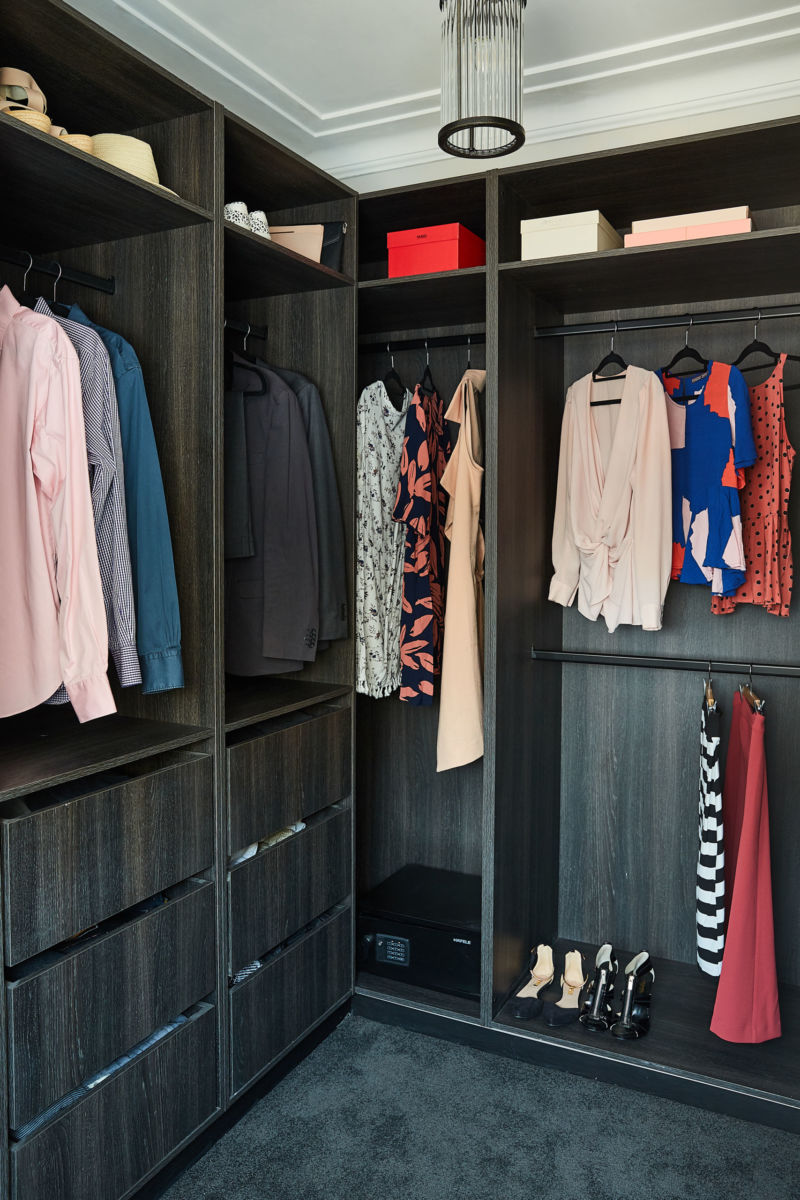 The layout
Here, ultimate organisation is on display with a mixture of drawers, open shelving and hanging space in this stunning Walk-in robe. In fact it offers an incredible 46 storage areas in a space that measures approximately 2.3 meters by 1.8 meters!
Hanging space: A combination of full and half hanging space has been used according to what the couple needs to organise within the robe. Half hanging rules supreme, with four spaces incorporated to offer ample space for suits and shirts for Carl and blouses, skirts and pants for Nicole. Full hanging has been also incorporated for long dresses and coats.
Drawers: Six soft close drawers offer a space for items to be folded and stored away. These include the usual hide-aways such as socks and underwear, and folded clothes such as t-shirts, activewear and jumpers.
Shelving: Open shelving has been used to great effect in this robe. They have been used above each hanging space to add extra storage space and on the right wall shelving has been exclusively featured to store the couples shoes and accessories such as handbags.
Luxury extras: Matte black hanging rails and hinges, new to the Kinsman Wardrobes range, as well as a Home Safe complete the luxe look.
Get the look
External doors in Bottega Oak Woodmatt have been paired with internals of Dark Oak Natural to create an opulent look that complements the style of the rest of the home. LED strip lighting at the base of the wardrobes adds to the drama and highlights the timber grain in the cabinetry to perfection.
Hinged with a twist – Guest Bedroom
A stunning Hinged wardrobe takes centerstage in the main guest room. Hinged wardrobes are a popular choice as they suit both large and small room sizes, allowing the user to hide items away behind closed doors. In the case of this makeover, the bedroom is spacious so a generous robe has been created- almost 3.3 meters long including a desk nook.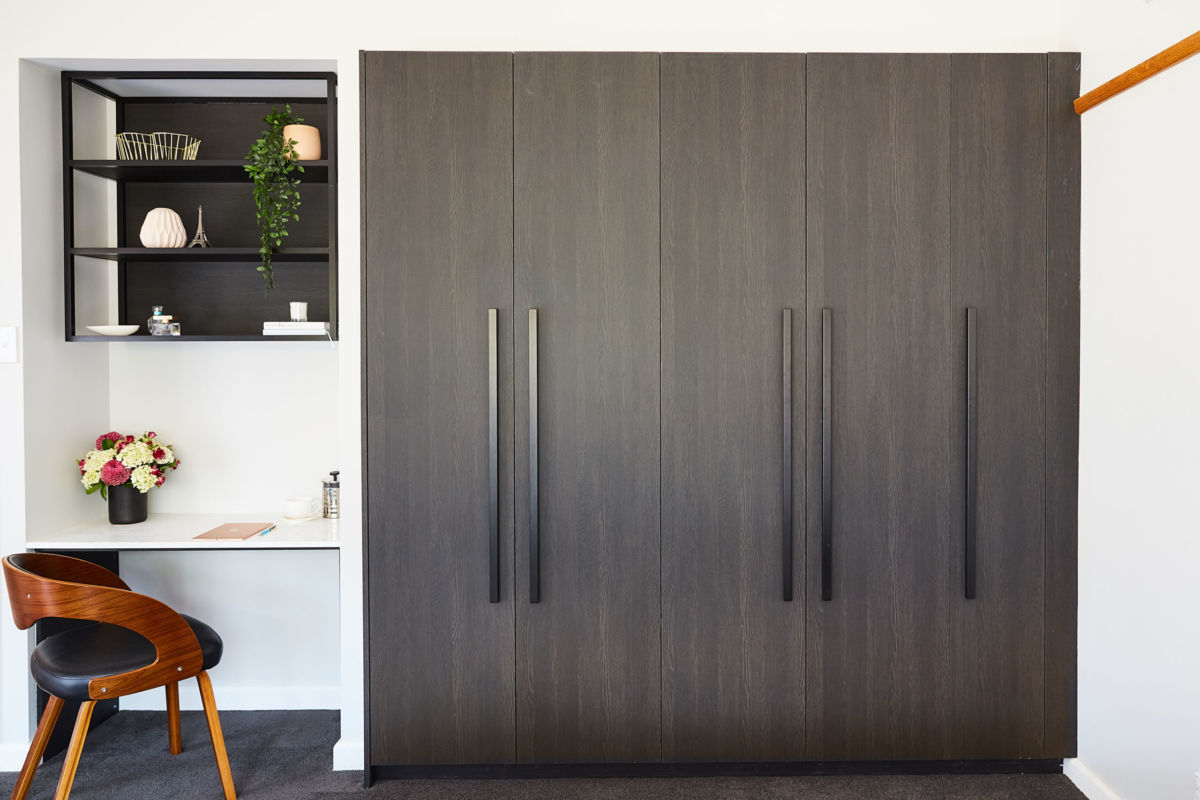 The layout
Nicole and Carl wanted their Hinged robe in their guest bedroom to provide a plethora of storage for items such as linen and towels as well as hanging space for seasonal and special occasion items (such as cocktail dresses and the like).
To achieve this, the robe has been divided into three sections. The left section features open shelving- the perfect solution for organising towels and linen. In the middle, hanging space provides ample room for long dresses and coats- but can be transformed into half hanging space if required – a must-have organisational feature that we love here at Kinsman Wardrobes. Finally, to the right, a narrow storage area has been added for the perfect space for an ironing board and iron.
Design tip: Where possible add open shelving above hanging space- this provides additional smart storage for your robe.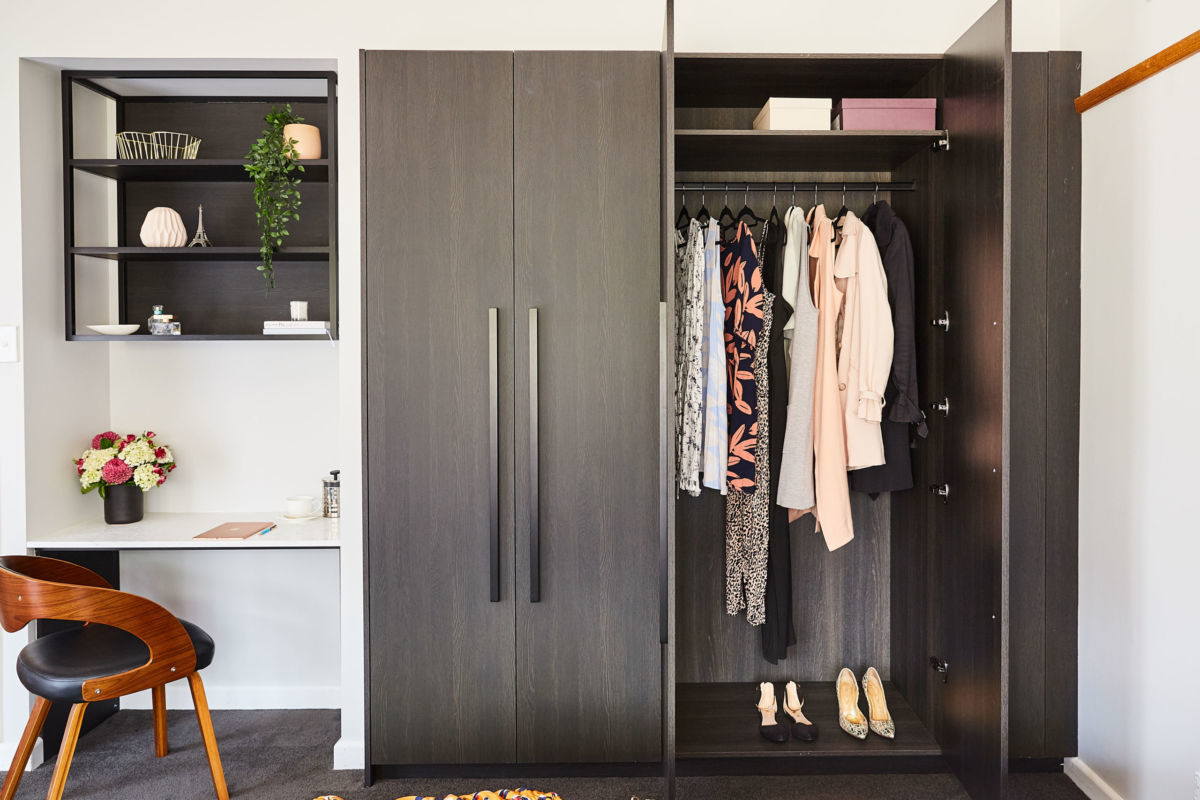 Luxury extra
A desk featuring open shelving and a Caesarstone top in Empira White (which has been used throughout the kitchen space) has been added to the left of the wardrobe doors to elevate the glamour while providing a quiet space to work or study away from the noise of the main living area.
Style tip: A desk or makeup station is a great addition to a Hinged wardrobe as it adds another stylish and functional element to your robe and bedroom. Shelving not only adds extra storage but allows you to add colour and personality with decor items – we love items such as vases, plants, candles, books and small art pieces.
Get the look
To match the Master robe external doors in Bottega Oak Woodmatt have been paired with internals of Dark Oak Natural to create a cohesive look throughout the bedrooms. Striking Square Hook Matt Black 900mm handles as well as our new matte black hanging rails and hinges add to the style.