The Block 2021: Blockheads Set The Tone For The Season With Their First Guest Bedrooms
Full of twists, surprises and drama, the first week of The Block Fans vs Faves did not disappoint! After a quick challenge, the surprise arrival of the two All-Star teams, and a lack of floorplans, the Blockheads were then tasked with presenting a Guest Bedroom that would set the tone of their entire houses. Each team delivered a Kinsman Wardrobe that balanced style with functionality and storage, which was appreciated and admired by the three judges Shaynna Blaze, Darren Palmer and Neale Whitaker.
Step inside each couple's guest bedrooms and discover all of the detail and beauty of their Kinsman Wardrobes.
House 1: Ronnie & Georgia,
Score: 24 1/2,
Place: 1st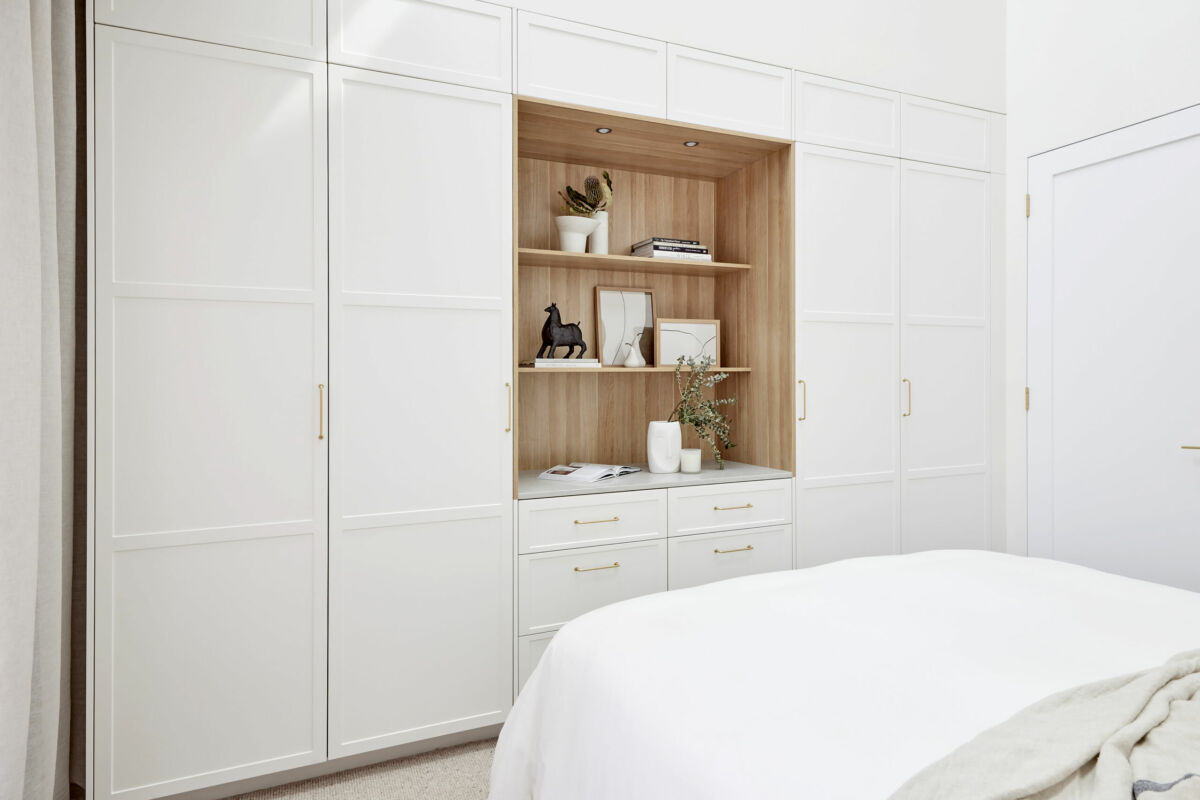 Tucked away in a secluded part of their home Ronnie and Georgia's winning First Guest Bedroom features Kinsman's new Classic White Matt Montauk profile doors, creating a classic look with a modern edge. The Montauk door is new to the Kinsman range, featuring a shaker-style profile with a thinner 40mm rail surround, finished in a luxurious matte finish, offering a contemporary take on a traditional Shaker profile.
The judges loved the sophisticated Coastal palette the pair achieved through crisp white exteriors teamed with Natural Oak Matt used for both the interiors and a feature dresser storage area that provides the perfect place for styling, creating a beautiful focal point in the design. The warm grey hue of Caesarstone's® Noble Grey, which tops the dresser, complements the timber and white colour scheme and adds instant glamour.
Not only is this robe visually beautiful, but it abounds with storage too! "It has everything you would want, says Darren Palmer. The internal finishes, all the fixtures, there's so much to love!" Six soft-close drawers sit below the dresser while on either side, tall cabinets open to reveal a combination of full and half hanging, open shelves and shoe racks. Black accents, including Matt Black Eclipse Ribbed Pull handles and hanging rails, USB outlets within the wardrobe and Front Bar Lighting, complete the look.
Key Features:
· Exterior doors: NEW Montauk White Matt
· Interior finish: Natural Oak Matt
· Benchtop: Caesarstone® Noble Grey
· Handles: Matt Brass Bar 34-K-132
· Accessories: Hafele USB outlets and Black Hanging Rails
· Lighting: Hafele Black Light Bars
House 2: Mitch & Mark, Score: 22 1/2, Place: 4th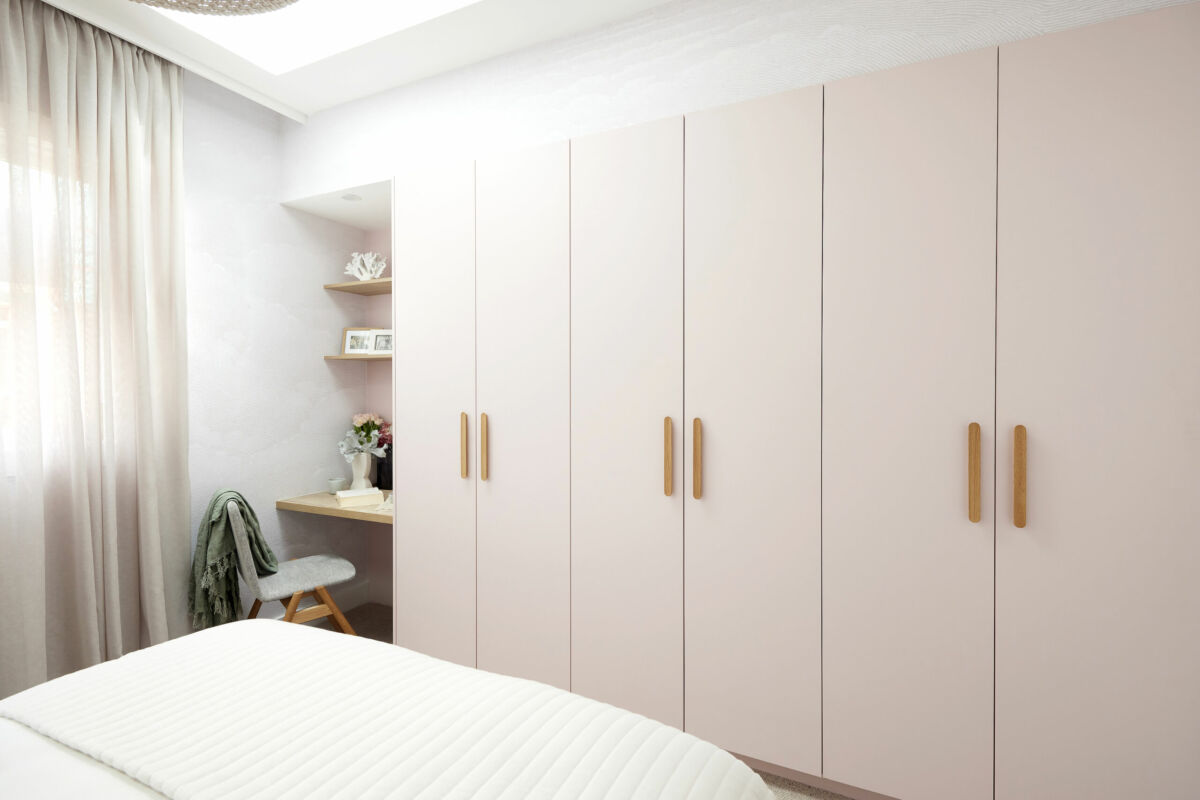 Mitch and Mark selected a look and palette that is very different from their bold Palm Springs-inspired home in The Block 2019- The Oslo. This year they are instead celebrating a softer and more romantic feel. However, never ones to shy away from making a design statement, the glamorous couple selected a new feature colour from the Kinsman Wardrobe range, Rosé All Day, for their Hinged robe within their First Guest Bedroom. The soft, blush pink exterior doors were the highlight of the room for all three judges, as they elevated the overall look for what they considered an otherwise somewhat restrained and compact space.
Thoughtful storage solutions have been included in the design thanks to a mixture of hanging space, drawers, open shelving and accessories such as a Trouser Rack Pull-out. The matte black finish of the accessories and hardware pops against the softer tones of Natural Oak Matt interior finishes and Oak Timber Rounded Bar handles. Premium LED Verti-Strip lighting feature on each side of the robe which is activated when the cabinetry doors are opened, highlighting the interior with a warm glow.
To the left of the robe, a study nook increases the functionality of the design. Kinsman's premium laminate Natural Halifax Oak tops the desk, its finish mimicking the look and feel of timber while tying in beautifully with the rest of the elegant palette.
Kay Features:
· Exterior doors: NEW Rosé All Day Natural
· Interior finish: Natural Oak Matt
· Make up station/desktop: Natural Halifax Oak Premium Laminate
· Handles: Oak Timber Rounded Bar 34-K-152
· Accessories: Hafele Trouser Rack Pull-out in Black and Black Hanging Rail
· Lighting: Hafele Premium LED Verti-Strip
House 3: Tanya & Vito, Score: 23, Place: Equal 3rd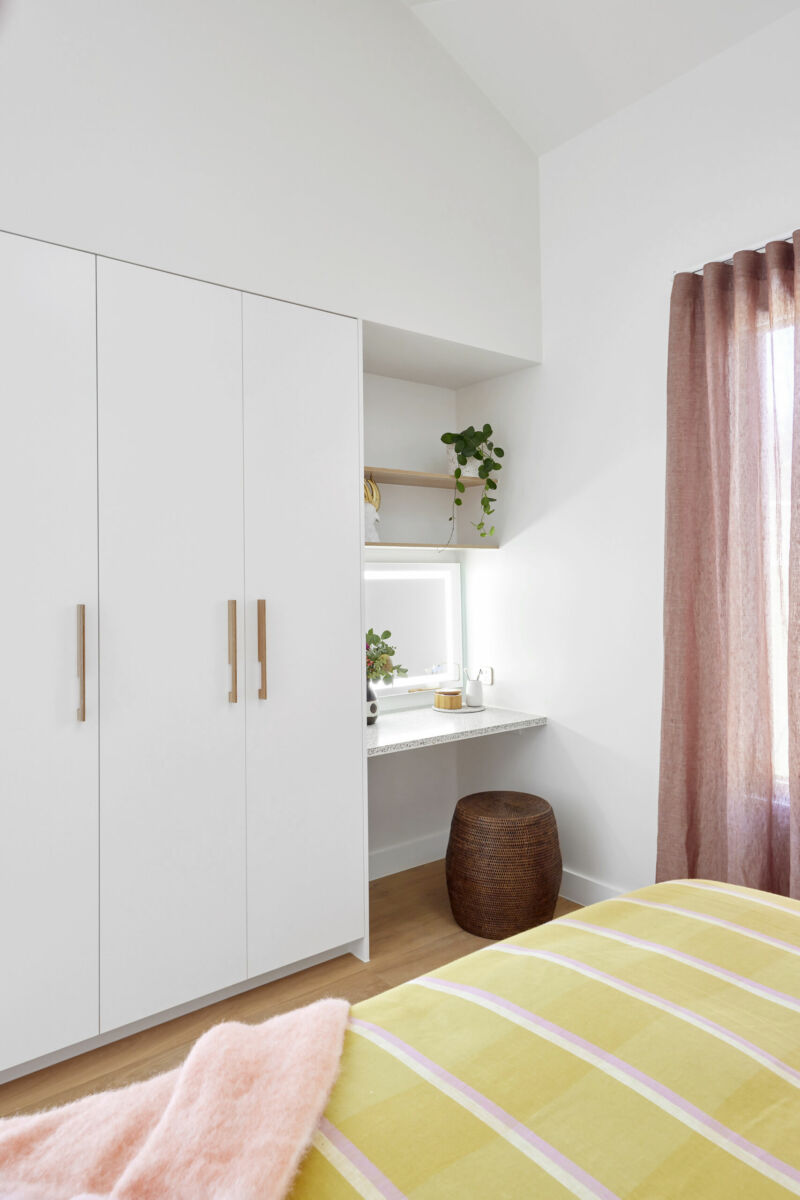 Light-filled and showcasing bright styling that celebrates a 1950s sensibility, Reno rookies Tanya and Vito presented a chic Hinged wardrobe for their First Guest Bedroom that complements the colour and personality with a restrained and neutral colour scheme. The pair mixed White Satin exterior doors with Warm Natural Oak Matt interiors and timber-look Oak Bar handles, creating a natural look and feel for the room.
The couple has created a beautiful robe filled with everything a Guest Bedroom robe needs, including hanging space, a folding mirror, and soft-close drawers. Beautiful Black Frame Glass Shelving allows the warm glow of LED Light Bars to shine down throughout the design. A make-up station has also been included, featuring our Loox Multidimensional Mirror with built-in LED Warm White lights and as well as Bluetooth connectivity – enabling you to play music whilst getting ready!
Key Features:
· Exterior doors: White Satin
· Interior finish: Natural Oak Matt
· Handles: Oak Bar 22-K-122
· Accessories: Black Frame Glass Shelving, Hafele Loox Multidimensional Mirror, Hafele Folding Mirror, Hafele Black Hanging Rails
· Lighting: Hafele Black Light Bars
· Make up station/desktop: By contestants
House 4: Luke & Josh, Score: 24, Place: 2nd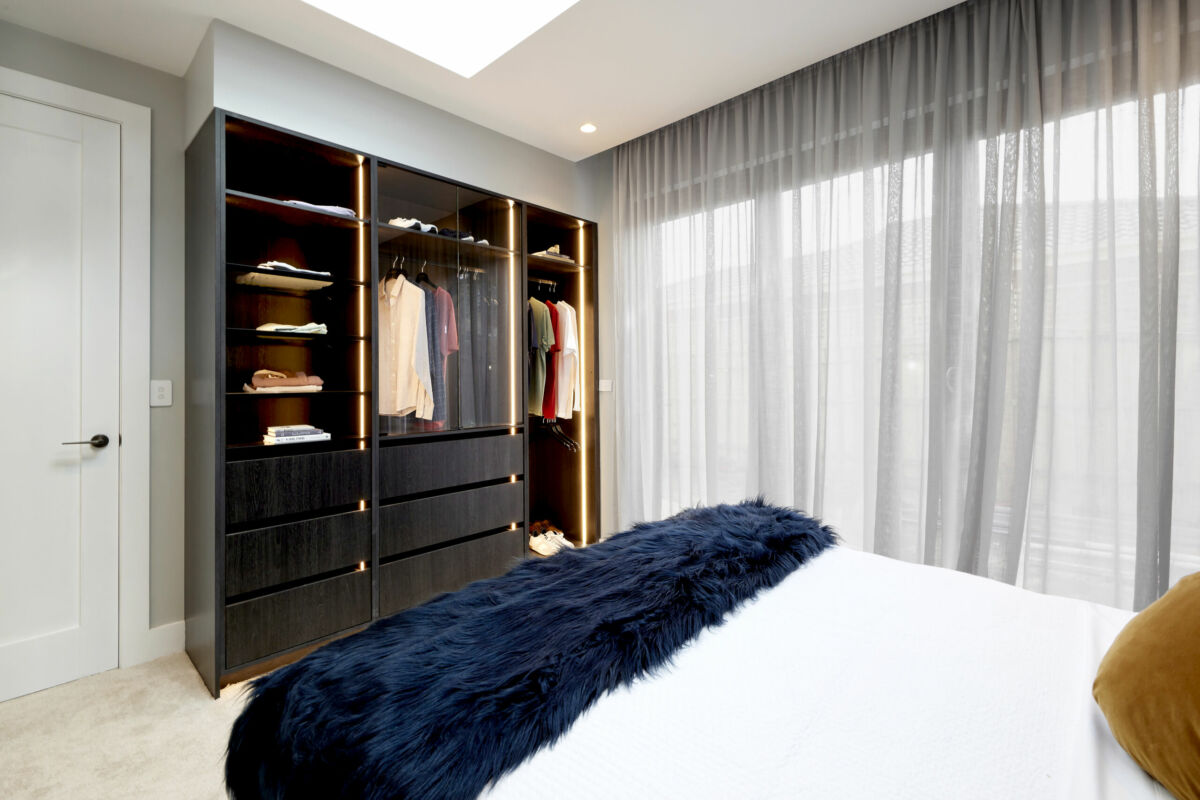 Twins Luke and Josh presented a confident, dynamic First Guest Bedroom which focuses on architectural lines and a masculine palette. Located at the rear of the home, the room includes bi-fold doors which open out onto what will eventually be their outdoor area. With several focal points within their room, their open wardrobe draws the eye with its opulent Estella Oak joinery, illuminated with Vertical Strip lighting.
Selecting a combination of hanging space, drawers and shelving, Luke and Josh opted for rich Estella Oak interior finishes, black accessories, and Black Framed Glass Shelving, which breaks up the joinery while providing the perfect place to style accessories and decor items.
In a bold move, the brothers added glass door fronts to the Half Hanging section of the robe, which divided the judges, with Neale and Darren liking the design choice, while Shaynna did not. However, the judges all agreed that they loved the glamour of the robe and how it complements the rest of the room. "I really love those robes", Darren declared. "So do I", agreed Neale.
Key Features:
· Interior finish: Estella Oak Matt
· Accessories: Black Framed Glass Shelves, Hafele Black Hanging Rails
· Lighting: Hafele Premium LED Verti-Strip
· Glass Doors: By contestants
House 5: Kirsty & Jesse, Score: 23, Place: Equal 3rd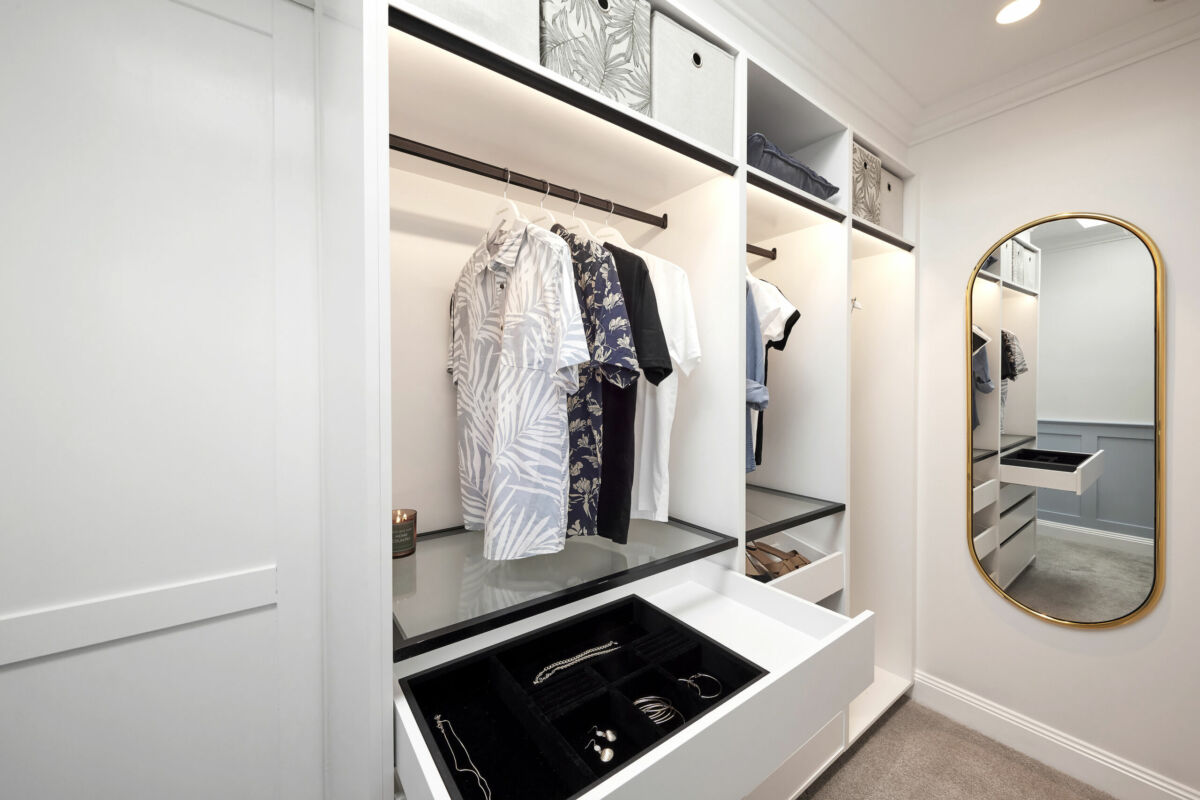 After winning the Challenge at the beginning of the week, Kirsty and Jesse had the first choice for their home, choosing House 5, the largest property on The Block. With the luxury of space, the couple presented a spacious Walk-in Wardrobe, the only one revealed this week, which delivers storage in spades featuring Hanging Rails, Shoe Drawers, open shelving, soft-close drawers and Jewellery Compartment Tray. Black Frame Glass Shelving allows the jewellery to be displayed, creating a glamorous robe that any guest would love.
Bringing the Hamptons to Hampton, the robe's colour palette complements the main room, which mixes Coastal, Plantation and Country aesthetics. Striking black accessories contrast against the White Satin interior finishes for a bold monochromatic look. Black Angled LED Bar lighting has been used throughout the design, adding warmth to the interior of the robe while illuminating the clothing and other items stored within.
Key Features:
· Interior finish: White Satin
· Accessories: Black Framed Glass Shelves, Show Drawers, Hafele Black Hanging Rails, Hafele 8 Compartment Tray
· Lighting: Hafele Black Light Bars
Love what you saw and are ready to create amazing Kinsman Wardrobes in your own home?
Book your in-store, in-home, or virtual design appointment HERE. For more inspiration, images, and product details, download our Wardrobes Catalogue HERE.
Follow Kinsman on our social platforms to get all the details from The Block Fans vs Faves.
Instagram: @kinsmangroup
Facebook: /kinsmangroup