Times are changing and we're finding ourselves spending more time at home, and for many of us that means working or studying from the comfort of our home. What hasn't changed is that here at Kinsman we love creating great contemporary spaces that increase usability for a range of families to live and grow within. Enter the Kinsman Home Office range! Striking the perfect balance between comfort and productivity, the collection provides a variety of Home Office solutions that are both stylish and functional.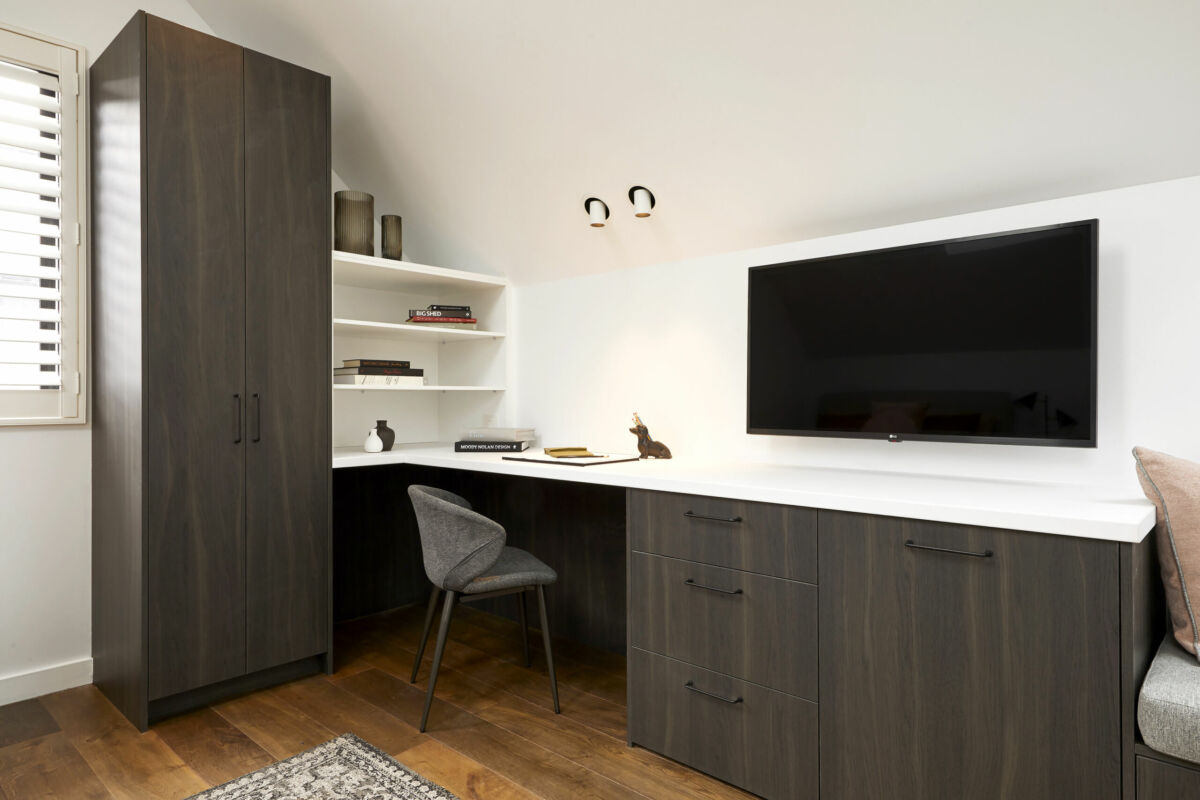 Which Kinsman Home Office design suits you and your home? Download the catalogue HERE to discover the amazing range of options as well as exterior & interior finishes, benchtops and accessories.
Read on to discover your perfect Home Office solution for you, your family and your home.
Study nook.
One of the most versatile options is to add a study nook to your wardrobe layout. Perfectly suited to a Hinged robe design (which suits both small and larger bedroom sizes), this design concept creates two new spaces in one!
A study nook is a great option if space is tight or a large study space is not required. While it may be small, we ensure that it packs a design punch. Plus, a well-designed Hinged wardrobe is a great new addition to any bedroom – providing a stylish feature wall of cabinetry concealing a plethora of storage within.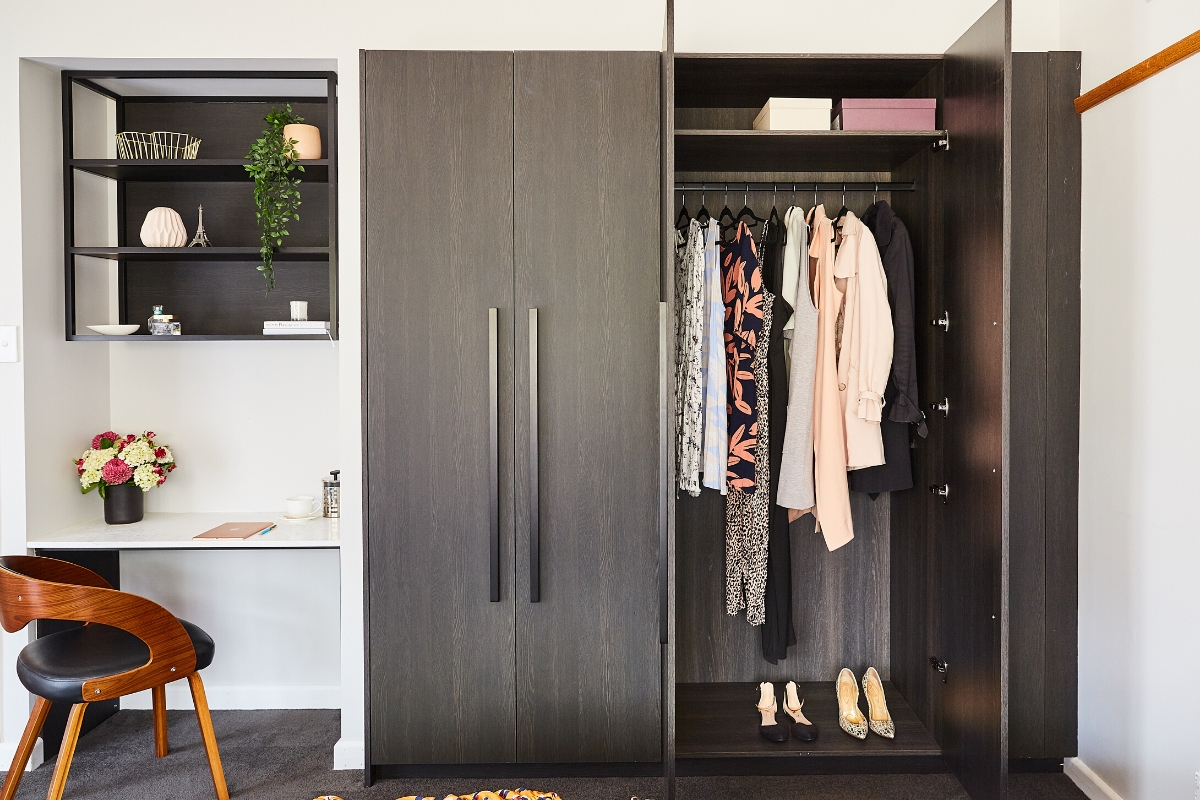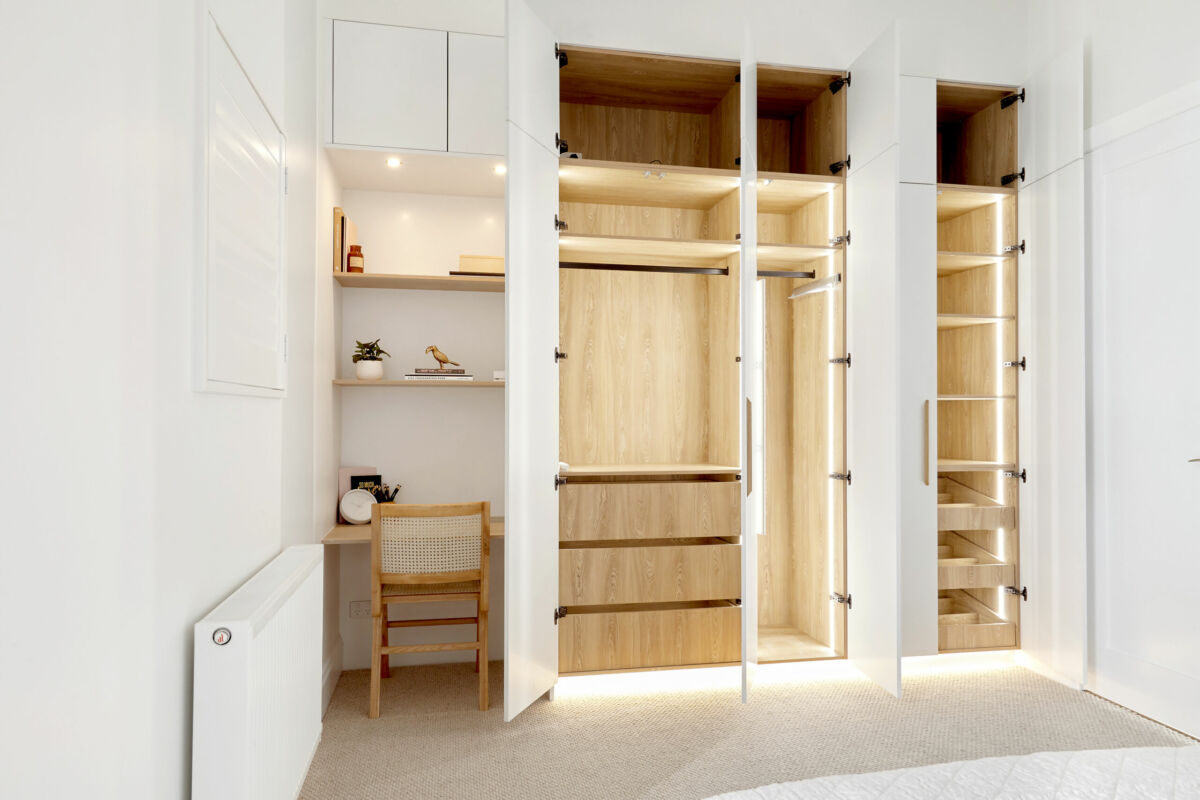 Make your Hinged Wardrobe work twice as hard with the inclusion of a study nook on one end of the cabinetry.
Want to create this look? We love to include open shelving as it's ideal for storing work or study essentials as well as decorative pieces to add personality. Don't forget LED lighting to ensure you can work/study effectively day or night, as well as Caesarstone benchtops for a glamorous touch.
Standalone Study.
If space permits, a seperate Home Office or Study means you can maximise your productivity during day and switch off at night (or vice versa). We love to design standalone studies to fit and complement any room size and shape.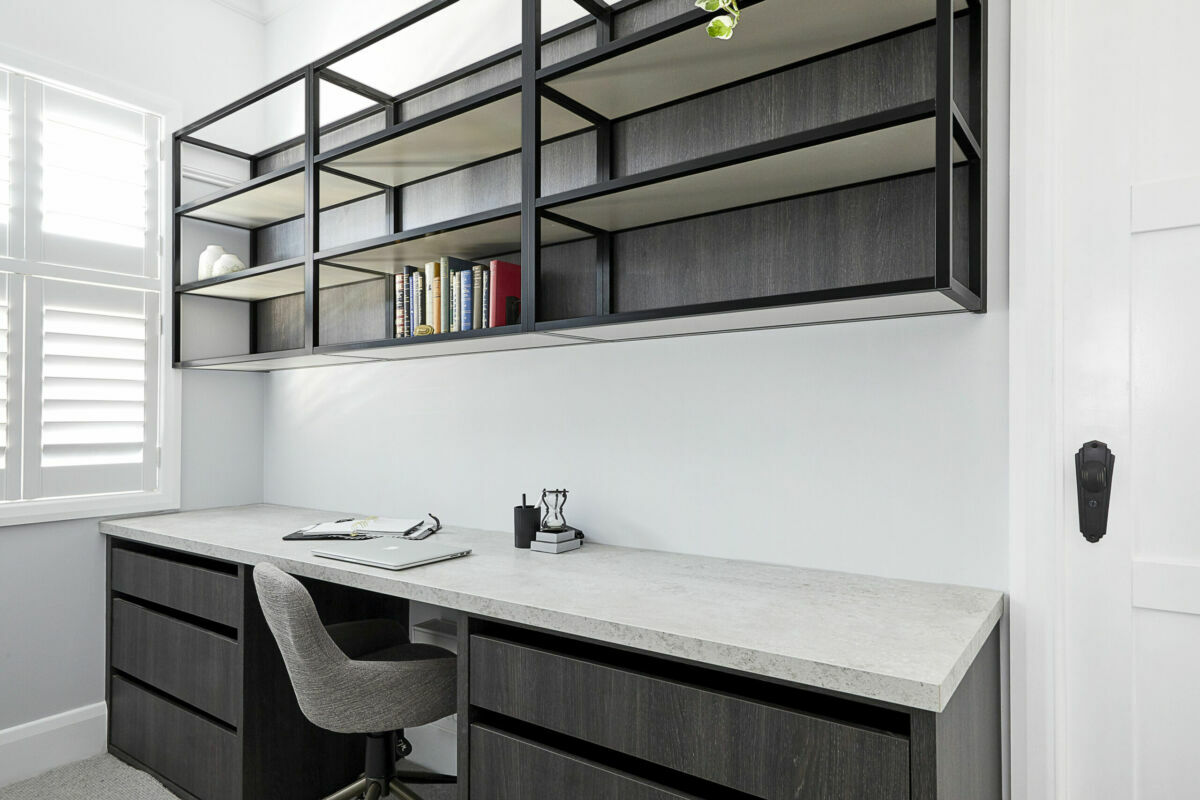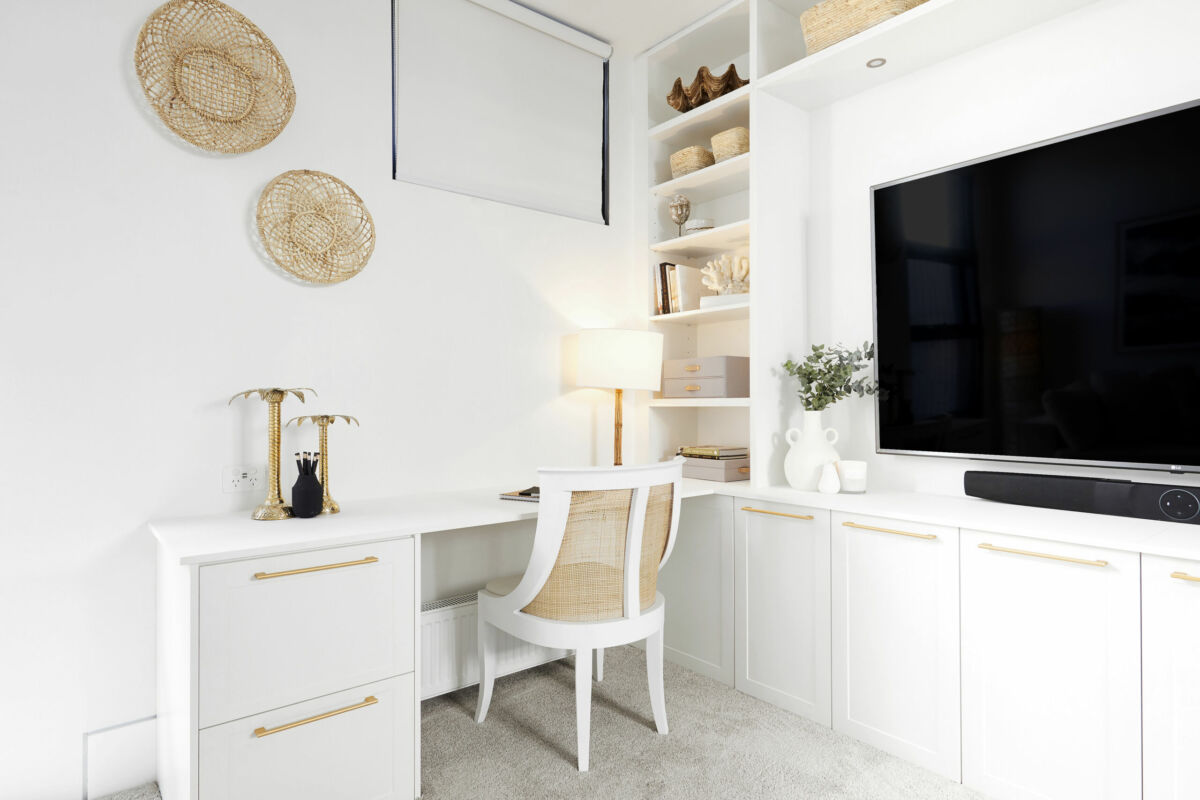 Create a room that provides inspiration as well as comfort. Aside from the main desk zone, consider display areas for artwork and decor items, as well as additional screens or TVs to create a multi-purpose space.
Want to create this look? Match cabinetry and benchtop colours and finishes with the rest of your home to create flow between rooms. With a plethora of door colours and profiles and both laminate and Caesarstone benchtops to choose from, you're sure to find your perfect match. Maximise storage with the inclusion of drawers below the desk and open shelving above it.
Work and Play.
We love to create study areas for young people- children and teenagers alike- to learn, explore and create in. Add a study zone to your child's bedroom to allow a space for them to work quietly and effectively- the key is to maximise smart storage solutions to keep mess to a minimum and productivity to a maximum.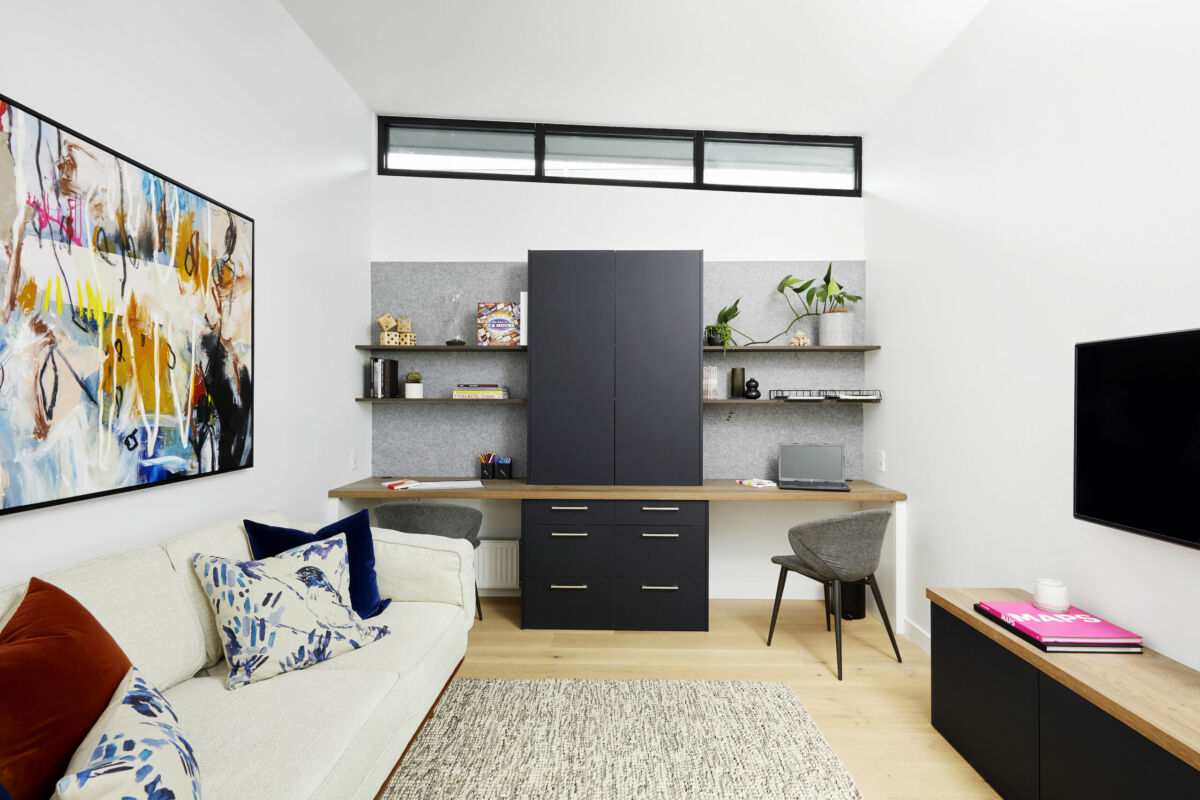 Combine work, play and sleep together in harmony with a desk design that complements your childs' room.
Want to create this look? Laminate benchtops are a great option as they are low maintenance and easy to clean. Place drawers under the desk for additional storage – we love to use cutlery trays as an easy way to organise pens, pencils and other stationary in the top drawer. Finally, we like to incorporate decorative open boxes to allow items such as artwork, trophies and other items to add personality and colour to the space.
A new Hinged or Sliding wardrobe will complete the look. Create storage not only for clothing with hanging rails but utilise deep drawers or shelving for both folded clothing items as well as toys. Then simply close the door and voila, you have a tidy child/teens room! Win, win!
Create your perfect Home Office space with Kinsman today!
Book a free in-store, in-home or Virtual Design Appointment HERE today.
For more inspiration as well as the full range of finishes, colours and accessories download the Kinsman Home Office catalogue HERE.